Trip Reports
This page contains links to our various self-drive trip reports.
We compile these tour reports after each safari trip to the Kruger Park, Kgalagadi Transfrontier Park, Madikwe Game Reserve, Pilanesberg Game Reserve in South Africa, and Etosha National Park in Namibia and any other parks we may visit.


The reports, starting from December 2009 onwards, will have a summary of what we saw, some of our experiences, and any significant highlights from the trip - all with relevant photographs of course!
The aim is to provide you with a brief overview of our visit to each national park so that you can get a feel for the type of animals You could see by doing a guided safari or self-drive safari and following our hints, tips and advice on game viewing and nature photography.

We will also include photographs and information on the lodge and camp accommodation, shops, restaurants, roads and any other relevant items that may provide value to you.
On each of our photo safaris we try something new. On some we may be looking for the big-five or super-seven, while on others we may be focusing on macro subjects, birds, landscapes or we may be after just one animal such as the elusive leopard.
You should see this from the resulting tour report images - it all depends on what divine providence dishes up for us! One year we went looking for the Pels Fishing Owl and we did not see even one and instead we came home with excellent landscape images.
The message is that you must make the most of each day and ensure that you are a situation-driven photographer and not a subject-driven photographer.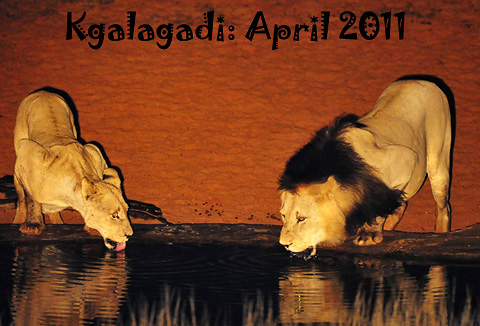 Distinctly Africa Manyeleti - December 2019

Manyeleti Game Reserve - June 2019
Tented Adventures Pretoriuskop - April 2018

Madikwe River Lodge - March 2018
Kruger National Park - December 2017
Witsieshoek Mountain Lodge - June 2016
Kruger Park - Pafuri Walking Trail - October 2015

Kruger Park - Pafuri Camp & Bushveld Terrace - Sept 2015
Madikwe Safari - Thakadu - August 2015
Pilanesberg-Madikwe-Etosha - March 2015

Madikwe Safari - January 2015

Madikwe Safari - September 2014

Namibia Four Deserts Trip - Dec 2013 - Jan 2014

Kgalagadi - Christmas at Rooiputs and Polentswa - December 2013

Kruger Park - Protea Hotel Kruger Gate - September 2013

Kgalagadi - Rooiputs & Polentswa Lodges - August 2013

Greater Kruger Park - Timbavati - Kambaku Lodge - June 2013

Umkumbe Lodge - Sabi Sand - May 2013

Sabi Sand Reserve - Cheetah Plains - March 2013

Kgalagadi - !Xaus Lodge - November 2012

Pilanesberg - June 2012

Western Etosha - October 2011

Etosha - August 2011

Kgalagadi - April 2011

Kruger Park - March 2011

Kruger Park - December 2010

Etosha - September 2010

Pilanesberg - July 2010

Kruger Park - June 2010

Kruger Park - December 2009


---
---
Return from Trip Reports to Kruger-2-Kalahari Home Page
---
---

To make a safari rental booking in South Africa, Botswana or Namibia click here
---