Best Safari Parks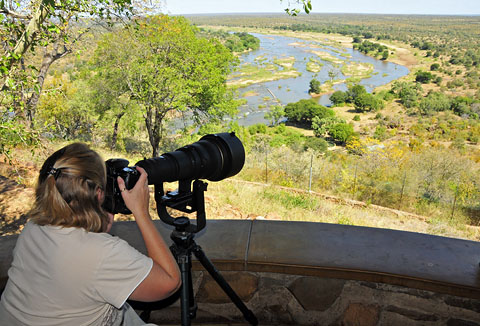 Our best safari parks can be split into two categories - 1. self-drive safaris and 2. guided safaris.
1. Best Safari Parks - Self-drive
Pilanesberg and
Why these 4 parks? This is a question we often get asked by people. They are, in our humble opinion, simply the best safari parks in Africa for self drive safaris.
Living in South Africa we have access to the rest of Africa but we choose to visit only the Kruger Park, Kgalagadi and Pilanesberg in South Africa and Etosha in Namibia.
We have visited Tanzania, Botswana, Malawi, Mozambique, Zimbabwe and Zambia yet are drawn back to our four best safari parks.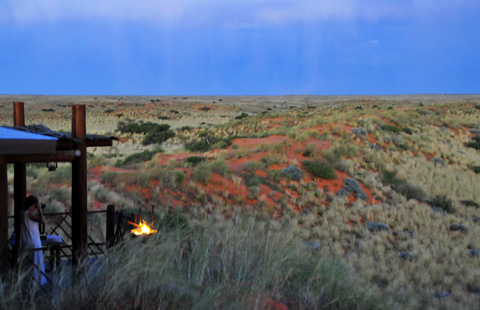 We have read many articles criticizing our four best safari parks:
• The Kruger Park is like a zoo - too busy and touristy.
• Etosha is too expensive and the staff are not friendly.
• In the Kgalagadi game viewing takes more effort as game is scarce and the accommodation is old and tired.
• Pilanesberg is a poor-man's Kruger and is too cramped with too many traffic jams.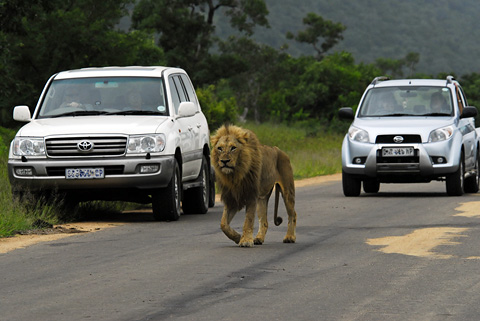 Best Safari Parks- Kruger vs Serengeti
In the Spring 2011 edition of Travel Africa magazine Philip Briggs compares Africa's two most iconic safari destinations (Serengeti and Kruger National Park) to see which one is the best.
He used eight criteria to compare the two parks, each of which reflects a likely priority of a person planning an African safari.
Here are his scores, which we agree with 100%:
1. Variety of Wildlife: Kruger 5 / Serengeti 4
2. Big five encounters: Kruger 4 / Serengeti 5

3. Profusion of wildlife: Kruger 3 / Serengeti 5

4. Birdlife: Kruger 5 / Serengeti 5

5. Independent travel: Kruger 5 / Serengeti 1
6. Scenery: Kruger 3 / Serengeti 5

7. Crowd control: Kruger 3 / Serengeti 4

8. Affordability: Kruger 5 / Serengeti 1
The Kruger comes out tops with a score of 33-30.
But the Serengeti won four categories while the Kruger won three and one was a draw.
Yes, the Serengeti is more wild, has less bush obstructing your view and has more animals. But two of the criteria, namely affordability and independent travel are critical to most people.
If you are wealthy then no problem - the Serengeti is a place you can visit often. Most visitors are, however looking for budget accommodation that is comfortable in an environment that provides good game viewing, and this is where the Kruger delivers.
Winter (June - September) is a good time for game viewing but we have spotted the super-seven (big-five plus cheetah and wild dogs) nearly every December, when it is very hot and the bush very thick, because we have implemented a strategy that works for us...
• we know which camps and roads are the most productive for animal sightings
• we know how to use the sighting boards to locate the big-five
• we know which parts of the Kruger have less visitors & therefore less traffic jams
• we know where the most scenic spots are in the park for landscape photography
... and that is what we share with our visitors in the pages on Kruger-2-Kalahari.
If you follow our advice in terms of Game Viewing Tips and Nature Photography Tips you will have as good a safari as someone who visits the Serengeti.




Best Safari Parks - 2018 update
In 2018, the US News & World Report's list of the top 12 African and Middle Eastern vacation destinations of 2018-2019 has the Kruger Park ranked as #5 (Serengeti came in at #4). The Kruger Park is then ranked #9 in Best National Parks in the World.
The Kruger Park is so popular you need to book at least 11 months in advance to get the booking you want, and the two main criteria for this popularity remain affordability and independent travel.  
---
The advertising that we have seen for the best safari parks in East Africa and Botswana promise a true wilderness experience with big-five game sightings all to yourselves.
Of course tourists pay a hefty premium for this luxury, but are these really the best safari parks and do the visitors get value for money?
Just because you are paying more are you guaranteed no obnoxious visitors, perfect sightings and pleasant, professional tour guides?
We and family members have experienced traffic jams, rude guides and spoilt sightings in Tanzania and Botswana but here are just a few more recent blog posts that we have read:
Best Safari Parks - Savute in Chobe National Park, Botswana
"It ended up with a situation I did not particularly enjoy – sightings were crowded and predator viewing was a series of 'scrums'. Guests, and sadly guides, often lacked the basic game viewing etiquette you take for granted in the private concessions, or would expect from fellow tourists.
I have never been so disgusted by what ensued. Within 2-3 minutes, there were at least 10-15 vehicles trying to view this leopard. There was no order or respect. The guide from one of the luxury camps drove slightly off-road and parked parallel to our vehicle, blocking out our view, more so when his guests decided to stand to get their photos.
The sad aspect was not only the guide's behavior, but the complete ignorance of the guests as to what had happened.
Having spoken with an award winning photographer when I was there, he had also experienced similar behavior."
Source:www.thesafariphotographer.com/destination-guide/2555
Best Safari Parks - Serengeti National Park, Tanzania
• "At Ndutu we were fortunate enough to see 3 cheetah moms with cubs of various ages in all stages of hunting. One failed with her hunt due to interference by several safari vehicles. We motioned to the drivers but they just laughed. Just for the record, I have photographs of the Kusini vehicle directly placing himself between the cheetah mom and her prey. I'm afraid Tanzania is going the way of Kenya. We used to appreciate the professional behavior of the driver/guides but I'm not so sure any longer".
• "While in the Gol Kopjes area, we were parked on a road where I was trying to get some photos of a cheetah who hunkered down in the long grasses about 50 yards off the road. I had encountered these jeeps earlier when they came up on one of our previous sightings and blocked our view. We were in a prime position close to the road so they could not block us. This time however, they drove off-road and pulled up right in between the cheetah and our vehicle, knowing I had my camera/lens positioned on a bean bag on top of the jeep pointing straight at the cheetah!"
• "I have posted a couple of times about how terrible I find most of the guides in East Africa. I cringe at what I see and hear. I am not surprised by all these vehicles interfering with the animals etc. I have personally been at sightings in the Serengeti and had 4-5 different drivers from different companies having a big fat conversation and laughing thereby disturbing the animals and the guests viewing experience".
Source:www.fodors.com
Are the above experiences the norm or are they exceptions? From what we have read they are becoming more the norm in East Africa and Botswana.
- Yes, the Kruger does get busy in the south but if you come up with a game viewing plan like we do, and stick to it you will miss the mobs and have a wonderful time in the Kruger - even if you visit the southern park in peak periods!
The Kruger National Park – Magnificent or Mediocre?- on this page we discuss a critical article of the Kruger Park, written by a self-professing 'expert' who has "visited hundreds of national parks, has been photographing wildlife for 35 years and has published dozens of wildlife photography books that have been translated into several languages" - and yet he could not find predators or get good photos on a 30-day safari to the Kruger! He then goes on to blame the park - yet he admitted to me that it was his fault with "bad planning and a bad driver"!
If you check the sighting boards, speak to other people, use the www.latestsightings.com/ service and invest in an inexpensive eBook / site-guide, you should get to see a lot, whether you are a 35-year wildlife photography veteran with dozens of published books or not!
- The Pilanesberg can get busy but, like the Kruger, if you follow our advice to go our early you will miss the traffic and get better photographs!
- The wilderness camps in the Kgalagadi are unbeatable for a true wilderness experience. Add to that privacy, solitude and your own waterhole - who cares about the weather-beaten accommodation!
- An yes, Etosha prices have gone up but the prices are still way below what the lodges in Botswana and East Africa charge!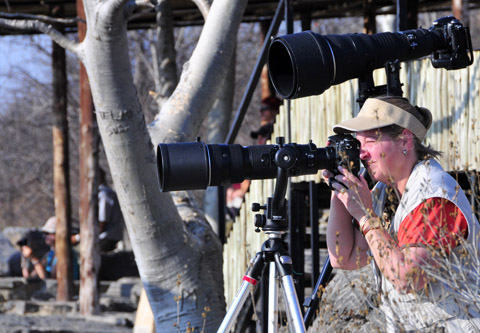 So here's our answer to the question 'why these 4 parks': These are the four best safari parks for an affordable, self-drive photo safari with minimal frustration, period!
2. Best Safari Parks - Guided drives
Most southern African parks allow both self-drive and guided game drives, like the Kruger Park, Pilanesberg, Etosha and Kgalagadi but some have just guided game drives.
If you are wanting just guided game drives then we can recommend Madikwe Game Reserve and the Sabi Sands. 
Madikwe is malaria-free, is just a 3-hour drive from Johannesburg, has about 21 up-market lodges and provides excellent viewing of the 'super-seven' animals. Madikwe's highlight for us are the African Wild Dogs. We have experienced two wild dog kills and photographed the wild dog pups at the den.
The Sabi Sands is part of the Greater Kruger Park and also has up-market lodges, is about a five-hour drive from Johannesburg and provides viewing of the super-seven animals. The highlight for most guests, however, are the superb leoaprd sightings. The leopards in the Sabi Sand Reserve are habituated to humans so you could get to leopards on every game drive!
Safari stopovers
Regardless of which park or parks you choose, you also have a good selection of safari stopovers to choose from where you can refresh your batteries before entering the park/s. 

---
---
Return from Best Safari Parks to Kruger-2-kalahari Home Page
---
---

To make a safari rental booking in South Africa, Botswana or Namibia click here
---