Photographic Vision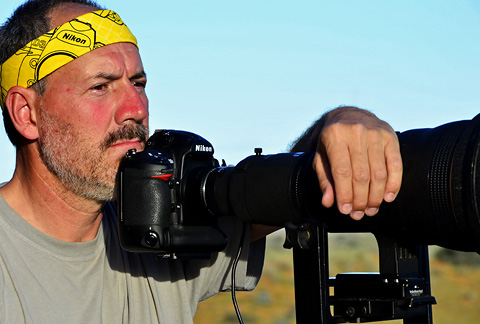 "Well of course I could take great photographs like you do if I also had the latest 800mm f2.8 VR III super-telephoto lens and the latest D10XS turbo body"
Do you know that we have seen terrible photographs taken by people with the latest gear (Nikon and Canon pro 600mm f4 lens plus top-of-the-range bodies) and we have seen superb photographs taken by people with an 'old' D200 and a f5.6 consumer lens?!
Many amateur photographers think the newest photo gear will magically improve their photography overnight. It won't.
I think this story by David William White sums it nicely...
I attended a Freeman Patterson talk and slide show of his at Edwards Gardens in Toronto, which of course blew everyone away.
Getting to the Q&A, several attendees jumped to the mic and begged Freeman to say what kind of camera he uses, but he was reluctant. It went something like this:
"Oh, they're all the same" said Patterson
No, no, we want to know what you use!
"It doesn't matter...they're all pretty much alike"
Oh, please, you're a pro, so you know the good ones...
"Well, if you must know, I use a Minolta that's about 25 years old..."
Silence.
Let down. But then the band strikes up again,
Well, what kind of film do you use? That's the secret!
"Whatever is on sale." he replied.
I'd say some of us learned something out of that!
The missing ingredient - photographic vision!
Vision, or 'seeing', is the secret of making better photographs, not buying more equipment.
"Seeing, in the finest and broadest sense, means using your senses, your intellect, and your emotions. It means encountering your subject matter with your whole being. It means looking beyond the labels of things and discovering the remarkable world around you."
- Freeman Patterson
Take Jenny and I, we were happy with our Nikon D300 bodies and shot with them for many years and only changed to the D800 and D3S for the improved dynamic range and low-light capabilities. Most wildlife action happens in low-light conditions so that change made sense.
Nikon launched the D4 in 2012 but I had no interest in it as it doesn't solve any problems. If you do change gear it needs to be a solution to a problem not simply in the hope that the new gear will make you capture better photos. 
In 2016 Nikon launched the D500 - this was another game-changer as the camera sloved all the issues that the D300 had! The D500 turned out to be my all-time favourite camera.
I had a 'pre-owned' Nikon 600mm f4 AF-S lens made in 1997. It was superseded by the 600mm f4 AF-S II in 2001 and then the 600mm f4 VR in 2007. In 2014 I then traded it in for the Sigma 150-600 Sport lens and many people said I was crazy but the zoom lens solved a problem of weight, bulk and maneuverability - I have been using this Sigma lens now for over a year and I have no regrets.

Jenny shot with the most criticized Nikon 80-400mm f/4.5-5.6 D zoom lens. Many 'experts' said you cannot shoot birds in flight with as it has no motor and takes long to focus yet Jenny keeps getting sharp photos of birds in flight with this lens!
She now shoots with the Sigma 150-600 Contemporary lens as it provides a bit more reach for birds but the big plus is that we can make adjustments in the field to both our primary lenses by using the Sigma docking station - problem solved. In the past if our gear was back or front focusing there was nothing we could do until we got back home.  
"Gear is good, vision is better" – this is a tag line used by David DuChemin, a Canadian, humanitarian photographer whose work is much admired by us and many others.
David writes, "Remember, gear is good, but vision is better. The best photography tools at your disposal are patience, curiosity, and the growing ability to see the world in new ways."
We have found that there tend to be two types of amateurs - those who fixate on photo gear and those who are creative but do not know how to use their gear...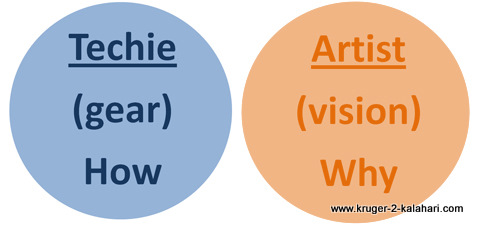 We have seen photographers posting their images on the net and the comments they get nearly always relate to the gear used.
What is happening here is that we are becoming obsessed with the HOW (our photo gear) and excluding the WHY (photographic vision) to the detriment of the WHAT (end result).
I don't hear people in art galleries that are admiring a painting asking 'I wonder if the artist used a camel-hair or sable-hair paint brush or what make of oil paints did he use?'!
Why do you have nature photography as your hobby?
I'm assuming it is to create pleasing images of animals and landscapes that you can share with other people.
That is your goal and you use tools to achieve this goal.
Tools are one half of the equation - without the camera and lens there will be no photograph. So photo gear is important or 'good' as David says, but gear must be balanced with the artist in us.
There are too many photographs that are perfectly composed and exposed but they lack passion and creativity.
What we need to do is balance the 'techie' in us who loves photographic gear with the artist in us.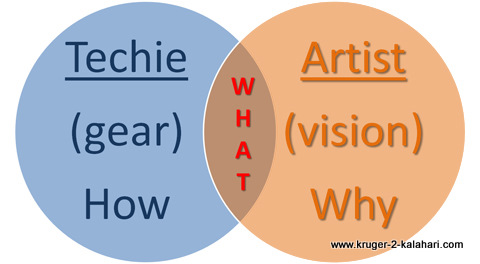 Either extreme doesn't work - an artistic person with no gear or the wrong tools will not end up with 'WOW' images and the same goes for the person who is so fascinated with the latest gear that he/she has no photographic vision and creativity.
If we can get our two circles to overlap we will end up with the best end result - pleasing images that people will admire and hopefully want to buy!
We have a section on Nature Photography Gear (the one half of the solution to getting good photographs - the 'how') so this photographic vision section will focus on that remaining 50% - the 'why' or the artist in you...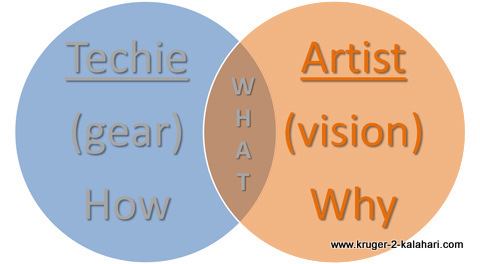 Vision is simply communicating what you see, with your eye or mind, into a photograph. Vision therefore means a little bit of thinking before you press the camera's shutter release button.
It's then up to you to combine your 'how' and 'why' to enable you to get the most impressive 'what' and that's where the two circles overlap.
Our goal is to help you get there by looking at the following photographic vision tips:
If you want to improve your photography you must work on your Five-P's
1. Patience - nature has its own time. Don't rush around the parks looking for action – pick a nice spot and the action could come to you.
2. Purpose - have a purpose when you go out each day on your self-drive or guided safari. Are you subject-driven or situation-driven?
3. Preparation - tends to be the missing ingredient with most amateur photographers and Nature photography Tuition is the 'Preparation' part of the 5-P's.
4. Practice makes perfect - this saying so true, especially for wildlife photography. You cannot expect to come on an African safari and get great photographs if you have used your camera only once or twice during the previous year. There are many opportunities for you to put into practice these photographic vision tips - from shooting at home to going to zoos.
Please read this Cheetah Kill story to see how important practice really is.


5. Passion - having passion for photography and nature will give you the motivation to achieve the other 4 P's! Kevin demonstrates all the 5-P's and shows you that it can be done!
Then we show you how the Five-P's work together to give you your Creative Process


---
We also suggest you read our interviews with professional nature photographers to understand how they get their vision and create such stunning photographs.
You could also read some of their nature photo books where they not only discuss photographic gear but their photographic vision as well.


Here we look at some ways to market yourself:
• Getting Published - should be one of your first steps if you want to start selling your photographs or if you want to make wildlife photography a career.
• Nature Photo Contests - are another way of getting exposure for your creativity. Here we list the 'big-five' in wildlife photo contests plus a few other appealing SANParks photo contests that you can enter.
• If you get good results with a product write an article for the manufacturer and they may put it on their blog with links back to your website. We did this with the following products:

Quantum Flash

Big Game Caught in the Lightforce Lights!


• If you write a new photo e-Book, win a photo contest, capture a difficult shot or photograph a rare animal - anything news-worthy - let people know via a press release

• Form alliances with other related websites like we did with FindTripInfo.com
• It is possible to turn your wildlife photography hobby into a Wildlife Photography Career!


The above photographic vision tips will hopefully start making you a more creative photographer who looks for vision in your photographs as well as vision in your phtotgraphy business.
If you are more the 'techie' person you know your gear so these photographic vision tips will hopefully help you with 'seeing' your photographs before you make them and therefore make you a more 'strategic' nature photographer.
Most amateaur photographers 'take' photographs while the professional 'makes' them by combining vision with gear.
"A lot of photographers think that if they buy a better camera they'll be able to take better photographs. A better camera won't do a thing for you if you don't have anything in your head or in your heart" - Arnold Newman
---
Return from Photographic Vision to Kruger-2-kalahari home page
---
---

To make a safari rental booking in South Africa, Botswana or Namibia click here
---