Kambaku Lodge Trip report - Timbavati Game Reserve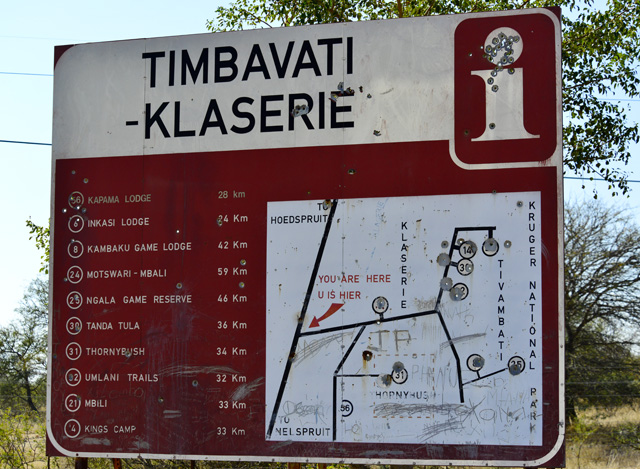 This is part two of our trip report that started with a self-drive safari in the southern Kruger...
After leaving Skukuza we arrived at Open Gate at 1pm then travelled onto Timbavati Game Reserve along the R531 heading towards the R40 which would bring us to the Eastgate Airport/Timbavati road or Argy road as it is also known.
We carried on until reaching the first gate, which is not the main gate - you will go through two gates, just carry on till you reach the large entrance gate called Enkhulu Gate. This gate serves as a gate to two other reserves; Klaserie and Umbabat.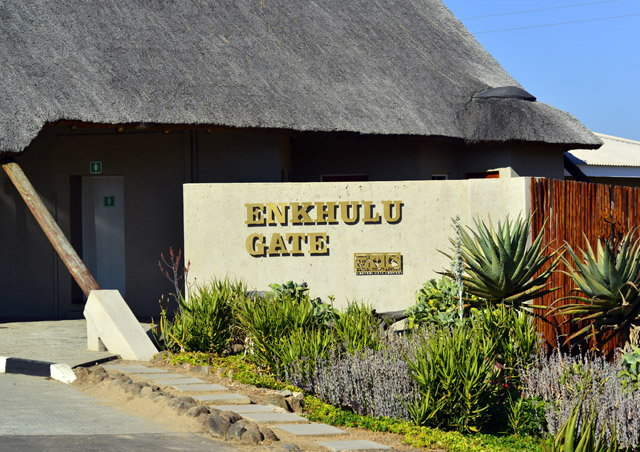 The reserve is well marked so you should not get lost. From here just carry on the main road which is tarred and a pleasure to drive on and, like the Kruger, also has a speed limit of 50 kilometres per hour and they do trap so don't go over the speed limit!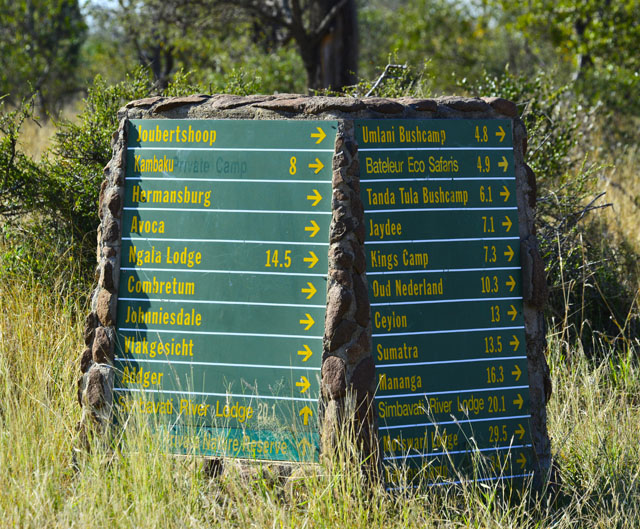 Timbavati and Kambaku Lodge were all new to us and we were excited as we knew that Timbavati is world famous for its White lions...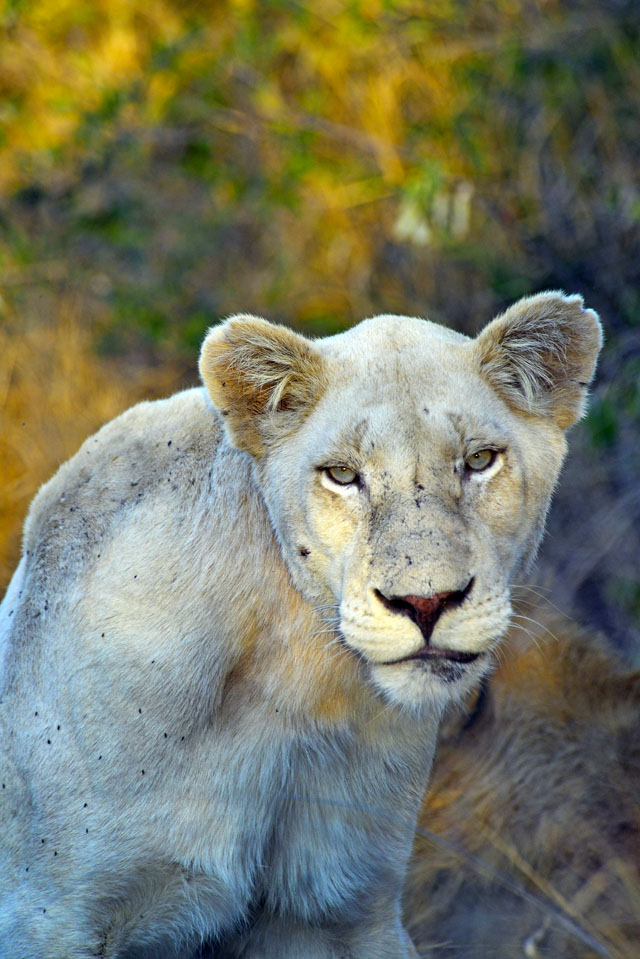 When we arrived at Kambaku Lodge (named after one of the Kruger Park's famous Magnificent Seven Elephants) at around 2.30pm, we were warmly welcomed by Candice the assistant manager and then introduced to the lodge owners Bryce and Nicola who then introduced us to Neil and Eric, who would be our Guide and tracker for the duration of our 3 day stay.
We also got to meet Paityn, Nicola and Bryce's 4 year old daughter. Kambaku is a family lodge and children are always welcomed.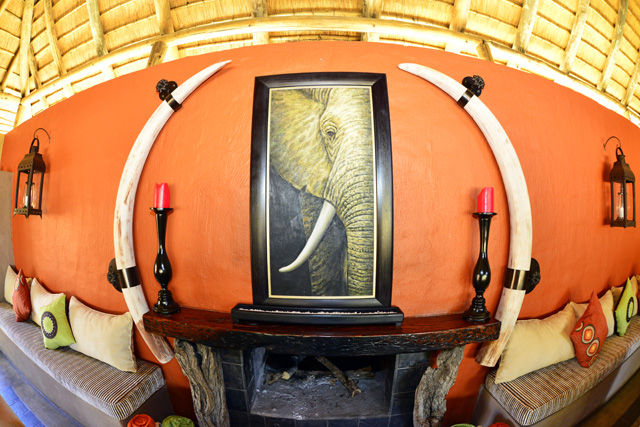 After a quick unpack we got to chat with Candice, Nicola and Bryce in the lounge. Candice then showed us round the lodge, which you can check out on our Kambaku Lodge page.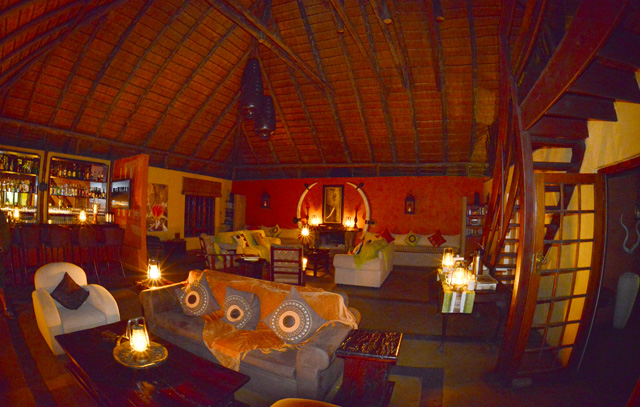 High tea was served at 3pm and therefater we headed out for our game drive. The mornings and evenings were very cold as you can see from how we are dressed...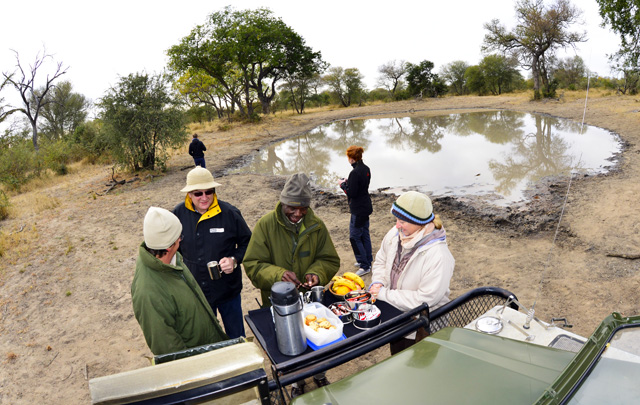 The camp waterhole attracts many animals and three of the Big 5 have been seen there - Elephant, a large herd of Buffalos and a pride of Lions.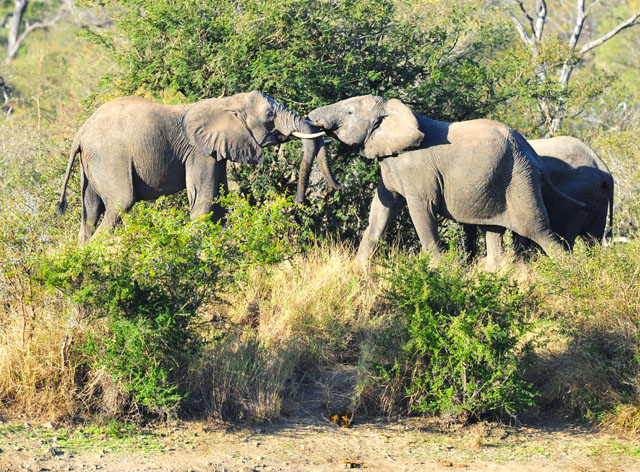 Our game drive started with a bang, we had Elephant, Giraffe and two Leopard sightings, all close to the vehicle...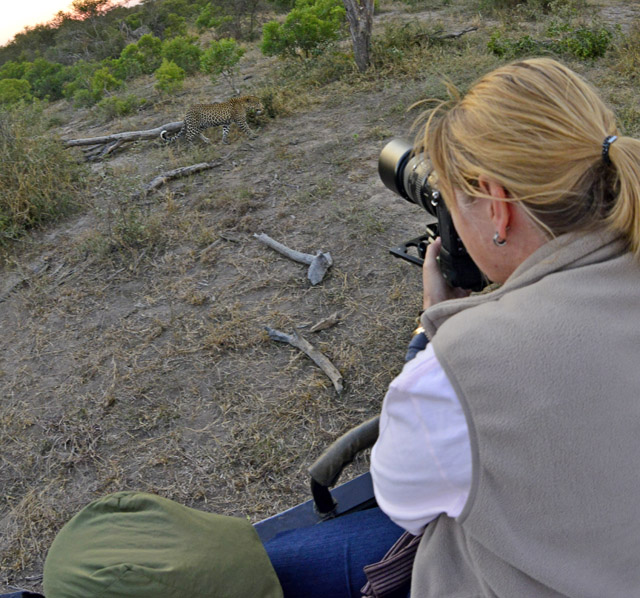 Our primary goal was to see and photograph the white lions and our ranger told us that he had last seen them a month ago so we were a bit anxious!
We went out the next morning and our tracker picked up the lions' tracks and an hour later we had found the white lions! They were in a thicket so our photographs were not great. We had a family of five on the vehicle with us, a couple and their three children. The wife and children were very pleasant but the husband was another story - he spoke through most of the game drives until his own children were telling him to shut-up!
He then wanted to sit with the lions 'in case they get up and start moving'. We informed him that lions tend to sleep through the heat but he insisted so we sat from 08h30 until about 10h00 watching sleeping lions in the grass, behind bushes!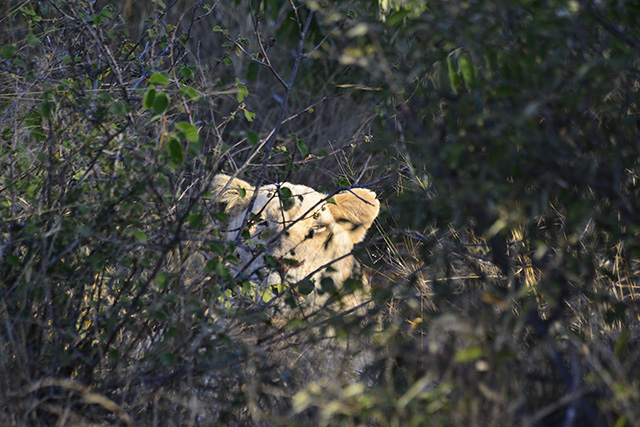 Eventually he saw reason and decided we should head back to camp.
We felt really blessed and privileged to have seen these rare and wonderful cats.
On the afternoon drive we went back to the white lions but the sad thing about this wonderful sighting was that the guest now had changed his tune - he did not have the same appreciation for this rare sighting and he didn't want to sit with the lions until they started to get mobile. After sunset predators start to move - everyone knows this!
We arrived at the lions at 16h00 and by 16h30 the other guest wanted to move on and see 'other things'. Even his wife wanted to stay with the white lions but he was adamant and by the time we got back to the lions at about 18h00 they had crossed over the road into the wilderness area and we had lost the opportunity...what a shame, but that's how game drives go - sometimes you get immature, selfish, show-offs.
The ranger should have known better and should have taken control but they were 'friends' from a previous safari. The safari guide basically did anything that his friend wanted regardless of what the other guests wanted. 
We did not blame Timbavati for our lost opportunity, nor did we blame Kambaku lodge - how were they to know that we were paired with the 'guide from hell' and the 'guest from hell'!   
Instead we made the most of the few moments that we had with the lions and instead of full body images we managed to get a few head shots - portraits of the white lions lifting their heads up over the grass to look at us or yawn...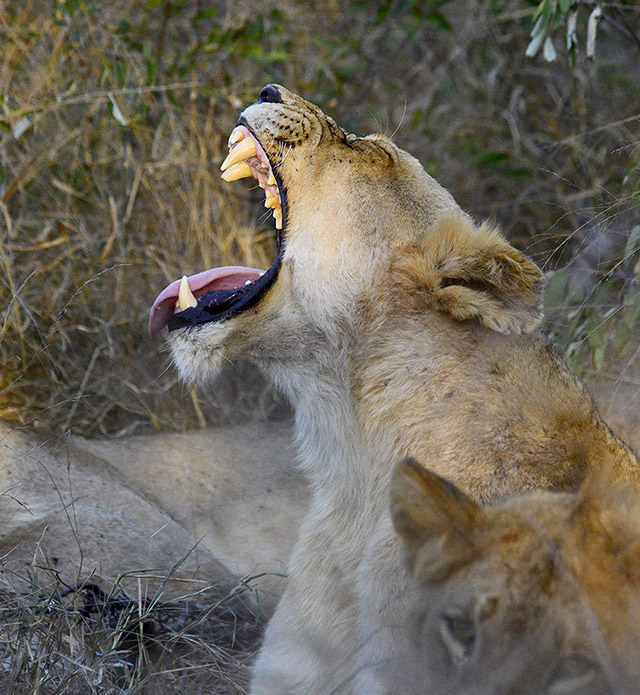 We then told Bryce and Nicola about this and they very kindly put us with another group of people and we went on to have two excellent game drives. (They did inform us that the 'guide from hell' had resigned and was working his month's notice. He is now in Australia so it should be safe for you to visit the lodge!)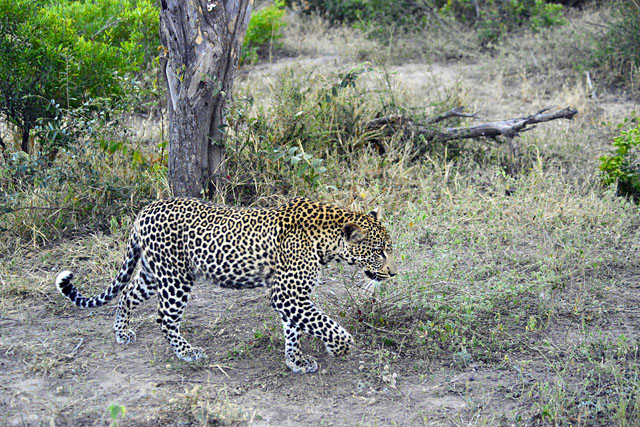 This incident did not dampen our spirits and with 3 wonderful new guests on the vehicle for our last evening game drive we got two more leopard sightings, a side striped jackal, an African wild cat and a large male lion that was just strolling up the road...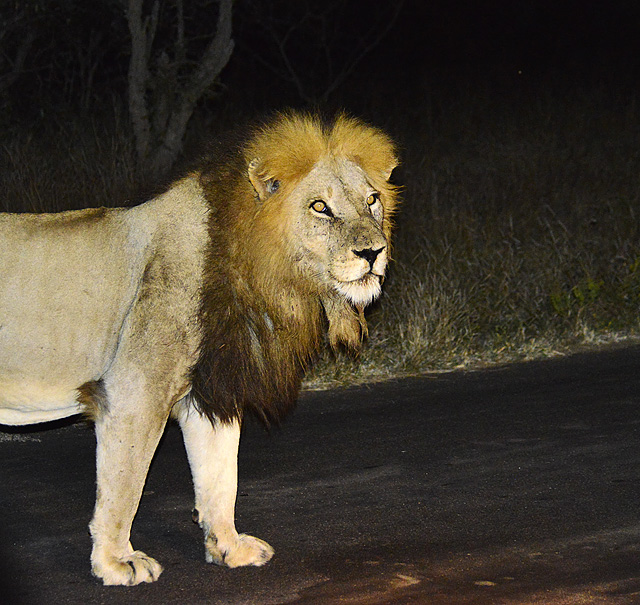 The evening did not end there; we were not taken back to the lodge for dinner as usual but taken to a large open clearing just up the road from the lodge for a fantastic bush dinner, it is truly something we will always remember!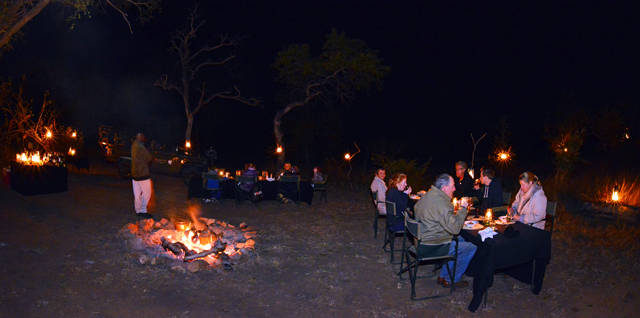 Kambaku Lodge Trip Report Summary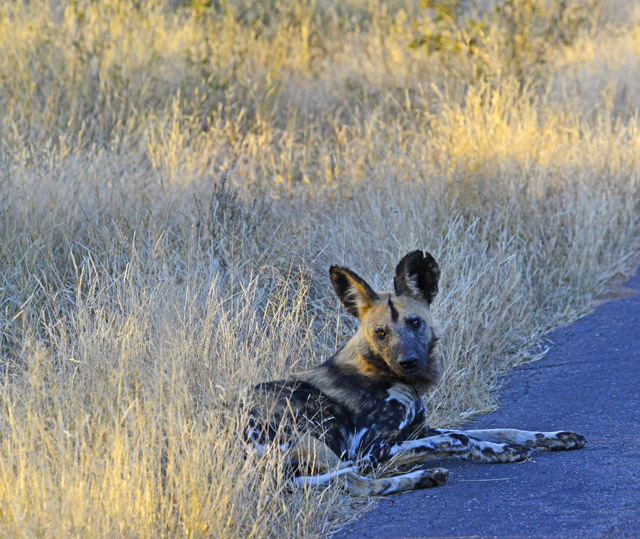 Wow what an end to a fantastic safari - superb food, great company (on the second vehicle!), excellent service and great game sightings.
Thank you to the Kambaku team for a lovely stay! All the staff members went out of their way to make us feel at home and accommodated our every need.
---
For more information or to book your stay please click here
---
Return from Kambaku Lodge to part-one of the Trip Report

---
---

To make a safari rental booking in South Africa, Botswana or Namibia click here
---