The Photographers Guide to the Greater Kruger National Park eBook costs just US$27.00 and comes with a 30-day money-back guarantee.
Please note that the PDF file is 170 megabytes in size so may take a few minutes to download, depending on your internet connection.

If you will be visiting the Kruger National Park you may have just 1 chance to capture the fleeting moments that you witness.
 Your Dream...
You're going on a photo safari to the Kruger National Park that is famous for its big-five animals, birds and amazing landscapes - you have dreams of capturing your fantastic wildlife experiences on camera and returning home with impressive images to show friends and family.
Your Struggle...
You get home with magnificent memories, but boring photographs that have not captured the essence of the Kruger Park. You are so disappointed with the photographs that you show nobody.
Or, even worse, you cannot find the animals to photograph! Remember, the national parks are not zoos, you need to be able to first find the subjects and then know how best to photograph them.
The above scenario is played out by many people each year. You are unsure of what photo equipment to bring with, you don't know where the animal hot-spots are and you don't know what to expect from the animals if and when you do find them.
And then, by the time you are just getting 'acclimatized' to the park, it's time to go home!
For many people, an African safari is a once-in-a-lifetime travel experience and you don't have the time or money to repeat the trip in order to rectify mistakes you made on your first safari. 
But what if you could get a head start with your safari and know important information up-front?
Well you can...
the solution to your problem is The Photographers Guide to the Greater Kruger National Park, an affordable Kruger self-drive book (US$27.00) that you can download today (no postage costs) and either print out or keep on your laptop, iPad and/or Smartphone.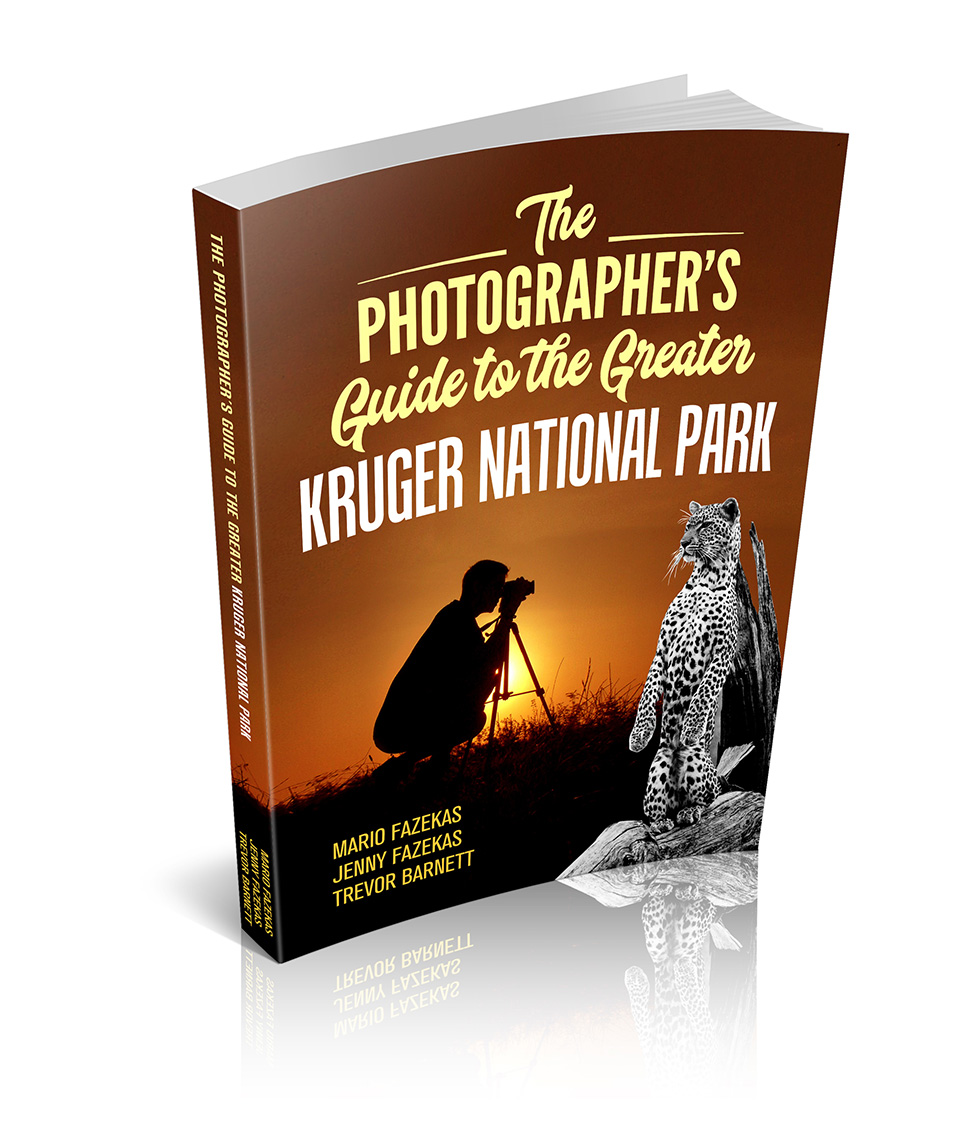 Click Here to Purchase The Photographers Guide to the Greater Kruger National Park...
(We are currently offering 33% off - use the promo code K2K when making your purchase)
The plan is that when you arrive at an area covered in this eBook you'll know where to go when and what to expect and you will know what equipment and techniques will be most effective.
From the first day you arrive at the Greater Kruger National Park, you could be photographing the key animal species like a Kruger veteran!
If you are unsure what an 'eBook' is please click here
What other people are saying about The Photographers Guide to the Greater Kruger National Park
"It's 789 pages of the most amazing information. It consists of, well, everything really. Photography info...area info...hidden roads...special places...what they have seen almost road by road. Where to stay just outside the Park...camp information.

It takes quite a lot to impress me, but I really feel that this book, which was 7 years in the making, is exceptional."

-- Janey Coetzee, creator of the CAROK group (Camps and Roads of Kruger), South Africa
"Planning a Kruger trip? A new guide by pro photographers holds the key to good pictures.

Learn from the folks who spent 517 days in the park and make your photos sing!"

-- Romi Boom, Editor of Wildcard Magazine, South Africa
"It's an excellent publication and a snip at the price. Very comprehensive in as much as it covers so many options for places to stay in and around KNP, gives good ideas on the best places to stop for photo opportunities and lots of hints and tips on how to get better photographs.

It's a good read too and it's like the biggest trip report I have ever read, so I think those who have been before will enjoy it as much as I have in anticipation of my first visit!"

-- Dave Williams, Llandudno, Wales
"...the majority of images are really impressive, each chosen for a practical reason, sometimes annotated to stress a point.

The authors clearly know what they are doing. For decades they have mapped their sightings, and in explaining how they achieved their images, they're sharing invaluable tips on understanding wildlife behaviour, reading the signs, getting yourself in the best position for the shot.

There is a phenomenal wealth of information here; real substance."

-- Craig Rix, Editor, Travel Africa Magazine, UK
"Absolutely superb - you guys hit it out of the park - I've seen several other Kruger books and, in my opinion, yours is simply the best!"

-- Bob Shephardson, Debarry, Florida, USA
"This is an indispensable guide to getting the best out of Kruger, camera in hand or not!"

-- Caroline Webb, Associate Editor, Getaway Magazine, South Africa
---

"Get the most out of your next trip to the Kruger National Park with this eBook." - Safari News

---
Click on the logos below to read more detailed reviews...
---

---

---

---
What's Inside the Photographers Guide to the Greater Kruger National Park eBook...
Written by three wildlife photographers who have spent over twenty years on African photo safaris – both guided safaris and self-drive safaris.
We are confident this eBook will immensely improve your Kruger Park photo safari:
·  It's for every level of photographer - whether you have just one camera and one lens or if you are an advanced photographer with all the latest gear.
·  It's a substantial book - 789 pages filled with photos, advice, tips and lessons that the authors have spent years learning.
·  It's a blend of theory with plenty of practical advice - there are explicit directions (with great maps), best times to visit, photographic lessons and expected subjects for the whole park including places outside the park.
·  It's instantly accessible - no waiting for postal deliveries or expensive couriers.
·  Whenever we update the eBook with fresh information you will be entitled to the revised copy at no charge.
·  It's guaranteed - you get a 30-day money-back guarantee.
·  The eBook is portable - you can take it with you in your vehicle and refer to it while at the waterholes and/or while sitting at the camps doing a sofa-safari!
The Photographers Guide to the Greater Kruger National Park 
Table of Contents...
About the Authors          
Table of Contents           
Introduction      
More about the Photographers Guide to the Greater Kruger National Park            
How to Use This Book   
Photographic Equipment             
Making the most of Your Kruger Safari
Travelling tips to the Kruger Park              
Lesson 1: Plan your safari before you arrive in the park  
SECTION A - THE SOUTHERN KRUGER NATIONAL PARK 
Our Southern Kruger Sightings  
A1 Berg-en-Dal Rest Camp          
Lesson 2: Macro Photography in-camps
A2 Malelane camp          
A3 Lukimbi Safari Lodge
Lesson 3: Always have your cameras ready          
Suggested Drives around the Berg en Dal area    
S110 Tar Road Highlights              
Points of Interest            
A4 Pretoriuskop Rest Camp        
A5 Tented Adventures Pretoriuskop       
Lesson 4: Keep the background and your position in mind             
A6 Nkambeni Safari Camp & Buffalo Rock Tented Camp 
Suggested Drives around the Pretoriuskop area 
S3 Highlights     
Points of Interest            
A7 Skukuza Rest Camp  
Lesson 5: Star Trails & Star Points             
Suggested Drives around the Skukuza area          
Points of Interest            
Lesson 6: Enlarging the size of your canvas           
Lesson 7: Photographing the Sunrise from Koppies          
A8 Lower Sabie Rest camp           
Suggested Drives around the Lower Sabie area  
H10 Highlights  
Points of Interest            
Lesson 8: Look for patterns:       
Lesson 9: Previsualisation - Anticipating the Subject's Movements
A9 Crocodile Bridge Rest Camp
Lesson 10: Situation driven not subject driven    
Suggested Drives around the Crocodile Bridge area
Points of Interest            
Lesson 11: Getting creative when faced with difficult photo situations.   
A10 Biyamiti Bush Camp             
 Suggested Drives around the Biyamiti area          
Staying outside the Park & Entering each day as a Day Visitor:     
Crocodile Bridge Gate   
Restaurants in Komatipoort        
Restaurants in Malelane              
Numbi Gate       
Restaurants in White River          
Lesson 12: Don't be afraid to use high ISO!
Restaurants in Hazyview              
Paul Kruger Gate             
Lesson 13: Shoot First, Ask Questions Later          
A11 Mthethomusha Game Reserve - Bongani Mountain lodge    
San Rock-art
Lesson 14: Photographing Wildflowers  
SECTION B - THE CENTRAL KRUGER NATIONAL PARK      
Our Central Kruger Sightings      
B1 Talamati Bushveld camp        
B2 Mlutwati Concession
  Imbali Lodge, Hoyo Hoyo, Hamiltons Tented Camp              
B3 Orpen Restcamp       
Lesson15: Photographing Reptiles
B4 Maroela Camping site             
B5 Tamboti Tented Camp            
B6 Satara rest camp       
Suggested Drives in the Orpen/Satara/Talamati area       
S100 Highlights 
H7 Highlights     
H1-3 Highlights 
H1-4 Highlights 
Lesson 16: Finding Leopards       
Points of Interest            
Lesson 17: How to behave at a Sighting 
Lesson 18: Photographing Birds on Game Drives
B7 Roodewal Bush Lodge             
B8 Balule Camp
Suggested Drives around the Roodewal & Balule areas   
Points of Interest            
Lesson 19: Understanding animal behaviour       
Lesson 20: Be aware of Your Surroundings           
Orpen Gate       
B9 SABI SANDS RESERVE - GREATER KRUGER      
Lesson 21: Lighting         
B10 Manyeleti Game Reserve   
B11 Shalati Safari Camp
B12 Timbavati Game Reserve    
B13 Makalali Conservancy/Lourene Game Reserve          
Lesson 22: Photographing on a Guided Game Drive         
SECTION C - THE NORTHERN KRUGER NATIONAL PARK 
Our Northern Kruger Sightings  
C1 Olifants Restcamp    
Lesson 23: Photographing from the Camps          
Suggested Drives in the Olifants area      
Points of Interest            
Lesson 24: Sunrise & Sunset from the Bridges     
C2 Letaba Restcamp      
C3 Shimuwini Bush Camp            
Lesson 25: Shooting Leopard cubs – all day!        
Suggested drives in the Letaba/Phalaborwa area
Lesson 26: Photographing Birds in Camp
Off-road Routes
H14 Highlights  
Points of Interest            
Tip: Shooting Animalscapes        
Tips on what to take for a sleep out at the hide  
Lesson 27: Using Smartphone Cameras on Safari
C4 Boulders Bush Lodge
Boulders Bush Lodge private road: S136
C5 Mopani Rest Camp   
Lesson 28: How to capture images at congested sightings             
C6 Tsendze Rustic Camp               
Suggested drives in the Mopani area      
Points of Interest            
Lesson 29: Using HDR    
C7 Bateleur Bushveld Camp        
Points of Interest            
Phalaborwa Gate            
Lesson 30: Stop and Scan             
C8 Letaba Ranch              
C9 Machampane Wilderness Camp         
SECTION D - THE FAR-NORTHERN KRUGER NATIONAL PARK       
Our Far-north Kruger Sightings  
D1 Shingwedzi 
D2 Sirheni Bushveld Camp
Suggested Drives in the Shingwedzi / Sirheni area             
H1-7 Highlights 
Points of Interest            
Lesson 31: High-key & Low-key Images 
D3 Punda Maria Rest Camp        
Lesson 32: Photographing at night in the camps
D4 Pafuri Border Camp 
D5 Pafuri Camp
Walks & game drives:    
H13-1 Highlights              
Lesson 33: Baobab Sunrise          
Points of Interest
Lesson 34: Crocodile Kills             
Punda Maria & Pafuri Gates       
Lesson 35: Finding Subjects        
D6 Makuya Park              
A Typical Self-drive Day in Kruger             
Tips for Day Visitors       
A Typical Day at a Private Reserve in Greater Kruger        
More about the Kruger National Park     
Gate and camp opening and closing times:          
Kruger National Park Road Numbers & Names   
Kruger National Park Seasons    
Accommodation Facilities within Kruger
Picnic sites         
Bird hides           
Health & Safety
The advantages of staying inside the park             
Some of our previous itineraries
Animals visiting you in your chalets or tents   
Lesson 36: The Magic Tree
Photographic opportunities missed         
Conclusion         
FINAL WORDS   
Photographer's Resources          
Keeping Drinks Hot or Cold         
Kruger Park Books          
Photographic Safaris      
     Technical Details 
Image Index
About the Authors…
Mario & Jenny Fazekas have, since 1995, spent over 1000 days on self-drive and guided safaris in African National Parks in southern & east Africa with over half that time being spent in the Greater Kruger National Park.
Many of their photographs have been published and they have won a number of photographic contests.
Trevor Barnett has been visiting the KNP for over thirty 30 years but has taken wildlife photography serious only in the last ten to fifteen years. 'Serious' being an understatement, as Trevor leaves camp every morning as the gates open and he returns just as the gates close.
Some of Trevor's images have won photo contests and have been showcased in many local and international publications.

Who better to than these three photographers to advise you on how best to find and photograph the Kruger National Park's amazing wildlife!
A quality digital camera is just the start of what you need - these three seasoned wildlife photographers will provide tried and tested tips so you can capture great digital photographs while on your Kruger safari.

Who's this Book For...?
Ready to Order?
The Photographers Guide to the Greater Kruger National Park costs only US$27.00
That's less than one night's camping site for four people costs in the Kruger Park!
Remember, you are spending thousands of dollars on safari accommodation, travel and photographic gear - ensure that you get value for money from your safari by investing in The Photographers Guide to the Greater Kruger National Park, so that you can make certain that you return home from your photo safari with images you are proud of.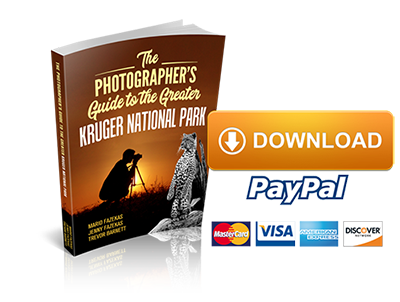 What happens once you click the ADD TO CART button?
You will be taken to a secure order form where you can pay via PayPal or credit card.
If you do not have a Paypal account you will be able to use your credit card as a 'Paypal guest'. When you click 'Checkout with paypal' you will be taken to the Paypal website and then you simply click where it says 'Don't have a Paypal account?' and you will be able to pay with your VISA, Amex, Mastercard or Discover credit cards.
Upon completion of payment you are directed to a secure download page where you can download The Photographers Guide to the Greater Kruger National Park. If this does not happen automatically, just click the button that says "Complete your purchase". Don't worry if you forget to. You will also receive an email with the download link.
---
This file is in Adobe Acrobat PDF format.
To be able to view this document you must have the Adobe Acrobat reader installed.
To download a free copy of Adobe Acrobat Reader, click here and follow the on-screen instructions.
If you are using an iPad then click on the download link in your purchase confirmation email. Your book will open in Safari (iPad's internet browser). With the book open, tap once on the screen to pull up a menu, choose the option labelled Open in iBooks and the book will automatically open and be stored in the iBooks app in the PDFs collection.
---
If anything goes wrong, if you have any trouble, just contact me and we will help you with it.
PS: We are confident that The Photographers Guide to the Greater Kruger National Park eBook will be a huge help to you, but should you really disagree, then we will refund you immediately. Your satisfaction is guaranteed. If at any time within 30 days from buying this eBook you decide that you made a mistake, that the photographers guide to the Greater Kruger National Park is not what you expected, then just email me and we will return your money instantly, no questions asked.
---
If you would prefer to purchase the Amazon Kindle version of the Photographer's Guide to the Greater Kruger National Park eBook, please click on the image below... 

You can also read more about the other eBooks in this series on the author's Amazon page.
---
Other eBooks in The Photographer's Guide series:
---
Return from Photographers Guide to the Greater Kruger National Park to Kruger Park page

Return from Photographers Guide to the Greater Kruger National Park to K2K Home page

---
---

To make a safari rental booking in South Africa, Botswana or Namibia click here
---