The Photographers Guide eBooks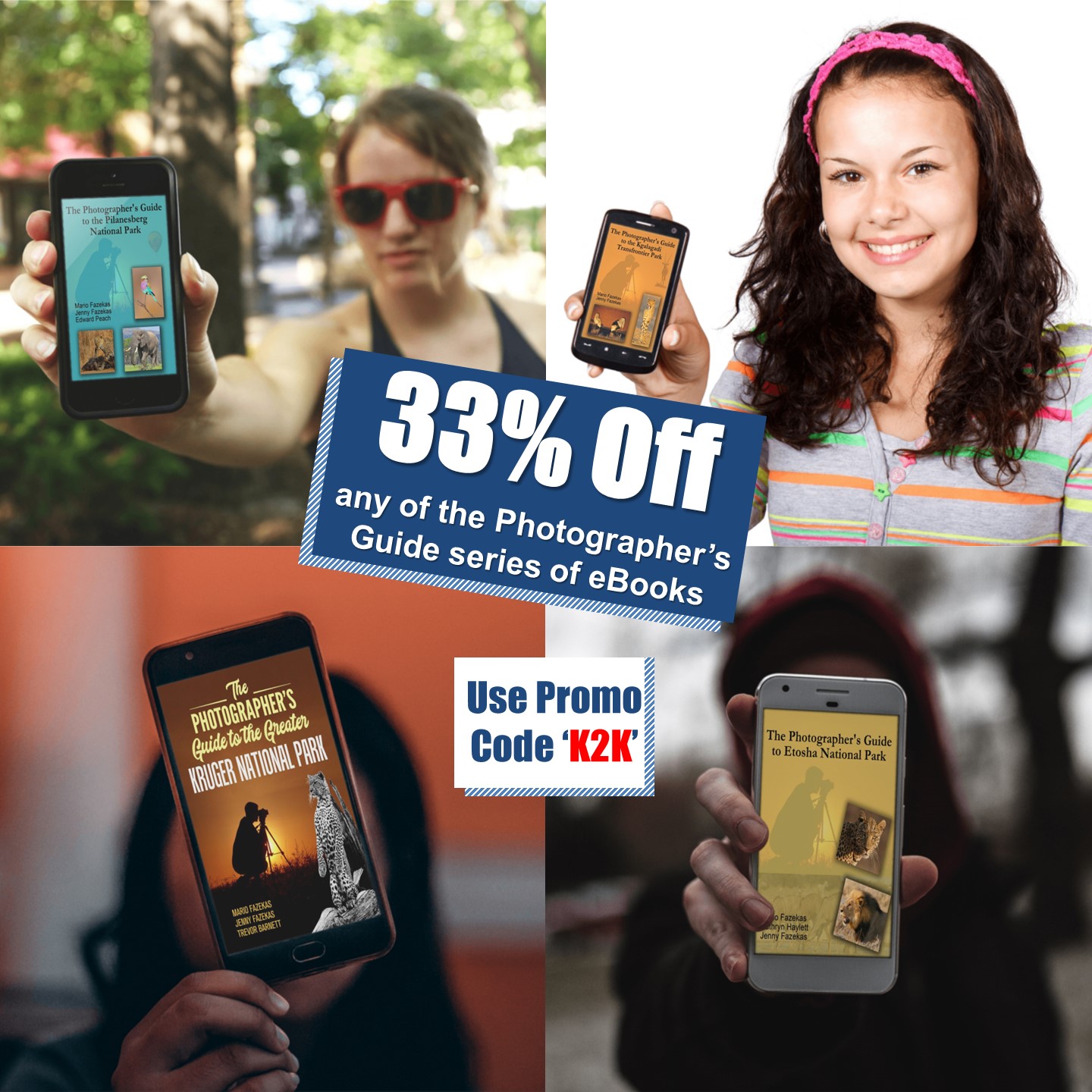 Photographer's Guide to Etosha

"Your time and money are valuable and the information in this book will help you save both." 

- Don Stilton, Florida, USA

Photographer's Guide to Pilanesberg

"This work is so much more than an eBook, because it is also a guide, a tutorial, an inspiration and a must-have for anyone interested in wildlife photography" 

- Findtripinfo.com, USA

Photographers Guide to Kgalagadi

"This eBook is packed with knowledge that can be applied to other parks, safaris and wildlife excursions via the photography lessons and additional advice for photographers" 

- Amanda Ellis, Pretoria, South Africa

Photographers Guide to the Greater Kruger National Park

"It's 768 pages of the most amazing information. It consists of, well, everything really. Photography info...area info...hidden roads..special places....what they have seen almost road by road. Where to stay just outside the Park...camp information. It takes quite a lot to impress me but I really feel that this book, which was 7 years in the making, is exceptional."

- Janey Coetzee, founder of CAROK (Camps and Roads of Kruger)
When we started out with wildlife/nature photography we would visit the national parks once a year, on our annual vacation, and we would take thousands of photographs but when we got home and looked at them we knew that our photos 'sucked'!  We had passion but ended up frustrated photographers with photo-duds!
We posted our photos to photo-sharing sites and on Facebook groups and other people would make comments such as "wonderful shot!", "lovely photo!" and yet we still were not able to sell our photos and we were not winning any photo contests so we knew that our photographs were not good - people were simply being 'nice'!  
1. Moringa Leopard - Everything about this Photograph is Bad - Composition, Exposure, Focus & Depth-of-field!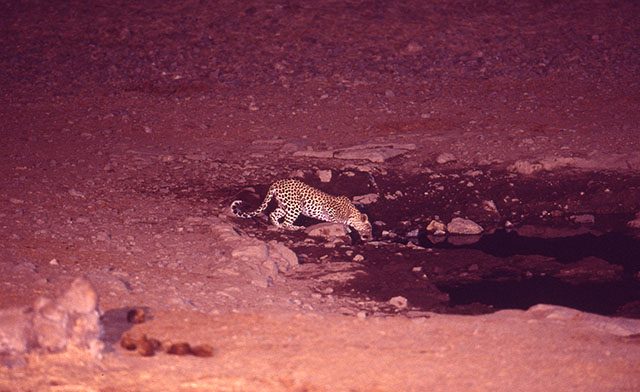 It took us two years of visiting Halali camp in Etosha before we finally got to see and photograph the resident leopard! Each year we arrived at the waterhole either too early or too late, until we got to understand the leopard's habits and we accordingly changed our strategy - but the resulting photographs were not good!
As Darren Rowse, the proprietor of Digital Photography School says,
 "Simply going to a site like Flickr and looking at the photos people have gives you endless ideas because 99% of those photos are terrible!"
Many people do not want to put in the effort to progress but we wanted to improve our photography skills and were prepared to learn so we bought nearly 100 books over 15 years and ended up with a pile of general wildlife and nature photography books and another pile of African safari books.
The wildlife books taught what photo equipment was needed and how to use it and the African safari books taught us about our subjects - the landscapes, birds, mammals and insects.
We now had two pieces of the puzzle but had to apply what we had learnt to the specific parks we visited – that is the missing piece to complete the puzzle.
2. Moringa Leopard - Slight Improvement!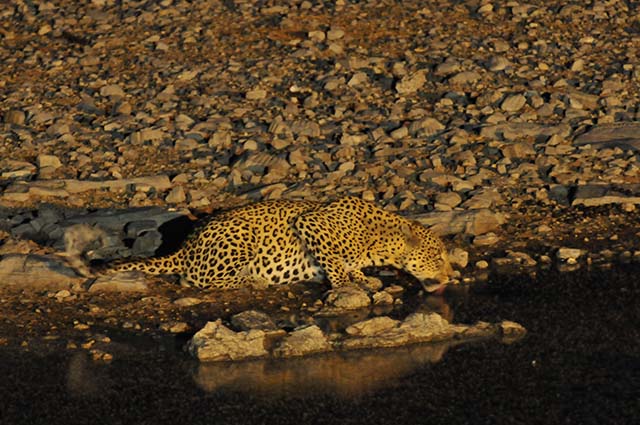 In the above image, taken 18 months after the first image, the composition and exposure are better, but the image is blurred and lacks impact. We were improving but very slowly!

Every safari taught us something new - we learnt what equipment is 'best' for safaris to each park, what gear works best for night photography, how to shoot from game viewing vehicles, how to shoot from a hot air balloon, how to shoot on a self-drive safari, how to shoot from camps, photographing on a bush walk, best time of day at each waterhole, animal hot-spots and so on.
Yes, cameras and lenses are important but they alone will not improve your photographs.
You need to find the animals – this means knowing which waterholes and what times of the day are best – and then you need to know where to position yourself to make the most of the light (photography is, after all, 'painting with light'), understand animal behaviour so that you can anticipate action and then have at least basic cameras, lenses and accessories and know how to use them.
After each safari we analysed our failures and successes and ensured that we were better prepared on our next photo safari.
In the third image below, we finally got a good photo of the resident leopard but the bright yellow eye-shine from our flash spoils the photo...
3. Moringa Leopard - Progress!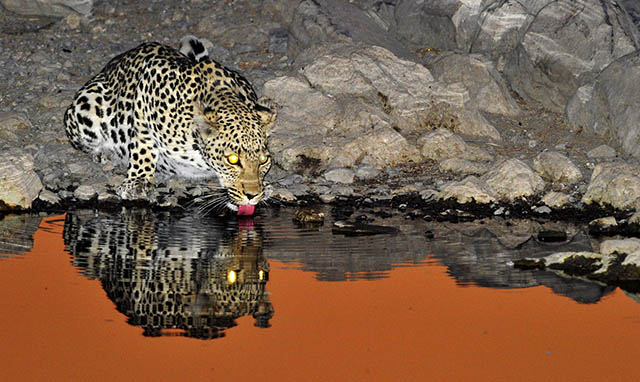 The above image has impact and the composition, exposure and focus are all good but the eye-shine is distracting!

 As you will see in the following image, we eventually got the photograph we were looking to get when we first started visiting Etosha...!
4. Moringa Leopard - Success at Last!!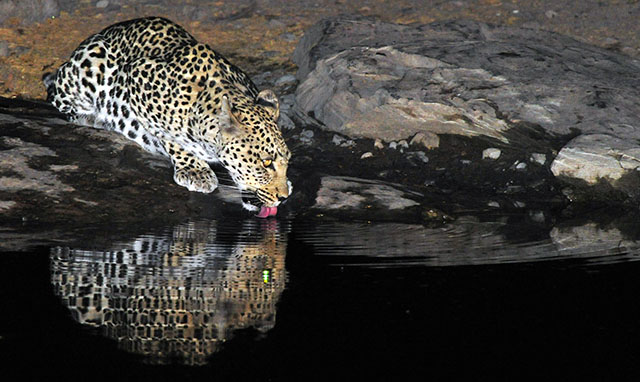 The above image will be hard to improve as all the elements (composition, focus, exposure) come together to make a most appealing image  and with no eye-shine.
It took us 2 years just to find the leopard and then 5 years of trial and error to get from the first leopard image to the fourth! All four images were captured at Moringa waterhole in Etosha and could all be the same resident leopard.
As we saw it, the gap in the market was a lack of information specific to each park on how best to find and then photograph the flora and fauna.
We realised that this information would have made a world of difference to us when we first started visiting the parks and so the idea was born to share this knowledge gained over the last 19 years in Photographers Guide eBooks specifically for each park.
We were going to publish our Photographers Guide books (or site guides as they are also known) the traditional route, via a publishing company but they want to limit the book to what they think will sell best and so we opted for the eBook route where we would have the freedom to publish the book so as to provide the most value to readers.
We started working on the Etosha book in January 2011 and finally published The Photographer's Guide to Etosha National Park in March 2012. It took us over a year to write the book and compile photographs and lessons from many safaris to the park.
We then updated the ebook in 2016 after the western side of Etosha was opened to the public and Dolomite camp was built. It added an extra 70 pages to the book!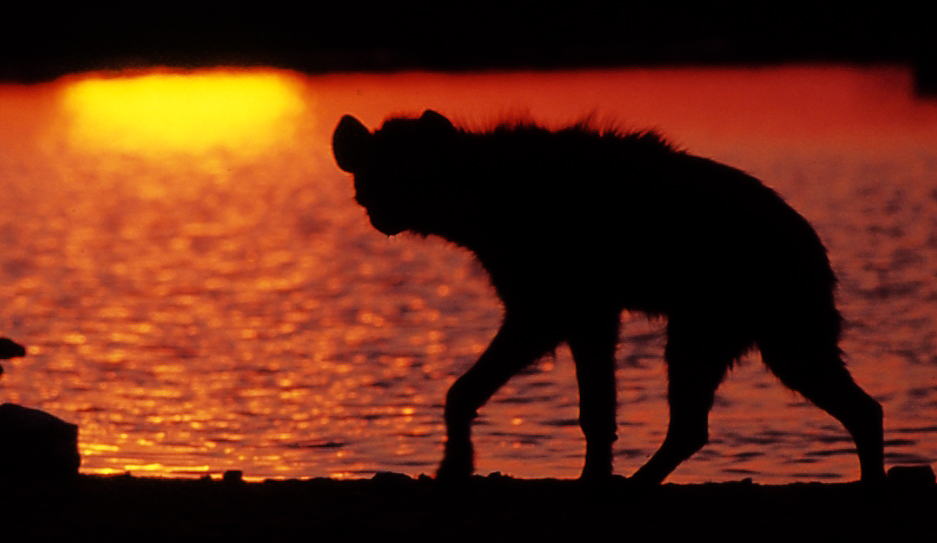 In January 2013 we published The Photographer's Guide to the Pilanesberg National Park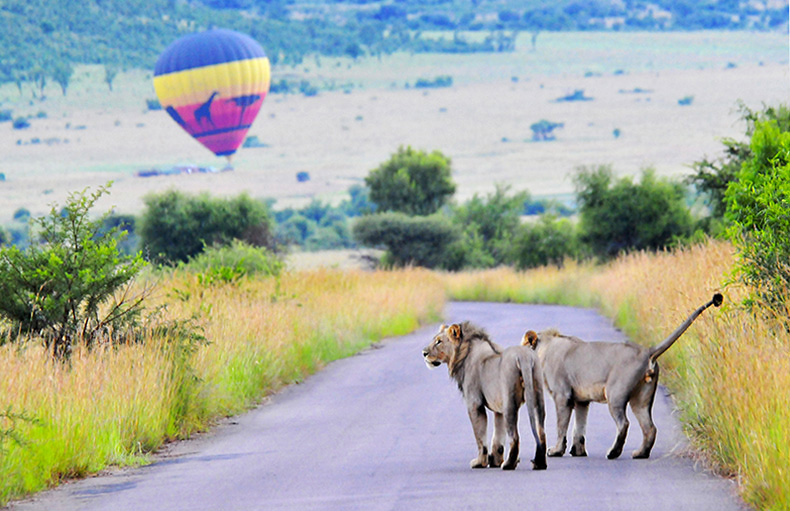 in June 2014 we published The Photographer's Guide to the Kgalagadi Transfrontier Park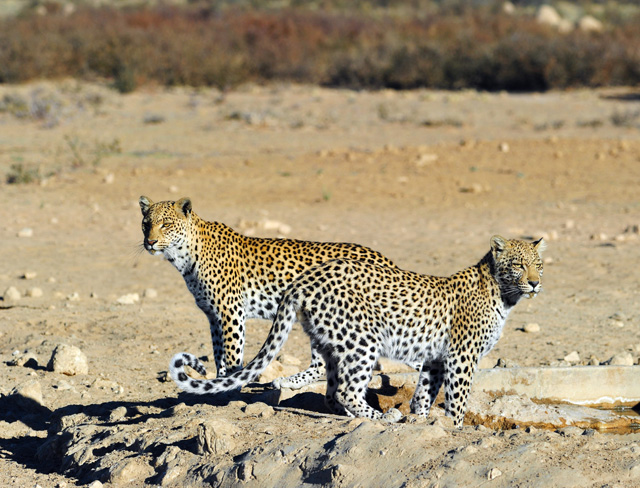 and in May 2019 we published The Photographer's Guide to the Greater Kruger National Park eBook - 7 years in the making with over 700 pages!
We also have two more Photographers Guide eBooks in various stages of work-in-progress – one on Madikwe Game Reserve, and the other on Namibia. 
The Covid-19 plandemic halted progress on these two ebooks but we hope to carry on with them in the near future, God willing. 
- What type of photos would you be getting if you were at Halali?
- Which of the four leopard images above would you be capturing?
- Would you even get to see a leopard? 
The Photographers Guide eBooks share with you all the knowledge we have gained over the past 20 years - over 1000 days on self-drive and guided safaris - so that you can experience a steep learning curve, save yourself some pain, and skip the trial and error that we had to go through (images 1 to 3) so that you can start capturing images like number 4 above.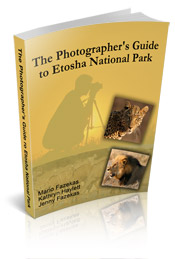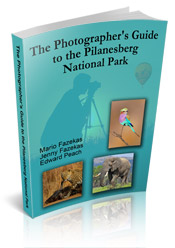 ---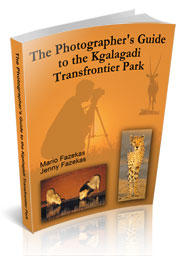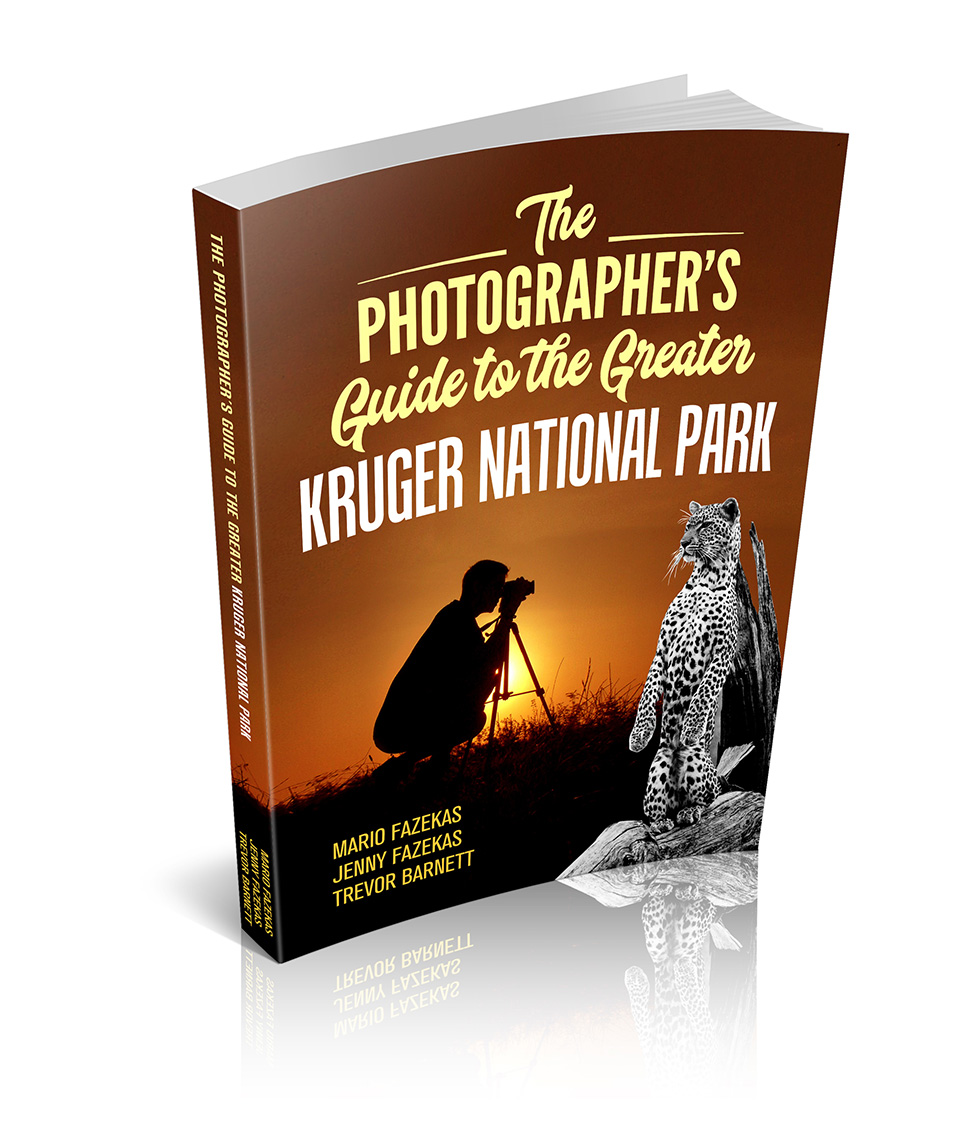 ---
These eBooks are also available on Amazon in the Kindle format. You can read more about them on our Kindle Author's Page. 

---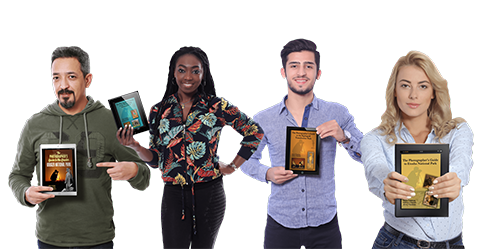 Should you wish to purchase all four eBooks together you can do so and get a 45% discount, ($59.95 instead of $109.00).

Click here to add to cart...
or click here to go straight to Paypal...

---
The Photographer's Guide eBooks to Madikwe Game Reserve and to Namibia are due for publication in 2020/1. 

---
You can read more about our eBooks in the interview Amazing southern African wildlife photos and eBooks.
---
Do our Photographers Guide eBooks get results?
Here are some of the unsolicited testimonials from clients who have bought the Etoshs eBook book and taken it with them to Etosha, either on their laptops/Kindles or printed it out:
Hennie Lacock (Johannesburg, South Africa)
"I used your Photographer's Guide eBook to Etosha National Park while in Etosha this year and it was great! It really helped us to find and photograph the different animals in two ways:
1. Firstly we could optimize our time – we did not have to first scout every waterhole to find out which was best in terms of time of day (lighting), where the animals were congregating and which waterholes provided a clear wide-open view. As a result, we ended up spending only about 30% of the time we normally spent on scouting and could spend more time taking photographs!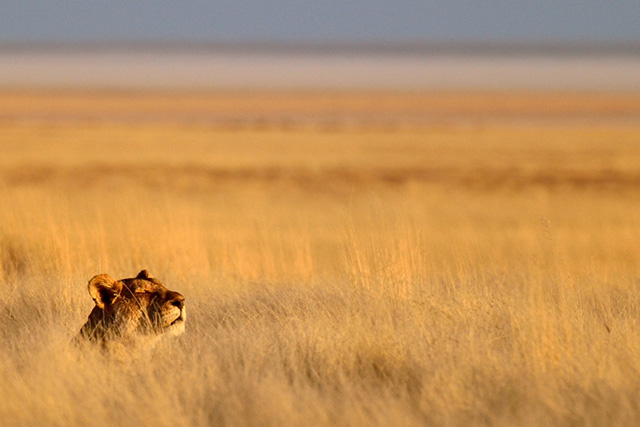 2. The second biggest thing the eBook helped with was with what to expect in each area of the park; where giraffe tend to congregate, where the prides of lions are regularly seen, and so on.
Because of that knowledge, it enabled us to find lions, leopards, rhinos and the shy Damara Dik Dik! I didn't get any good shots of them as they were hiding in the bushes, but just the fact that I found the Dik Diks was the highlight of my trip, and I thank you for the great information you gave."

(You can see more of Hennie's images on his website)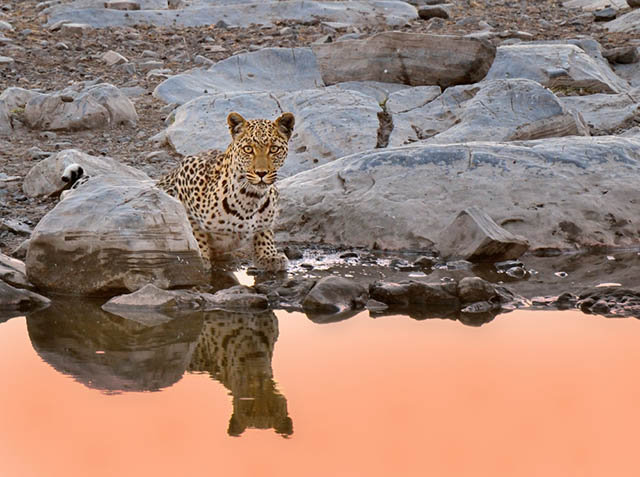 The famous Moringa leopard at Halali's waterhole! I would say that this image is comparable to our number 4 above - in one trip Hennie captured an image that had taken us five years to get!

Tony Proud (UK)

"I came across your e-book "The Photographers Guide to Etosha" soon after we booked our trip to Namibia, I just had to have it.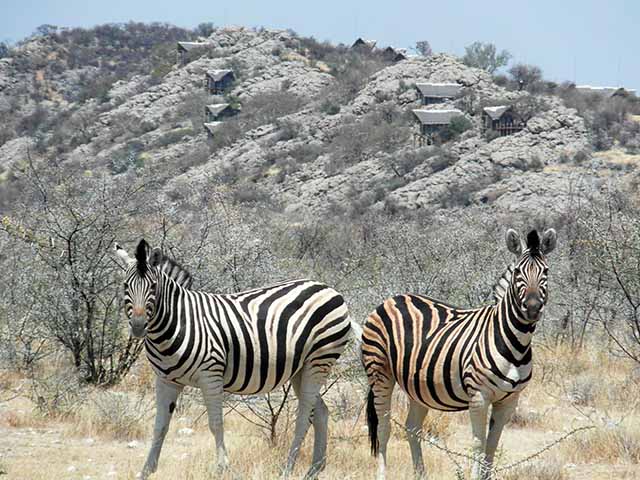 It contains all the information any photographer visiting Etosha would want, it is superbly written and easy to follow, suitable for professionals or amateurs.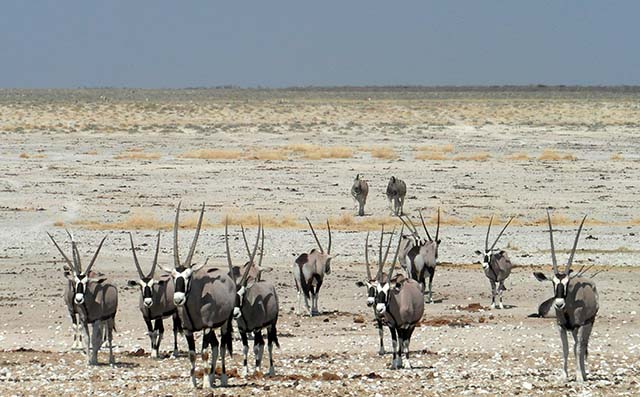 Needless to say it went with me all the way to Etosha (on my laptop), and I was constantly referring to the content.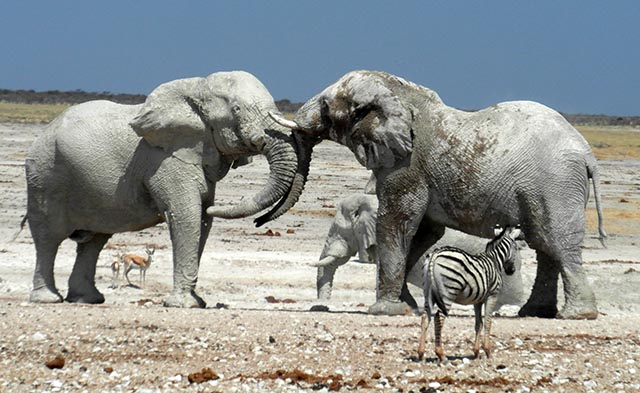 It was not only my guide but a valuable companion; it helped enormously in finding wildlife at the waterholes and put me in the right place to capture those special moments." 
You can read more of Tony's exciting African safari adventures here

Elmar Venter (Pretoria, South Africa)

"Sitting and watching an endless procession of game drinking at the Okaukuejo waterhole is one of the great gifts of nature. We spent endless hours in camp watching thousands of zebra, blue wildebeest, gemsbok, kudus, giraffe, springbuck, and elephant coming to drink.
The Etosha e-book by Mario, Jenny and Kathryn inspired us to visit the park. The book is a must-have for any photographer visiting Etosha as it contains crucial information on making the most of the photographic opportunities at this great reserve.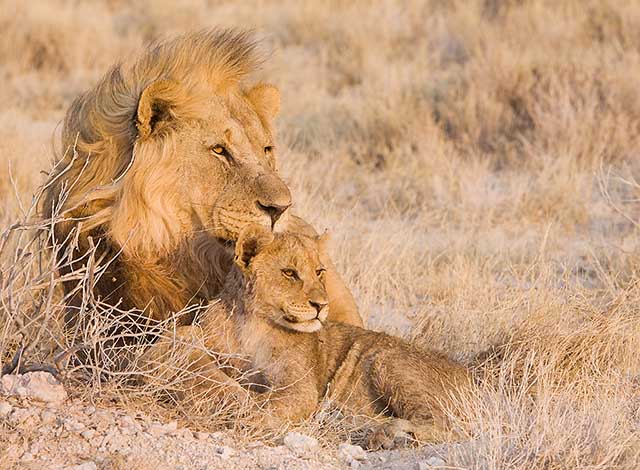 Based on the information in the Etosha e-book and advice by Kathryn, we decided to head to Okondeka early one morning. We were treated to a pride of 11 lions (1 male, 3 females and 7 cubs) sleeping close to the road. As the morning heated up, each of the cubs stood up to greet dad.
Thanks to Mario, Jenny and Kathryn for sharing their wealth of knowledge and experience. This certainly helped us to make the most of our visit to Etosha."
David and Jacinta Cook (London, UK)
"We spent 8 brilliant days in Etosha and had so many memorable experiences it is hard to choose one. I found the Photographers guide to Etosha eBook indispensable!! A snip at just over 12 quid! And no, I am not affiliated to it in any way.

We even bumped into Kathryn Haylett, one of the authors, at Nuamses waterhole on the 3rd October, after I recognised her fantastic photo platform vehicle! I showed her the photo guide and I think she was delighted!

We had an amazing Safari to Okondeka waterhole north of Okaukuejo camp on the 4th October. We arrived here to find we had the waterhole to ourselves not another person or vehicle in sight! We parked in pole position just adjacent to the trees on the bank to the left of the main road!

We had been there for the best part of an hour and suddenly spotted a big Lioness that had been sleeping somewhere in the grass just in front of us! She got up and moved away from us to have a drink at the waterhole. Whilst watching her through the binoculars, we suddenly could see several Lions, Lionesses and cubs padding across the pan to the waterhole after a night hunting out on the pan.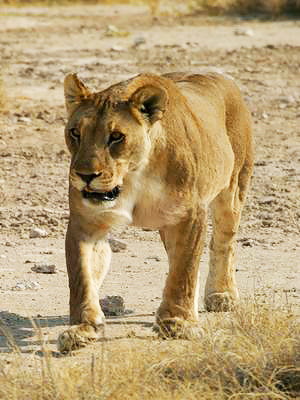 Wow what a sighting! Meanwhile the first Lioness started to walk back towards us - all of a sudden she started chasing a Jackal - the chase was very fast and she killed the Jackal with one bite! The chase was so quick I did not even have time to photograph it! I only got a photo of the Lioness standing over the dead Jackal!

Meanwhile the other Lions, which were drinking at the waterhole, started to walk towards us! There were about twelve or thirteen of them, two males, several large females and a good few cubs of varying ages. What a sighting – and now they were heading straight for us!
We were rewarded with the most amazing close encounter you could hope for in Etosha, as Lion after Lion walked straight in front of us!! A truly awe inspiring moment and all before 9am in the morning! Certainly worth hanging around here for that!"
Wayne & Linda Duke (Parksville, Vancouver Island, British Columbia, Canada)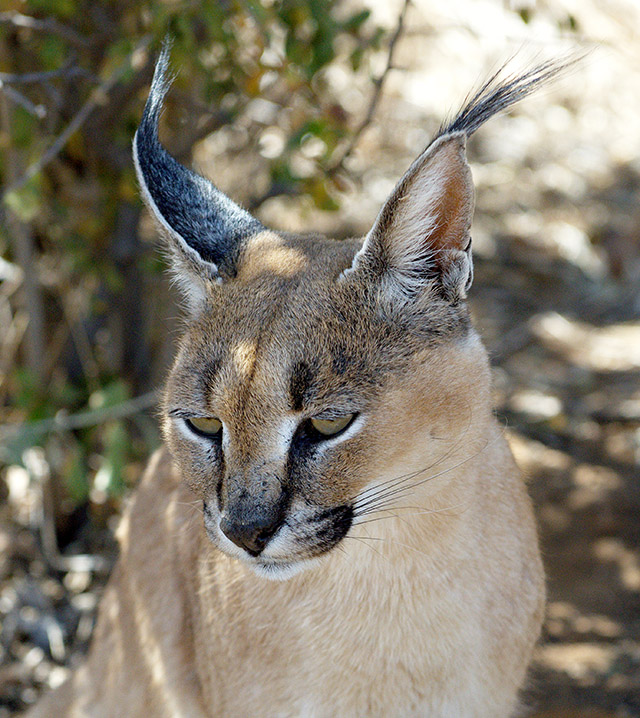 For those of you who wish to safari in Africa your first step must be to contact Mario and Jenny Fazekas. They live and breathe the adventures we can only dream of.
Their knowledge and helpfulness are unsurpassed, whether you are a professional or an amateur photographer, or just wish to travel about this part of the world, their expertise will be invaluable.

They, along with Kathryn Haylett have produced an E-book called "The Photographers Guide to Etosha",which is a National Park in Namibia, southern Africa.
This guide is a must to have as it is full of valuable tips both with photography in mind as well as travelling and essential items that one might need when setting out on such an adventure.
You can read more about Wayne's Etosha adventure here
---
The Photographers Guide ebooks can get results for the people who implement the suggestions!
---
Return from Photographers Guide eBooks to Kruger2Kalahari Home page

---
---

To make a safari rental booking in South Africa, Botswana or Namibia click here
---