Madikwe Trip-report
01-2015
This was our fourth trip to Madikwe - we went along our normal route on the R565, past Sun City and Pilanesberg as we find this much shorter than the N4-Zeerust route and there are no tolls.
Our journey started on the morning of 2nd January 2015, what a way to start the New Year, staying at 5 lodges over 15 days - what could be better than 2 weeks in this magical place.
The temperatures varied between 17 degrees celsius in the early mornings, then heating up to between 28 and 38 degrees by midafternoon. We took our warm Jackets, but only used them about three times and that was only for 3 of our early morning game drives.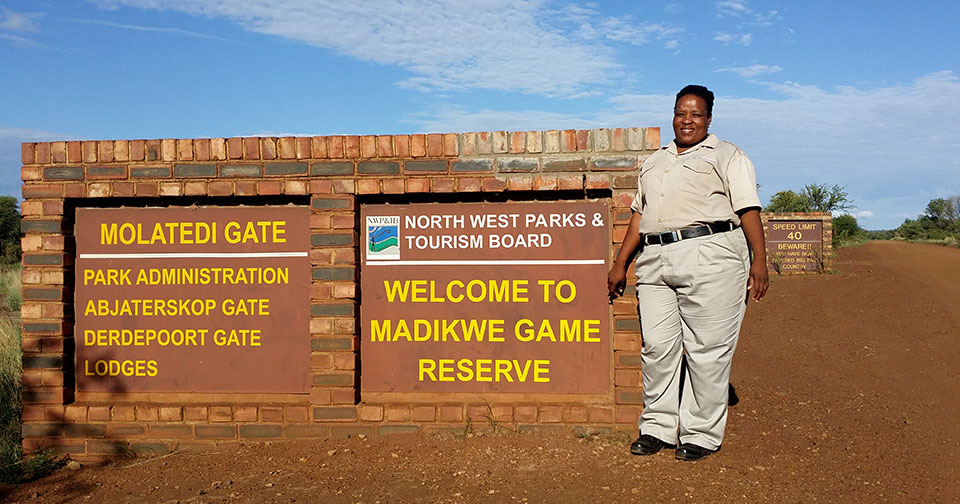 We had a few overcast days with some rainy days but the rain was most welcomed due the soaring heat. On one of our afternoon game drives we sat in ponchos all the way- because it bucketed down and we could not even take our cameras out to photograph anything.  
Our trip started a little earlier this time round at 4.30am, because we had a few stops to make along the way. We arrived around 7.30am at Molatedi gate. The first stop of our journey was- Madikwe River lodge.
Madikwe Trip-report 01-2015 – Madikwe River Lodge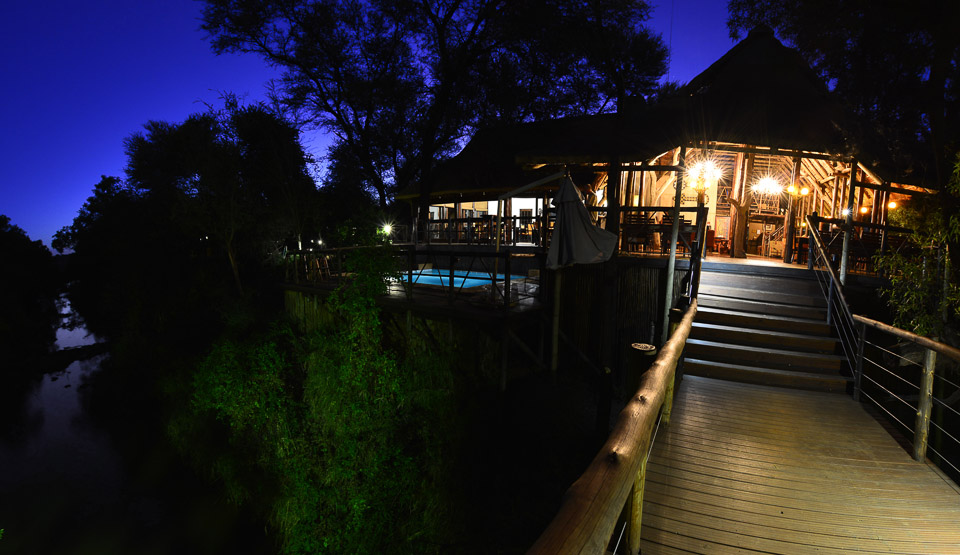 After arriving at Madikwe River Lodge we were warmly welcomed by Patrick (the GM) and then introduced to Nick (the new acting GM) who will be taking over from Patrick for a while. On arrival we were given cold face cloths and a lovely refreshing welcome drink. 
We did not need to be shown round the lodge because this was our second stay and we now knew our way round so Patrick told us to make ourselves at home.
We stayed in suite 17 – with lovely views over the Groot Marico River, our home for the next 3 days.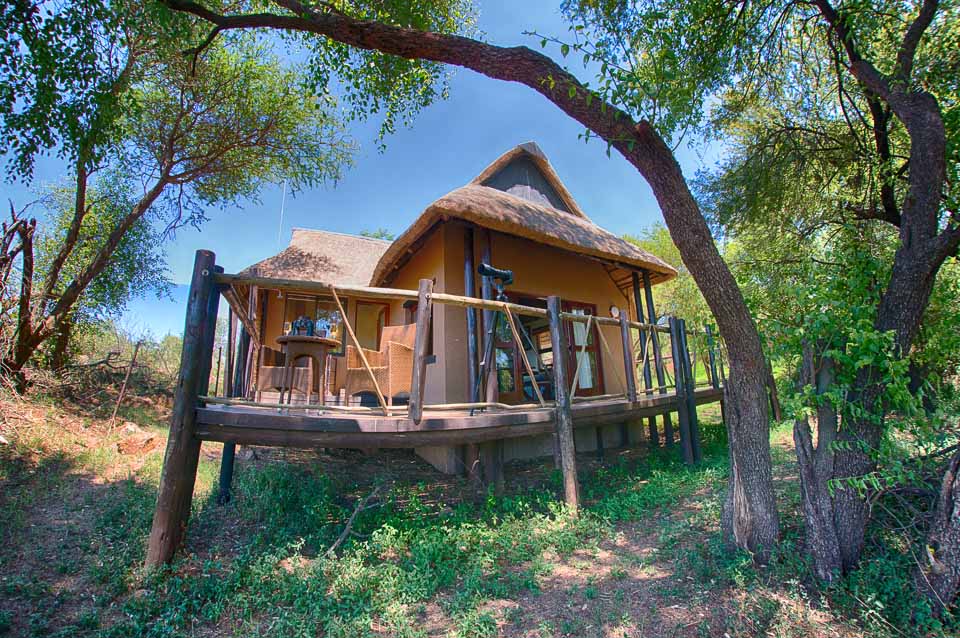 Madikwe River Lodge is a very relaxing and comfortable lodge nothing is too much trouble for the staff members.
The food was great as usual and we had another superb boma dinner.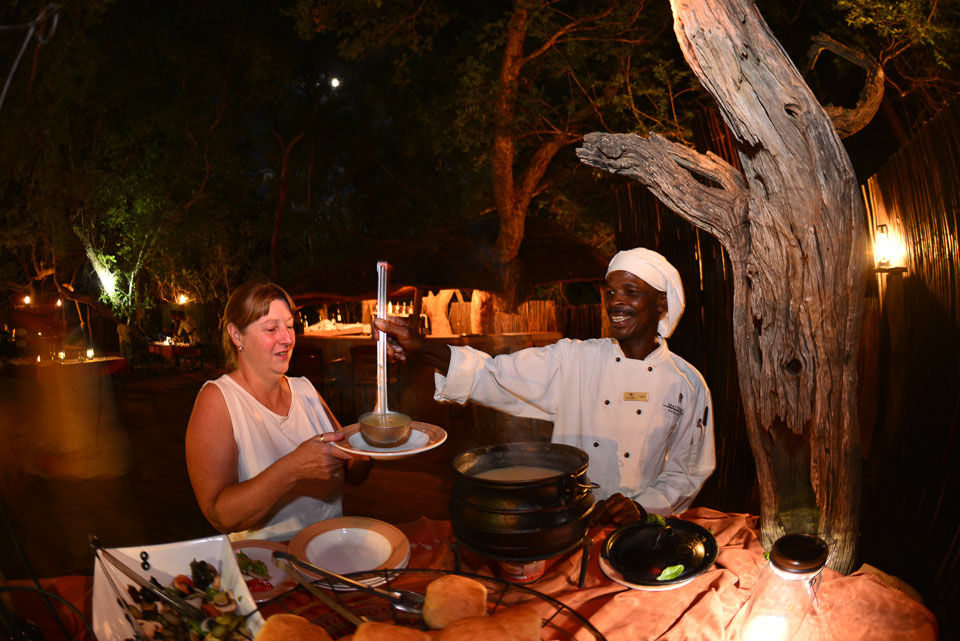 We had most enjoyable game drives with our guide Charles (Takura is his real name) and we had the pleasure of sharing our vehicle with a couple from Italy; Enzo and Valentina.
On the one drive Valentina had a close encounter with a spider on the vehicle and she ended up perched on the door while Charles and Enzo relocated the spider!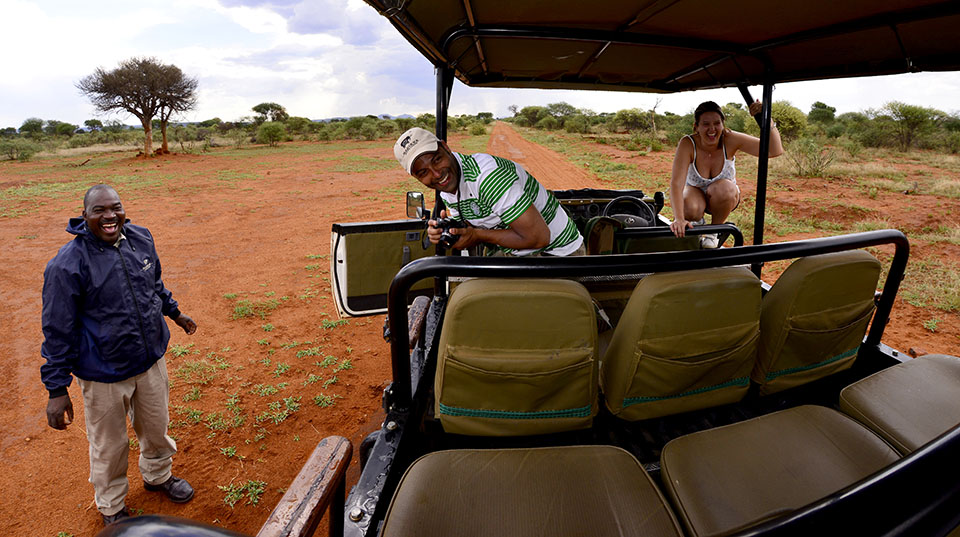 We got to see so much with Charles; we had two lion sightings, saw rhino, elephant at the dams and a black mamba all while we were looking for wild flowers.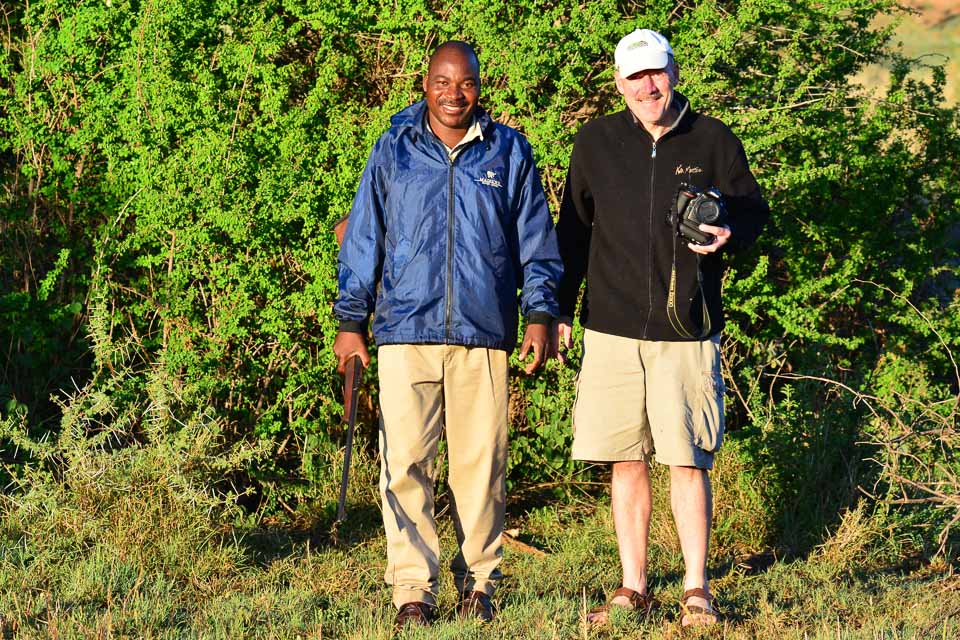 We also stopped for sun-downers at some scenic spots...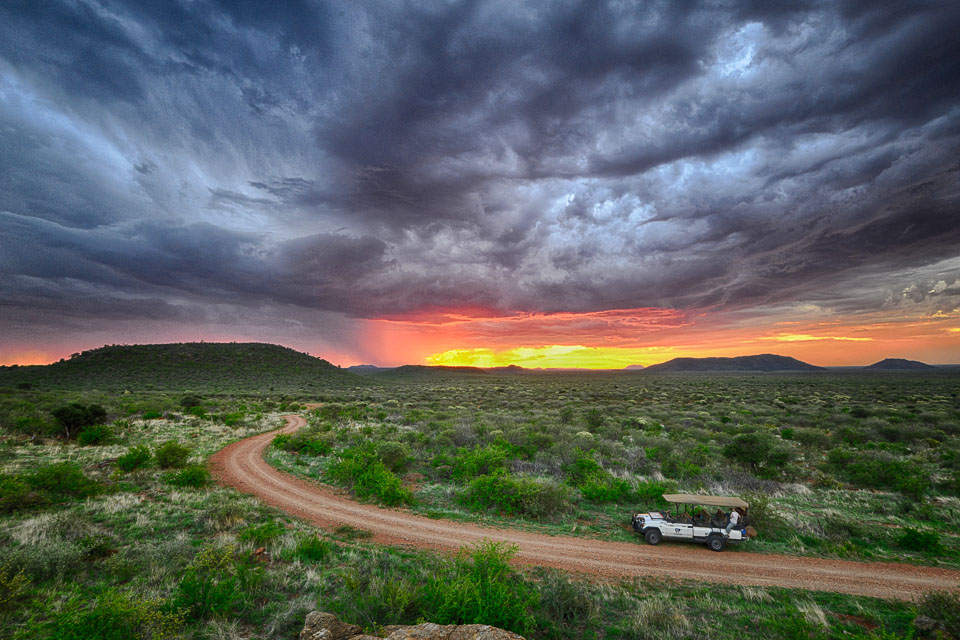 Even though it was a little unusual for Charles because most of his guests want to see the Big 5 and here we were asking to see wild flowers, but he was so keen and thanked us because he said it had rejuvenated him.  
He loves wild flowers and brought out his flower ID book so that we could find out what we has seen and photographed.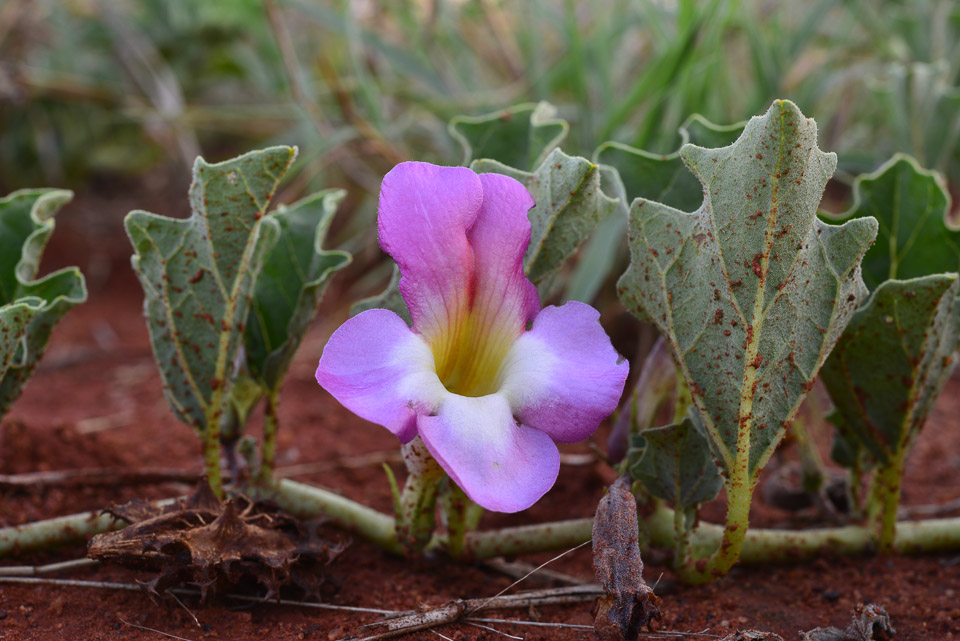 The Groote Marico River at the lodge was very rewarding; we had a brown hyena stroll pass our suite one night, a few herds of elephants came down to drink as well as a few zebra and some wildebeest, giraffe, waterbuck, a wild dog that did not look in very good condition, two white rhinos and the resident bushbuck.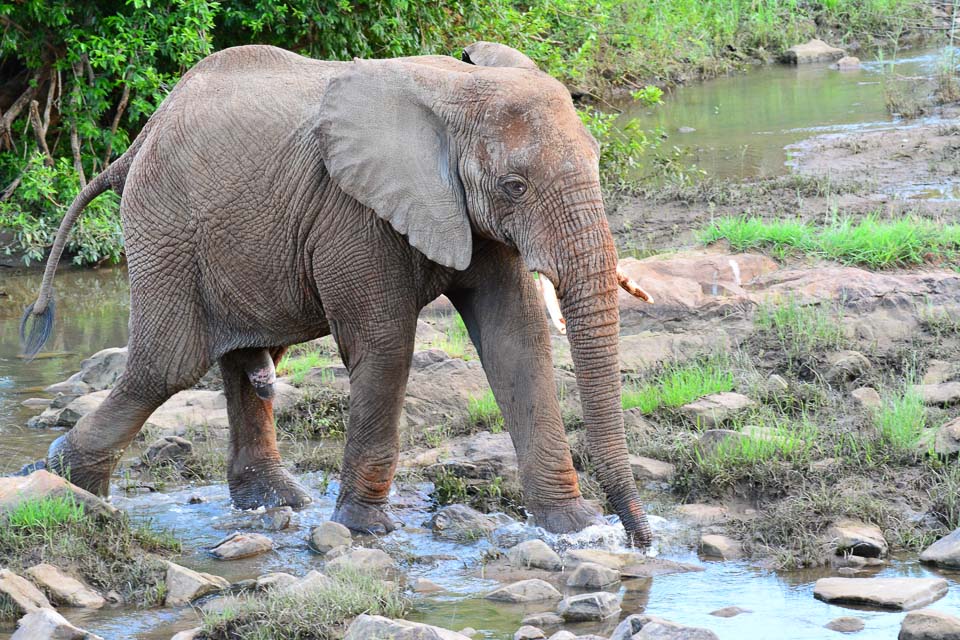 ---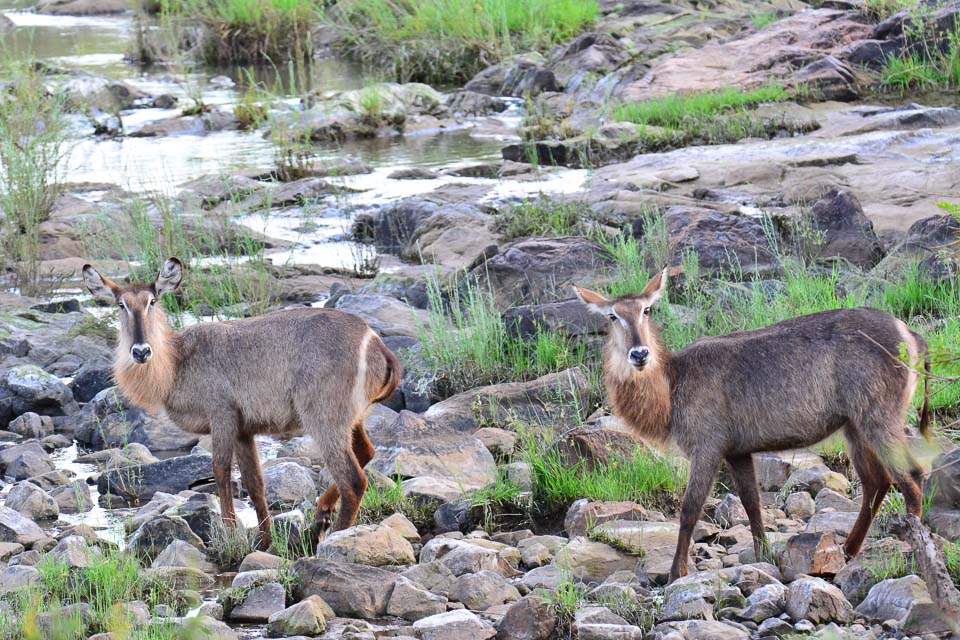 We had such a lovely time and did not want to leave but it was time to say farewell and head off to our next stop.

Madikwe Trip-report 01-2015 – Jamala Madikwe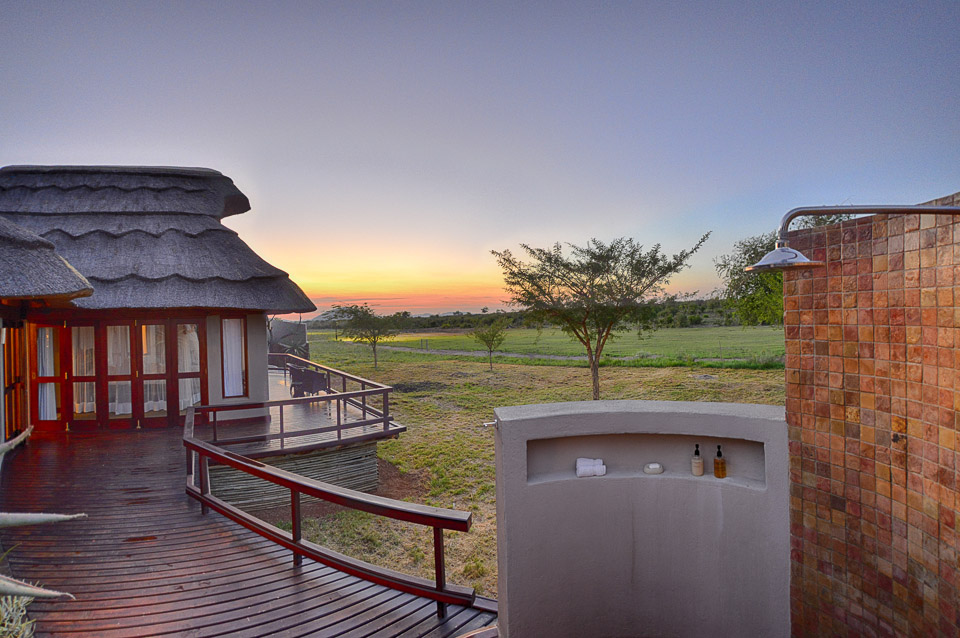 We then headed down south to Jamala Madikwe Royal Safari Lodge for our next three days; it was like coming home because we had stayed at Jamala in September last year and it was great being back. Rodney and Nico are such great hosts and make you feel so welcome.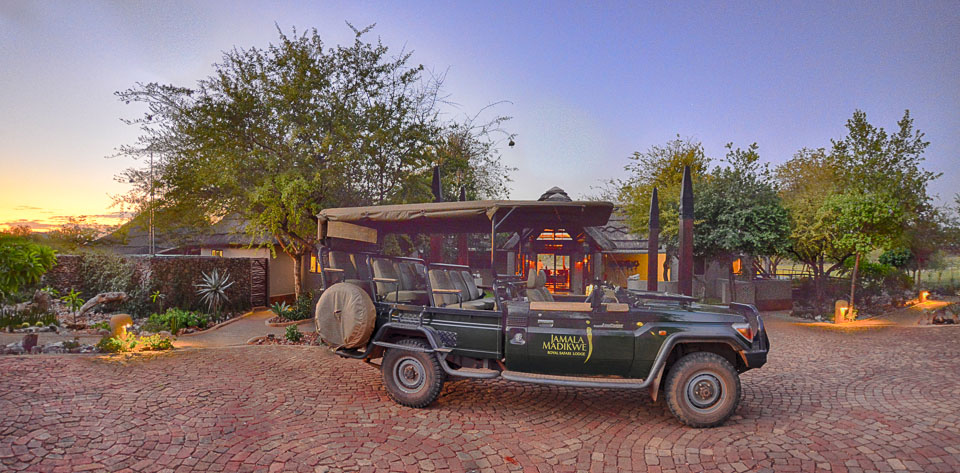 We wanted to spend some time at the lodge because of its fantastic waterhole and did not want to miss anything that popped down to drink, so we spent a lot of time in the tower, day and night, and only did a few game drives with our guide Daniel.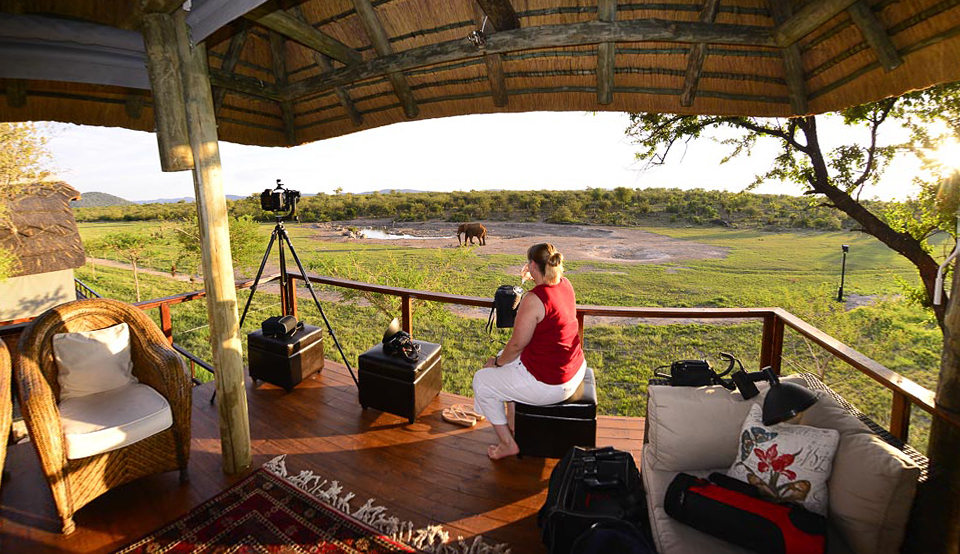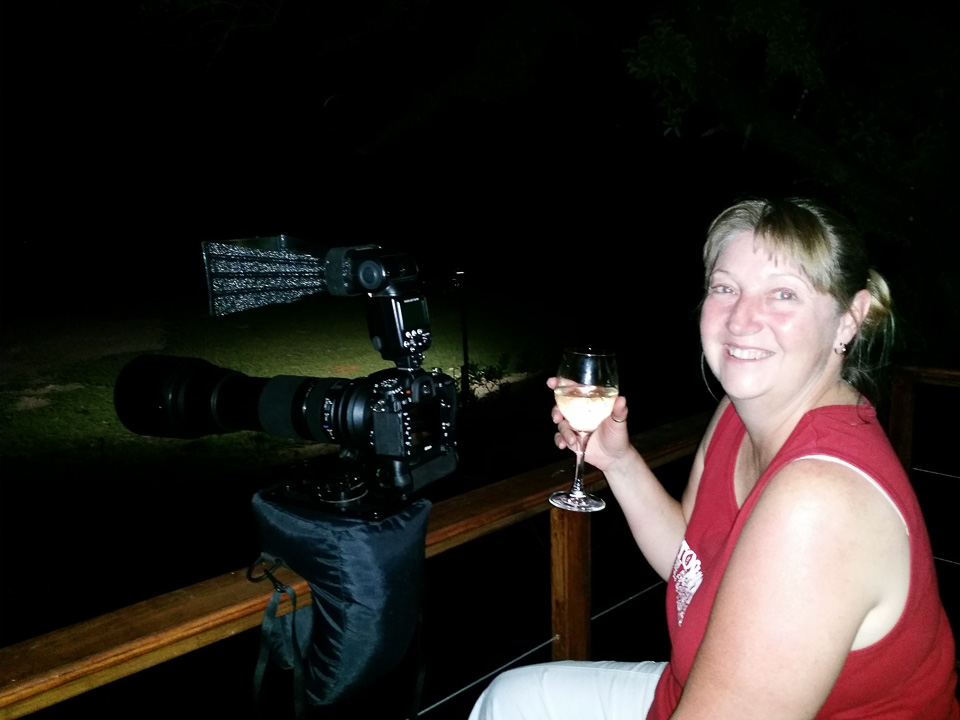 Jamala Madikwe is the ideal Sofa Safari lodge...!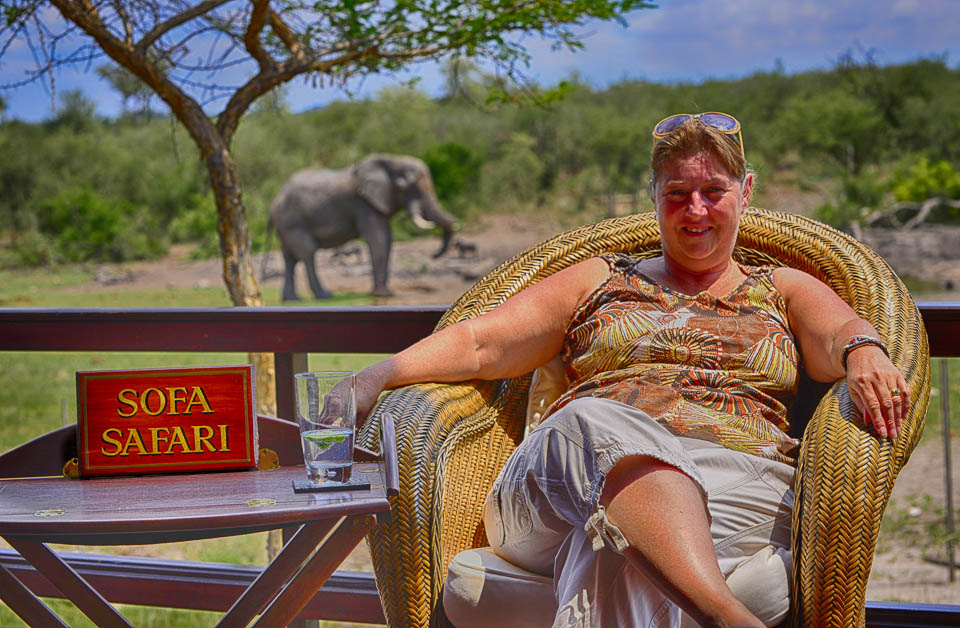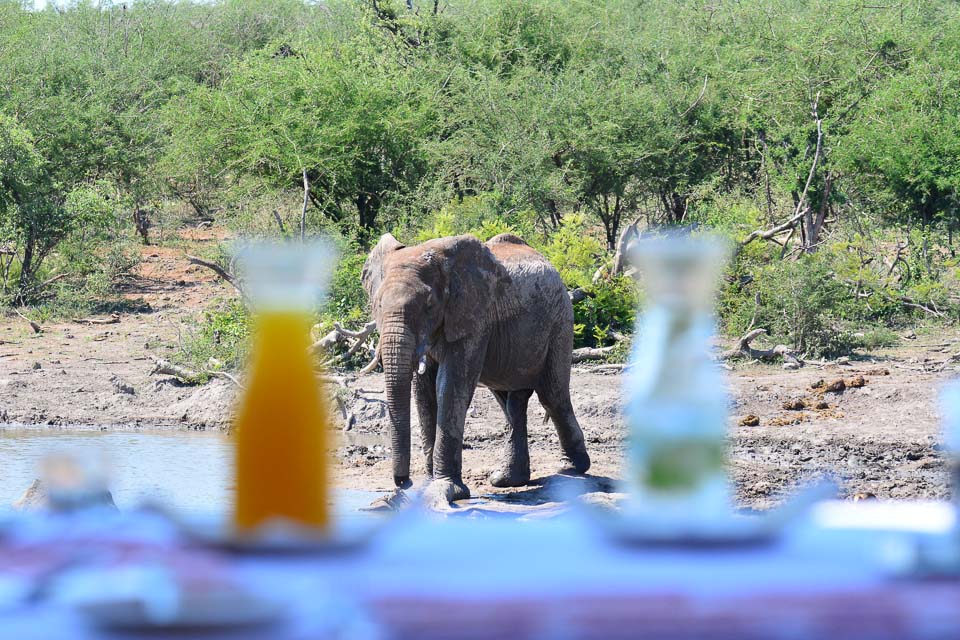 On one morning drive we came across two jackals that had caught a young wildebeest, they had just killed it when we arrived. It was very sad but also quite fascinating to see how these small predators can bring down something bigger than themselves.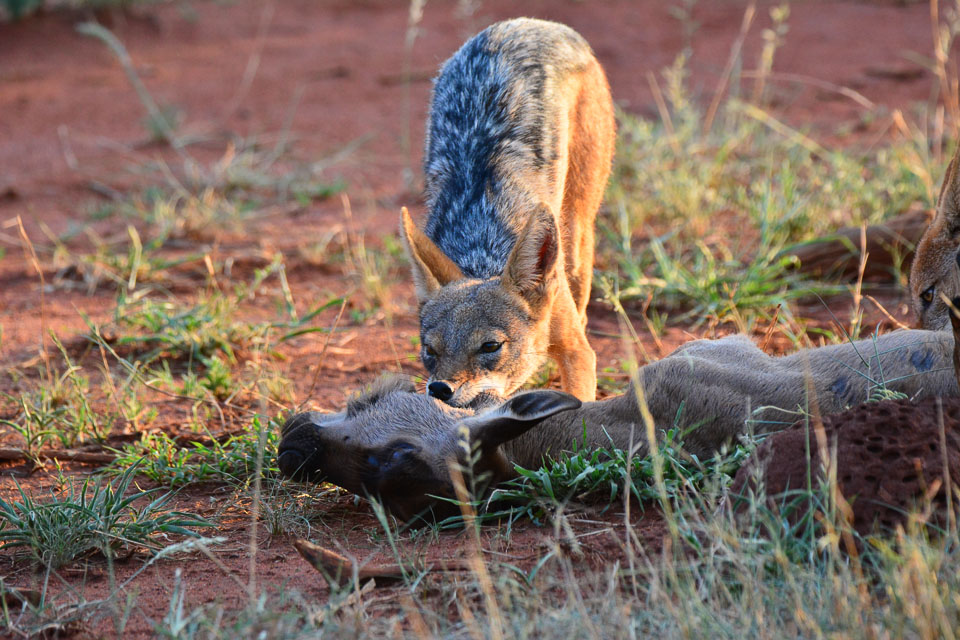 We also got to see another young wildebeest but this time it was in a tree, we waited for that elusive leopard to come and claim his prize but the sun was setting fast and still no leopard so we then had to move on.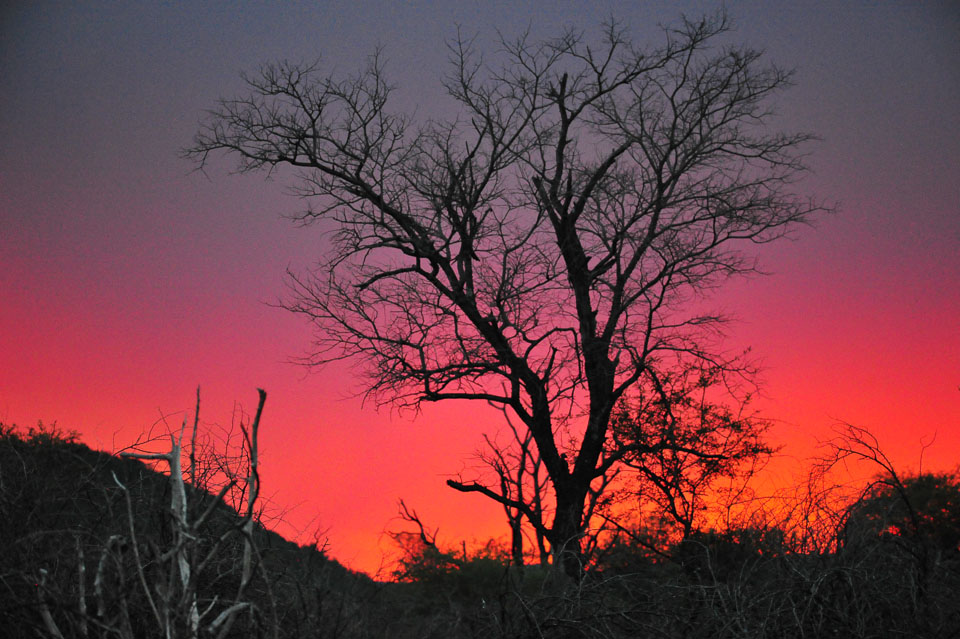 We had a good sighting of a chameleon which Daniel allowed us to get down and photograph as it walked across the road.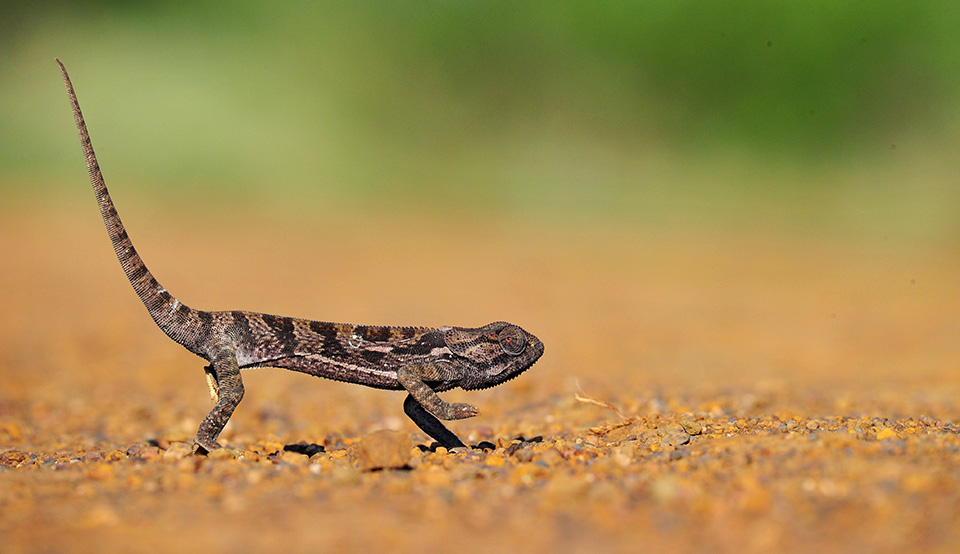 Another great sighting was the brown hyena pup at his den.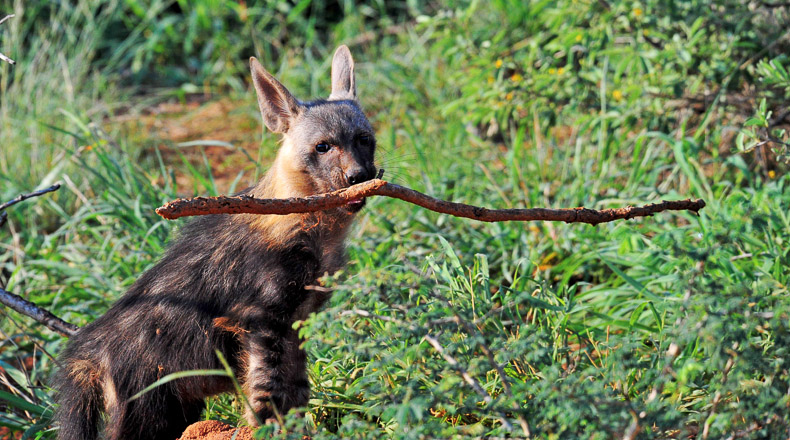 Our tower sightings were great; we saw both brown and spotted hyenas, loads of elephants, giraffe, zebras, wildebeest, impala and a huge herd of buffalo.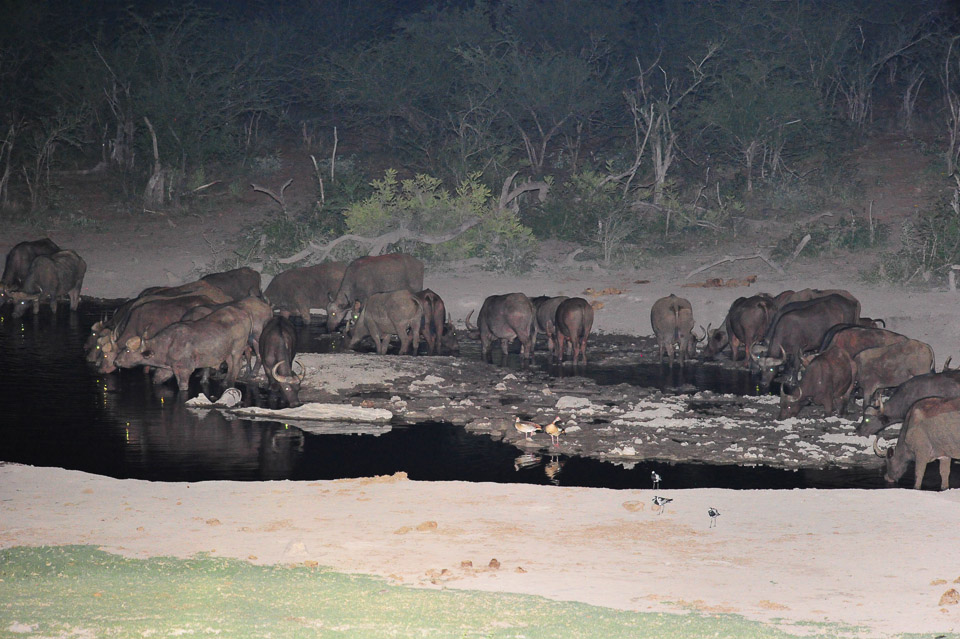 But the best was the leopard that popped down for a drink during dinner time.


We thought the only leopard we were going to see was the one on the menu!
We had just sat down to dinner in the boma when one of the employees came to inform us that a leopard is on its way to the waterhole!
We rushed up to the tower and managed to get a few good images of the leopard. I held the light while Mario took the shots.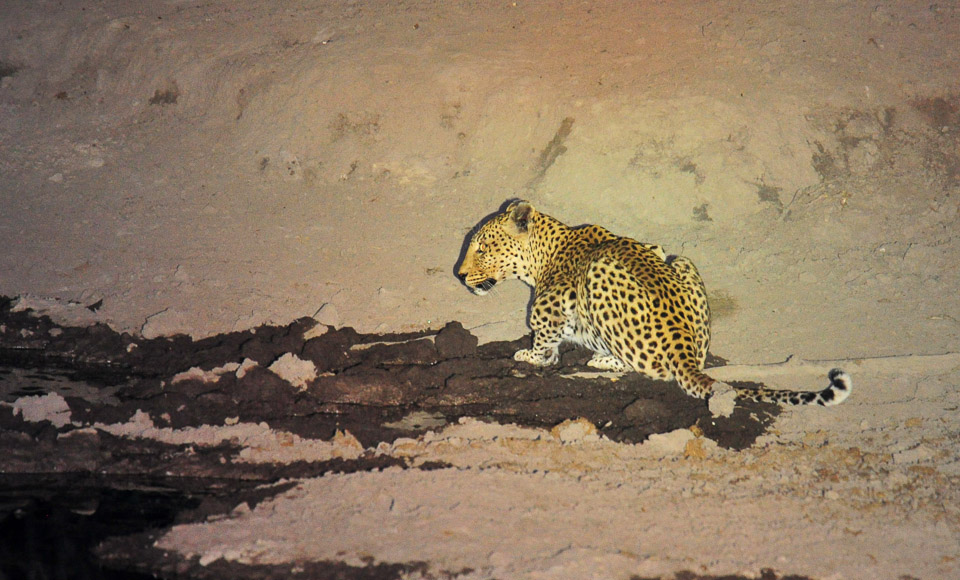 This is what we had been waiting for…..our Jamala Leopard! Then just before desert another leopard popped in but this one did not stick around to be photographed, she was off like a shot the minute we got to the tower.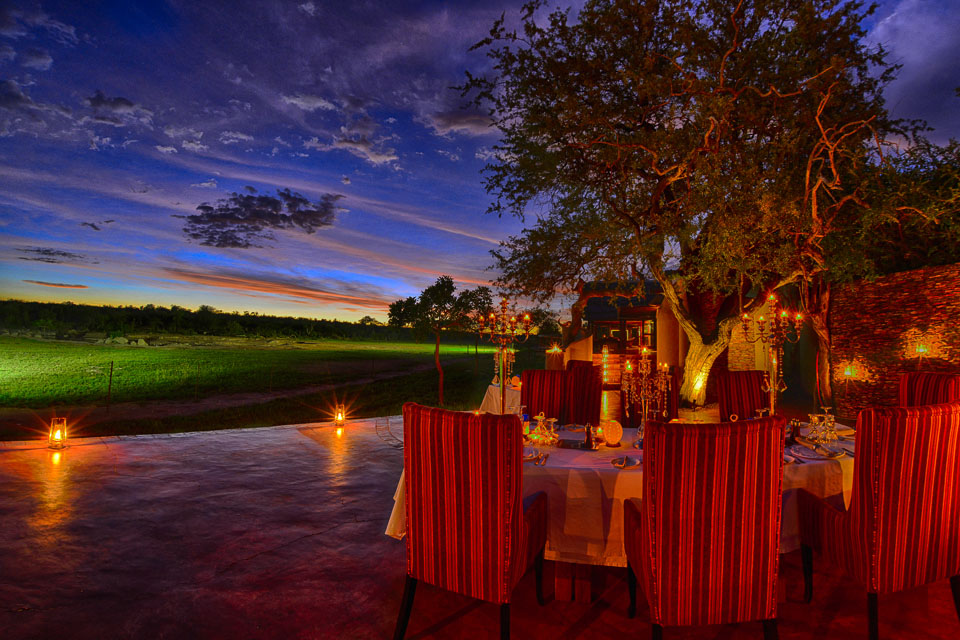 Mario took some really lovely sunset photographs from the boma, he also photographed a white Evening Primrose flower that was in front of the lodge; it only flowers at night so very odd but beautiful.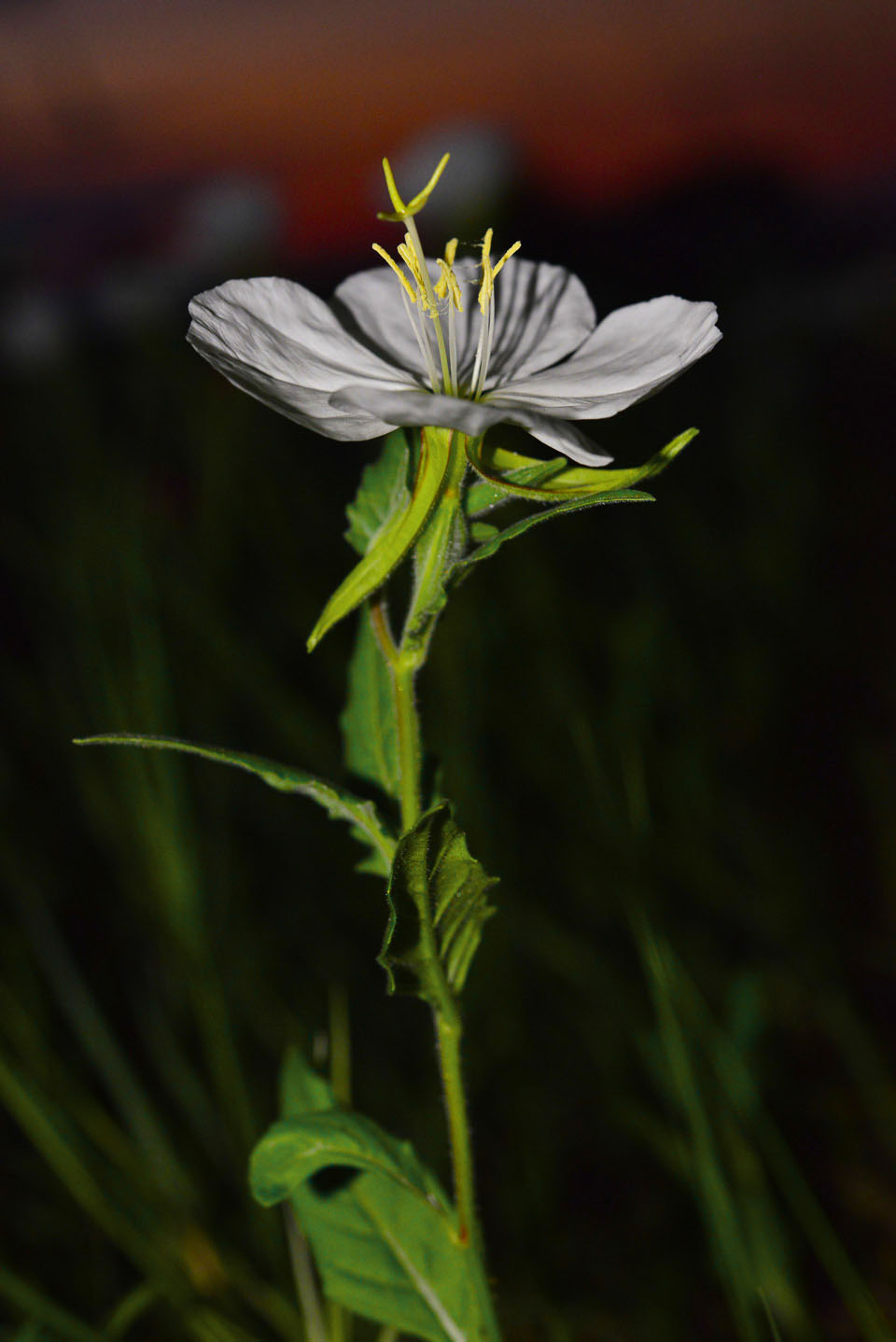 Again it was time to leave these lovely people and move on to our next lodge, we again had such a good time and the food was, as usual, out of this world…thanks to Rodney, Nico and their team!

Madikwe Trip-report 01-2015 – Motswiri Lodge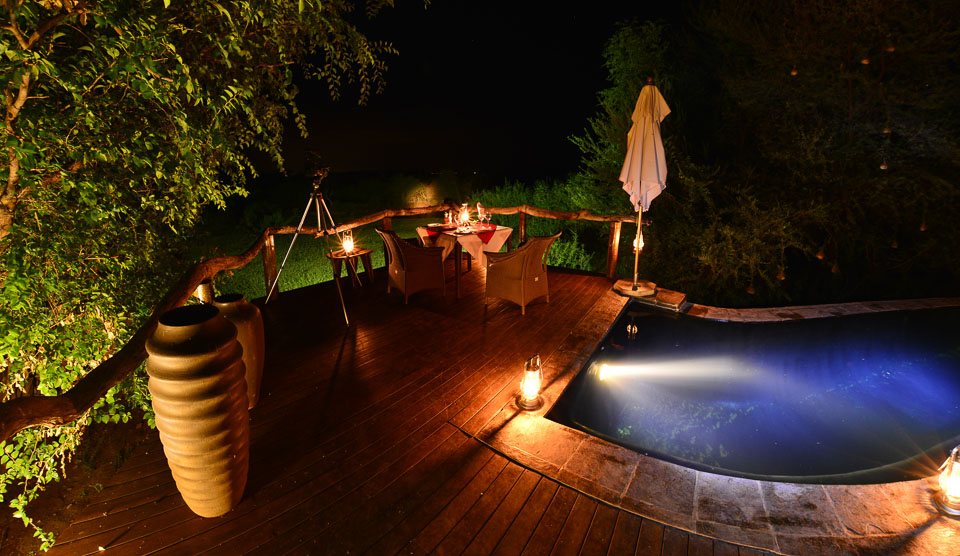 Motswiri was out next 3 day stop; Hanri and the Motswiri team warmly welcomed us to the lodge for our second visit, our first one being in September. Again we felt like we were home because they are so friendly and helpful.
After our welcome drinks it was off to our villa, we had some time before our afternoon drive so we set up our cameras then went and relaxed for a bit. Then it was time for the 1st of our 5 game drives. 
For the first few drives it was just 4 guests on the vehicle which was nice, we really enjoyed the pleasant company of David and Sue from the UK as they are such nice people.
We had a few good sightings on our drives but seeing the 4 cheetah brothers three days in a row was a bit much – plus they were not doing anything, just lying around.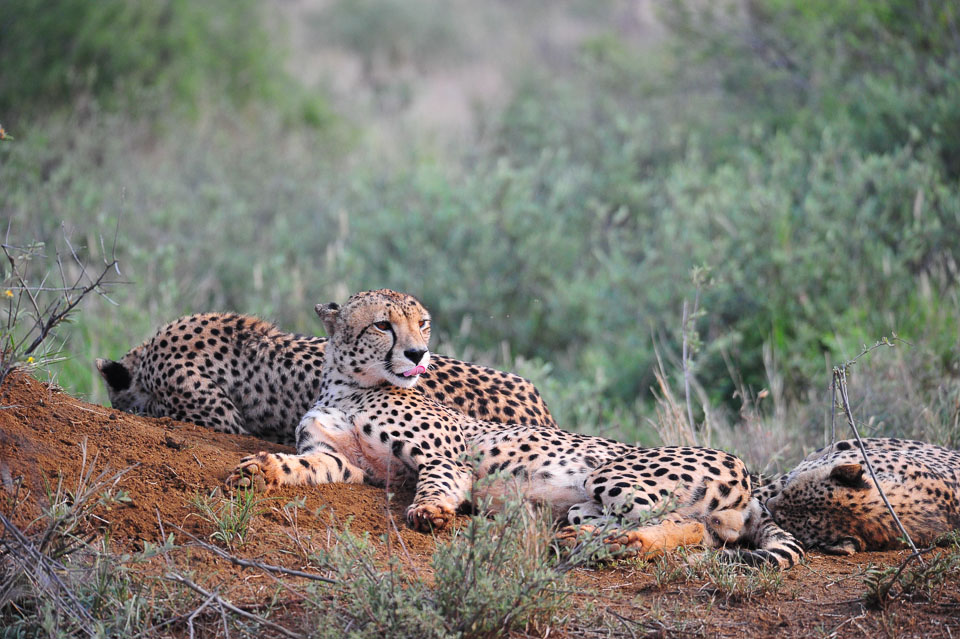 They had come down south to be close to the two females who are still in the boma.  Hopefully the females will be released by February or March 2015. I'm sure the 4 brothers are going to enjoy some female company for a change!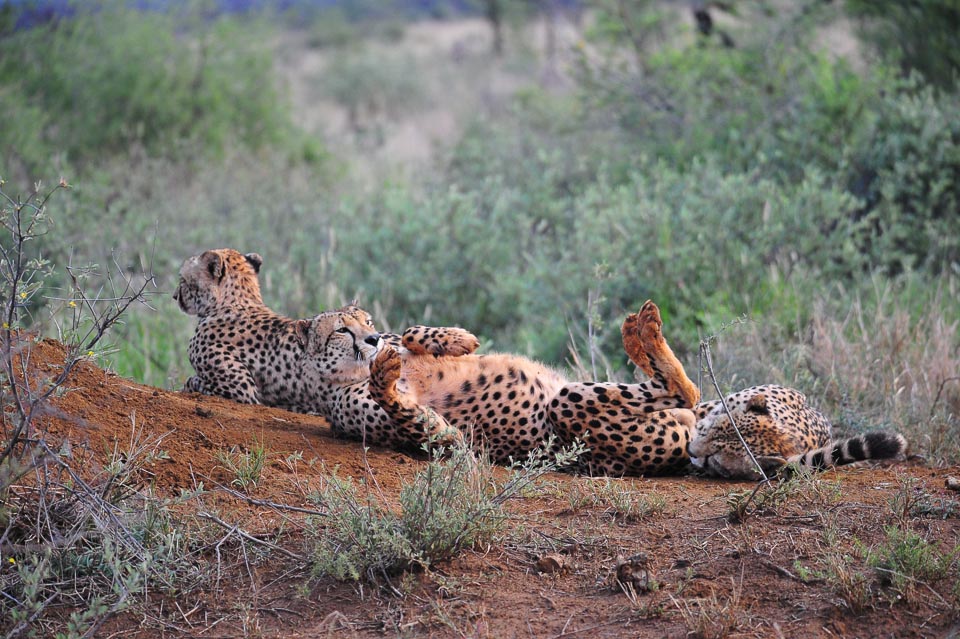 We also had a very wild ride through the bush chasing after 5 wild dogs that were on the move.
This is not something we would like to do again and as photographers it is not easy to get any photographs when you are being bounced around like a rag doll.

The game drives were not enjoyable, due to the field guide's bad attitude, but our last evening, however, made up for these unproductive and frustrating game drives.
We had just finished another of Frans' great dinners and Sue, David, Mario and I sat finishing our drinks on the deck overlooking the waterhole.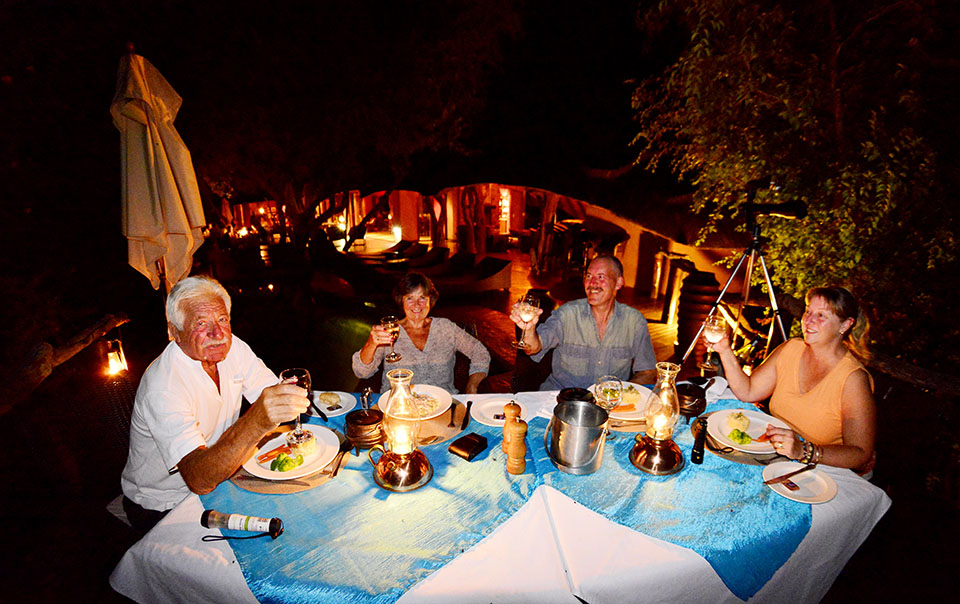 Mario had my camera all set up just in case something sneaked in for a drink. It was 10pm and time for bed, but just as we wanted to leave I spotted something at the waterhole.
I tapped Mario on the arm and said "CAT", he jumped up and was behind my camera in a flash - it was the male leopard that often pops in for a drink but is not seen….what a bonus! Mario got a few photographs of him before he slipped away into the night.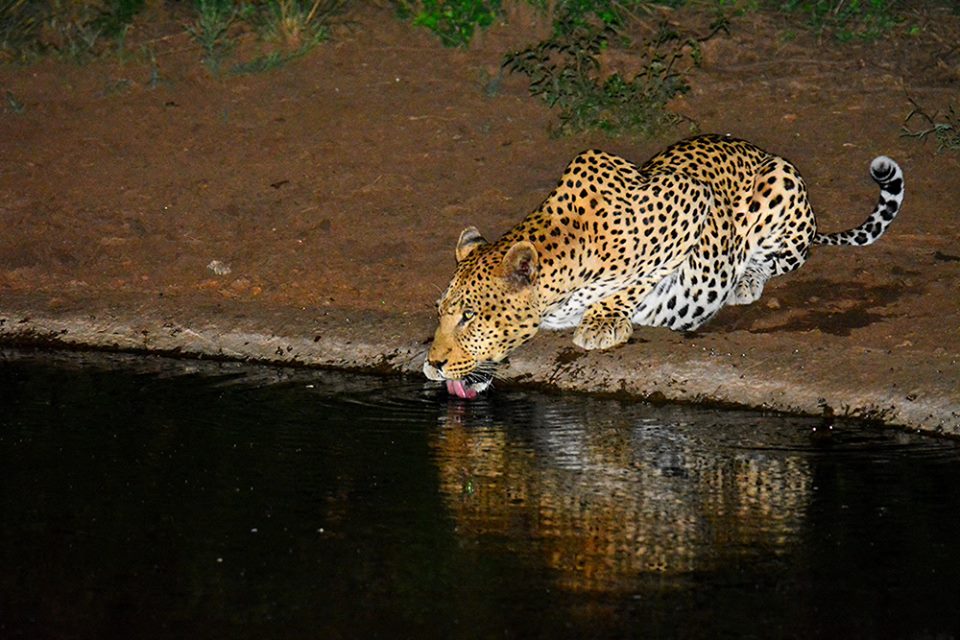 Sue and David were over the moon at seeing him, because it was also their last night and this was their first leopard.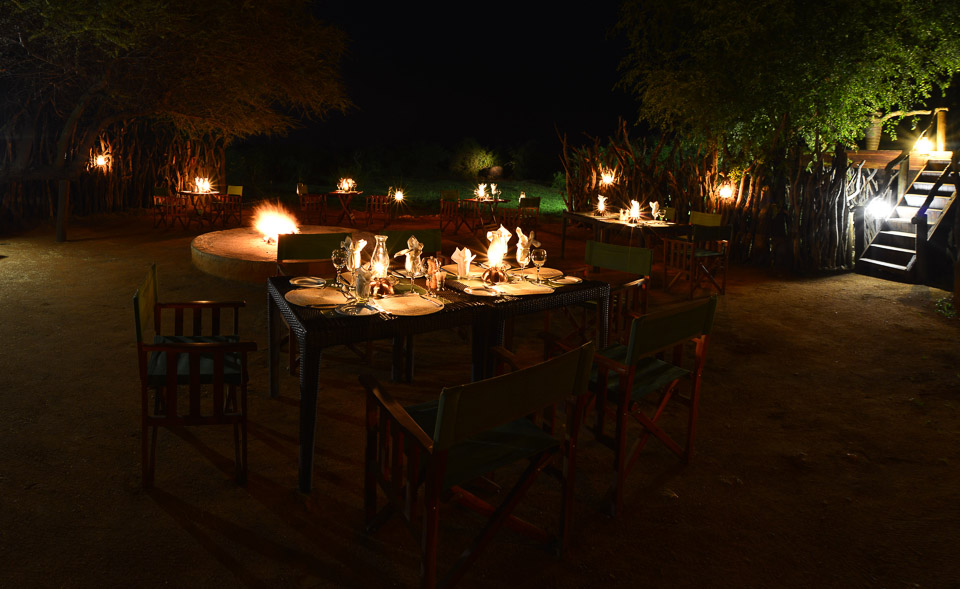 We enjoyed the Motswiri lodge - excellent food, great service and a leopard at the waterhole!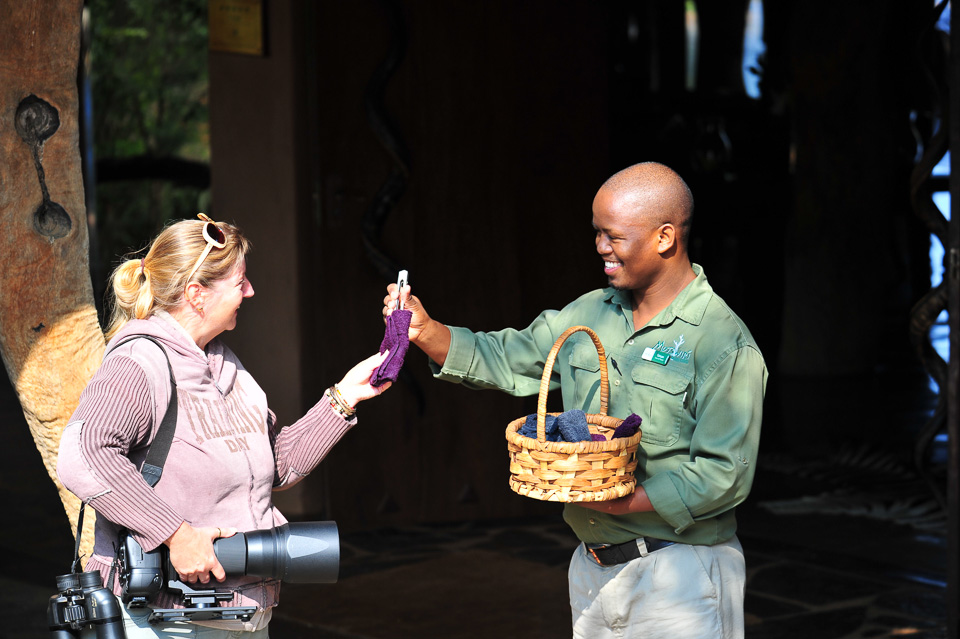 ---
Improve your wildlife photography skills with these eBooks...
---
Madikwe Trip-report 01-2015 – Buffalo Ridge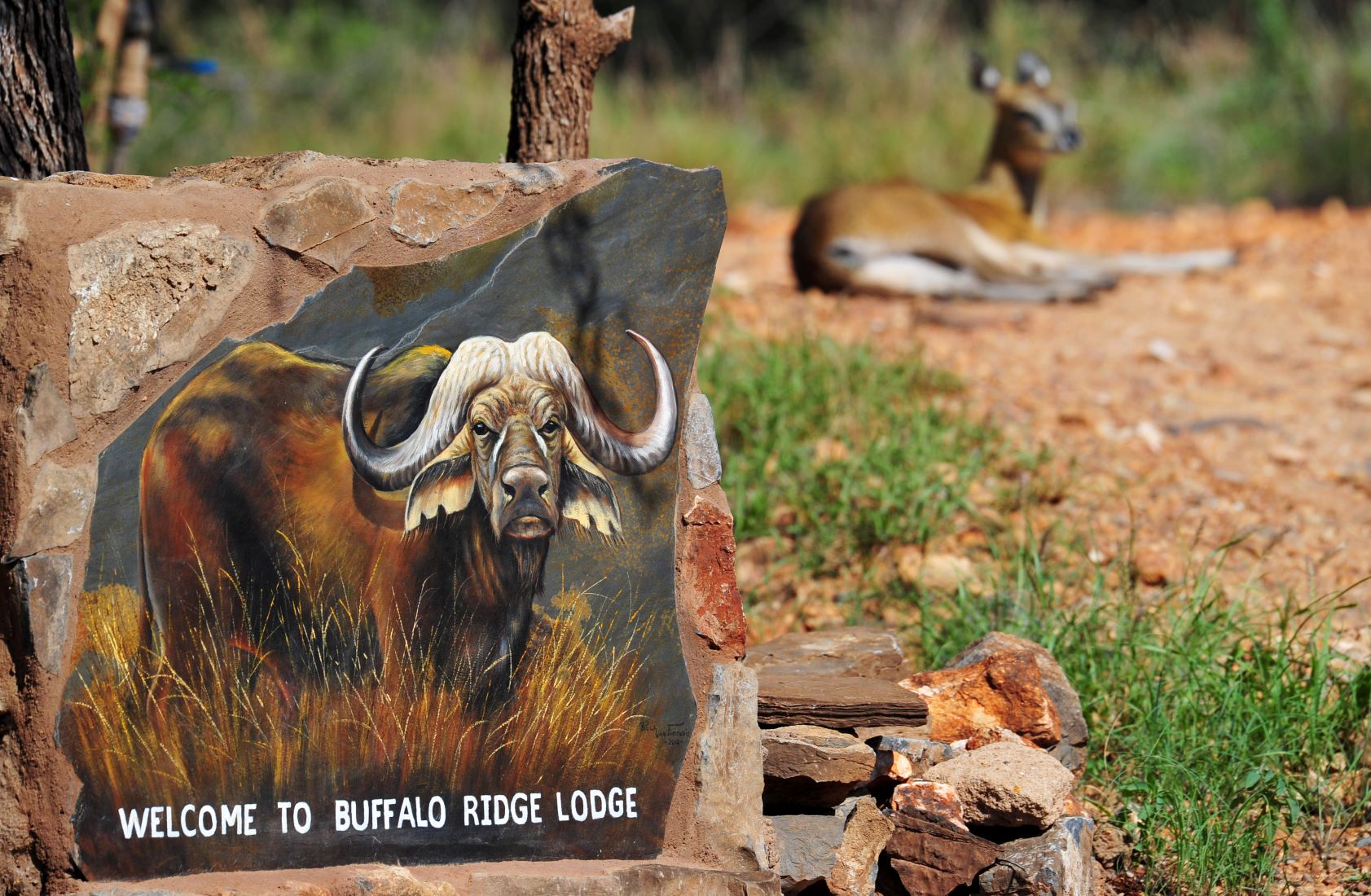 We had two more lodges to visit; our 2nd to last stop was back to Buffalo Ridge for 3 days. Where we were welcomed back by Godfrey and the Buffalo Ridge team like we were old friends….what a lovely Lodge!
We thoroughly enjoyed our stay and had great food, service and super sightings thanks to our field guide Franco.
Our first afternoon game drive was rained out so we did not get to see much or even photograph anything but from then on our drives were magic; we saw tree hugging lions…this was so funny to watch as they clawed the tree but from where we were sitting lit looked like they were hugging it.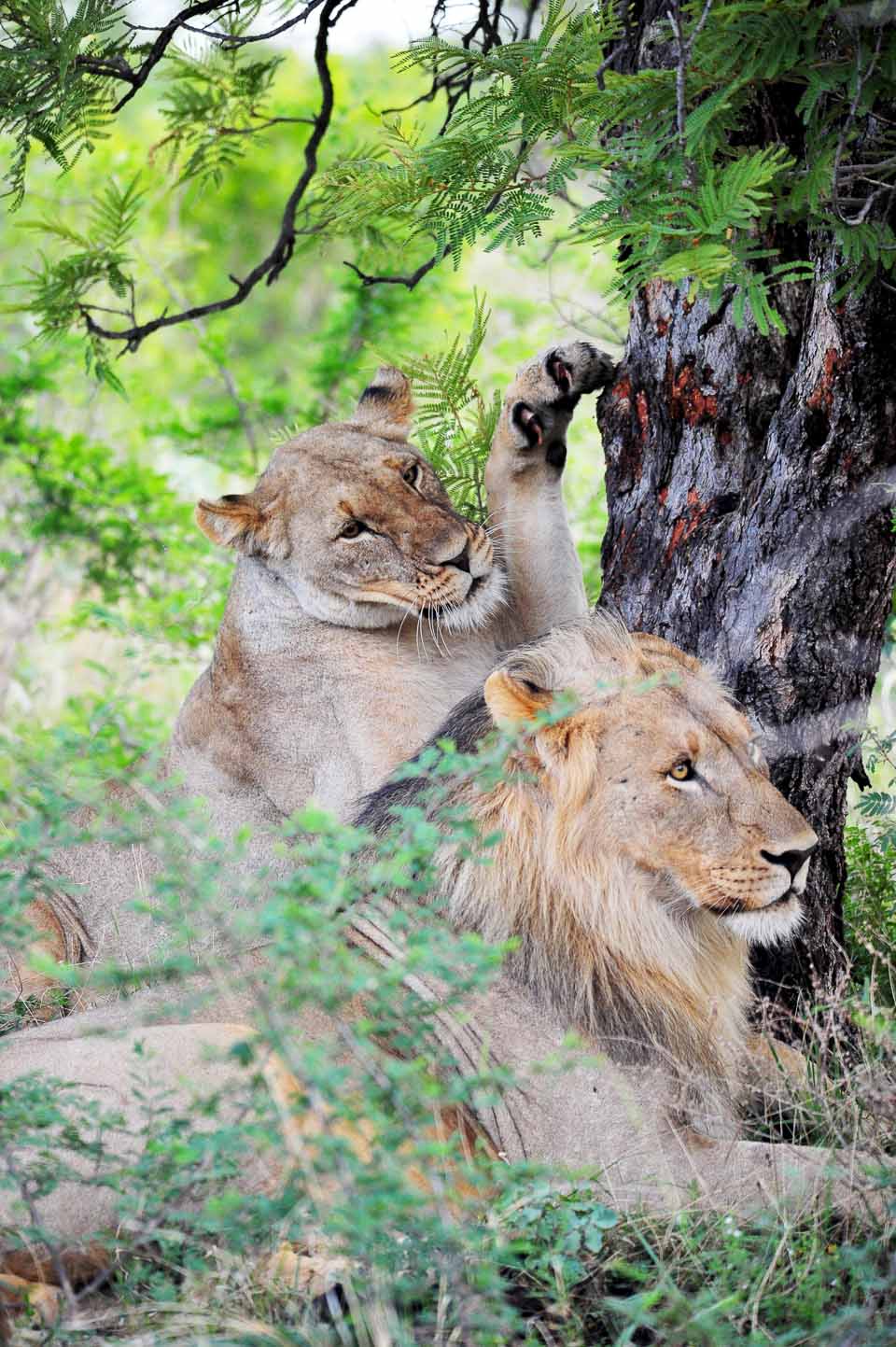 We also saw a brown hyena in the road, white rhinos, cheetah - the same 4 cheetah brothers but this time they were up and about and stalking some kudu in the thickets - and lions with smaller cubs on a zebra kill.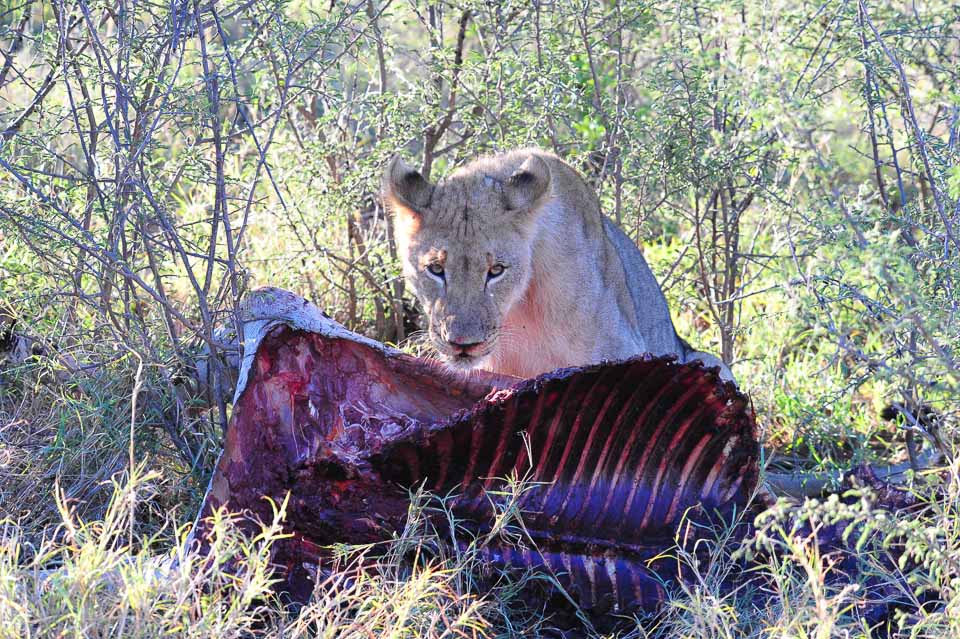 One morning our field guide Franco…..yes the famous 'lion-tamer', took us to find the leopard - we did not find the leopard but found a young wildebeest carcasses in a tree. We waited for a while but no leopard but at least the small creatures entertained us...
---
That afternoon we went back to find the leopard, but found that the carcasses was now on the ground and more had been eaten, so the only thing we saw were a few eagles hanging around for a snack.
We then came across an injured wild dog near a hyena den, he did not look good at all and we just hope he survived the night.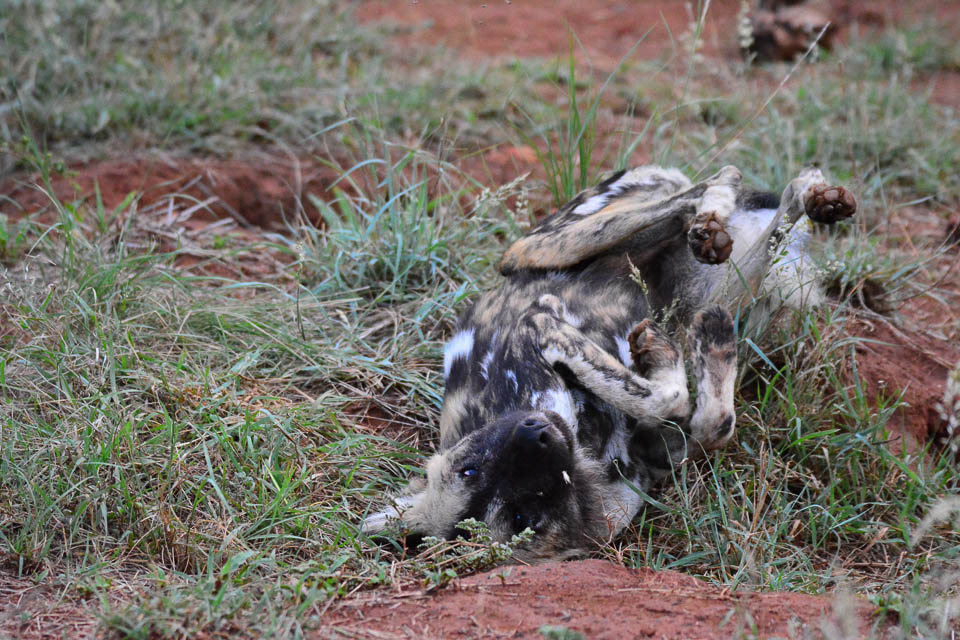 The sighting I enjoyed the most at Buffalo Ridge was the third lot of lions we saw at the western airstrip with a zebra carcass.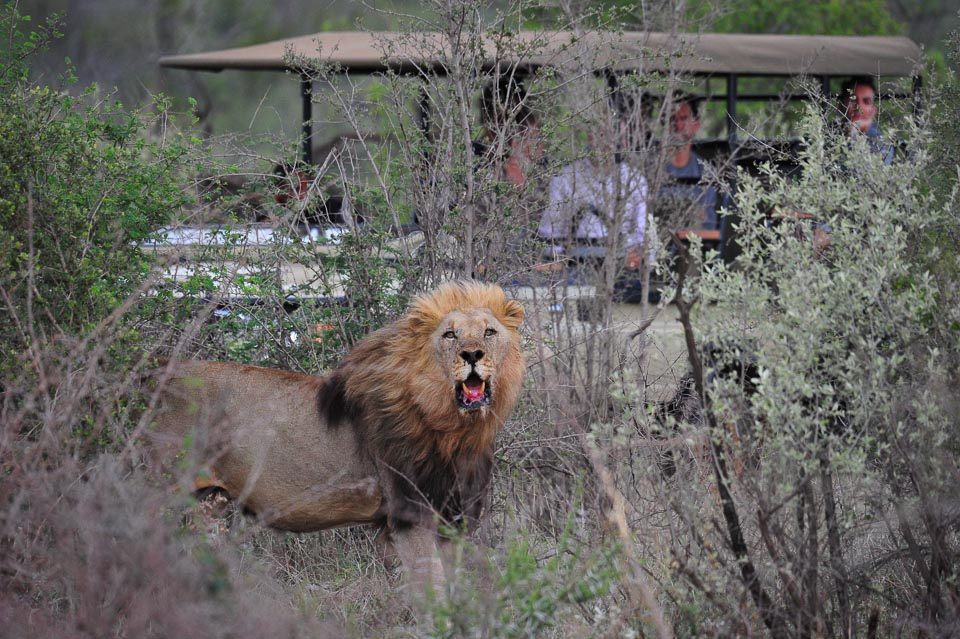 We sat with them for a few minutes before the females got up and started walking down the airstrip past the plane on their way to look for water.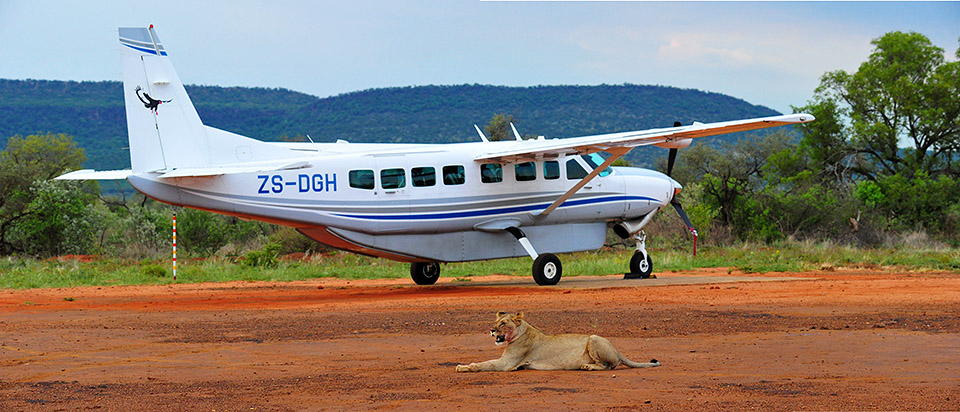 They found water in a culvert; this was very comical to watch as they took turns going down to get the water. We followed them as they walked back and then one of the females stopped and started scratching on the tree…just like our tree hugging lions did a few days before.

Then she jumped into the tree and stood there while the other one also scratched on the tree- what fascinating behavior from these lions - it was great to see and photograph.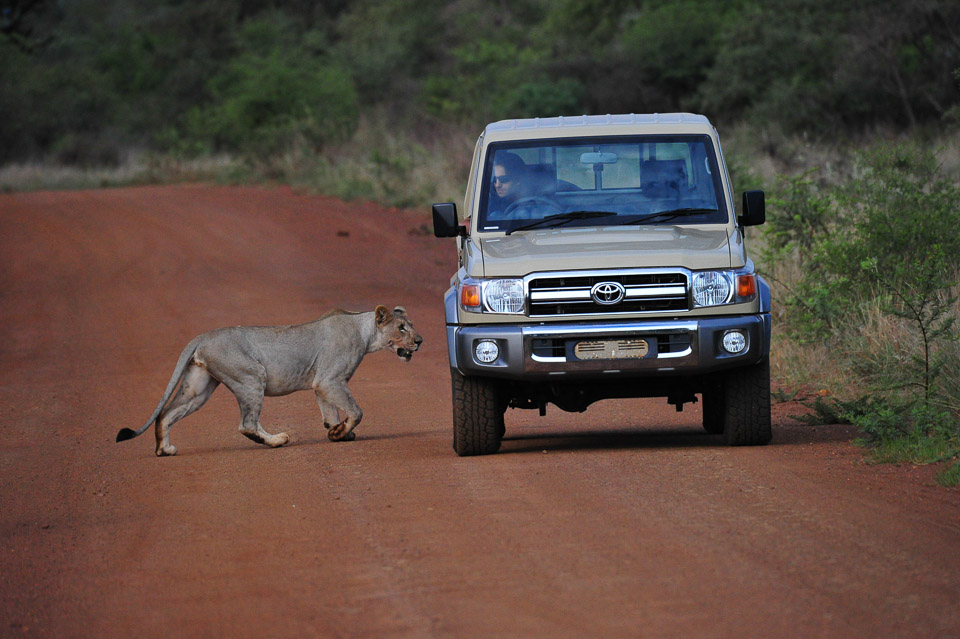 After this wonderful stay with such great sightings, fabulous food and fantastic service it was time to leave for our last stop - The Bush House.

Madikwe Trip-report 01-2015 – The Bush House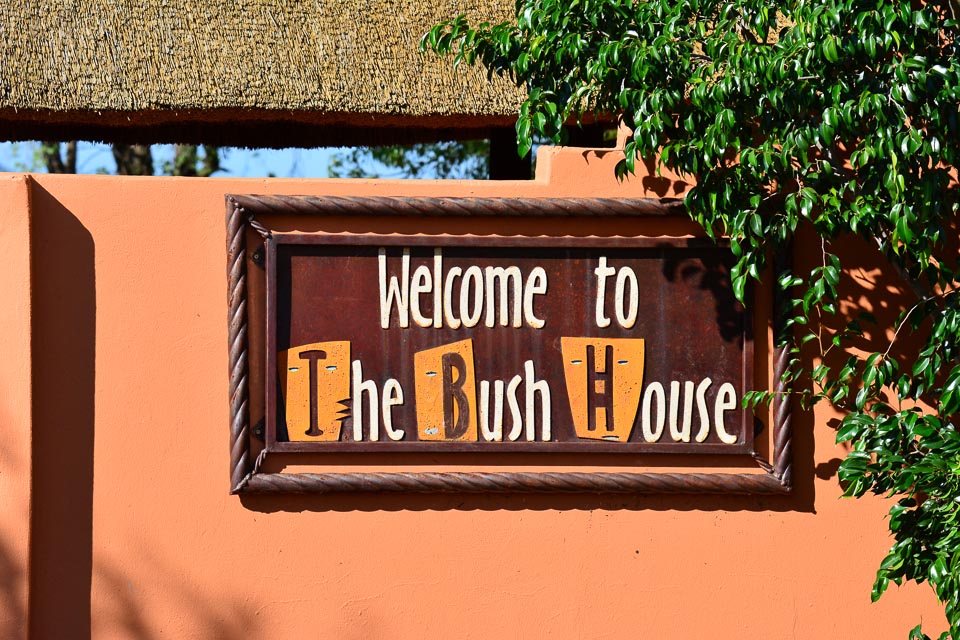 We arrived at The Bush House to a friendly welcome by Audrey and then Sue and Gordon, the Bush House owners, came and introduced themselves to us…what lovely people.
This was our first time to The Bush House and the first thing we saw was the huge waterhole at the end of their lush garden.
After finishing our welcome drinks Audrey showed us round the lodge and once our bags were in our room it was time to set off for a look at the underground hide.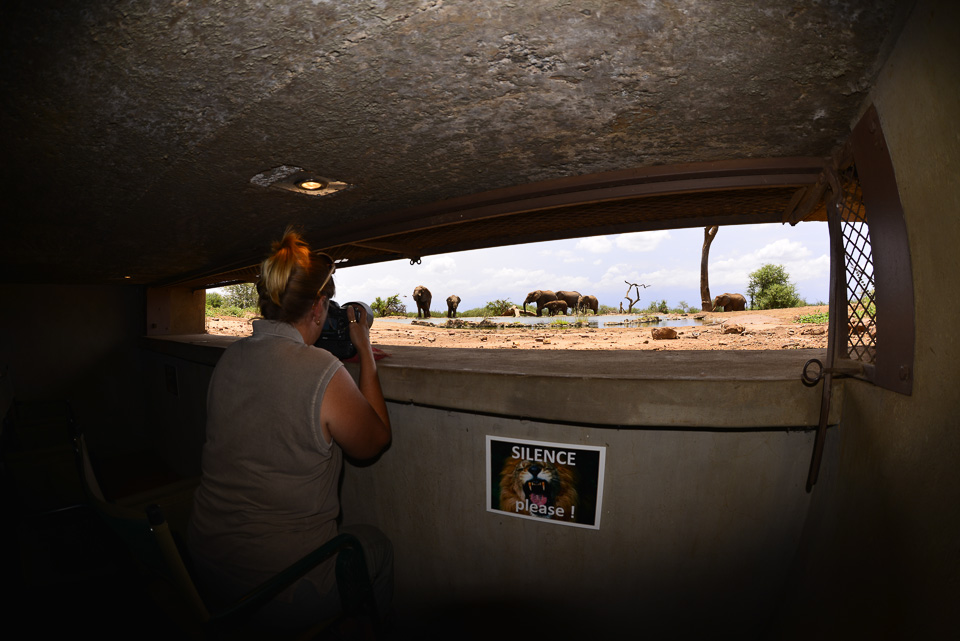 Mario and I decided there and then that we would not be going on any game drives; we just wanted to sit at the fantastic hide and see what came down to drink.
The waterhole attracts large herds of elephant and we had such a great time photographing them from both the hide and on top near the pool.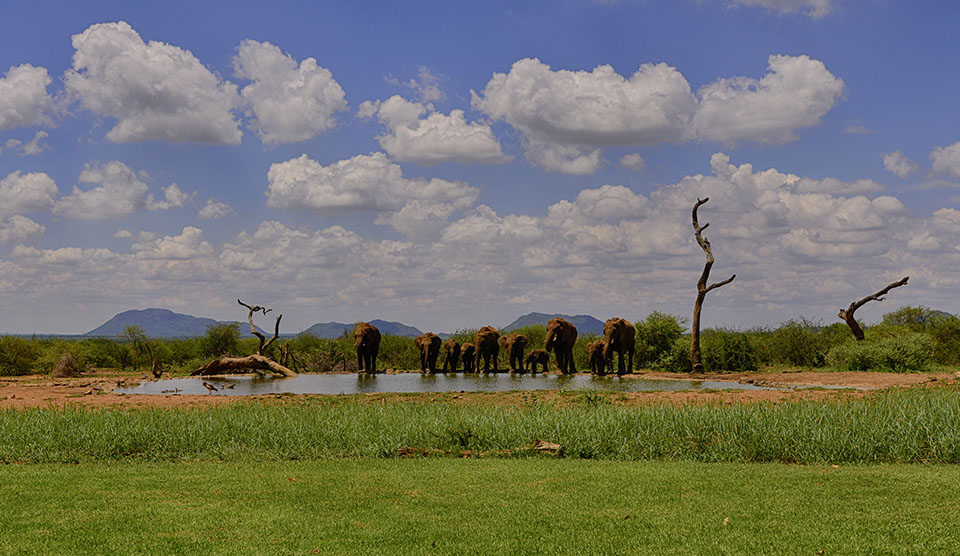 With the hide being underground you can get some great eye-level photographs, but you can also get close ups of the elephants as they walk right past you.

---
We got to see, zebra, warthogs, elephants galore, wonderful close ups of the blue waxbill and a few other birds that you would not usually be able to photograph so close up.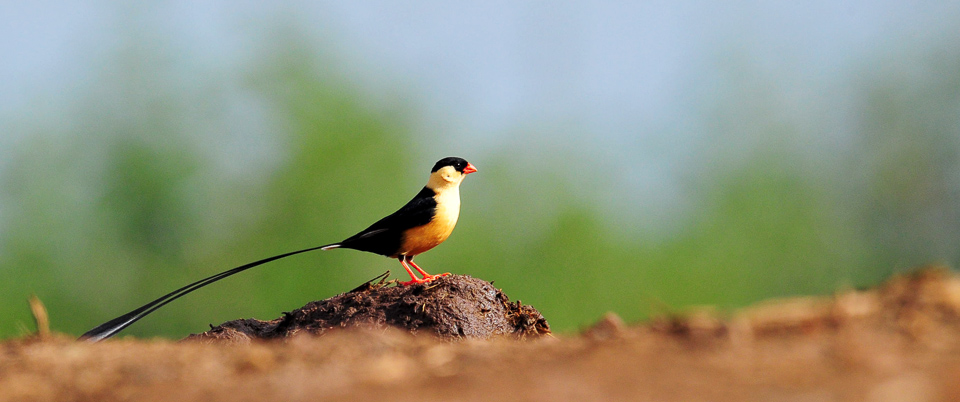 The brown hyena was giving us the run around - we saw him approaching the waterhole twice but he took a detour around the waterhole!

On our last night we sat on top watching the waterhole because we did not want to miss anything and then he appeared, our brown hyena came to the waterhole had a quick drink and was gone, but we managed to get a few photographs of him drinking.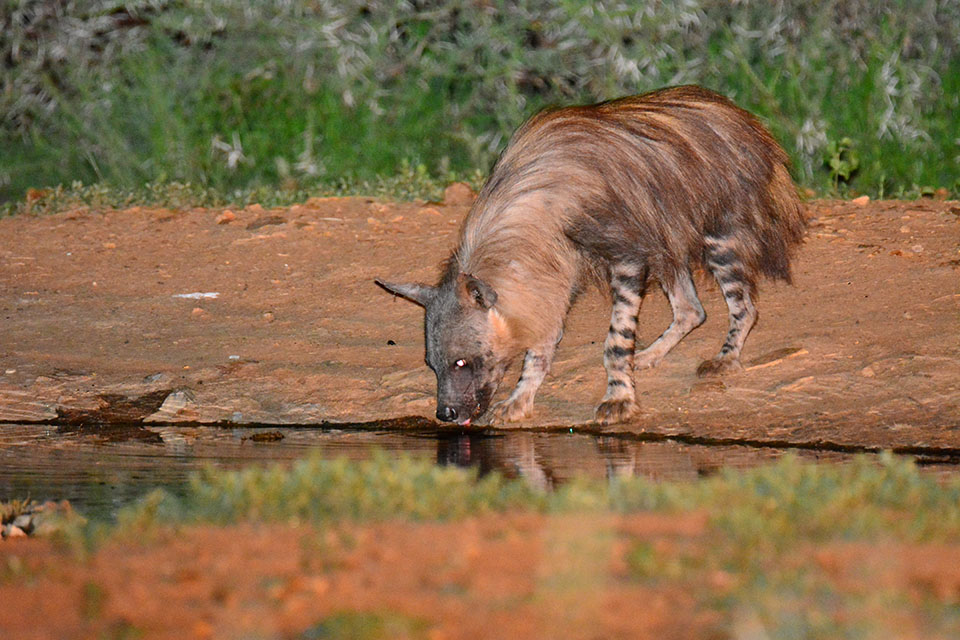 Madikwe Trip-report 01-2015 - time to say 'until next time'
It was then time to say farewell to the Bush House and Madikwe - we had spent 15 days in Madikwe and had such lovely sightings and left with great memories and some really good photographs.
We said our farewells to Sue, Gordon and the Bush House team then exited at Wonderboom gate and went in at Abjaterskop Gate, which is just 5 kms down the road from Wonderboom gate, because we wanted to leave the park through Molatedi Gate which is much quicker getting home.
We had seen so much during our 15 day stay - lions, giraffe, zebras, wildebeest, elephants, white rhino, buffalo, antelopes - kudus, impala and springbok - hornbills, weaver birds, eagles, owls, chameleons, cheetah, wild dogs and even the elusive leopards three times!
We will be back in Madikwe in June, God willing, staying at a few new lodges but back again to the Bush House and we can't wait to see what animals come to drink during the dry winter months if we had so many during the wet summer!
---
Return from Madikwe Trip-report 01-2015 to Trip Reports page
---
---

To make a safari rental booking in South Africa, Botswana or Namibia click here
---