Kgalagadi-Namibia Trip Report Part-1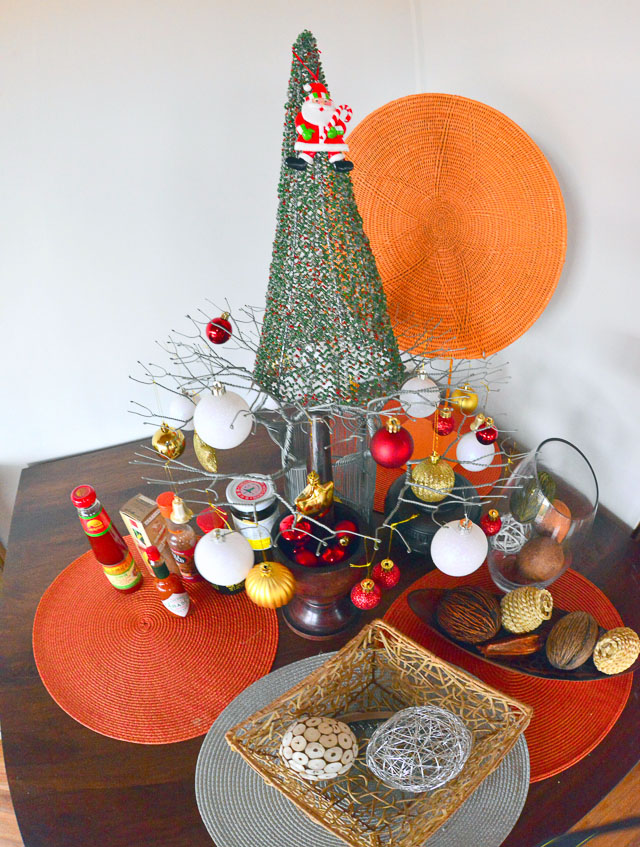 Christmas in the Kalahari
This trip to the Kgalagadi was going to be a revisit to two of our favourite Lodges- Rooiputs Luxury Lodge and Polentswa Tented Camp.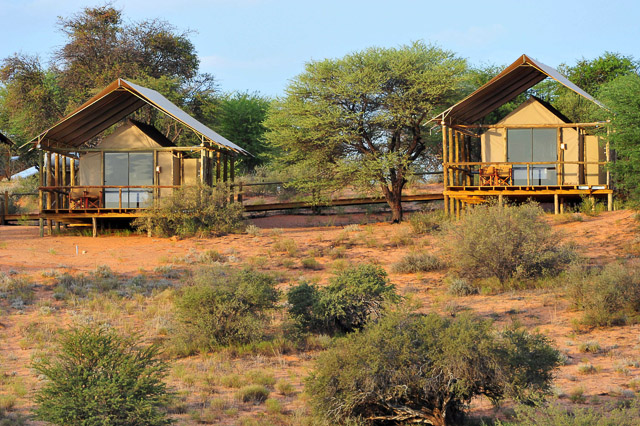 We visited them both in August 2013 just after Rooiputs Luxury Lodge had opened and just before Polentswa officially opened - you can read our August trip report here. We wanted to see how different the lodges would be in summer (December 2013) compared to winter.
The temperatures varied between 17 degrees celsius in the early morning's then heating up to 38 degrees by midday. We also had some rain which was great to cool things down. We took some warm cloths just in case the weather changed, which has happened to us in the past!
Our trip started as usual leaving home at 03h00 and heading off on the N14 to the Kgalagadi. The drive was pleasant with no stop-starts along the way because all road construction has now finished and the detour road has been reopened which gave us extra time.
So now all the road works between Sannieshof and Delareyville and between Vryburg and Kuruman are complete - Yay!
All in all the trip was pleasant, only for an accident near Kathu, where a car hit a horse, so please be careful when driving these roads as you may encounter horses, goats, cows and/or donkeys along the way.
We arrived at the Kgalagadi at 12:15 and we checked in at Twee Rivieren reception because we had 3 nights at Mata Mata first, then we went to the Botswana reception.
Passports and vehicle papers were needed for police clearance, because we were not coming back through the same gate, instead we were leaving the park via Mata Mata border gate after our 10 days stay, to enter into Namibia for part 2 of our trip report.
In the past we owned a Toyota Prado, which has a 170l fuel tank so we didn't worry about refuelling much as full tanks could last us for over 1000 kms but now we had traded in the Prado for a Toyota Fortuner that has an 80l tank. We had fitted an extra 40l fuel tank so in total we now had a maximum of 120l fuel.
(We bought the Fortuner from Monument Toyota Constantia and received the VERY worst service we have ever experienced when buying our vehicles! You can read the whole story of our Toyota woes here.
As a result we have gone back to servicing the vehicle at Halfway Toyota in Honeydew).
We did not fill up in Upington because we wanted to fill up at Twee Rivieren but Twee Rivieren did not have any fuel as Total had not delivered! When they phoned Total the excuse apparently was that some of their staff members were on leave!! Come on Total, get your act together! 
Fortunately we had enough fuel to get us to Mata Mata camp, about 120 km from Twee Rivieren, which took us about 3.5 hours.
Kgalagadi-Namibia Trip Report Part-1: 
Mata Mata
We took a slow drive up the Auob to Mata Mata, with a few good sightings; two male Cheetahs lying under a tree just after Auchterlonie waterhole, then a lioness and male lion also lying under a tree just a few kilometres up the road from the Cheetahs, then we came across about 10 Giraffe which I always love to see in the Kgalagadi. We arrived at Mata Mata around 16h00, unpacked and settled in for a lovely braai on our patio.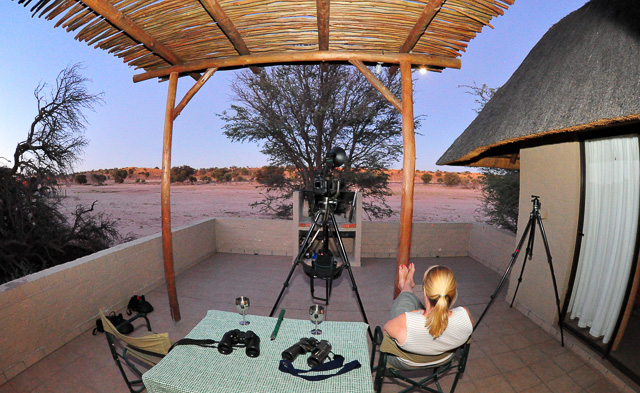 That night a lioness came down to drink but she was very jumpy and did not drink. She came to the waterhole four times that night at around 20h00, but did not drink!
So the next day we went to find out what the story was…..no water at either waterhole! We went to the hide and could see no water and not even birds or bees, who would be there even for a little moisture. We told two staff members who assured us that there was water in the waterhole!
We then went to find the camp manager, George Pearson, who climbed over the fence and went to the waterhole to see. He said it was empty and then filled up both the waterholes and by the next evening the waterholes were full. (I can see why George is the camp manager and not any of the other employees!)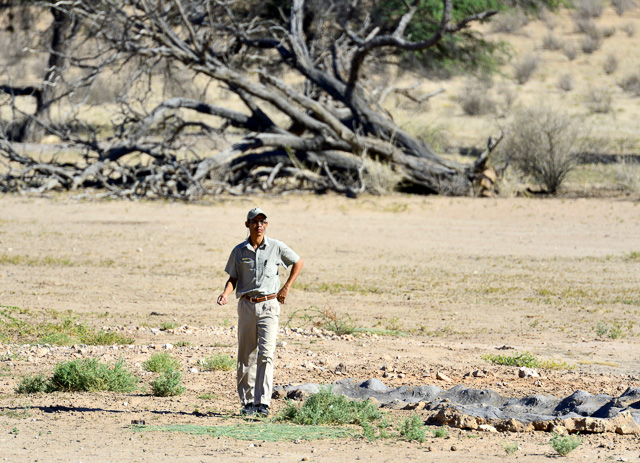 During our three days at Mata Mata we only went out a few times as we wanted to just relax in camp to de-stress. We walked round camp and found two white faced scops owls roosting in the tree next to the shop and we also had 8 suricates come bouncing past the waterhole one morning which was a nice surprise because you don't often get to see them.
On our last day we decided to go for an afternoon drive just as far as Craig Lockhart waterhole. At first glance we could not see anything then out the corner of my eye I spotted a black maned lion lying under a tree about 80 meters behind the waterhole.
A few cars drove in but I don't think they saw it because they drove off again. We sat with him for a while but he was not going to do anything in that heat so we decided to head back to camp.
When we arrived at camp at 17h00, Mario always takes his camera through first to set up on the tripod for any unexpected visitors and that was just what we got…..the lioness was back and drinking at the waterhole close to the chalets, wow she was one thirsty cat! 
She looked thin and weak and had a porcupine quill in her chest. She stuck around for a few hours just lying under a tree then she disappeared into the night.
Kgalagadi-Namibia Trip Report Part-1: Polentswa
We left Mata Mata round 05h30 for Polentswa Tented Camp. We wanted to get a good head start before the rest of the cars hit the road and to see if we could find any tracks in the road from the night before. We headed up over the large dune road towards Nossob.
We had a not so quick stop at Nossob to refuel - I say not so quick because the power was off so the fuel pumps were not working. After a 90-minute wait for the cavalry to arrive (maintenance man from Twee Rivieren) the generator was fixed we were on our way up to Polentswa which is only 60km from Nossob camp.
A few people get lost on their way to Polentswa Lodge, because they reach the camp site and then turn back thinking they are on the wrong road, but they are correct they just need to carry on for another 4 km past the camp site to the lodge after the 4X4 wilderness trail sign.
After crossing the Nossob River we drove past Polentswa campsite and headed towards the lodge. The campsite was quiet with only one or two campers when we arrived but by the time we left 4 days later, there was a party of 5 vehicles at just one A-frame, and all 16 of these people popped into the lodge for drinks. The campers are very curious about these new lodges!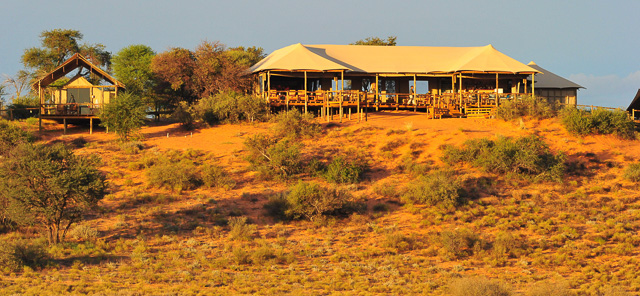 We arrived at the lodge at 13h00; it was nice to see the lodge fully furnished after our August trip when the lodge was still empty. Now it looked great and we enjoyed looking around. We had a great welcome from the Polentswa staff and it felt like we had come home. We would have 4 wonderful nights in this great place.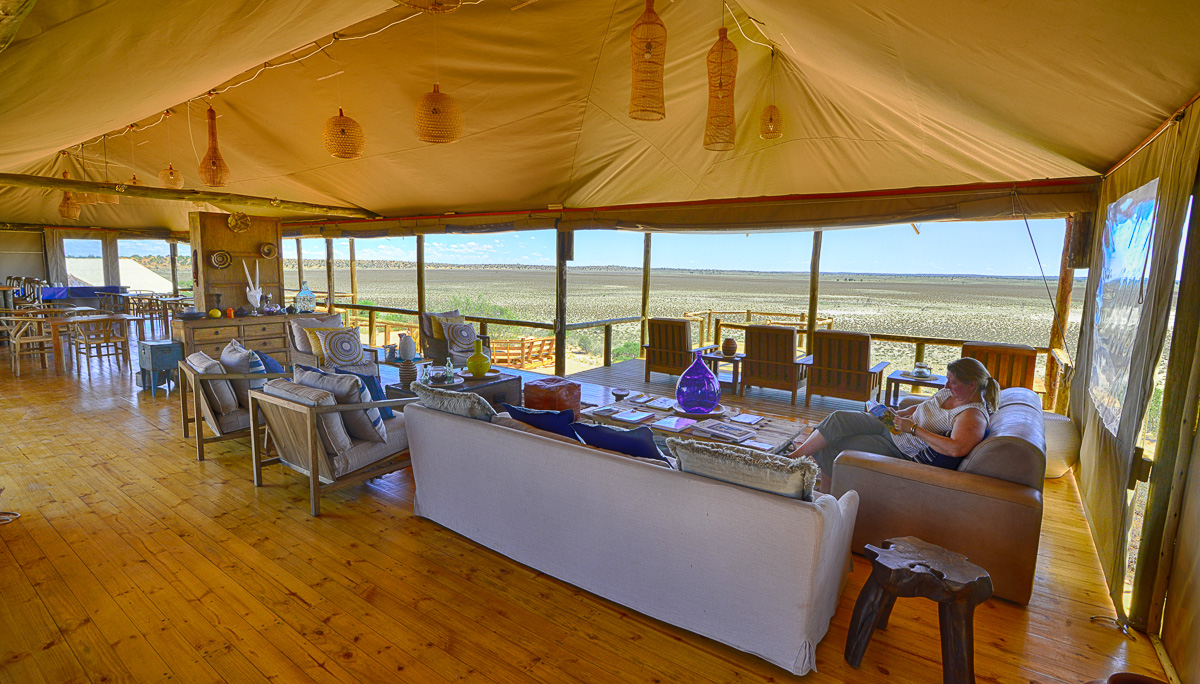 After Justin, the lodge manager, showed us round the newly furnished lodge we had our welcome drinks and we set off to our tent no 6 to unpack. That night we had dinner on the viewing deck overlooking the waterhole; it was a great dinner of Garlic Asparagus, grilled fish and veg then we ended the evening with fruit salad and ice cream. 
Our game viewing in the Polentswa area was great, but only from our 2nd day!
The next morning we left the lodge around 05h15 and our first stop was at Polentswa waterhole and there we found two Woolly-necked storks. We carried on towards Cubitje Quap waterhole near Nossob.
There had been many good sightings of lion, cheetah and Honey Badgers over the month of November, but sadly it was very quiet. A couple of Jackals came to drink but did not stick around. We then went back to Polentswa lodge for a great brunch. That night the lions roared all night but did not show themselves.
The next morning we left the lodge at the same time, but this time we went up north. We popped into Polentswa waterhole and found a brown hyena who had just finished drinking and the 2 Woolly-necked storks, the hyena was on his way, so we left and carried on northwards.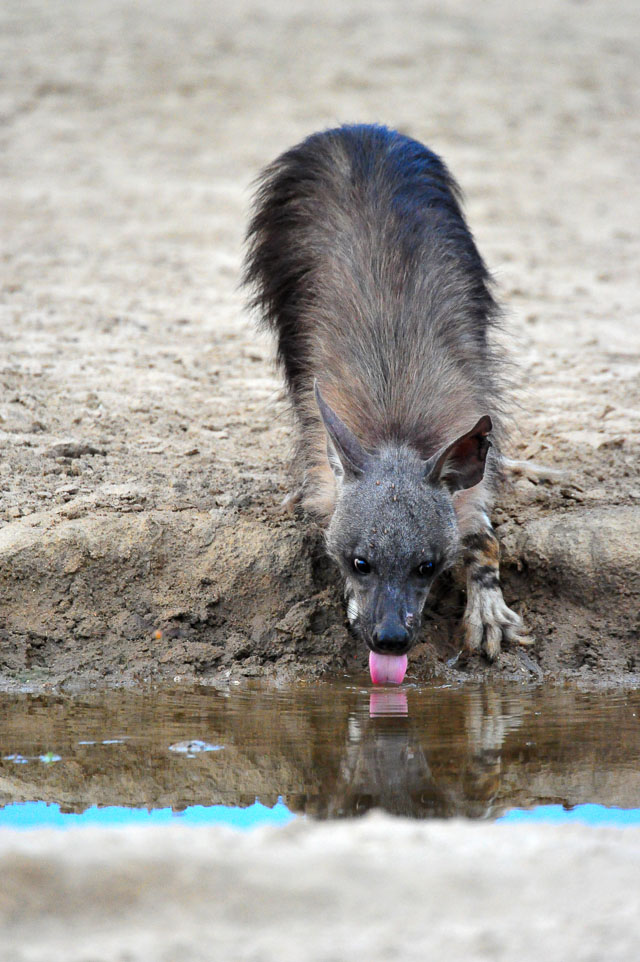 We arrived at Lijersdraai waterhole and at first glance could see nothing, then something near the reservoir moved and I saw it was a young male lion. It turned out that he was eating a Red Hartebeest that looked very fresh; I would say he had killed it in the early hours of the morning.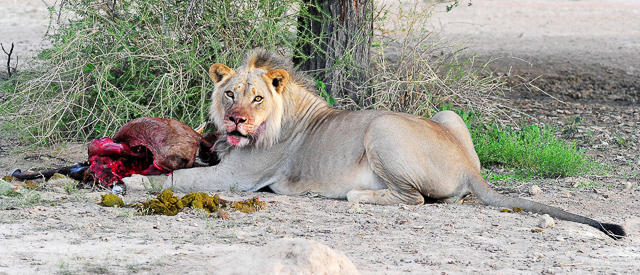 He was relaxed and let us take photographs of him while he munched on his breakfast. I then looked up and found another young male lying to the right of the waterhole on the edge of the road with his feet in the air. We sat with them for a while and we photographed them - the early morning lighting was great, but he was under a tree so lighting was a little tricky!
We left and went further up the road and just a few meters up the road we saw a spotted hyena running in the road in the direction of the waterhole where the two lions were. Then another 3 spotted hyenas come running across the Nossob riverbed. We were the only vehicle at both sightings – that is why we love the north of the park!
We carried on up towards Unions End and stopped at Geinab waterhole, this waterhole is closed but due to all the rain they had up north the depressions had filled with water so a lot of game was hanging around; Gemsbok/Oryx, Red Hartebeest and springbok. We even had two rare sightings of warthog! 
The Nossob Riverbed was under water in some parts and it was great to see how the Kgalagadi came to life with thousands of wild flowers (swart storm and devils thorn) that had popped up on the side of the road, which makes for great macro photography and adds more colour to the red sand dunes.
We went up all the way to Unions End (the end of the road where the three countries meet - SA, Namibia and Botswana) then turned round and headed back down towards the lodge; more great sightings awaited us.
Just before Unions End Picnic sight we spotted a Cheetah trying to cross the water- then under the tree on the other side of the water were three more cheetahs waiting for their friend to cross.
This is the furthest north we have seen Cheetah and what a great sighting, again we had them to ourselves. The lighting was not great because the sun was in our eyes, but with this sighting we were going to take pics no matter what.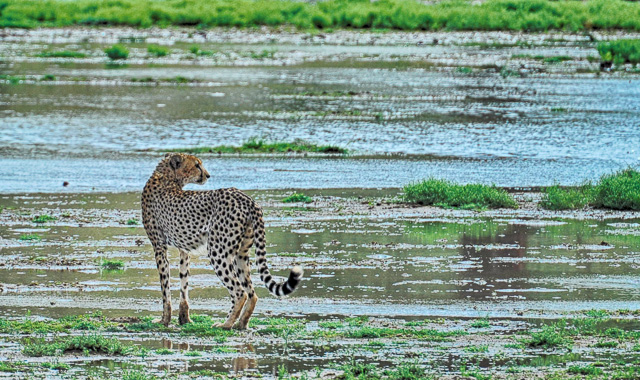 We stayed with the Cheetahs till the one crossed over the water to join his mate then they walked up and over the dunes. We took our cue and headed back to the lodge.
A quiet night was had at the lodge with the promise of some rain and another great dinner of a Brinjal stack starter, Lamb stew, spinach and pap followed by a fruit platter.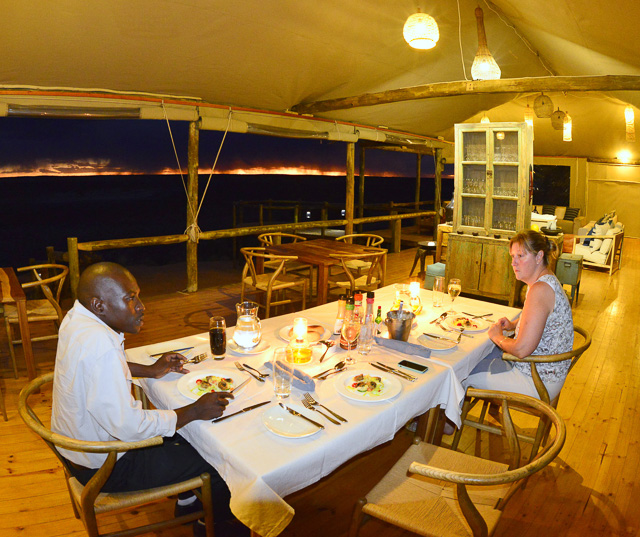 Our last day at the lodge was going to be another great day; we set out back up north to see if we could see the two male lions that we had seen the day before.
We first popped into Polentswa Waterhole at about 05h30 and found a male lion – the one that had been roaring each night but not showing himself!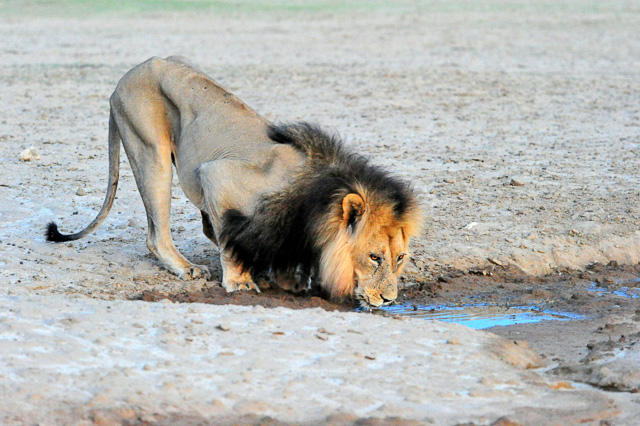 We then left and carried on to Lijersdraai waterhole but it was quiet as our young male lions had left, so carried on.
We then we found their spoor (tracks) in the road and we followed them till they disappeared over the road into the riverbed and we then spotted them- happily walking up the riverbed marking their territory. 
At Kannaguass waterhole we decided to stop and have our second cup of coffee. The waterhole was quiet but on the other side of the road were a few Wildebeest and a jackal. Nothing looked out of place so we started to relax when Mario suddenly said "Leopard in the tree!"
I had just looked at the tree and did not see anything, it just shows you how camouflaged they are.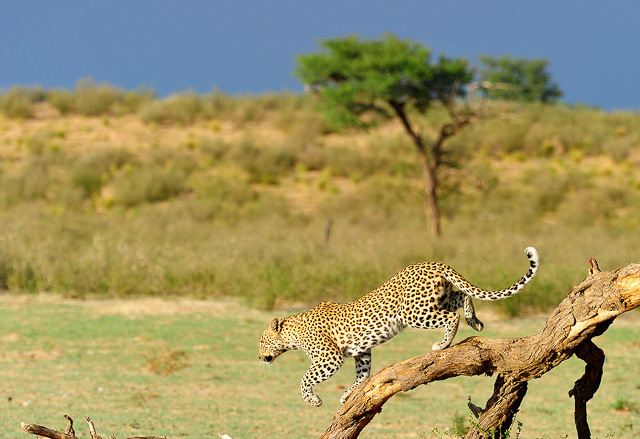 Mario got the car started because she was coming down the tree and we needed to get her in good lighting and still on the tree- which we did by the skin of our teeth because she was moving fast.
We managed to get a few photographs of her before she crossed the road and into the riverbed where she lay for some time then disappeared as leopards do!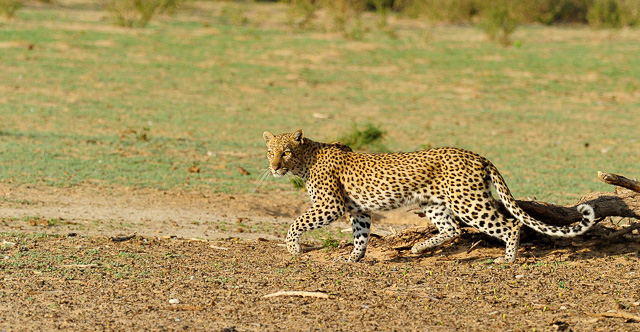 I thought it was Safran, so Mario emailed a picture of her to Matthew Schurch- the person who compiled the Kgalagadi Leopard ID manual and he told us it was Rosa, the same leopard we had seen at Grootkolk a few months back.
Back at the lodge we had 'seswaa' for dinner. This is a traditional meal in Botswana and is meat cooked slowly for hours during the day so that it is extra soft by dinner. 
On our last morning at Polentswa, we said our farewells to the wonderful staff and left around 05.20 am and headed for Polentswa Waterhole. We always like to just pop in to see what is happening and this morning we found a lone lioness lying on the right hand side opposite the waterhole.
We wanted to get a photograph of her with the beautiful sky in the back ground but could just not get the angle right and the colour was fading fast, so we left for our next pit stop which would be Rooiputs Lodge.
Kgalagadi-Namibia Trip Report Part-1: Rooiputs Lodge
We stopped off at a few of the waterholes along the way; Gemsbok, jackals and a few springbok. Then we popped into Nossob to fill up with fuel and check the sightings board- there were lots of lion and hyena sightings on the board along the route we were heading so we could not wait to carry on our journey. 
The rest to our trip down was quiet and we arrived at the lodge round 11h30 and met Molly the new assistant lodge manager and the rest of the staff who we met in August- again it was like coming home. After our welcome drinks we set off to unpack at our room, number 4, for our next 3-day stay.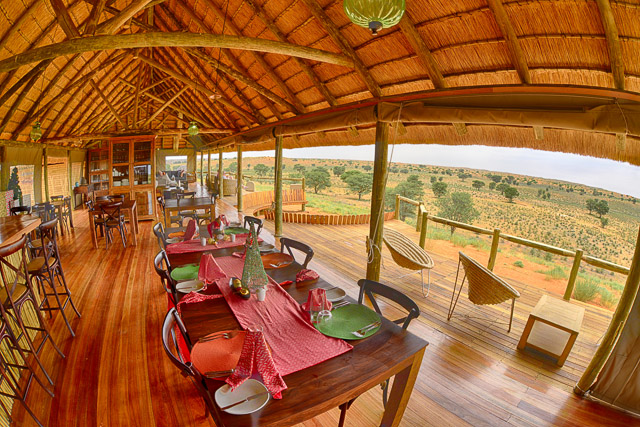 We had a quick bite to eat and chatted to some guests who told us about lions they had seen on their way up to the lodge, so we set off for our afternoon drive and there just 3km from the lodge turnoff going down towards Twee Rivieren were 3 lioness and 2 sub adult cubs lying on the side of the road.
By this time it was already 34 degrees Celsius and they were not going to move in this heat, so we turned round and headed back up the Nossob River.
Not far up the road we spotted a family of Suricates playing and eating - the lighting was great so we stuck with them while trying to keep up with them. Then a fight started and 2 Suricates got pounced on by the others and they had these poor guys by the head and neck and we could see the blood on their faces.
These 2 little guys ran for their lives- blood and sand mixed covering their faces; wow what a sighting! We really felt for the poor guys but we also felt like part of the family, watching them come close to the car from time to time, catching lizards and scorpions that they dug up from the ground.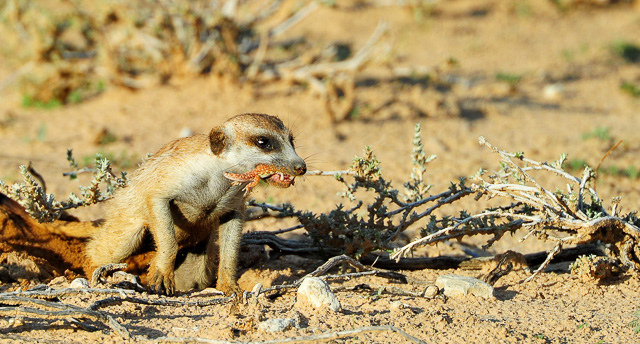 Then all was quiet and we moved off as they had now all disappeared into their holes for the night.
When we got back to the lodge I noticed movement outside our room and then I saw it…..a Cape Fox lying next to a couple of large holes. We got some photographs of it then 2 pups came out and started to play, but by then the light had faded so we set off for dinner.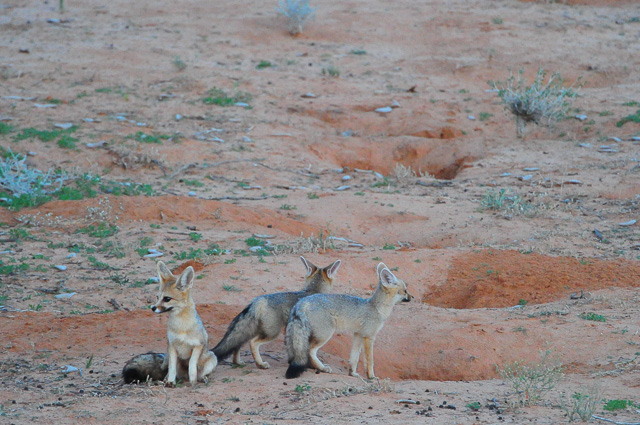 On our second morning we went for a quick self-drive back up the Nossob River towards Kij Kij, it was a great morning with a lovely sighting of 2 lionesses and 1 male drinking at Kij Kij waterhole- again we were the only car at the sighting then the lions went up into the dunes.
We decided to follow them up the dunes for a while till they disappeared and we headed back to camp.
Brunch was great; Julia's toast - scrambled egg with onions and bacon on toasted homemade bread ….great meal.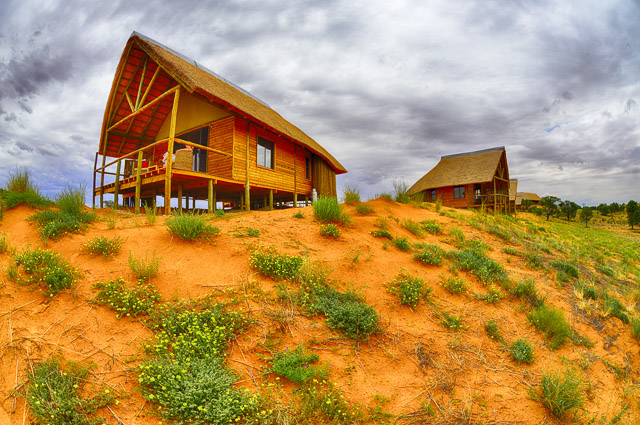 The wildflowers had erupted around the lodge so we spent an hour or two photographing Devils claw and dubbeltjies (Devil's thorn).
The afternoon drive was down south towards Twee Rivieren, we saw a spotted Eagle Owl and a family of Ostrich with 22 babies in tow. It was quiet so we decided to go to the small dune road and about halfway down the road a huge storm broke and the rain came down in buckets, it was so hard we could hardly see out the window.
We managed to take a slow drive back to the lodge but used the top Rooiputs resident road because the Nossob road was now flooded.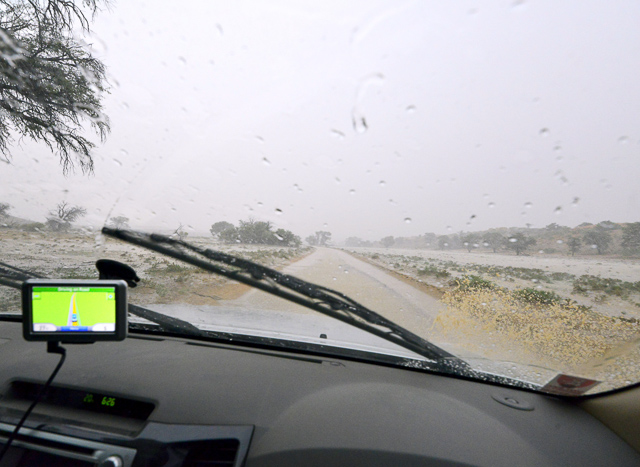 Dinner would be served in our room due to the heavy rain, which was a nice surprise. Our room was transformed into a romantic hide away. We had a lovely meal; Salad, Lamb curry with Lentil and couscous followed by desert, while looking out onto the savannah.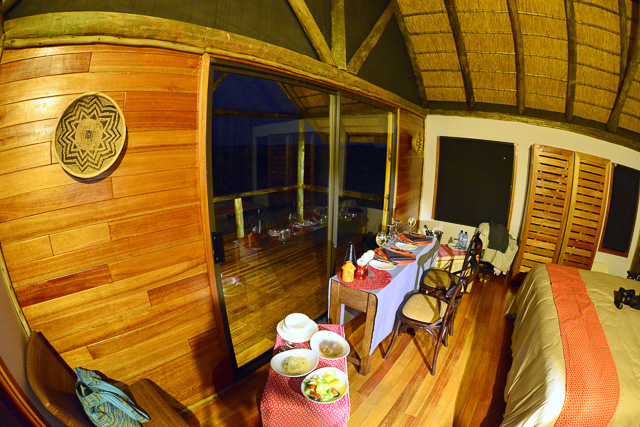 The next day we left at 05h30 and it was a nice cool morning and just right for a game drive. We took a slow drive up towards Melkvlei going past Kij Kij Waterhole but found it to be very quiet so when we got to Melkvlei we turned round heading back down the same route.
This time things changed, we got down to Kij Kij and found 2 lionesses and 2 male lions lying on the side of the road a few meters from Kij Kij waterhole, they got up and drank from the water in the road.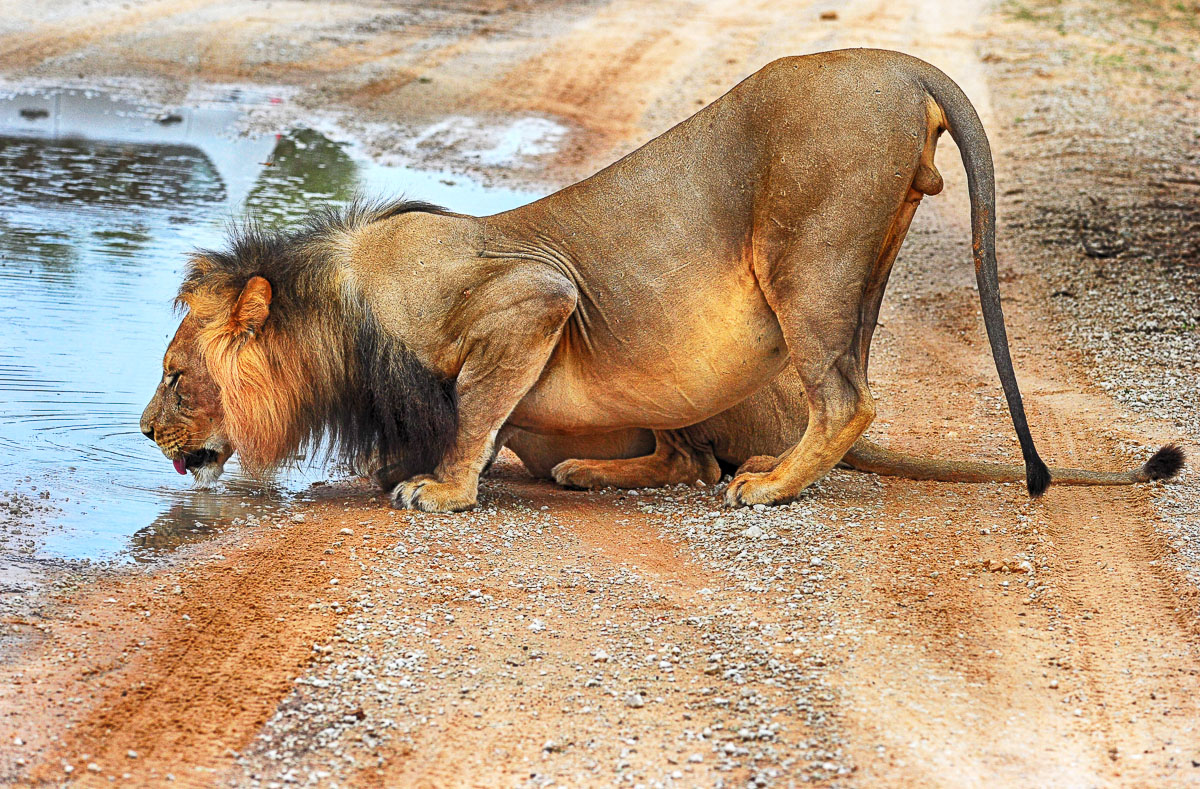 By this time a few cars had spotted them and were converging on the sighting so we moved on up the road going back towards Melkvlei.
Just 4km from Kij Kij we saw a dead springbok on the side of the road, we could not see any teeth marks or blood, we don't know what happened but nothing came to claim it while we were there.
Another 9km up the road from Kij Kij we spotted a Cheetah sitting on the sand dune then it disappeared.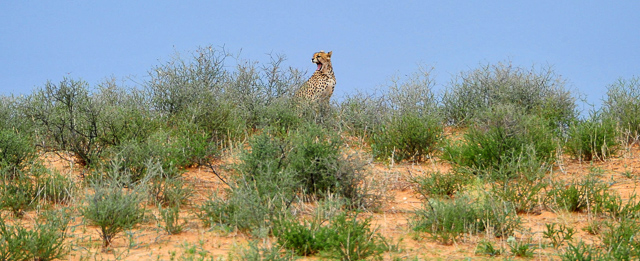 Just 2 km from Melkvlei we spotted a car that had stopped; we then saw a Cheetah, it was stalking a springbok.
The springbok was quite close so we got into passion to photograph a chase and a kill because the springbok had now sat down - well that was not going to happen because the cheetah started its chase too early and by the time it got to the spot- the springbok was nowhere to be seen!
The look on the cheetahs face and ours was priceless.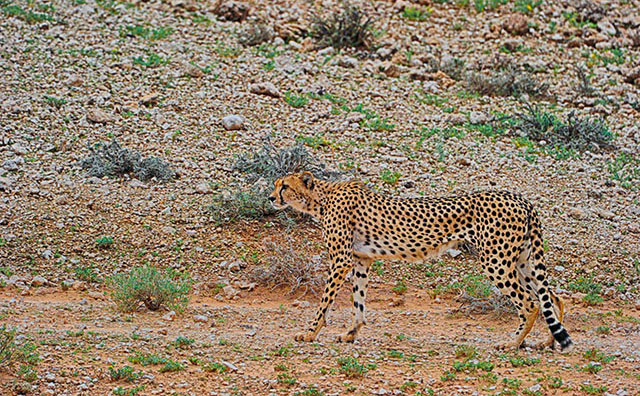 What a morning, after not seeing anything on the first run and now all this! We needed to get back to the lodge to download our cards, clean cameras and have brunch.
That afternoon the lodge was taking a few guests on an afternoon game drive so we followed in our vehicle and went back up the Nossob doing the same route.
The lions we has seen that morning were now lying on the sand dune on the left hand side of the road but we did not stay and carried on. The dead springbok was now gone- something had taken it while we were having brunch so we carried on to Melkvlei.
On the way back from Melkvlei we found 4 cheetahs; they were stalking some springbok- we stayed and photographed as they moved closer to us. Then one of them came round towards the back of our vehicle but the springbok had seen him and was gone in a flash… again another exciting day in the Kgalagadi.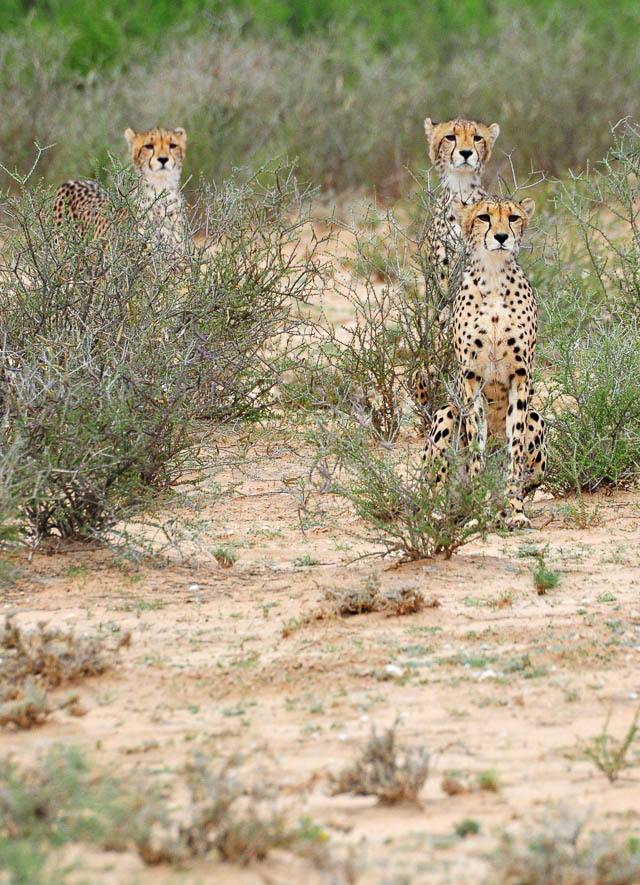 By this time it was getting late and the game viewing vehicle and some other cars left, we stayed with the 4 Cheetah for a while then moved off heading back to the lodge.
But just a kilometre down the road from the 4 Cheetahs were another 3 Cheetahs! They were males who were playing and rolling then suddenly got up and moved off. We got a few more pictures of them then we too moved on.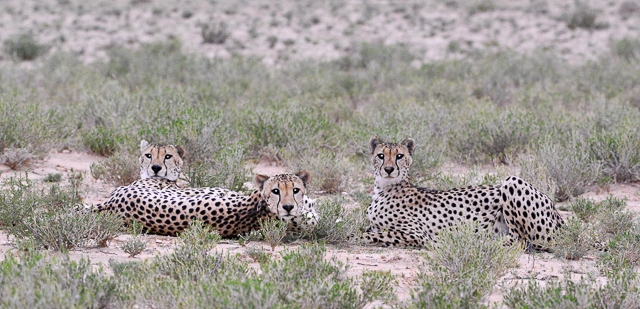 As we got closer to Kij Kij, a Brown Hyena darted across the road and over the dunes towards to east in the area that we saw the dead springbok - now we know who ate it!  
We got back to the lodge just in time….closing time is 7.30pm- wow what a day! Or is it just another day in the Kgalagadi?
It was now time to say farewell as we left this magical place the next morning and headed towards Mata Mata before exiting the Kgalagadi for the next part of our trip but not before spending an hour with a cape fox and her pups! Again, we were the only vehicle at the sighting.
What's the Score...?
Many people have asked us which lodge is the better one between Rooiputs and Polentswa. Well both are unique and have something different to offer in terms of decor, ambiance and scenery.
Regarding animal sightings they are very close. Most people want to see predators so let's compare our two trips to each lodge and see how they score:
Rooiputs:

Lions - 3

Cheetah - 1

Leopard - 0

Brown Hyena - 0

Honey Badger - 1

Polentswa:

Lions - 2

Cheetah - 0

Leopard - 1

Brown Hyena - 1

Honey Badger - 0
December 2013
Rooiputs:

Lions - 2

Cheetah - 4

Leopard - 0

Brown Hyena - 1

Spotted Hyena - 0

Polentswa:

Lions - 5

Cheetah - 1

Leopard - 1

Brown Hyena - 1

Spotted Hyena - 2
As you'll see from the above sightings, both camps perform when it comes to seeing predators in their respective areas!
You'll also notice that our summer sightings were more than our winter sightings. Some people don't think of coming to the Kgalagadi in summer yet our summer sightings are always better than our winter animals sightings.
In addition, summer provides thousands of wild flowers and antelopes dropping their babies.
See part 2 of our trip report into Namibia to do the Gondwana Collection of lodges and the four deserts tour.
---
For more information about Rooiputs Luxury Lodge or Polentwsa Tented Camp, please contact Ta Shebube using the information below:
Telephone: + (267) 3161696
Facsimile: + (267) 3161695
Cell: + (267) 71 578 568
Email: info@tashebube.com
Postal address: P.O. Box 694, Sebele, Gaborone, Botswana
 To make a booking enquiry please click here 
---
Return from Kgalagadi-Namibia Trip Report Part-1 to Trip Reports 
---
---

To make a safari rental booking in South Africa, Botswana or Namibia click here
---