Madikwe River Lodge March 2018 Trip Report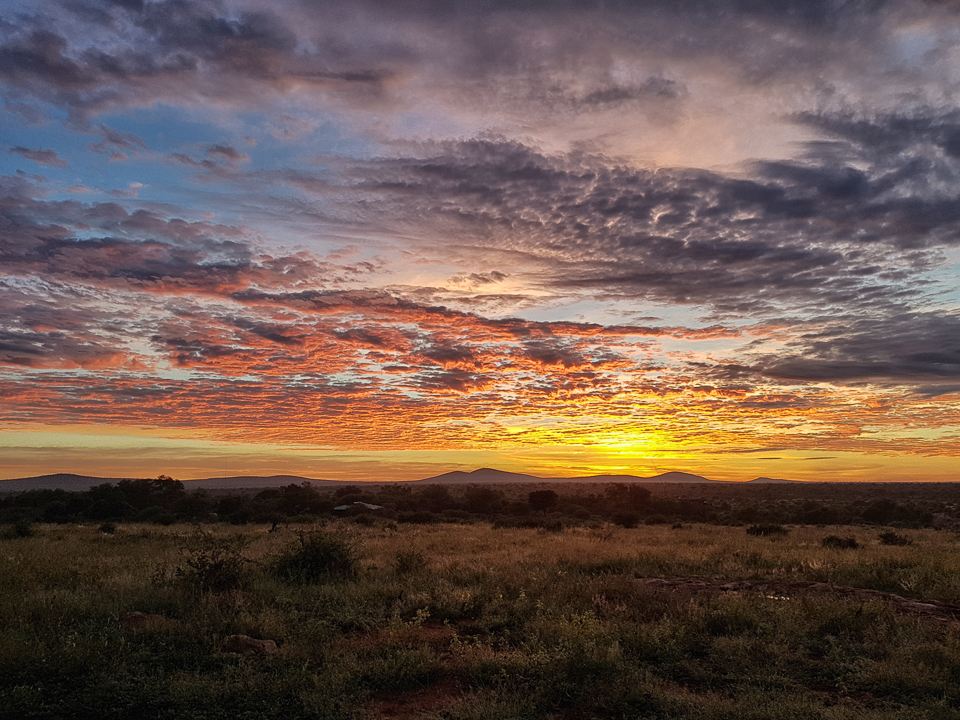 Sunrise over Madikwe River Lodge. The lodge is situated along the banks of the Marico River and you can just make out some of the lodge roofs peeking through the trees along the river.
We left a very rainy JHB on Friday morning and, due to the heavy rains, we decided to head for Zeerust and go in at Abjaterskop Gate instead of going in at Molatedi Gate.
We did this because it had been raining for the past 2 days and we weren't sure what the 30km dirt road would be like before Molatedi Gate and just as well, because our suspicions were confirmed by Benson who told us that the lower part of Madikwe and the 30km dirt road were in very bad condition and the low-level bridge near the Thakadu Lodge turnoff had overflowed.
If we had gone this route we would have had to turn around and go via Rustenburg, adding 4 hours to our trip!  
On arrival we were warmly welcomed by the MRL team, then settled down to have a great lunch.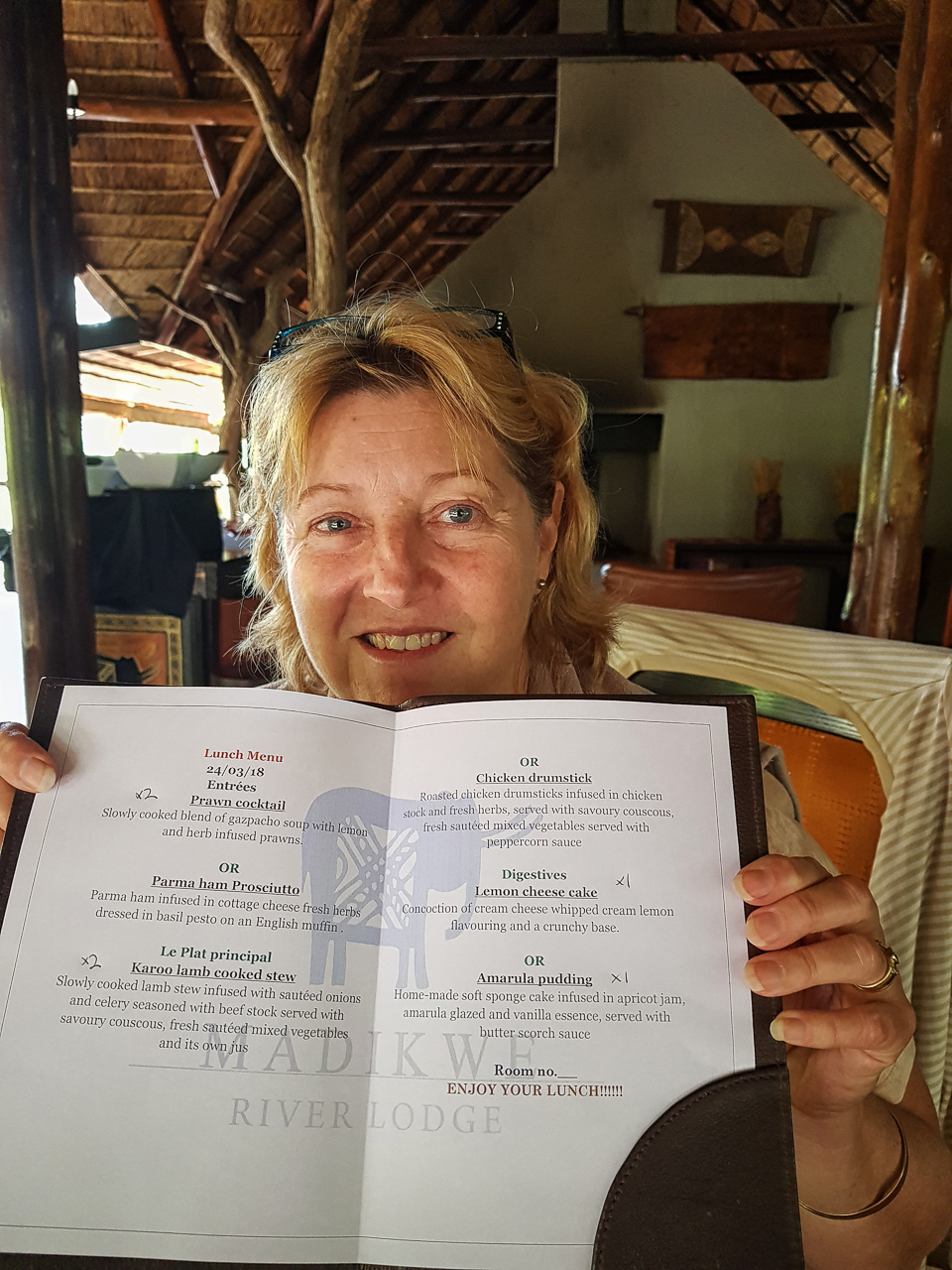 Madikwe River Lodge would be our home for the next two nights.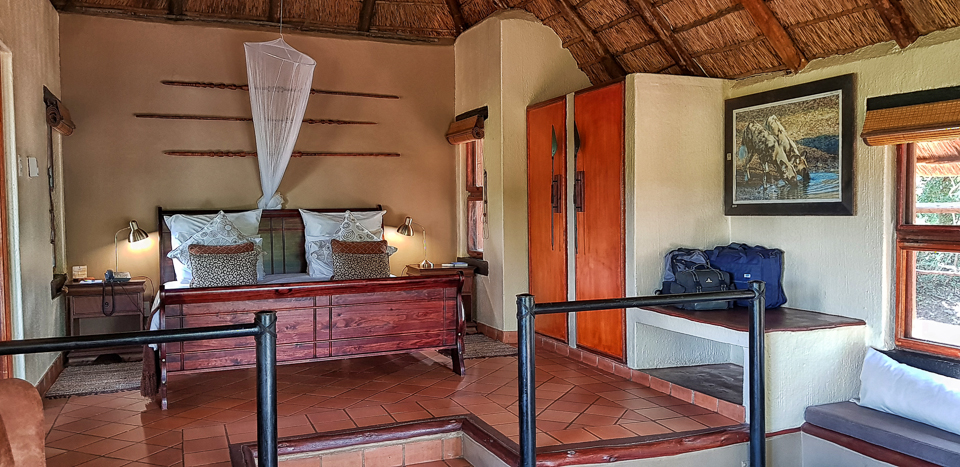 Out Chalet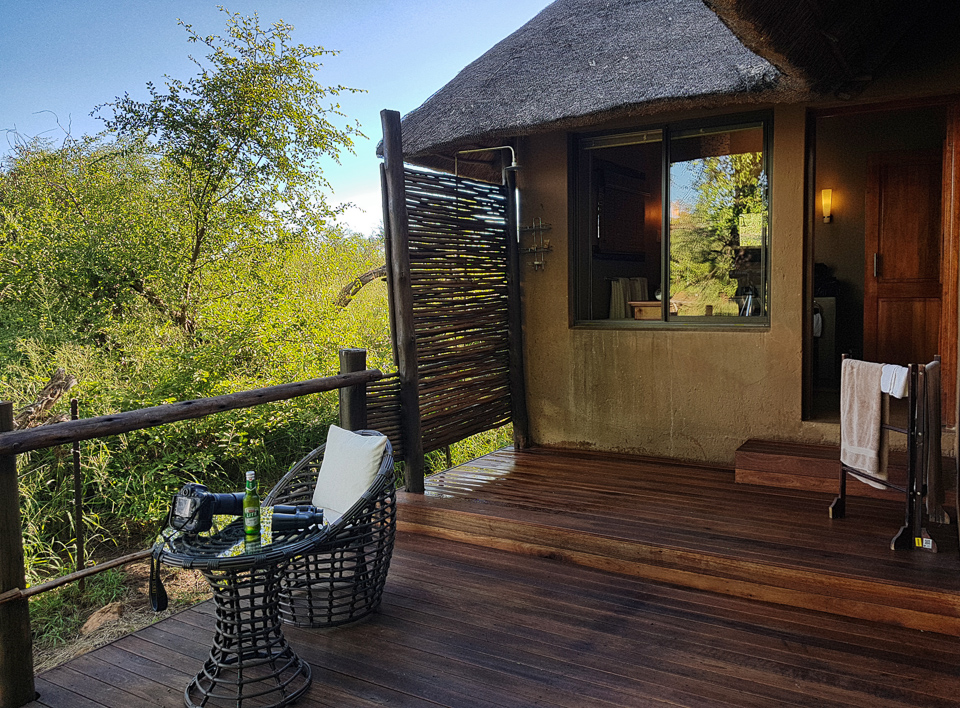 The outdoor shower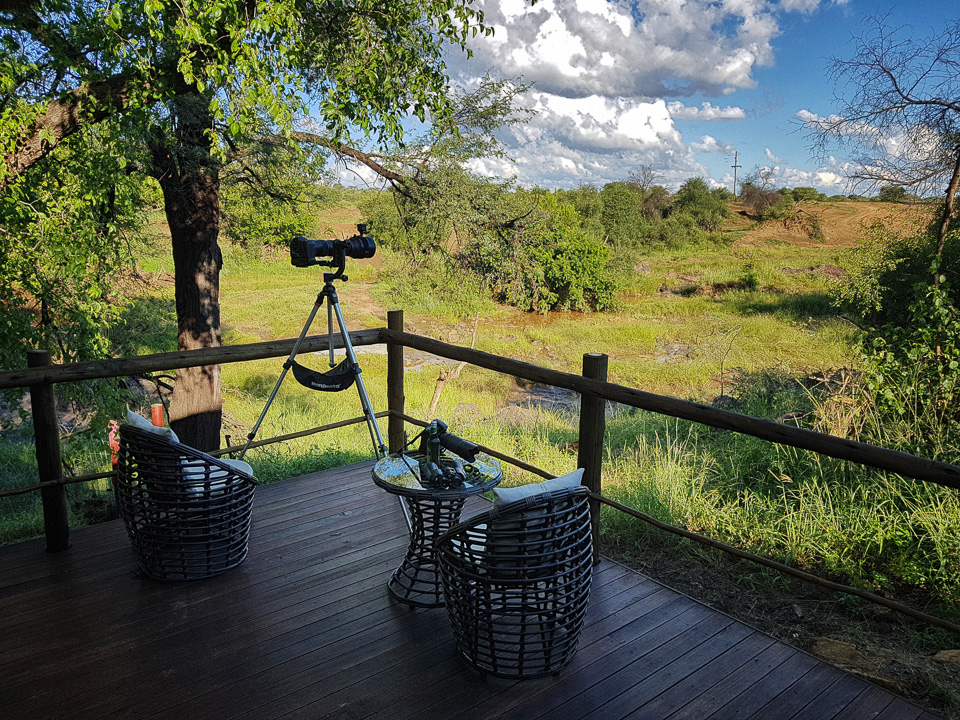 The view from our chalet
This three-star lodge offers 5-star service and food and there is always plenty of delicious food on offer.

There is obviously coffee and rusks before leaving for the morning game drives and then muffins and coffee during the morning drive.
Thereafter it's breakfast...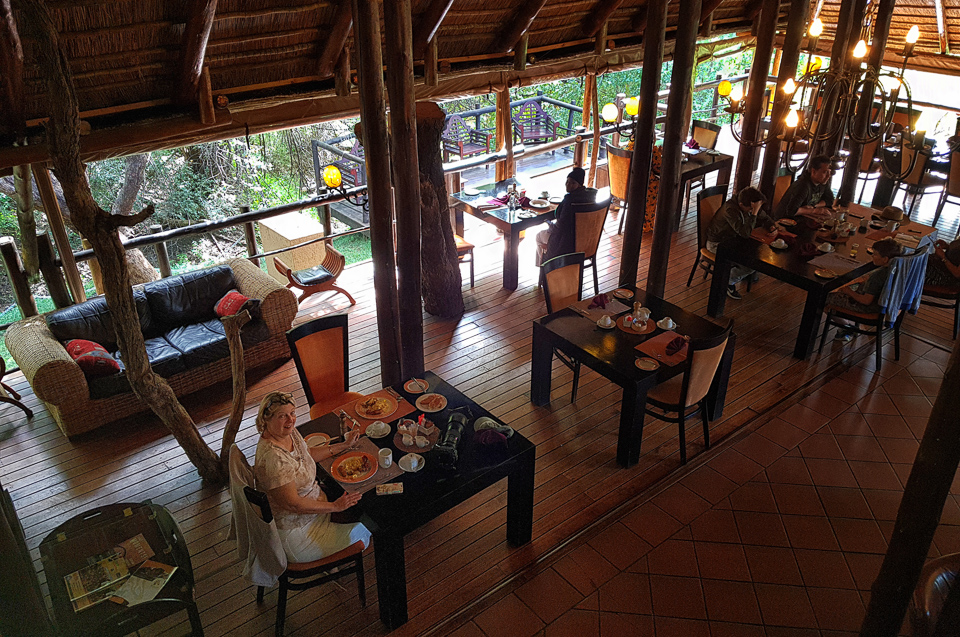 Breakfast in the restaurant overlooking the Marico River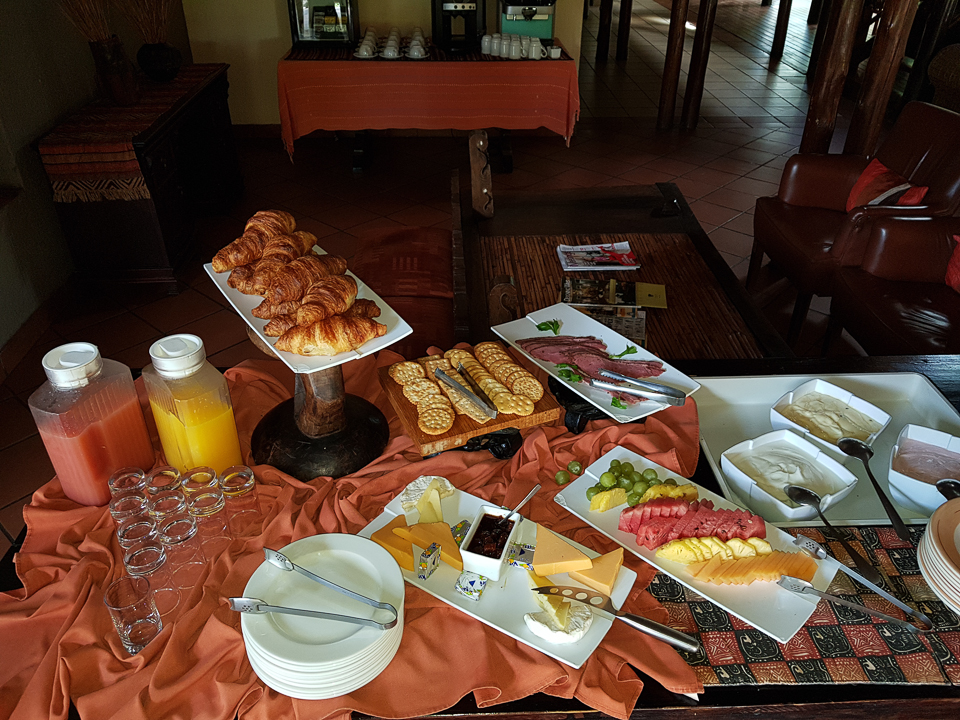 Continental breakfast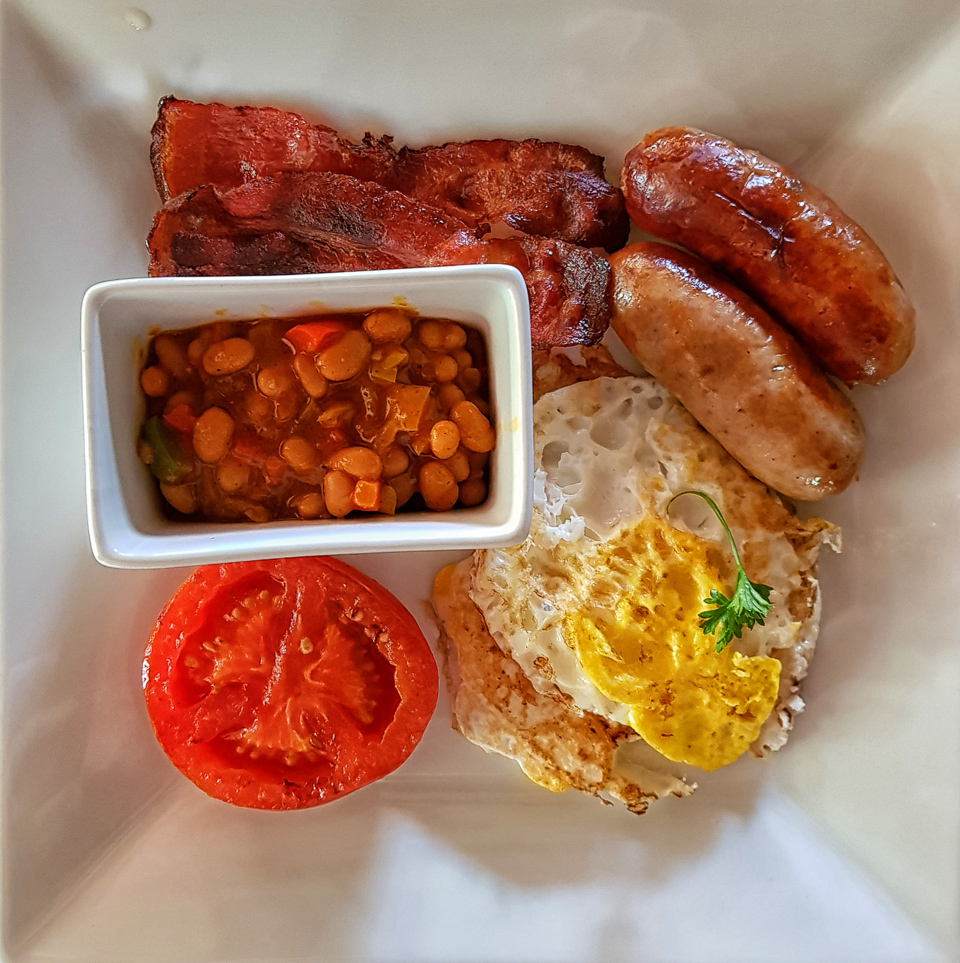 Traditional hot breakfast
Lunches...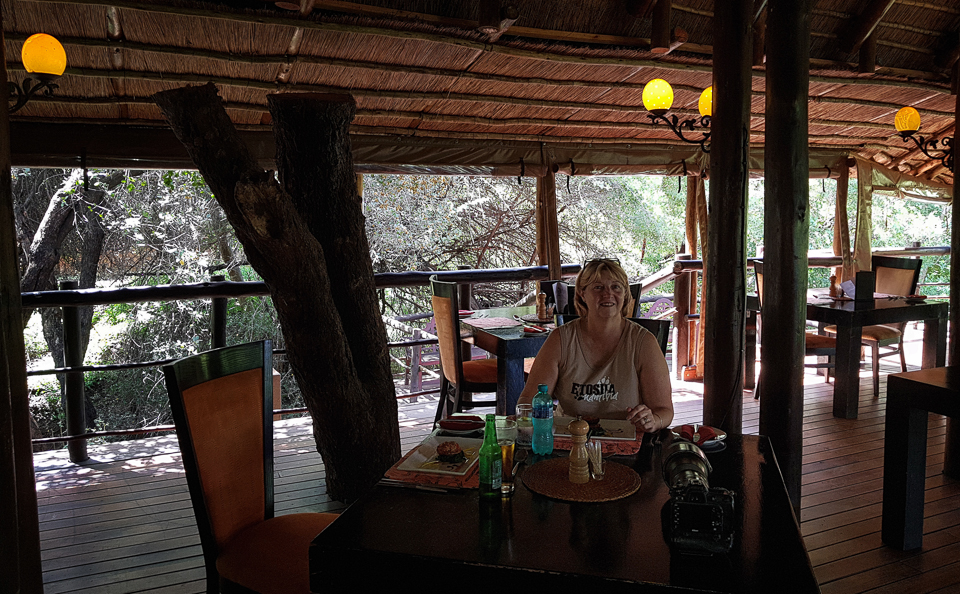 | | |
| --- | --- |
| Prawn cocktail starter | Fillet steak for main course. This was one of the best fillet steaks I have eaten! It was cooked to perfection - medium is our request - and was tender, with no fat and simply delicious! |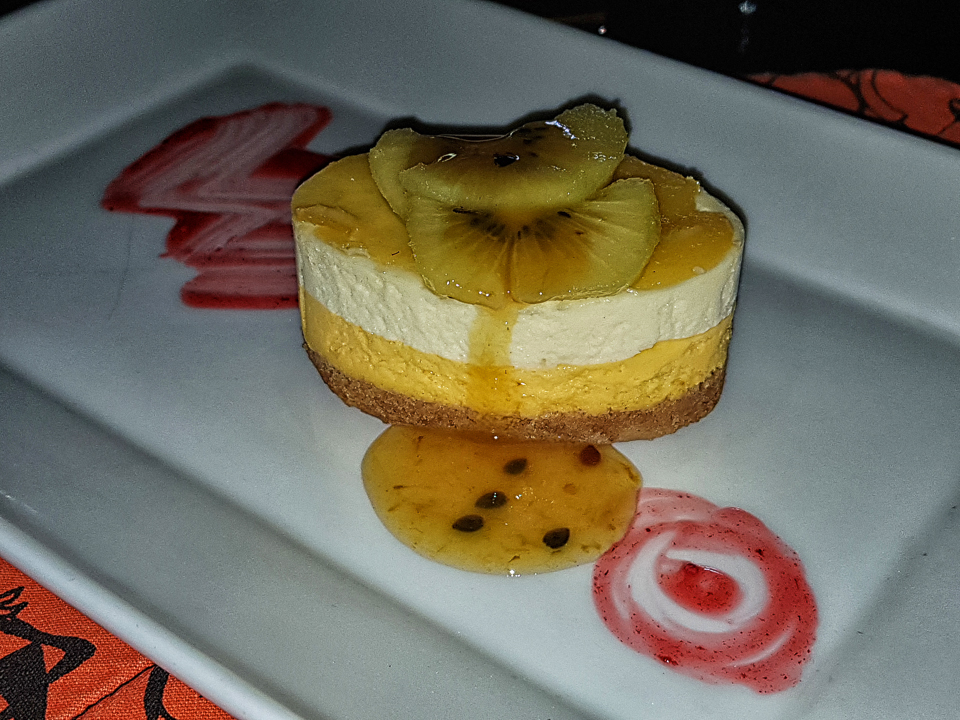 Cheesecake dessert
High-tea just before the afternoon game drives...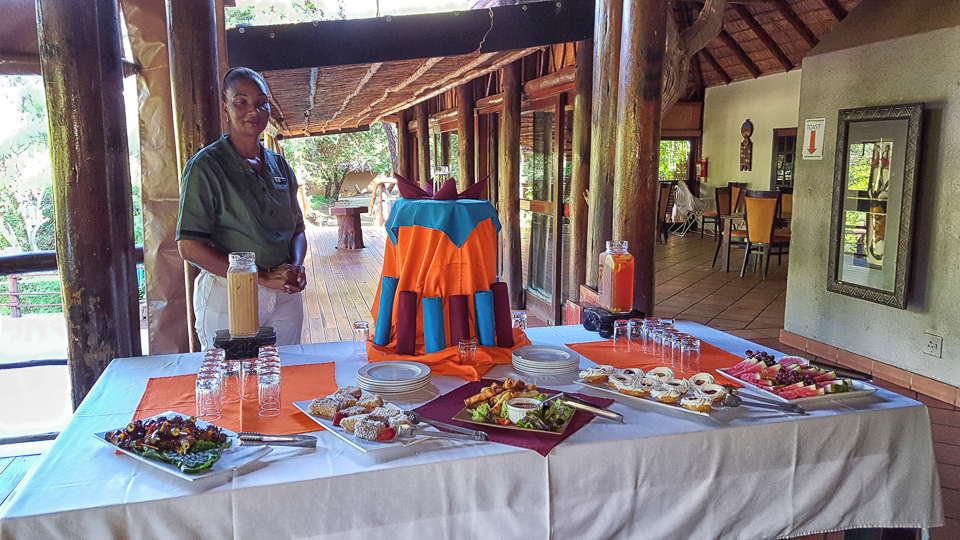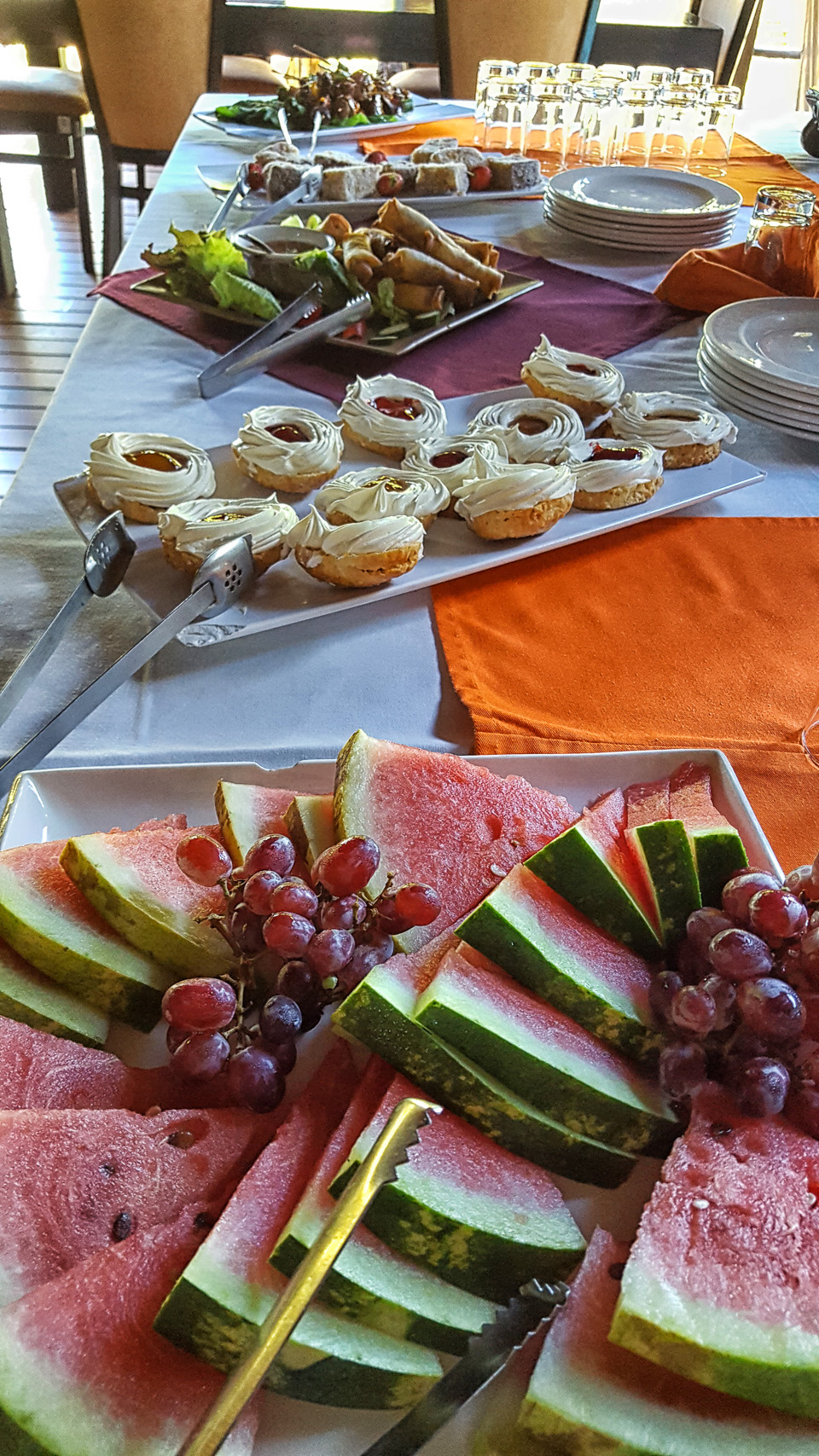 Then finally dinner! Our first dinner was in the restaurant...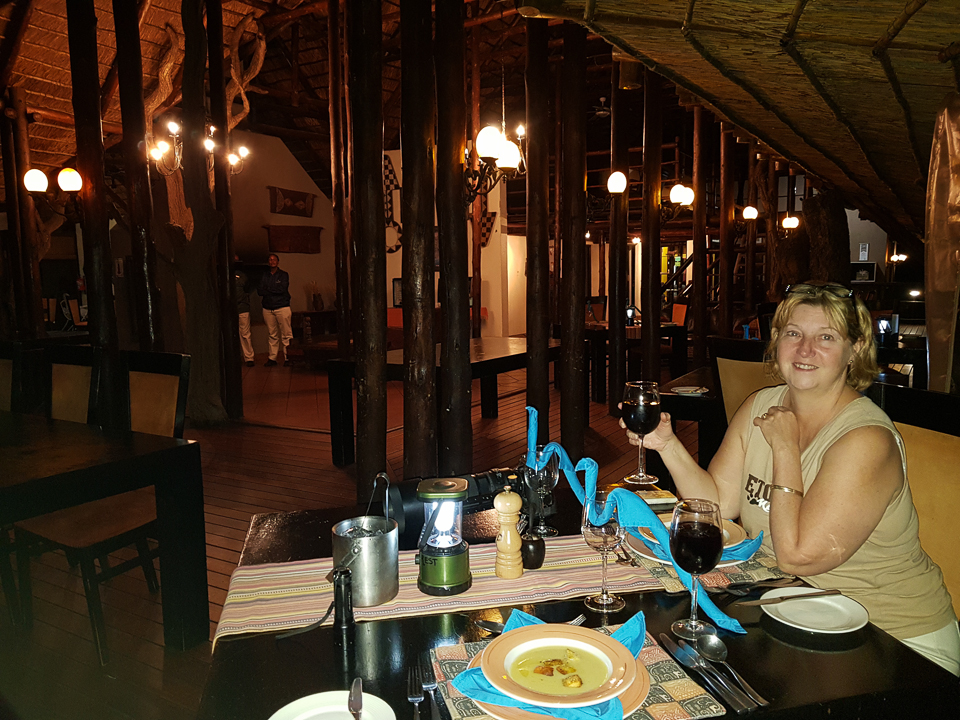 Potato & celery soup starter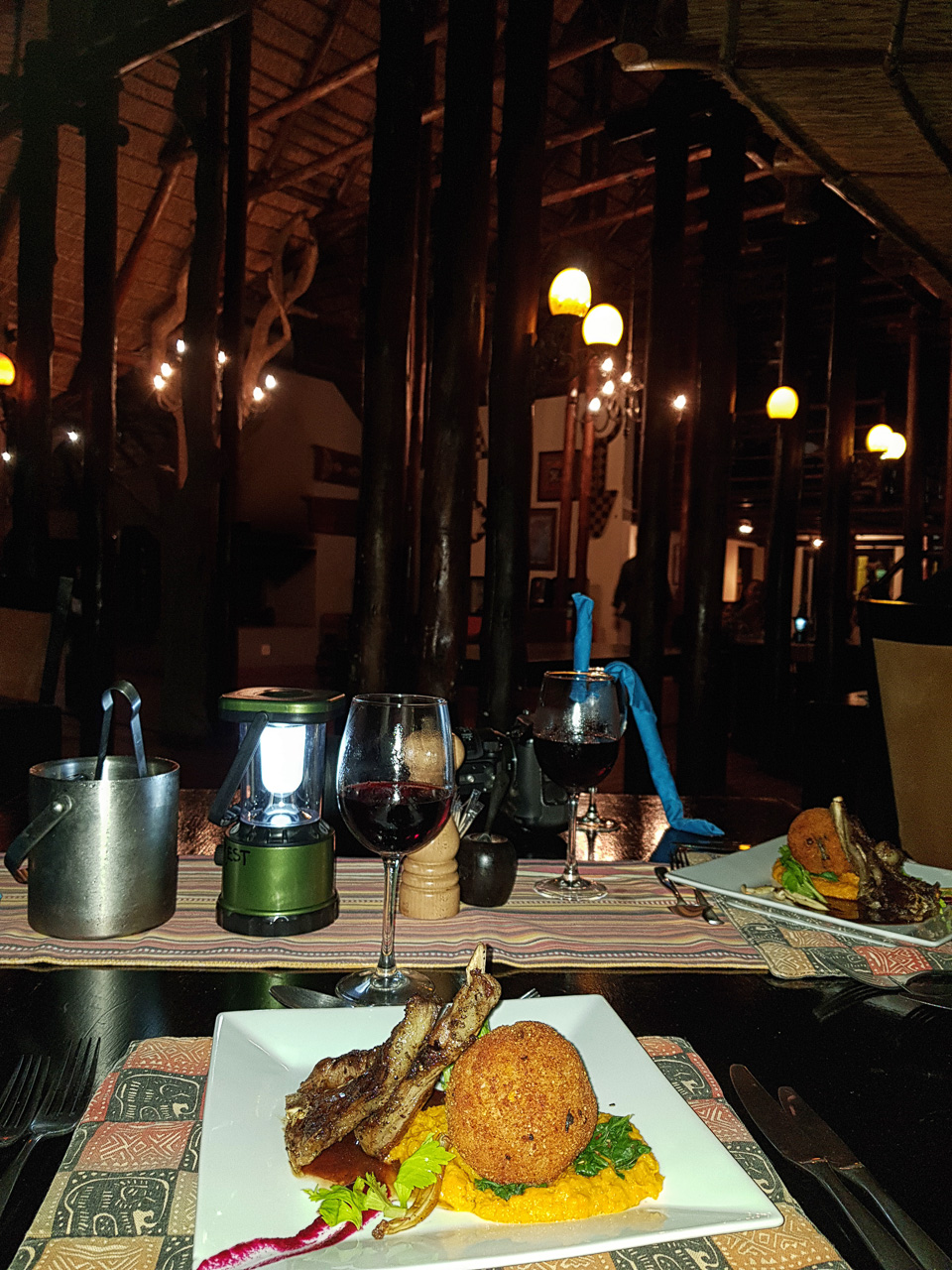 Lamb chops main course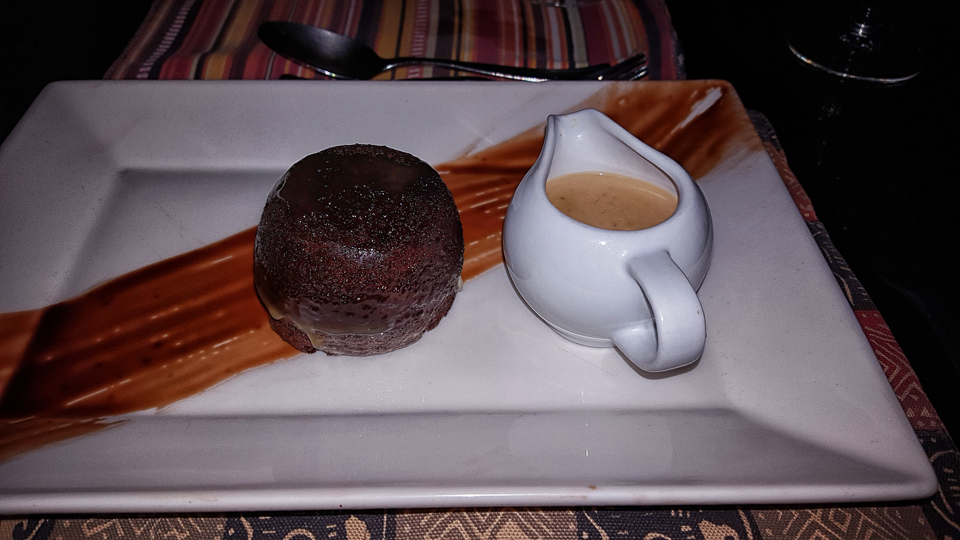 Chocolate pudding dessert
while our last dinner was in the boma, which was a treat, especially for the American guests who were there to celebrate a wedding.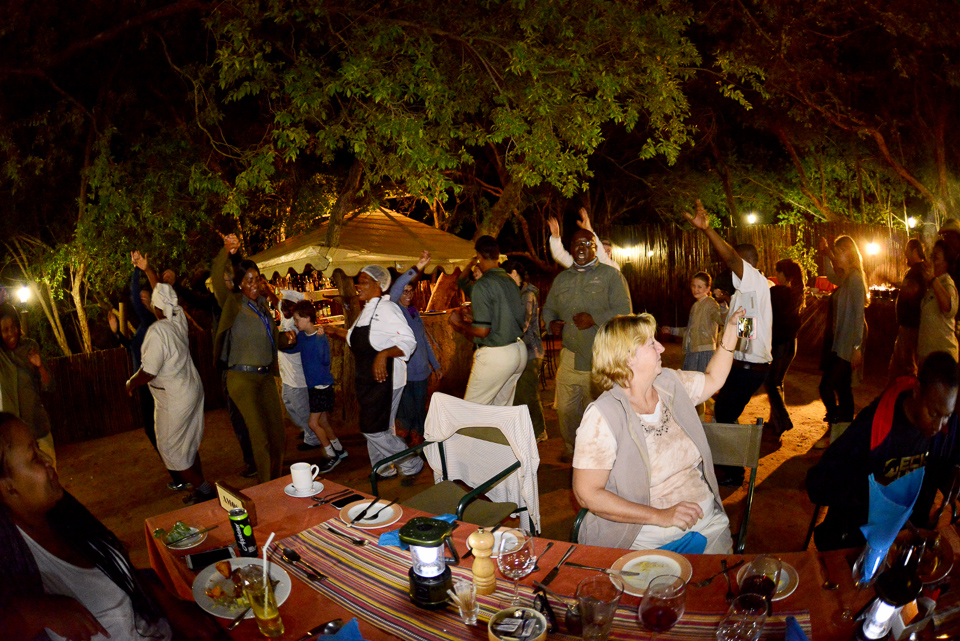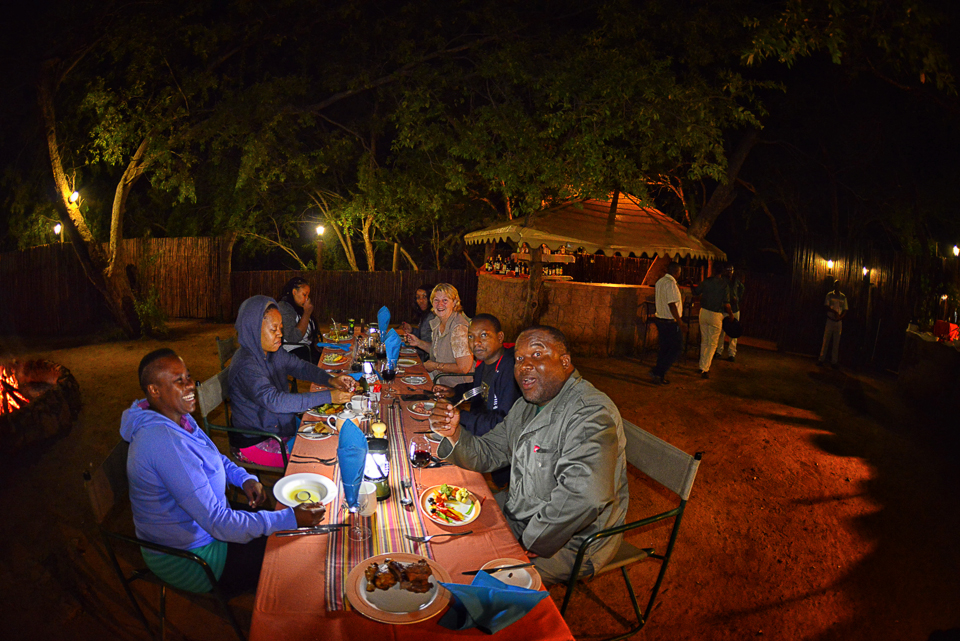 We shared our game drives and dinners with some great people!
Most 5-star lodges don't provide this quantity and quality of food! And the chef comes around to each table to chat to the guests...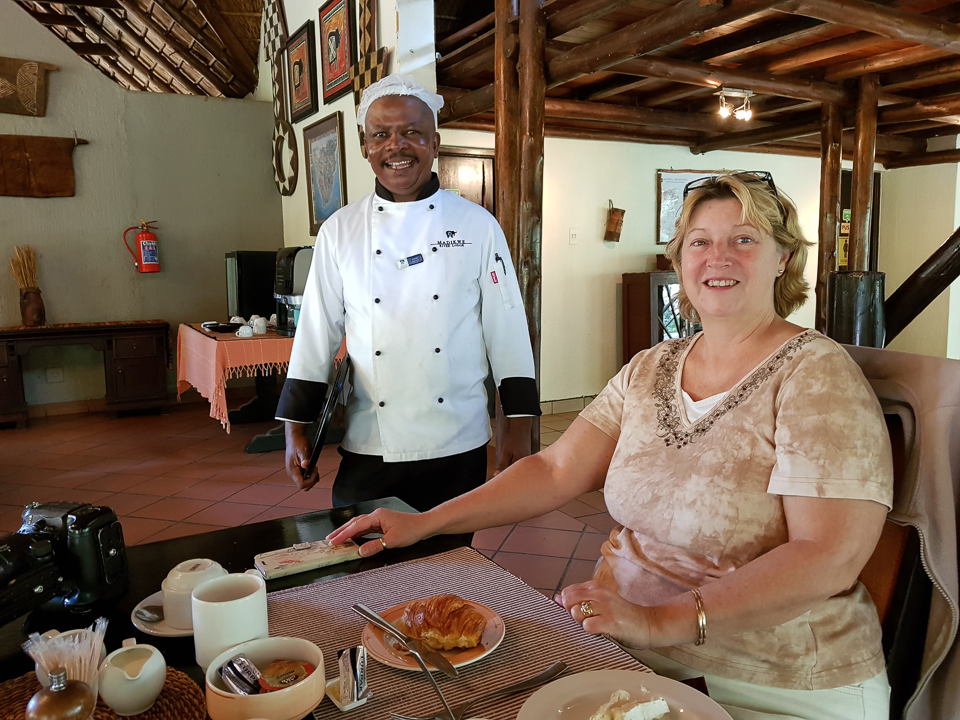 Albert the chef chatting to us at breakfast
We also photographed the staff members setting up for the wedding, which took place on the Sunday afternoon.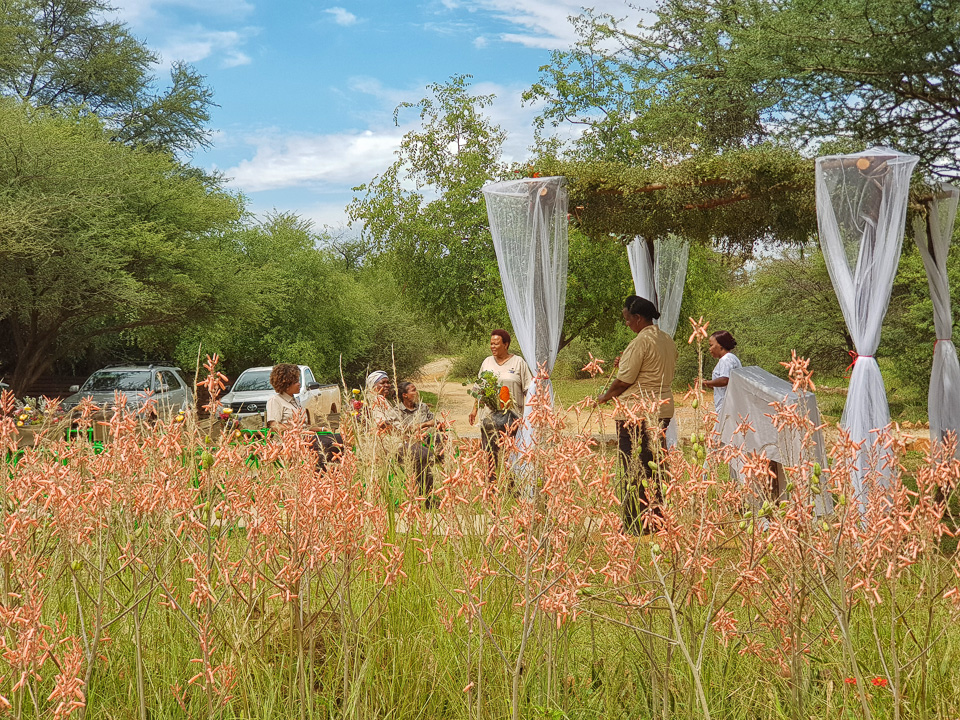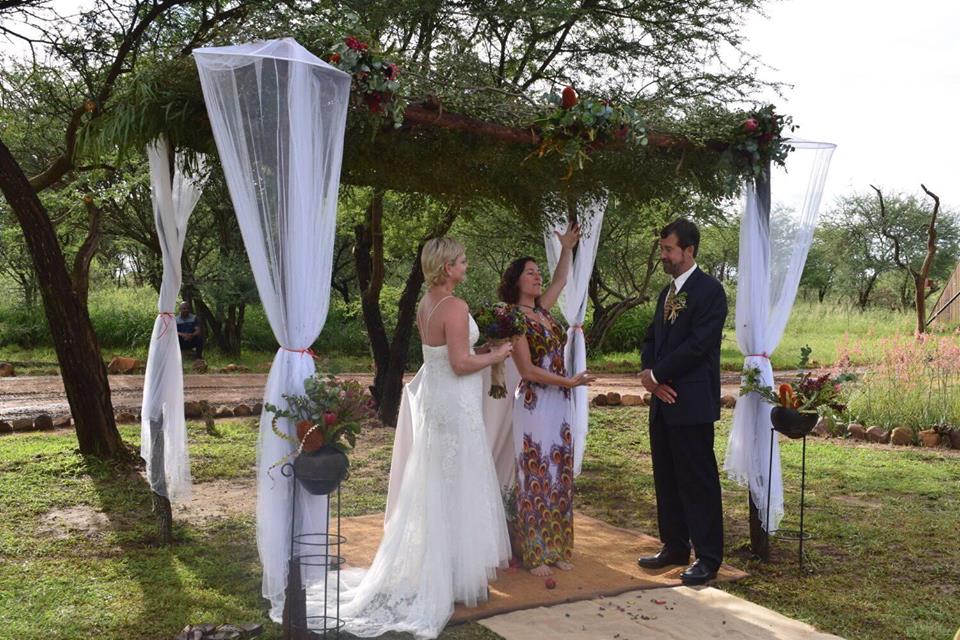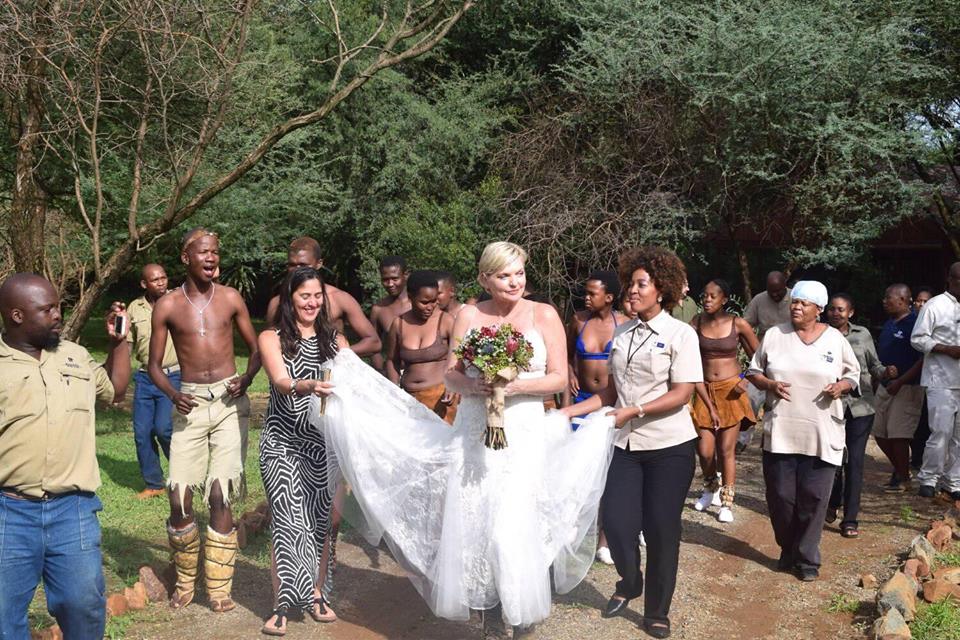 Madikwe River Lodge Trip Report - what did we see?

On our game drives we had 5 lion sightings in 2 days, plenty of elephants, a couple of rhinos, an African wild cat, a brown hyena, spotted hyenas, black-backed jackals, plains game and birds.
Madikwe River Lodge March 2018 Trip Report: Day-1
On the first game drive I went by myself while Mario stayed at our chalet number 17 to see what would pop down to the causeway.
Amos was our Safari guide during our stay; I got to see two lionesses and their cubs, a couple of birds, elephants, two male lions sleeping in the long grass and the normal plains game.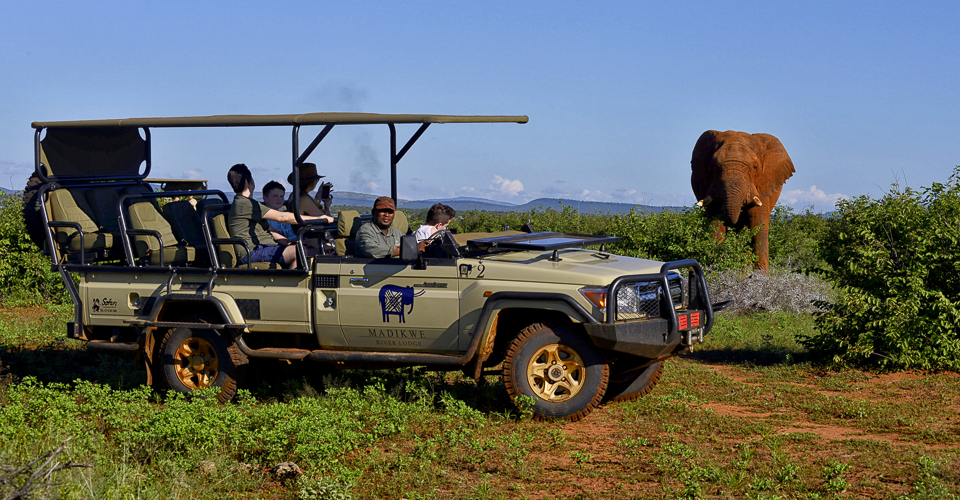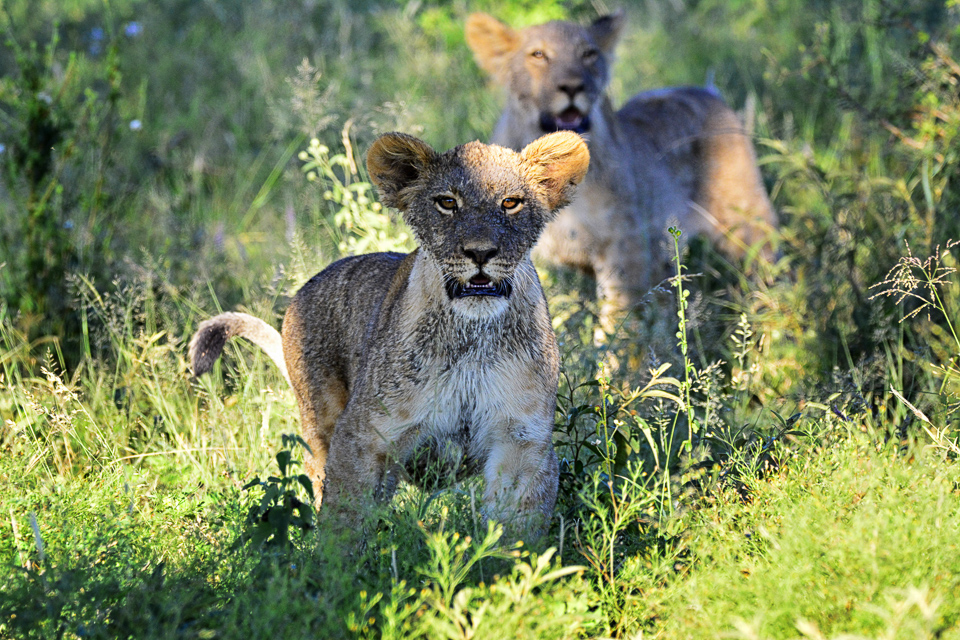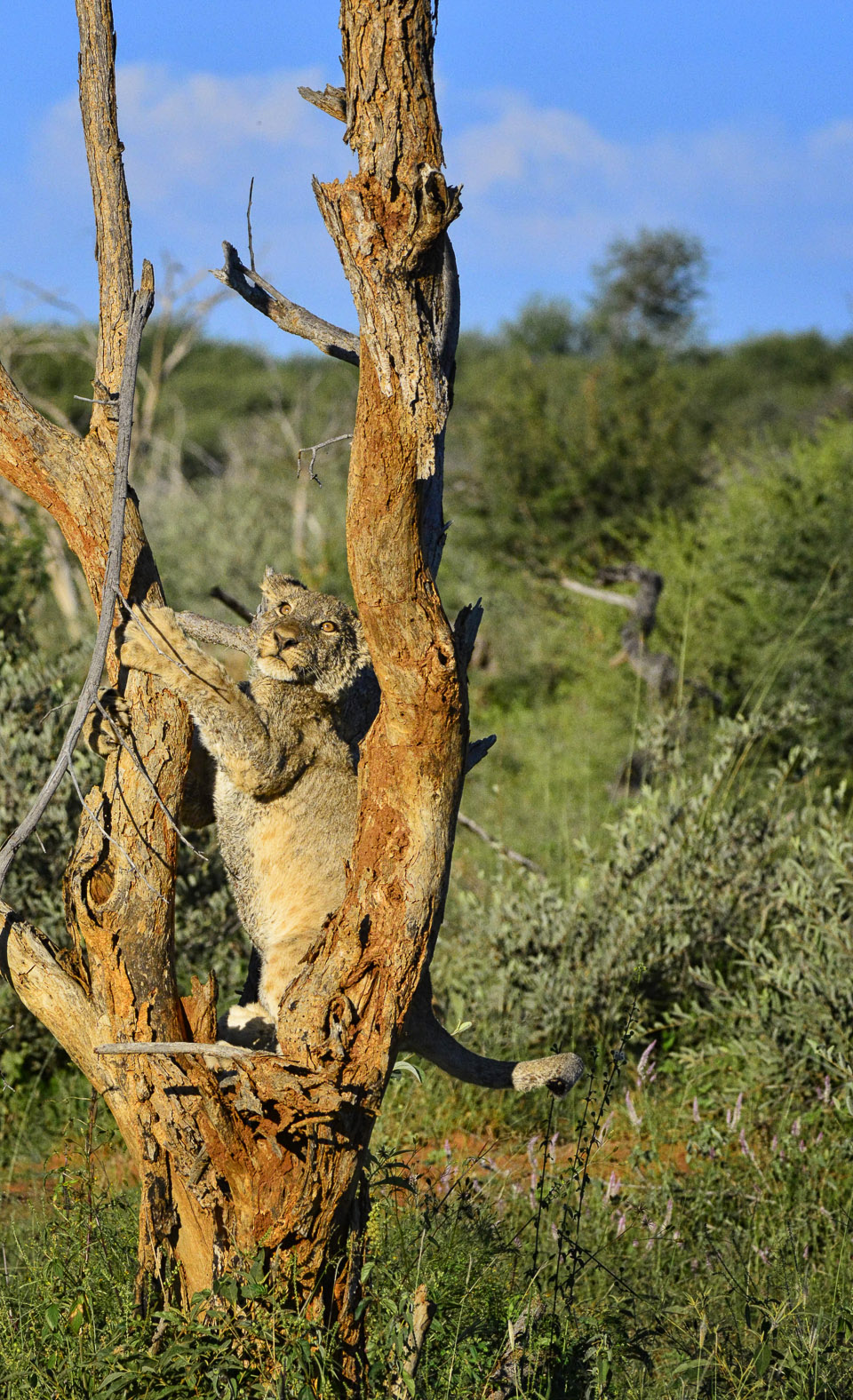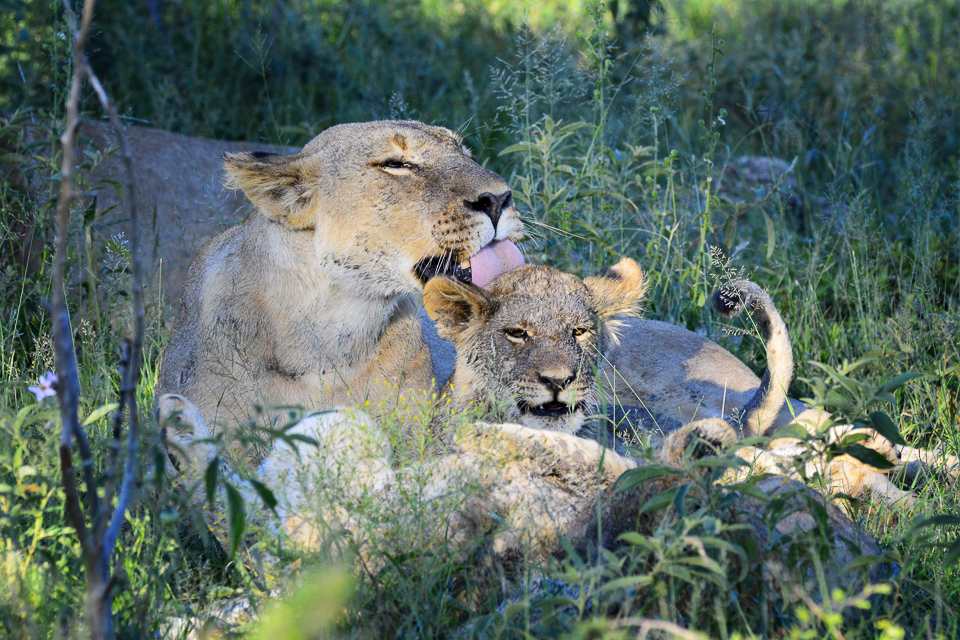 Mario got an elephant, some monkeys and birds from the causeway (he wishes he came with me on the game-drive!)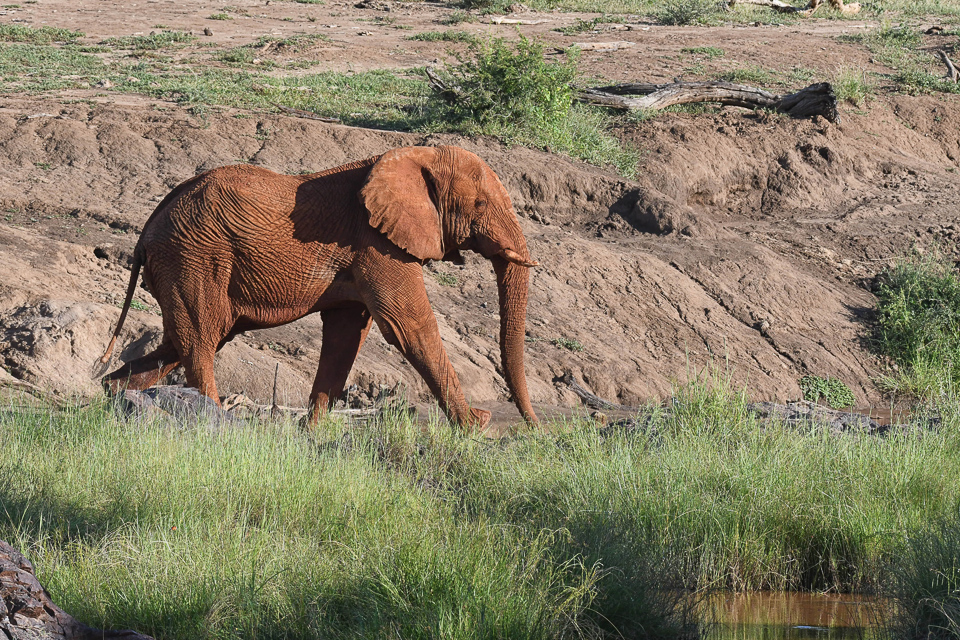 Elephant crossing causeway in front of Madikwe River Lodge
Madikwe River Lodge March 2018 Trip Report: Day-2
Our morning drive was a little quiet, (Mario came with this time!) but we did get to see rhinos, elephants and two lots of lions, both of which were 'flat cats' (sleeping).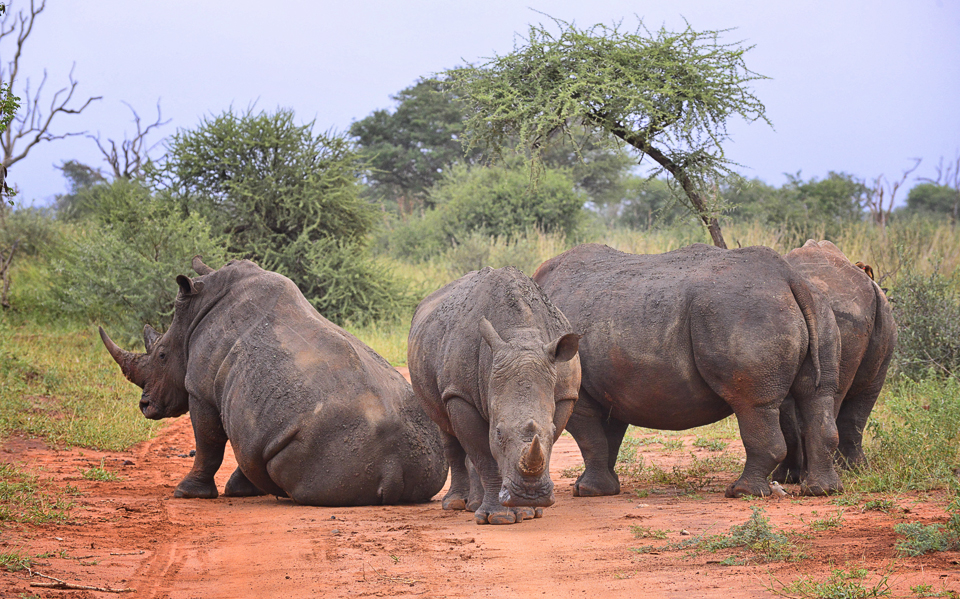 White Rhinos
We heard that a young bull elephant was dead, so Amos took us to see if anything was feeding on it. There were the three lionesses lying near the carcass but not feeding on it, so the decision was made to go back during our afternoon drive and see if they would be feeding then.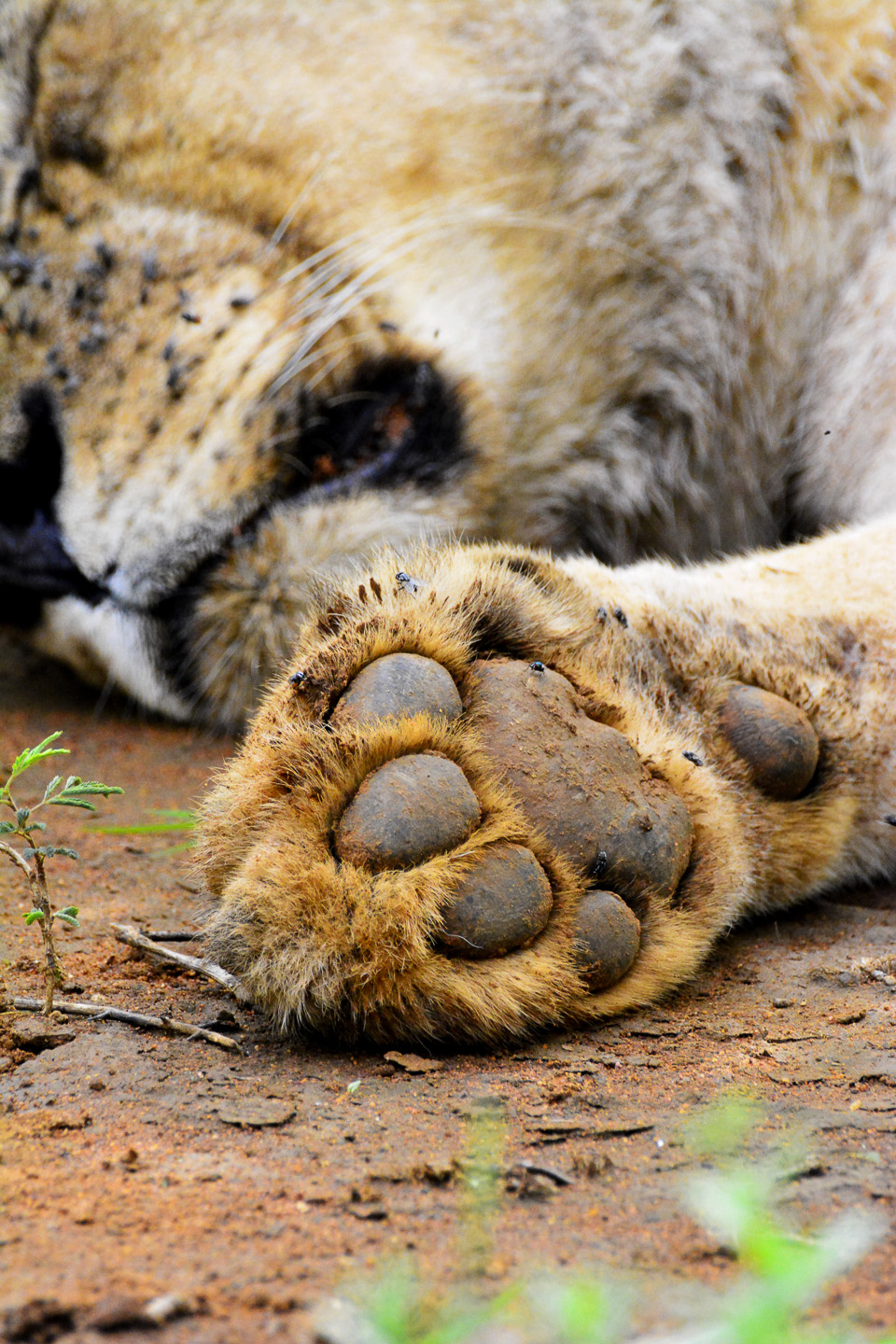 Our afternoon drive was great; it started out with a few elephants, zebras and giraffe. Amos kept checking if anything was at the elephant carcass but still no activity, so we went for our sun-downer stop at Valley View.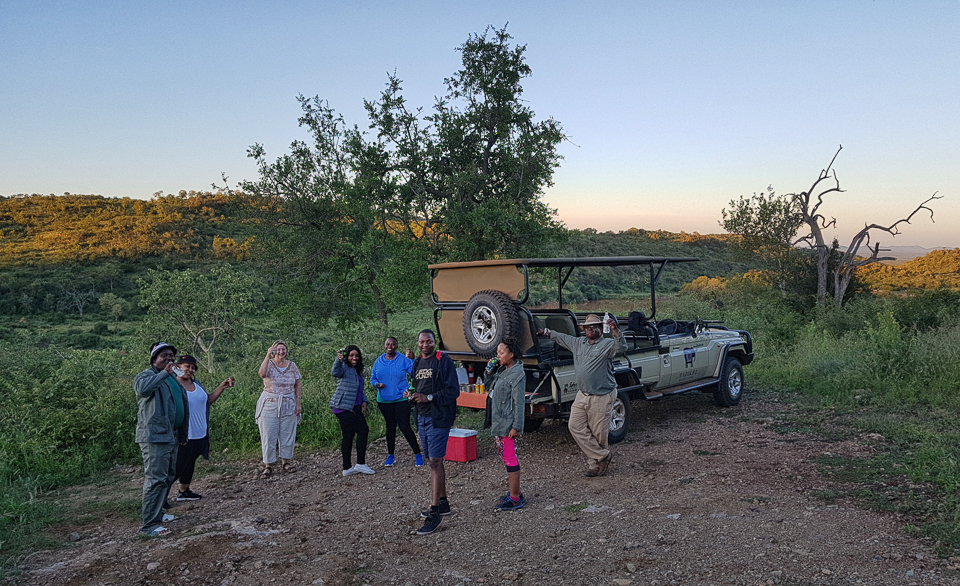 Sun-downers at Valley View (Ambush Alley)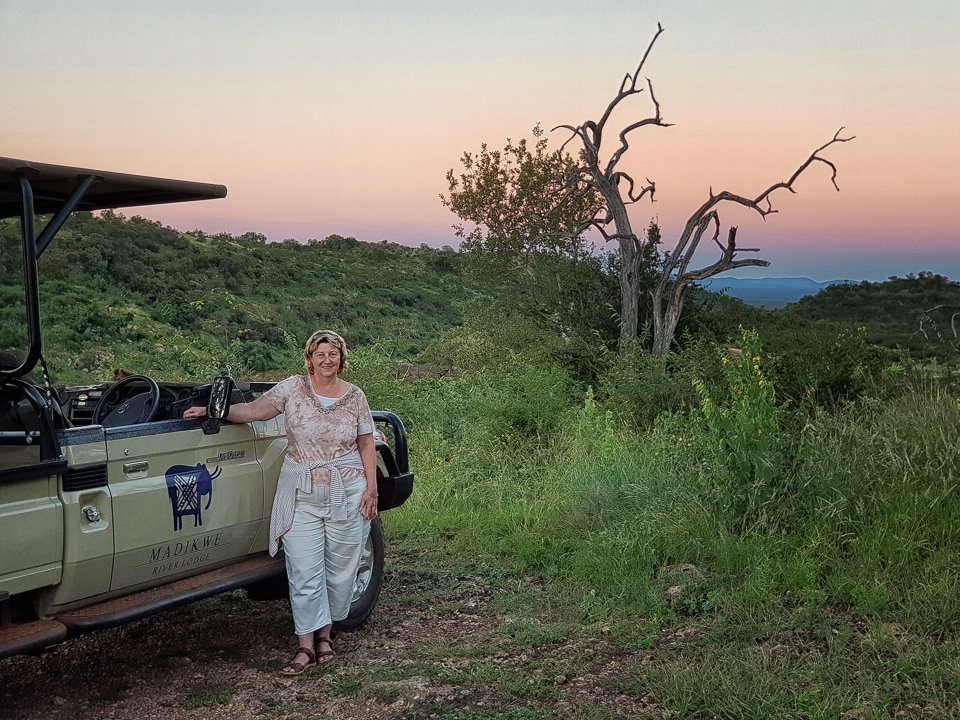 You cannot see the sunset from valley view but the sky opposite the sunset generally has a lot of color!
It was time now to pop in and see what the lionesses were up to but when we arrived at the carcass there was nothing in sight – the lionesses were sleeping about 200 meters away.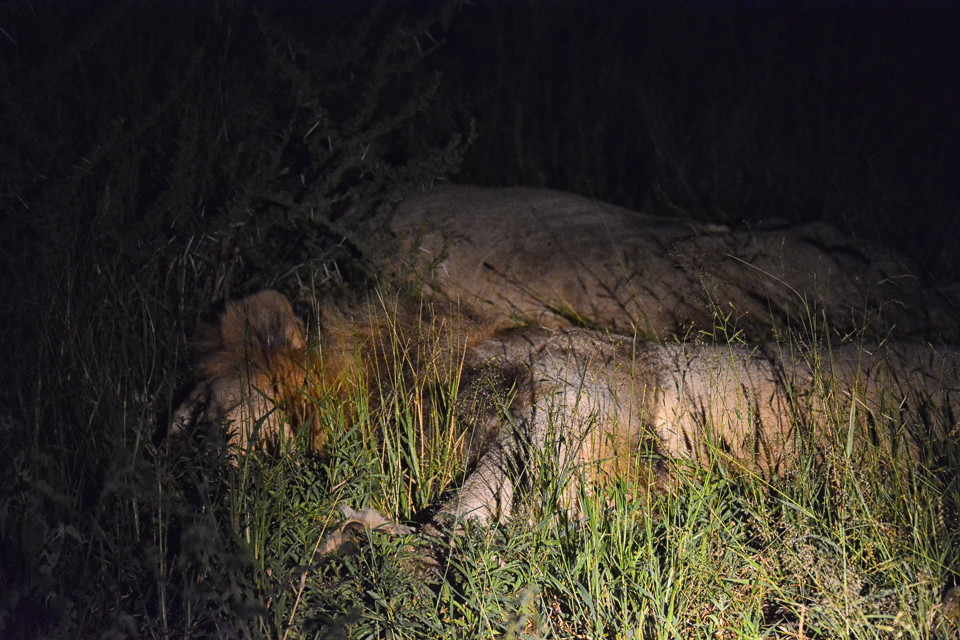 Lions doing what lions do best - sleep!
We went back to the carcass in the hope that hyenas were there but, nothing! As photographers we can sit for hours and wait for something to happen, but we had other guests on the vehicle who would not enjoy that!
We therefore told Amos, after waiting about 10 minutes, that we could head back to the lodge as it was 19h00 and close to dinner but he said, "let's stay for a few more minutes". Not even a minute later there come the lions strolling out the bushes towards the carcass – great timing!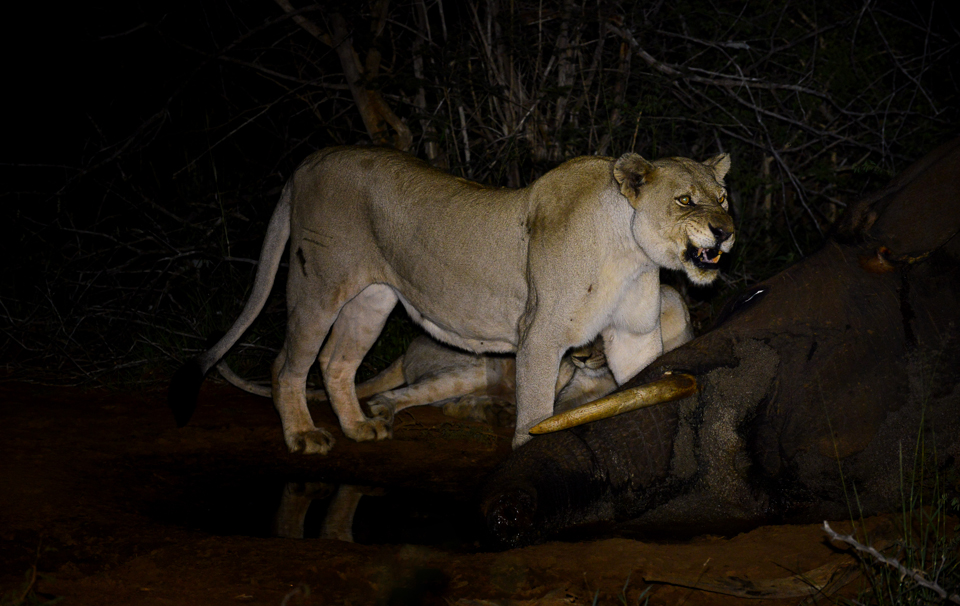 The sun had set and it was now dark, so flashes were used with the help of our small LED Lenser light, with white globe, for focusing purposes.
The field guides tend to have yellow spotlights that don't look good on nocturnal photos, so we asked Amos to switch off or shine on nearby bushes to give more light for us to focus with. In addition, the field guide's spotlights are very bright – too bright for subjects there were just 10 meters away!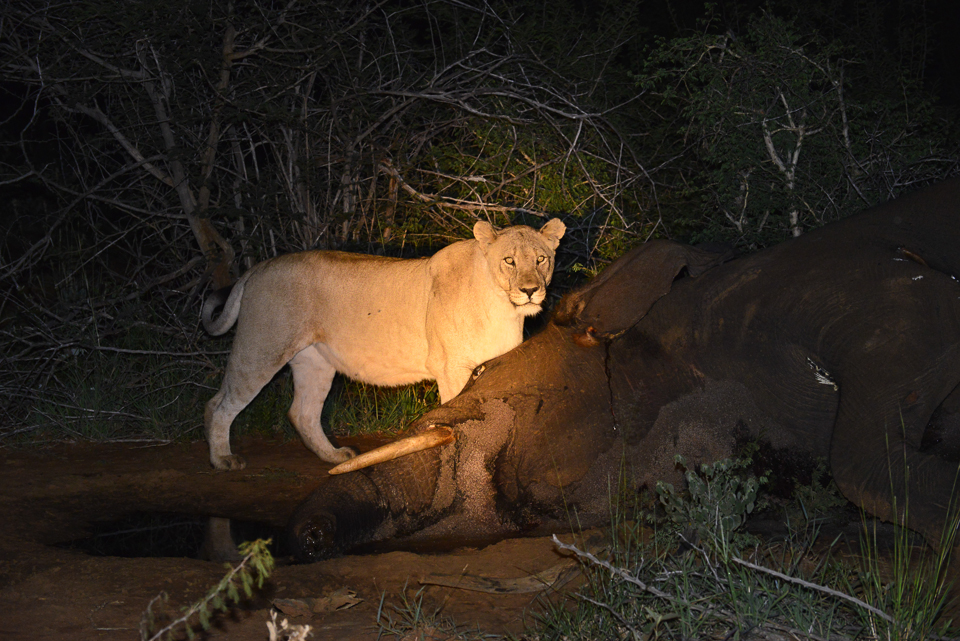 Bright yellow spotlight - too bright!
Mario photographed while I held the small torch.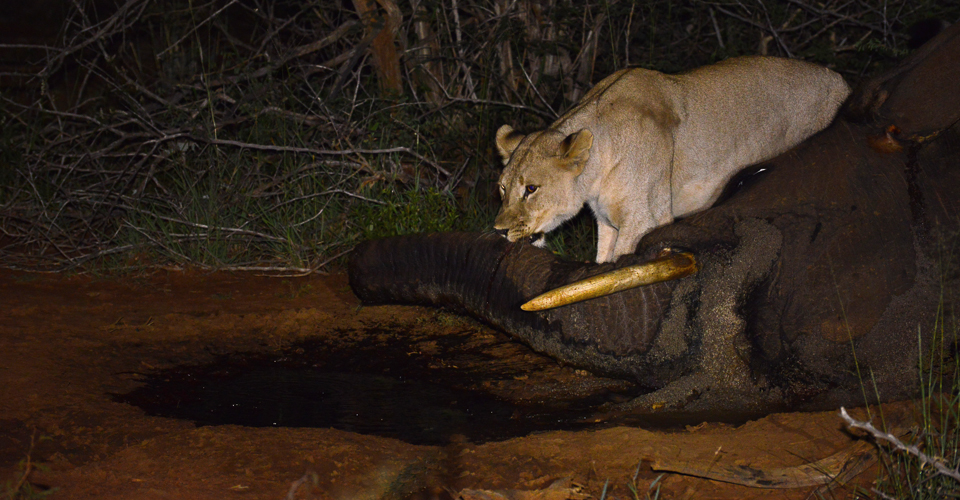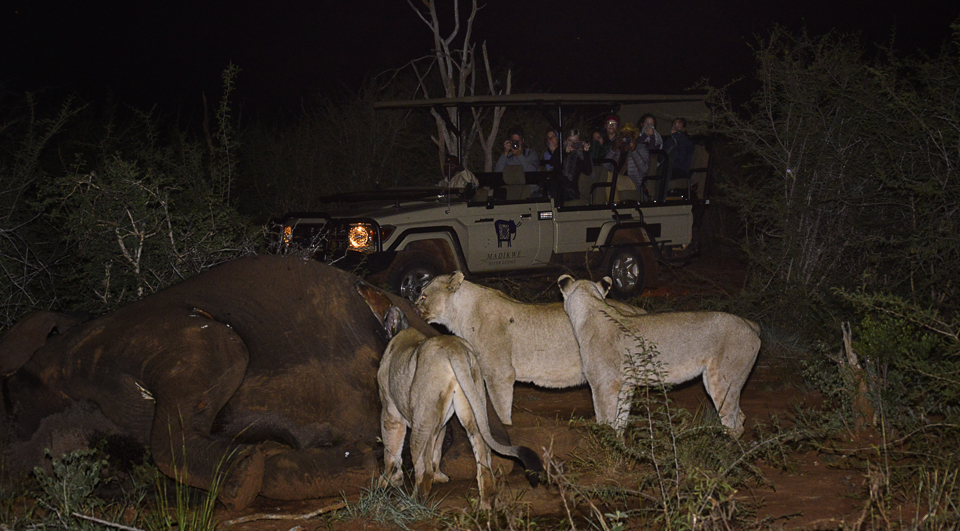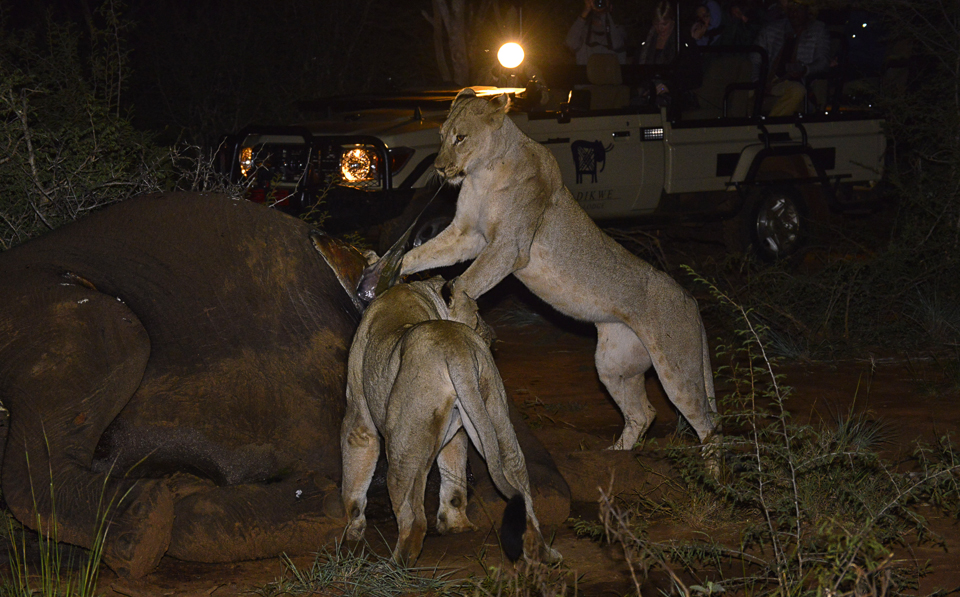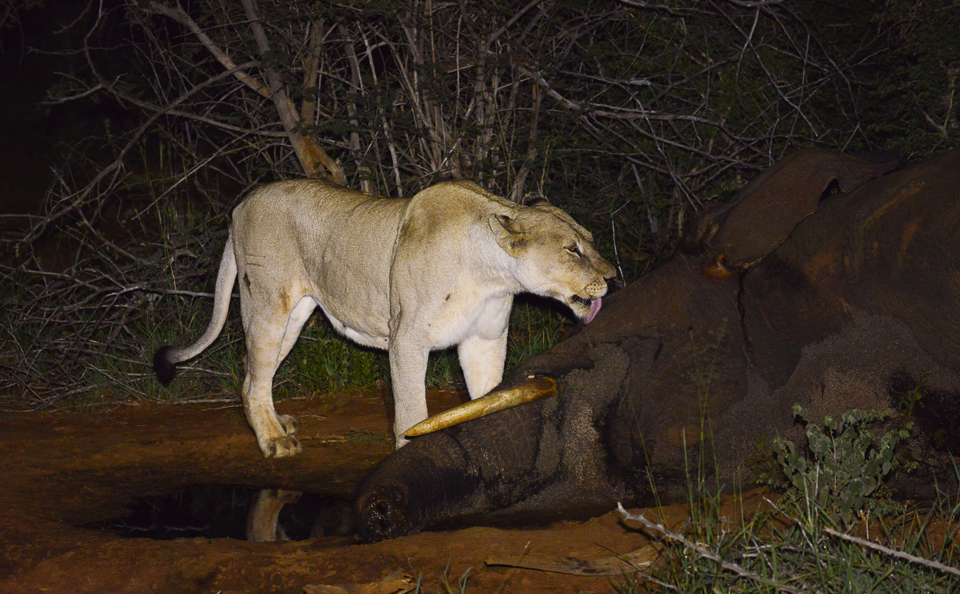 We spent 30 minutes there and then the wind direction changed, and the smell was really bad. In addition, an elephant was approaching and trumpeting – it sounded angry (maybe it could smell its dead friend) so it was time to leave; we got the photographs we wanted so we didn't mind heading back to the lodge for dinner.

Madikwe River Lodge March 2018 Trip Report: Day-3
On our last morning we asked Amos if we could go past and see if anything was happening at the carcass. He said we could, but he would first ask the other guides if anything was feeding on it. We found out the lionesses had moved off and were now near Tshukudu dam and the carcass was deserted.
We now had time to kill so we drove down to the causeway and photographed a magnificent sunrise...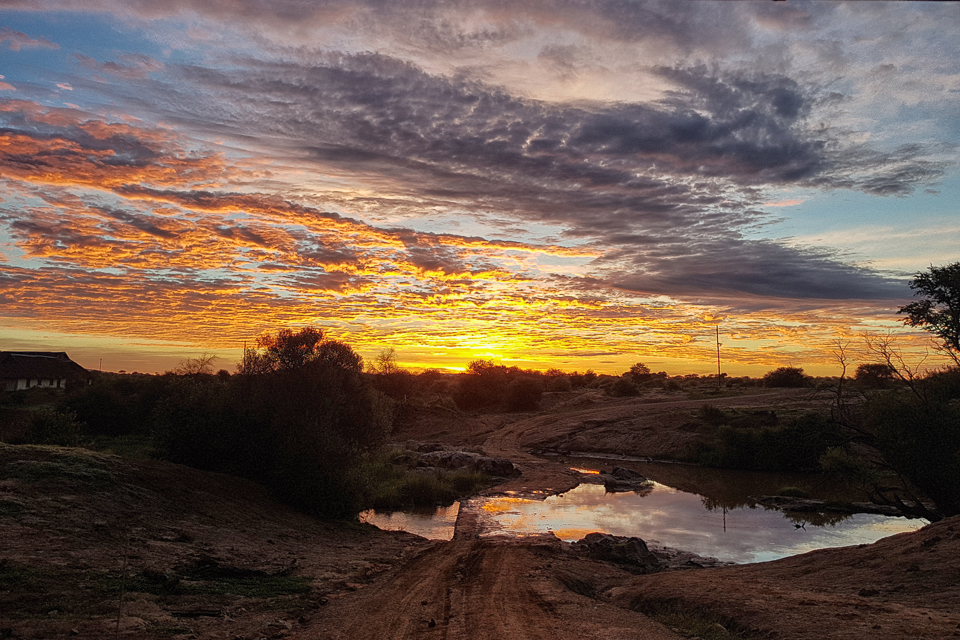 We then took a slow drive towards the carcass area until Amos heard that some spotted hyenas had come to feast on the carcass, so he immediately booked our spot in the queue.

We were in position #3 in the standby queue, so we went for a quick coffee stop then popped in to see what was going on. The hyenas were attacking the carcass and ripping the thick skin with ease! We got some good photographs and video of the hyenas feeding.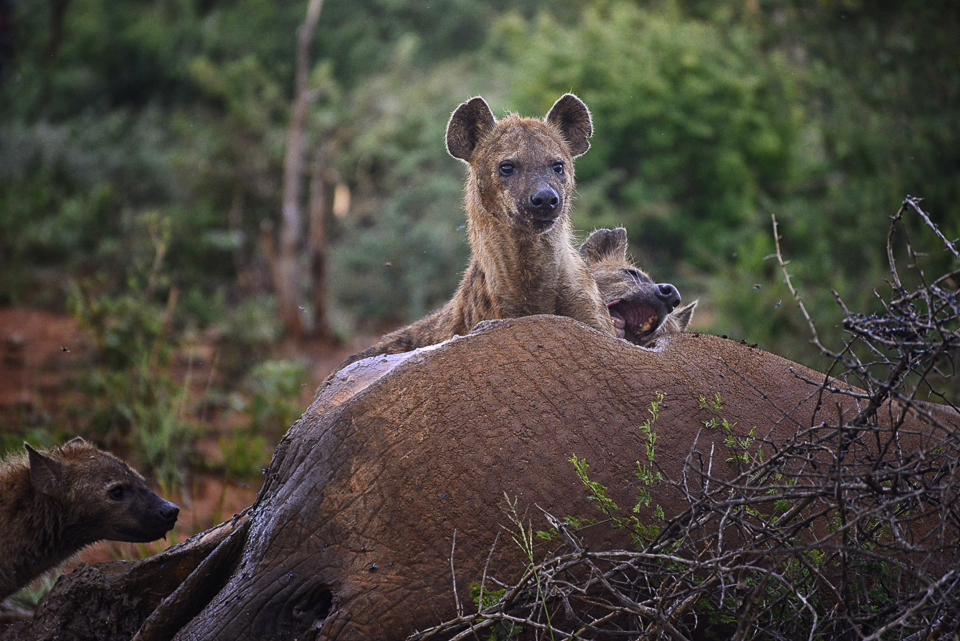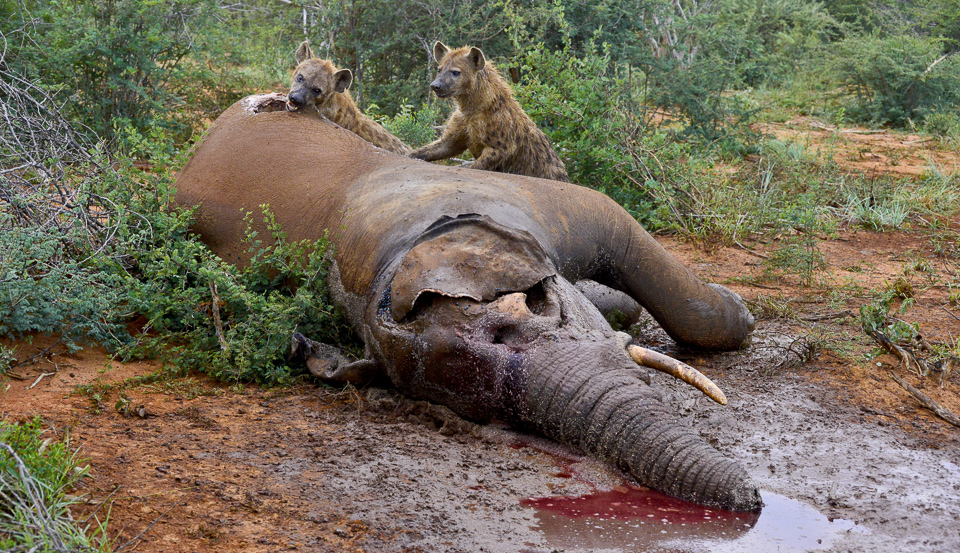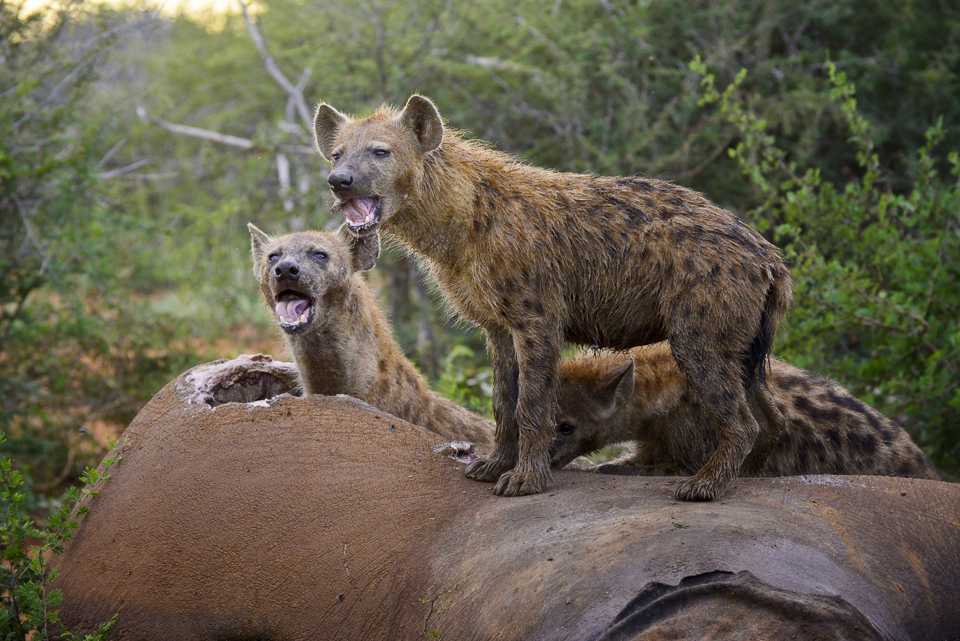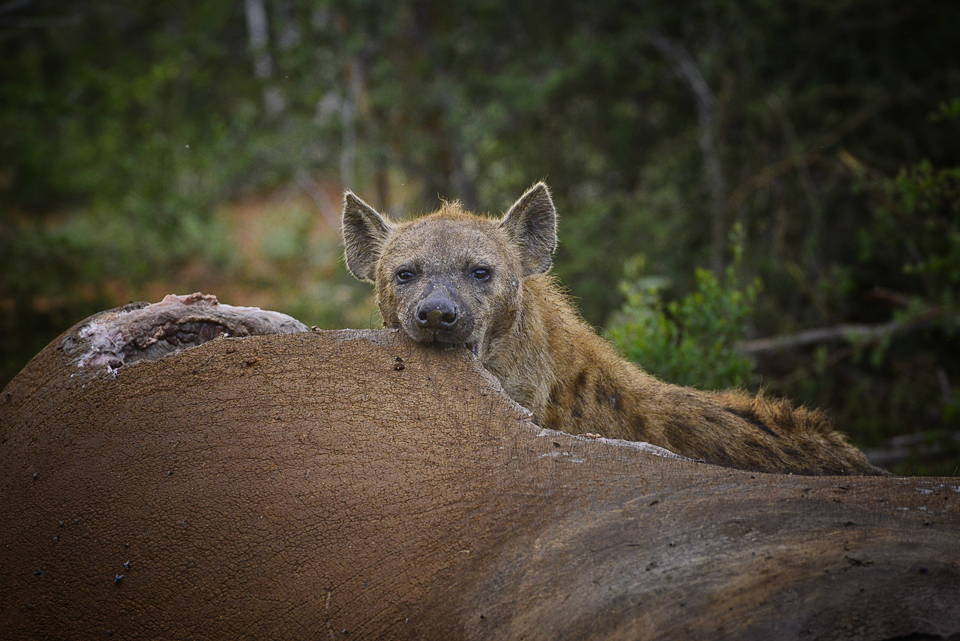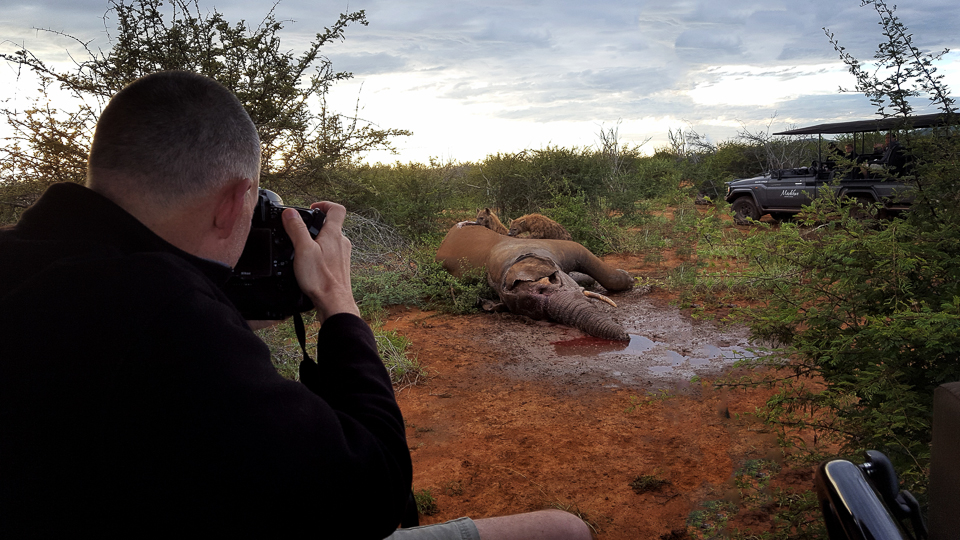 All in all we had two and a half fantastic days with awesome sightings, good company and a superb guide - thank you Amos for four great game-drives, you really did a fantastic job in not just finding the game, but also timing our arrivals just right for good photographic opportunities!
---
For more information on Madikwe River Lodge or to make your reservation please contact the lodge as follows:
Telephone: +27 (0)14 778 9000
Fax: +27 (0)14 778 9020
Email: lodge@madikweriverlodge.com
---
Return from Madikwe River Lodge March 2018 Trip Report to Trip Report page
---
---

To make a safari rental booking in South Africa, Botswana or Namibia click here
---