Kruger Trip Report
The Kruger Park – greatest wildlife show on earth!
Having our home just a four-hour drive from the Kruger Park enables us to visit the park a few times each year for self-drive safaris.
In December 2009 we spent two weeks in the park travelling from Punda Maria camp in the far north to Olifants camp in the centre, down to Skukuza camp and finally Crocodile Bridge camp in the far south.
Many people that we speak with tell us that December is NOT a good time to visit the park as it's too hot, the bush is too thick and there is not too much game to see.
Well our response is 'Too bad if you follow your own advice!' because each day we had better sightings than the previous day and we ended up spotting the 'super-seven' in just two weeks...!
Lion - 8 sightings
Leopard - 3 sightings
Elephant - 5 sightings
Buffalo - 3 sightings
Rhino - 4 sightings
Cheetah - 2 sightings
Wild dog - 1 sighting
This trip report comprises four pages - one for each camp. At the bottom of each page you will find a link taking you to the next page.
Here is our 2009 Kruger Park trip report for your enjoyment:
Punda Maria
One of the reasons we love Punda Maria, in addition to the great tents, productive Mahonie Loop road and the quiet roads (very little traffic), is the easy access to Pafuri.
On our first day we left early in the morning and headed for Pafuri. We took a drive down the S63 Luvuvhu River road and we saw at least twenty crocodiles in one spot on the river so we knew something was going on!
We stopped and saw that one large crocodile had killed a waterbuck and was trying to swallow the head but the horns we refusing to go down his throat and the other crocs were using this opportunity to grab pieces of meat from the large crocs mouth!

This went on for about two hours and we managed to get many photos of crocs fighting, rolling, chasing each other and the crocodile with the waterbuck head and horns in its mouth trying to get away from the others...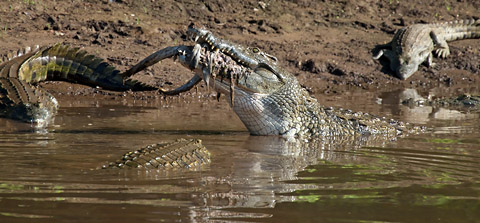 In addition we saw a pod of hippos that were playing in the Luvuvhu River...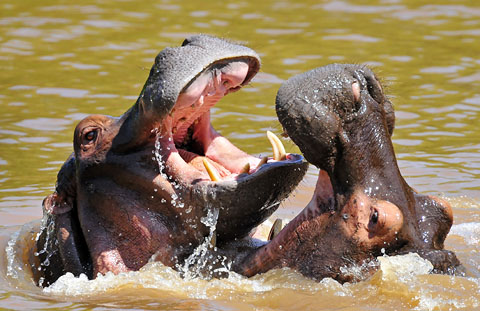 ...a lone buffalo and an aggressive male elephant who was not feeling photogenic as he flapped his ears and mock-charged us...
Pafuri is also home to many of the shy species such as Nyala...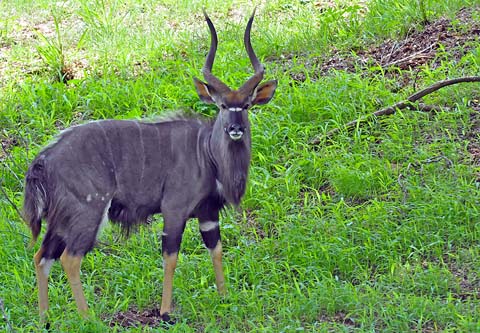 ...and the rare Crested Guinea Fowl...
Because there are two rivers in the Pafuri area – the Limpopo and the Luvuvhu – there are many water birds such as these storks - the Marabou, the the Yellowbilled and African Openbilled storks...


The Punda Maria camp area is much favored by browsers and grazers and we nearly always see or hear lions as a result. We also see large herds of buffalo, impala and zebras. These zebras were fooling around with each other...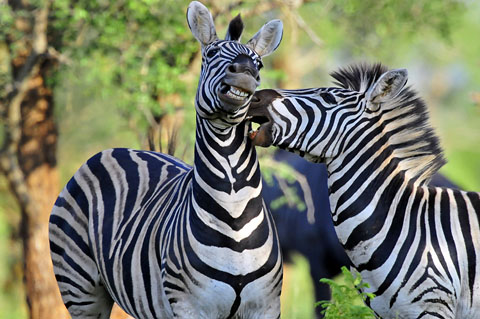 At night we were visited in Punda Maria camp by this bushbaby who posed nicely for us in front of our tent…
So far, for those of you who are into your 'check-lists', we have seen two of the 'big-five' and some of the rarer animals.
Click here for PART-2 of the trip report.
---
Return from Kruger Trip Report Dec 2009 to Trip Reports Page
---
---

To make a safari rental booking in South Africa, Botswana or Namibia click here
---