Self Drive Safari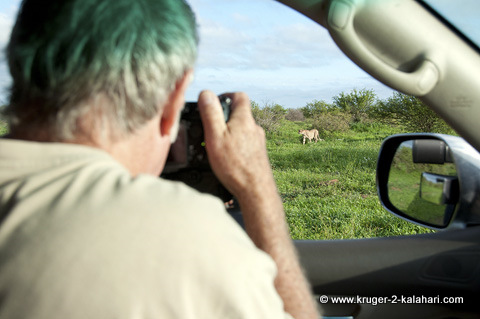 With a vehicle safari you have two choices – self drive safari or a guided safari.
Self drive means exactly that, you are the driver, planner and the game spotter in your very own vehicle.
If you are the adventurous type who values the thrill of anticipation and you want to explore Southern Africa, then self drive is for you. If you are a local then you will have your own vehicle and if you are an international visitor you will then need to hire a vehicle.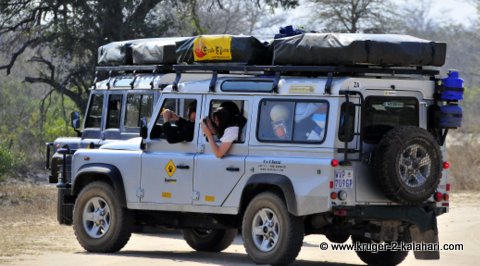 Self drive safaris are much cheaper than guided safaris and you will have more flexibility and privacy than you would have on a guided safari.
You may end up spending your time with a bunch of people you just do not like (that happened to us!) in which case this is going to be a long unpleasant stay where you have wasted your money.
In addition to our experiences at the private game lodges and going on night drives from the budget camps in the parks we also read traveler reviews on sites like TripAdvisor and we receive unsolicited emails – here are three examples:
1. "...we booked a dawn drive so had to get up very early (which is fine)...to be honest the guide wasn't that good - he clearly expected a pride of lions to materialise after we had seen a herd of buffalo - but of course they didn't. It was the only one of the big 5 that we didn't see whilst in the Kruger. We went out on our own just after the dawn drive and saw a leopard not far from the camp – awesome!" - Tripadvisor
2. "At last we were on the Drive - very excited about what the afternoon / night might hold. Unfortunately we were disappointed by the guide that just sped past almost everything we saw. He must have had something planned at home because we were back a half-hour early!" - Tripadvisor
3. "I recently found your site and find it very informative. I find myself agreeing with everything you say (but being a Canon guy maybe not everything!). While our first 2 African safari trips were escorted our last 3 have been self drive safaris and we find this to be far more enjoyable - and another plus for self drive safari is it makes it more affordable!" - Robert Shepardson (Florida, USA)
Please visit Robert's website www.bobswildlifephotos.com to see some of the excellent photographs he has captured of both American and African wildlife - most while on self drive safaris. Bob has superb images of Africa's most desired animals for photographers - animals like the leopard, wild dog, African wild cat, porcupine, cheetah, honey badger and of course lions.
Please note we are not knocking all guided safaris or night drives / dawn drives – they have their place. Some people want to be chauffeured around, others do not have much time as they want to see the big-five in just a day or two – a guided safari is for them.


We have had some good guided safari experiences but mostly unpleasant ones. Read more about our experiences on Good & Bad Field Guides when in Madikwe Game Reserve. One third of our guides were good while two thirds were terrible!
The exception to the above may be a dedicated photographic safari where the driver is a photographer and he/she understands what you are wanting to achieve in terms of subjects, lighting etc.
But even here you have photo safaris and photo safaris! Some of these operators have money as their goal and not client satisfaction so they pack the vehicles with as many people as possible - up to 10 or 12.
Or they say they will provide the guests with their undivided attention yet the guides spend most of their time capturing their images while the guests have to struggle on by themselves, not knowing if their settings are correct or what they are doing right or wrong. 
If you want to go on a photo safari choose one that is run by a photographer and where there are few people on the vehicle so that you will be able to shoot from either side and from out the roof.
Kathryn Haylett is a very good example of a 5-star photo safari. Her business is called YourSafari.co.uk and she is based in England.
She specialises in photo tours to Namibia and we went with Kathryn on a guided safari in Etosha and she knows where to find the animals and, being a photographer, she understands where to position her vehicle so that her guests get their shots.
Her safaris are not expensive like some of the big name tour operators and, with her, you know who you are getting for a driver/guide - there are no surprises!
Kathryn also limits the maximum number of people on each vehicle to just three so you have space to unpack your photo equipment and space to move in order to get to windows and sun-roofs.
You can read more about the guided safari we took with her here and read our Etosha trip report where you can have a look at the photographs we were able to capture by going out with Kathryn. And we had a good time with excellent braais (BBQs) and dinners!
Please don't be misled by some people who blow one incident out of proportion...
A person on a travel forum posted a story of an elephant in the Pilanesberg that rolled a self-drive tourist's car over.
The post heading was 'Good reason not to self-drive on safari'

We have seen so many people who do not read the park rules, given to every visitor upon entering the parks, and do not respect animal's right of way and they try to push past the elephant and this tends to be the result - a squashed car, luckily with no fatalities.
So a few self drive safari people take chances and don't give animals their space so now the advice to you is not go on a self drive safari but to go on a guided safari instead where the guide will ensure this won't happen - oh really!?


So how's this article heading to counter the previous 'Good reason not to do a self drive safari' article... 'Man gored by elephant sues game lodge' - News24, 22 Oct 2010.

"The unfortunate man was gored in his right leg by an angry elephant as he sat in the back of a game viewing vehicle.
The injured man claimed the game ranger was negligent because he switched off his vehicle while viewing the elephants and failed to ensure he had an escape route should an elephant attack".
So now after reading this article the 'expert' will conclude guided game drives are bad and dangerous and you should rather do a self drive safari where you are in control of the vehicle - or maybe not to go on safari at all as both options could be bad for you!
If you read the park rules (it takes no more than five minutes) and use common sense, a self-drive safari is very safe - we have done over 100 self-drive safaris with zero injuries. Yes, we have had a few close calls with black rhino, elephant, a leopard and a scorpion but that is what makes a safari exciting!
If you are unsure of animal behaviour then by all means go on a guided game drive to get a feel for what the animals may do and then do a self drive safari if you then feel confident.
Keep in mind that most injuries on safari tend to be people who are breaking the rules by getting out their cars, taunting the animals or have been drinking alcohol and then do stupid things!
This video clip shows how some tour guides can abuse their positions by taunting the animals in order to get a bigger tip...


What if someone had been injured or killed on that vehicle? Would the elephant be shot as it would be considered 'dangerous'?
Some people commented that they liked this video and that the driver was a hero for getting the people out of that situation unharmed - well he should not have got them into that situation in the first place.
He has angered the elephant who now dislikes vehicles and will most probably attack more in the future, thanks to the tour guide/ranger who wanted to give his passengers an adrenalin rush and get a big tip.
This is one of the reasons we stopped doing guided safaris as we experienced a similar incident in the Kruger while at Talamati bush camp where the ranger chased two white rhinos who were running so fast that they were tripping and falling.
We much prefer to be in control of our vehicle and a self-drive safari gives us that control and freedom and we still get to see and photograph the big-five while spending less money!
Will you find the animals?
This is a legitimate question as some people think that if they go on a guided game drive they will automatically find more animals. This is not so - I have fallen asleep while on some guided game drives and not captured one image in 3 hours!
We have found far more subjects by ourselves while on self-drive safaris and have captured much better images as we are in control of the vehicle's position and we can stay as long as we like - there is no 15-minute pressure. Yes, at game reserves such as Sabi Sand and Madikwe the guides are allowed to enter a sighting for around 15 minutes and then they have to leave to give other vehicles and chance. Sometimes we have been on 'standby' for nearly an hour!  
So, how many sightings have we had while on our self-drive game drives you may ask?
We have lost count of the number of elephant, buffalo and white rhinos that we have seen but we kept a record of our Kruger Park predator and black rhino sightings (as at August 2018):
Cheetahs - 38

Leopards - 104

Lions - 181
Wild dogs - 34
Black Rhino - 5
The above numbers are just in the Kruger Park on self-drive safaris and are not individual animals but each different sighting. So if we see a pride of 12 lions together it is one sighting and not twelve.
We have not included our sightings on guided game drives in Sabi Sand, Manyeleti and the rest of greater Kruger. We have also not included all our Kgalagadi, Madikwe, Pilanesberg and Etosha sightings.
So, if you are the adventurous Self Drive Safari type, these are some questions you may have...
• Which Vehicle?

• What Equipment to Pack?

• Roofbox or Trailer?


---
Return from Self Drive Safari to Kruger-2-Kalahari Home Page
---
---

To make a safari rental booking in South Africa, Botswana or Namibia click here
---