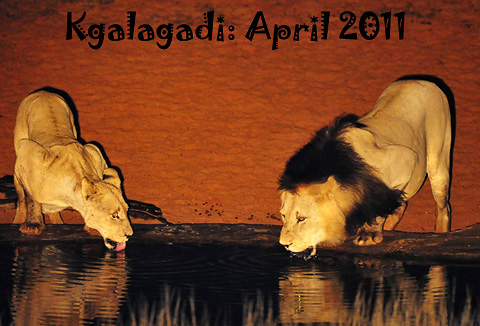 Kgalagadi Trip Report 2011
We usually visit the Kgalagadi Transfrontier Park in December or March but this year we decided to go in April as it is much cooler than the summer months.
All the days were warm and out of 14 nights just two were freezing! Temperatures varied from a low of 5 degrees Celsius on some nights to 39 degrees Celsius on one day.
We did 2600 kilometers in total - about 1600 kilometers to and from the park and just 1000 kilometers in the park. Our strategy is not to drive around each day but to see what comes to the camp waterhole.
Between Mario and I we took 9375 images and we had some amazing sightings:
Lions - six sightings
Cheetah - two sightings
Lanner Falcons hunting - every day!
Goshawks hunting - every day!
Spotted Hyenas - four
Honey Badgers - two
Porcupine - one
Caracal - one
and a lot more so please read on...
Our Kalahari Safari started on the 9th April at 3.30am. We usually drive from Gauteng via Upington and then north on the R360 to the park but this time we chanced the short-cut via Kuruman, Hotazel and Van Zylrus on the R31.
The road is still under construction but over half of it has been tarred and the balance is dirt road but in good condition - no worse than the roads in the park and it cuts over 100 kilometers off your journey. The road seems to be the 'forgotten road' as even the signs still refer to the old Kalahari Gemsbok Park...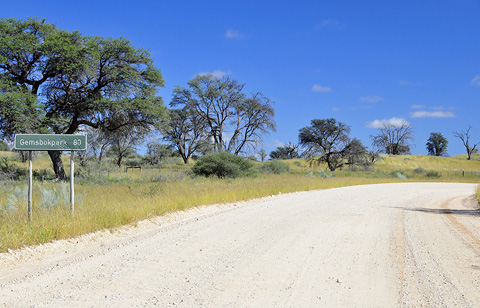 If you like to drive fast then we advise not doing this route, rather stick to the tarred R360.
The road is very scenic and at one stage we thought we were traveling to the Kruger because along the way we saw plenty of Leopard tortoises, a rock monitor, hornbills and two chameleons crossing the road.
In the park we saw just one suricate (also known as a meerkat) but on this road we saw two groups of them!
There was some road-kill - mainly bat eared foxes, squirrels and a meerkat.
And of course there were also a few crosses on the side of the road where people had died in motor vehicle accidents...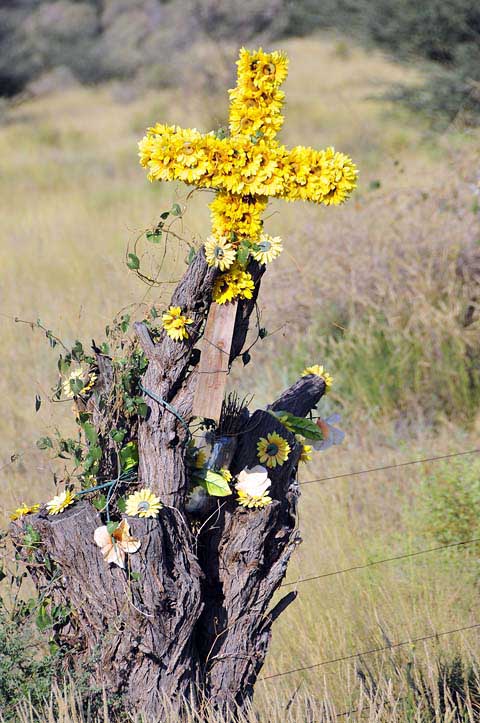 ---
November 2011 Road Condition Update - the R31 road condition has deteriorated due to people speeding. We do NOT recommend you use this road until it is fully tarred. The corrugations shook our 4X4 and when we reached the park our vehicle broke down due to the fuel pipe coming undone. Mata Mata camp sent Neels to help us. It took him just 10 minutes to put the pipe together and it cost us only R400,00. If we had, however, broken down outside the park we would have had to be towed to Upington for a cost of R5000,00! Our advice is don't chance the R31, rather travel via Upington on the tar road.

---
We arrived at the Twee Rivieren Gate at 1pm and then headed for our first camp which was Urikaruus. On the way we were delayed by a pride of lions under a tree in the Auob riverbed...
Urikaruus Wilderness Camp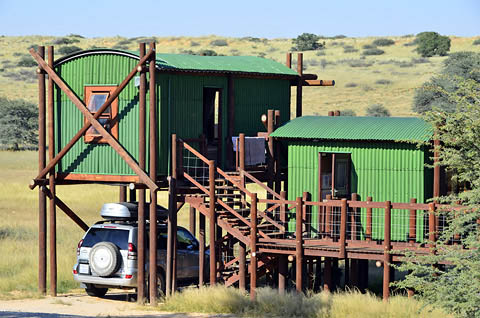 On our first night we were welcomed by 2 male Lions and 1 female who came to drink at the waterhole and then moved off...
Day 2 gave us another interesting day with a Secretary bird killing a ground Squirrel in front of our unit...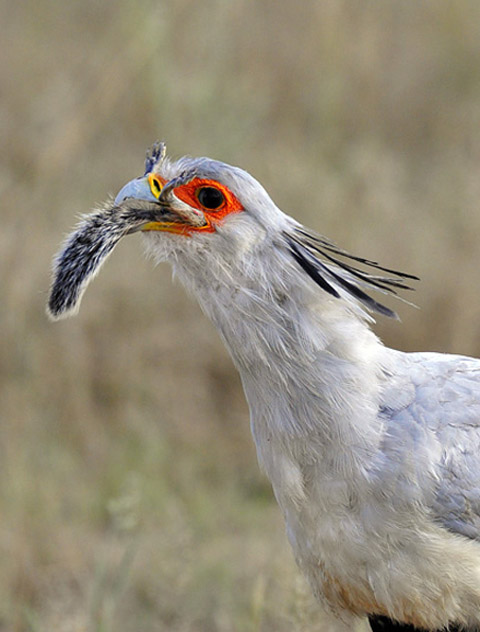 From then on our next 3 days were a hive of activity at our unit with Pale Chanting Goshawks...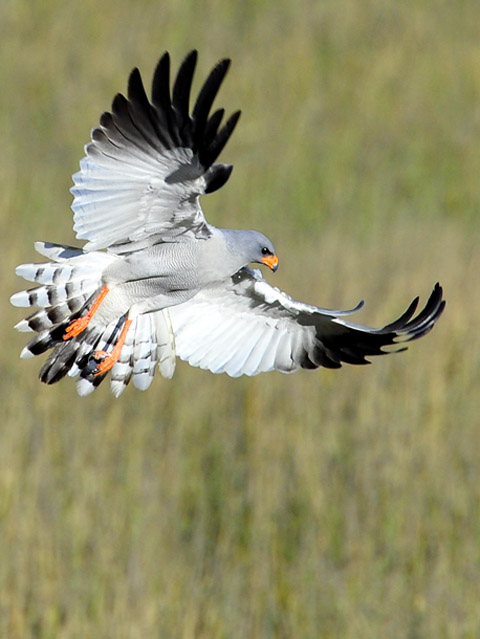 and Lanner Falcons catching Sand grouse and Namaqua doves...
a caracal drinking at the waterhole at night...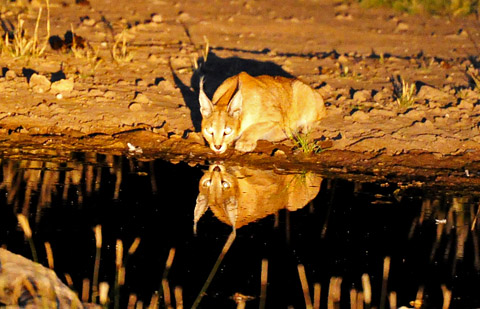 and on our second to last day a herd of over two hundred Springbok came to drink at the waterhole then moved off.
About 3 hours later they came stampeding past us...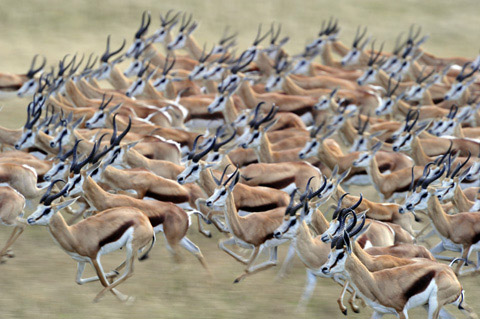 with dust everywhere and a Cheetah hot on their tails....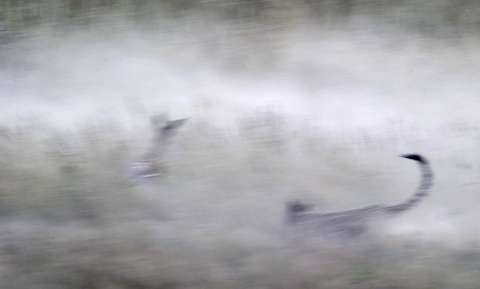 The cheetah killed a springbok at the waterhole, outside the cabins, and then dragged it under a tree just on the other side of the waterhole...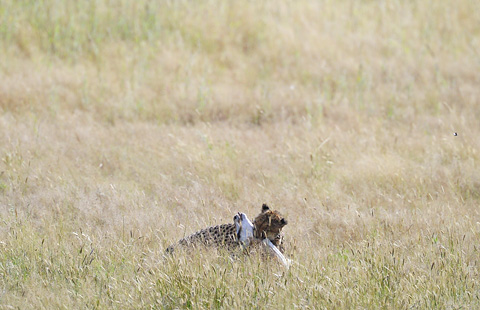 We photographed this action on Tuesday 12 April and a week later, on Thursday 21 April she was back and made another kill in front of the cabins.
Please click here to read Tobie Oosthuizen's great experience of photographing a cheetah kill, with some lessons for photographers.

What an end to our five days at Urikaruus - it was a wildlife photographer's dream!
We then packed up and left for Gharagab Wilderness Camp...
Please click HERE for the Kgalagadi Trip Report Part-2
---
Return from Kgalagadi Trip Report 2011 to Trip Reports page
---
---

To make a safari rental booking in South Africa, Botswana or Namibia click here
---