The Photographers Guide to Etosha National Park
Click here to purchase for just $27.00 ...
(We are currently offering 33% off - use the promo code K2K when making your purchase)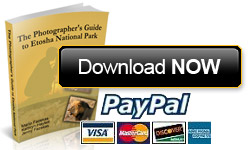 ...or carry on reading...

If you intend visiting Etosha National Park you may have just one chance to capture the moments that you witness.
Your Dream...
You are going on safari to Etosha National Park and you have dreams of capturing your fantastic wildlife  experiences on camera and returning home with impressive images to show friends and family.
Your  Struggle...
You get home with magnificent memories, but boring photographs that have not captured the essence of Etosha. You are so disappointed with the photographs that you show nobody.
Or, even worse, you cannot find the animals to photograph! Remember, the national parks are not zoos, you need to be able to first find the subjects and then know how best to photograph them.

The above scenario is played out by many people each year. You are unsure of what photo equipment to bring with, you don't know where the animal hot-spots are and you don't know what to expect from the animals if and when you do find them. 
And by the time you are just getting 'acclimatized' to the park, it's time to go home. 

For many people, an African safari is a once-in-a-lifetime experience. Whether you travel on first or business class flights you don't have the time or money to repeat the trip in order to rectify mistakes you made on your first visit.

But what if you could get a head start with your safari and know important information up-front? 
Well you can...
the solution to your problem is an affordable eBook, The Photographers Guide to Etosha National Park (US$27.00) that you can download today (no postage costs) and either print out or keep on your laptop.  
The eBook is available as either a PDF or from Amazon as a Kindle eBook. (You will find the Kindle link at the bottom of this page).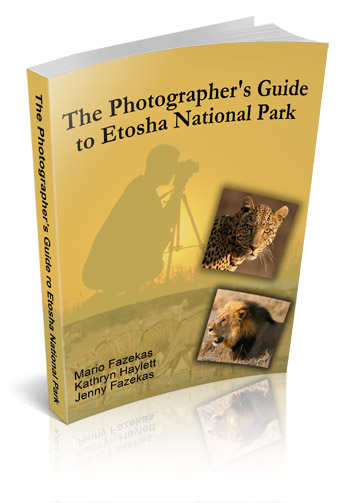 Click Here to Purchase...
The plan is that when you arrive at an area covered in this Photographers Guide to Etosha eBook you'll know where to go when and what to expect and you will know what equipment and techniques will be most effective. 
From the first day you arrive at Etosha you can be photographing the key animal species like an Etosha veteran! 
If you are unsure what an 'eBook' is please click here

What other people are saying about The Photographers Guide to Etosha National Park...
"Mario Fazekas along with his wife Jenny and their good friend Kathryn Haylett have combined their many years experience and photographic talents to create a very interesting and informative eBook 'The Photographers Guide to Etosha National Park'.

Whether you consider yourself a photography novice or a seasoned professional who may be planning an African safari to the region the Photographers Guide to Etosha eBook will help you make your trip a resounding success.

My wife and I have traveled extensively throughout the United States, Europe, Asia and other areas of the world and rarely have we found a travel guide that not only says "come and visit", but these authors actually go farther to help you plan your visit by explaining exactly when and where to visit and in which direction to park your vehicle as well as best times of the day to catch memorable glimpses of wildlife.

These award winning photographers offer stunning photos throughout to assist you in planning according to which pan or waterhole best suits your personal interests.

For me it's the big cats, elephants and wildebeest along with the varied bird species that peak my interest and will have me returning to this informative eBook prior to my travels to Namibia.

To enhance the great photos, the authors have designed the images so that all you have to do with most is allow your pointer to hover over the image to see a short description displayed. Plus, with many of these pictures complete exif details are offered to assist the visitor with camera and light settings.

As a world traveler and professional photographer I highly recommend this eBook to anyone planning a trip to Namibia and the Etosha National Park.

Your time and money are valuable and this information will help you save both."

--Don Stilton, Florida, USA
"Armed with this informative and affordable eBook that you can either print or carry around with you on your laptop, you will be able to photograph the key animal species in this world-famous park from the first day you arrive like an Etosha veteran!"

--Air Namibia's Flamingo Magazine
""Never judge a book by its cover", so the saying goes. I always do. Here's a book that covers (a) wildlife and nature photography; (b) shows me "how" to record those incredible memories; and (c) relates the lessons specifically to a wildlife park that I love to visit. The Photographers Guide to Etosha National Park immediately caught my interest!

The authors and photographers of The Photographer's Guide to Etosha National Park are clearly passionate about their subject. This shows in every photograph and in the detailed 'how to' explanation on each page. They want to share their passion for wildlife and photography with the world and they do it well. They do it with care and simplicity so that amateur or even more challenged photographers like me can understand and learn. Yet it is clearly going to be an invaluable reference for the experienced photographer.

I really enjoy how the book shares secrets on where – and then how – to capture the best images.

My conclusion? I will definitely be taking this guide book along on my next trip to Etsoha – and recommend it for all the practical, specific and easy to understand lessons and tips it contains, for your visit to Etosha National Park. "

--FindTripInfo.com, USA
"In this Photographer's Guide you learn about Etosha, one of Namibia and Africa's premier parks. You find out where and when the animals tend to come to certain locations, what animals to expect, suggested lenses and other equipment to have, suggested drives and even suggested locations for parking to get the optimum opportunities.

The book is peppered with outstanding images from stunning sunrises to sunsets, animal interactions and portraits.

But what makes the Guide even more important is the Photographic Lessons they provide, such as: Understand Animal Behavior, Scan the Waterholes, and How to Photograph Animals at Night.

All of this combines in an e-book that is a "must take" if you are planning a trip to Etosha."

--Apogee Photo Magazine, USA
"If you plan on visiting Etosha National Park, Namibia, on a self-drive safari and you want to know how to best conduct your photography in the park, then I can highly recommend 'The Photographer's Guide to Etosha National Park' eBook by Mario Fazekas of Kruger-2-Kalahari.

It not only covers the fall of light in mornings and afternoons (and where to park) for each waterhole in the park, but also recommends specific routes/drives to take from each of the main camps. Even if you have been to Etosha before, this guide will provide a wealth of information that may take you years to assimilate for yourself. Having it on-hand on my iPad and iPhone during our recent visit was invaluable.

You can get more information and purchase the eBook at a VERY reasonable price here: https://www.kruger-2-kalahari.com/photographers-guide-to-etosha.html"

--Morkel Erasmus, Secunda, South Africa
"If you intend visiting Etosha National Park this ebook is a must have item! It is a detailed guide that shares park secrets with photographers to help you take amazing safari pictures.

I was impressed by the detail in The Photographers Guide to Etosha National Park. Maps in the guide show you the best drives in the park and even the best places to park your car. For each key area in the park the book lists the animals you're likely to spot and even tells you what time of day you're most likely to see certain animals.

The authors also share photographic composition ideas and tips. On top of it all the book is full of stunning pictures that will inspire you. Overall it's a great book that I highly recommend."

--Lovelyn Bettison, London, UK
"if you are planning an African photography safari trip, "The Photographers Guide to Etosha National Park" could be just what you are looking for. With this eBook you can be sure of finding just the right places at just the right times to take some wonderful pictures.

The book is divided into four main sections each of which relates to the four key areas of the park. Within each section, the authors cover the different waterholes as well as the camps. Having real experience of these areas, built up over a long period of time, means that only those areas that give consistently good results have been reviewed - so you know you are not wasting your time and that the chance of getting good shots is as high as possible.

Each section comes with a nice color map of the whole area plus a plan of the camp and, of course, lots of fabulous photos. There are diagrams showing you exactly where shots were taken, advice on where to park and wait for animals to come and drink, information on what animals to expect, and the time of day that they are most likely to appear.

Lions, leopards, giraffes, warthogs, eland, wildebeest, kudu, gemsbok, guinea fowl, black rhinos, impala, eagles, storks, vultures... everything you could want on an African photography safari! Oh and elephants too - I nearly forgot them! With an impressive cast such as this, no wonder the authors are so passionate about their subject.

At the end of each of the four sections the authors give specific advice on areas of photographic expertise such as understanding animal behavior, working with the light, scanning waterholes, how to get great rainbow shots, and how to photograph animals at night, which looks at photographic equipment, how to use flash correctly, and how to avoid 'eye-shine'.

The best thing about the Photographers Guide to Etosha eBook is the feel of been-there, done-that, which the authors convey through great shots and accompanying text explaining how they took the pictures in detail. I also like the fact that they have included shots on what not to do - they are not afraid of showing the 'mishaps' because that is how we all learn.

The final section is a series of tours of varying length in the previously restricted western Etosha. There is also advice on which season to go in to get the most photographic opportunities, which can change significantly according to whether it is the wet or dry season.

There are a lot of things to plan for if you are considering an African photography safari. This eBook is not only a great starting point to begin planning but also a great guide to keep in your bag when you are out on the plains. Most importantly, it is full of inspiration and technical advice to help you get your own great shots.

It's obvious that the authors have put a lot of love and careful attention into this project and by the time you have read it you will be confident in your abilities to get great shots, even with a point-&-shoot although an SLR and a few long lenses will obviously help you get closer to the animals.

I highly recommend the book to anyone visiting Etosha National Park to photograph the animals, or anyone considering an African photography safari in the future."

--Anne Darling, Cognac, France
"If you've ever had the desire to go to Africa to experience nature at its most raw, and to bring home the kind of photos that make it real all over again for your friends to envy, this book will do that for you. Written and compiled in language and format that can make any photography novice return home with their own enviable collection of 'life in the wild' photos.

The authors make it all a no-brainer. These people know what they're talking about. Kathryn Haylett along with Mario and Jenny Fazekas' knowledge of the African wilderness comes from many years leading or participating in self-guided and escorted safaris and their passion for wildlife photography clearly shows in their work.

Follow the advice and all you need to do is be there and point & click.

From the moment I started reading, I knew I was going to learn things I hadn't considered on my first journey to Namibia. I vicariously returned to a place that only those who've been there know the reverence you feel in the presence of these magnificent creatures in their natural surroundings.

Photography pros and novices alike will benefit from the suggestions made in this book.

They'll instruct you on where to position yourself and where to park your vehicle in order to get the best angles and exposure. You'll learn which species you can expect to find at each watering hole and at what time of day. They'll even instruct you on how to get the best shots with the least amount of equipment and still capture that "gold ribbon" moment.

I've completely enjoyed returning to Etosha by viewing the lions, leopards, elephants, giraffes, et al, through the camera lenses of these wonderful photographers. If you just want to peruse it for the photos print it out and leave it on your coffee table to share with others – it will not disappoint!

But, if you'll soon be boarding a plane and heading off to Namibia, don't leave home without the Photographers Guide to Etosha eBook!"

--Luba Fedus, California, USA
"Quite simply, the Photographers Guide to Etosha eBook is an absolute must have for those travelling to Namibia with the intention of taking stunning photographs of the wildlife congregating around the waterholes of Etosha. The authors are real experts on advising how to get into the right position, at the right time to effectively capture your subject. Their collective passion for photographing Namibia's diverse wildlife is a recurrent theme throughout the book.

I always say that almost anyone can take amazing pictures in Namibia thanks to the natural light and hauntingly beautiful landscapes but when coupled with this informative guide book, one cannot fail to produce images that are certain to make all your friends jealous and act as a constant reminder of the magical time you spent in Namibia."

--Rhys Powell, Namibia Tourism Board UK, C/o HB Portfolio
"Thank you so much for the Etosha eBook - I am so pleased with the information, tips and lessons. This is going to make our trip even better as that same information is transferable to all my wildlife shots in any national park.

Congratulations on producing an invaluable guide that will provide encouragement for lots of people."

--Alison Fordham, East Anglia, UK
"Yesterday I bought the Photographers Guide to Etosha and it is fantastic!!! Excellent images and really great & helpful tips, diagrams and maps!! Congratulations on this brilliant ebook!!

I read it in one go last night and I've downloaded it to both my phone & ipad so in case one of them runs out of battery, I can still consult the book & use it while in Etosha!!"

--Lucy Beveridge, Bored Housewife Productions, Spain
"We have just returned from Etosha and must say that your e-book was very helpful and we will highly recommend it to anyone who plans a visit to Etosha.

We had a great time and have returned back home with lots of excellent photos. Next year we are planning to go to Kgalagadi Transfrontier Park and hope your e-book on that park will be available soon!"

--Annette Laursen, Denmark
"Thank you for sending me the updated Etosha eBook at no cost! The extra seventy pages with new lessons and featuring nice lodges outside the park really makes the book an indispensable resource for visitors."

--Klaus Schmidt, Germany
Click on the logos below to download reviews of "The Photographers Guide to Etosha National Park...

---

---

---

---
What's Inside the Photographers Guide to Etosha eBook...
Written by three wildlife photographers who have collectively spent more than 3 years doing photo safaris in Etosha.
We are confident this printable Etosha eBook will immensely improve your safari to the park:
·         It's for every level of photographer - whether you have just one camera and lens or if you are an advanced photographer with all the latest gear.
·         It's a substantial book - 259 pages filled with photos, advice, tips and lessons that the authors have spent years learning.
·         It's a blend of theory with plenty of practical advice - there are explicit directions (with great maps), best times to visit, photographic lessons and expected subjects for four major locations: Namutoni (including Onkoshi camp), Halali, Okaukuejo and Dolomite (western Etosha) areas.
·         It's instantly accessible - no waiting for postal deliveries or expensive couriers.
·         Whenever we update the eBook with fresh information you will be entitled to the revised copy at no charge. (We updated the book in 2016, 4 years after the initial publication in February 2012, from 184 to 259 pages. That's 75 extra pages of lessons, hints, tips and photographs - at no cost to existing clients!)
·         It's guaranteed - you get a 30-day money-back guarantee.
Table Of Contents...
FOREWORD by Daryl Balfour  
ABOUT THE AUTHORS  


INTRODUCTION 
How to Use This Book 
Photographic Equipment 
Making the most of Your Etosha Safari 
Photographic Lesson 1 – Hunting Cheetahs  


NAMUTONI AREA 
Namutoni Restcamp & Waterhole 
Kalkheuwel Waterhole 
Chudop Waterhole 
Klein Namutoni Waterhole & Dik Dik Drive
Onkoshi Restcamp 
Suggested drives in the Namutoni area
Drive One – the Chudop Triangle 
Drive Two – Around Fischer's Pan 
Photographic Lesson 2 - Understand Animal Behavior 
The Road Between Halali & Namutoni  


HALALI AREA 
Halali Restcamp & Waterhole 
Goas Waterhole 
Rietfontein Waterhole 
Salvadora Waterhole 
Detour Road 
Suggested Drive in the Halali Area 
Plains and Woodland 
Photographic Lesson 3 - Scan the Waterholes 
Photographic Lesson 4 - In the Digital Darkroom 
The Road Between Okaukuejo & Halali  


OKAUKUEJO AREA 
Okaukuejo Restcamp & Waterhole 
Okondeka Waterhole 
Nebrownii Waterhole 
Olifantsbad Waterhole 
Suggested drives in the Okaukuejo Area 
Drive One – Wide Open Plains 
Drive Two – Into the Woods 
Photographic Lesson 5 - Be Aware of the Sun's Position 
Photographic Lesson 6 - How to Photograph Animals at Night 
The Road Between Okaukuejo & Dolomite  


DOLOMITE AREA 
Dolomite Restcamp & Waterhole 
Klippan Waterhole 
Rateldraf Waterhole 
Renostervlei Waterhole 
Duineveld Waterhole 
Nomab Waterhole 
Olifantsrus Waterhole & Hide 
Okawao Waterhole 
Jakkalswater Waterhole 
Suggested Drives in the Dolomite Area 
Short drive (3 waterholes) 
Medium Drive (4 waterholes) 
Long Drive (9 waterholes) 
Photographic Lesson 7 - Using Filters for Rainbows 
Photographic Lesson 8 – What can You Do about Dreaded Midday Photos? 


MORE ABOUT ETOSHA 
Staying Outside Etosha
Onguma the Fort
Photographic Lesson 9 – Photographing Landscapes
Photographic Lesson 10 – Hunting Cheetahs #2 (working an area)
Etosha Safari Camp & Etosha Safari Lodge
Photographic Lesson 11 – Be Patient
Toko Lodge
Photographic Lesson 12 – Photographing on a Guided Game-drive
Etosha Seasons 

Flowers of Etosha 

How to Get There
Stopovers
A Typical Day in Etosha
 FINAL WORDS 
Photographer's Resources 
Want More?  
Technical Details of all the Photographs
About the Authors...
Mario & Jenny Fazekas have, since 1995, spent over 850 days on guided and self-drive safaris in National Parks in Southern & East Africa and much of that time has been spent in Namibia's Etosha National Park.
Many of their photographs have been published and they have won a number of photographic contests.

Kathryn Haylett founded 'Your Safari' in 2002 and she spends several months a year leading private safaris for family groups, friends travelling together or photographers on safaris in Etosha, Kruger and other African national parks.

Kathryn has spent over 24 months just in Etosha so we think she knows the animals better than they know themselves!

Who better to than these three people to advise you on how best to find and photograph Etosha's wildlife!

Ready to Order?
The Photographers Guide to Etosha National Park costs only US$27.00
That's less than a campsite in Etosha costs you for one night!
Remember, you are spending thousands of dollars on safari accommodation, travel and photographic gear - ensure that you get value for money from your safari by investing in The Photographers Guide to Etosha National Park, so that you can make certain that you return home from your safari with images you are proud of.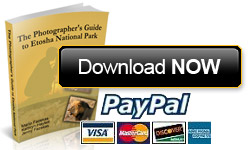 ---
What happens once you click the ADD TO CART button:
You will be taken to a secure order form where you can pay via PayPal or credit card. 
If you do not have a Paypal account you will be able to use your credit card as a 'Paypal guest'. When you click 'Checkout with paypal' you will be taken to the Paypal website and then you simply click where it says 'Don't have a Paypal account?' and you will be able to pay with your VISA, Amex, Mastercard or Discover credit cards.

Upon completion of payment you are directed to a secure download page where you can download The Photographers Guide to Etosha National Park. If this does not happen automatically, just click the button that says "Complete your purchase". Don't worry if you forget to. You will also receive an email with the download link.
---
This file is in Adobe Acrobat PDF format.
To be able to view this document you must have the Adobe Acrobat reader installed.

To download a free copy of Adobe Acrobat Reader, click here and follow the on-screen instructions.
If you are using an iPad then click on the download link in your purchase confirmation email. Your book will open in Safari (iPad's internet browser). With the book open, tap once on the screen to pull up a menu, choose the option labelled Open in iBooks and the book will automatically open and be stored in the iBooks app in the PDFs collection.

---
If anything goes wrong, if you have any trouble, just CONTACT US and we will help you with it.

PS: We are confident that this eBook will be a huge help to you, but should you really disagree, then we will refund you immediately. (Please note that if you purchase the Kindle version, Amazon has a different set of terms and conditions).
Your satisfaction is guaranteed. If at any time within 30 days from buying this eBook you decide that you made a mistake, that the photographers guide to Etosha is not what you expected, then just email me and we will return your money instantly, no questions asked.

---
If you would prefer to purchase the Amazon Kindle version of the Photographer's Guide to Etosha eBook, please click on the image below...

You can also read more about the other eBooks in this series on the author's Amazon page.

---
---
Return from Photographers Guide to Etosha to Etosha Park page

---