Etosha Trip Report: September 2010 - Part 1 of 2
In September 2010 we drove from Johannesburg to Etosha for a 1-week photo safari. We made our booking at the last minute so thanks again to Lena Leevi and her five-star reservations team at NWR Swakopmund for getting us what we wanted!
The 710km journey through Botswana was pleasant but we saw many dead animals along the way.
In this photograph you will see skid marks leading towards the dead cow on the right and part of the vehicle on the left..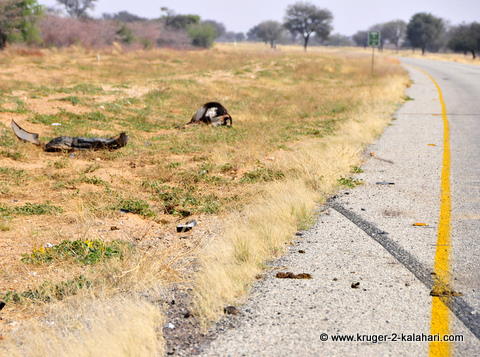 Please be careful when travelling along the Trans Kalahari Highway! There are many warning signs but they seem to get ignored...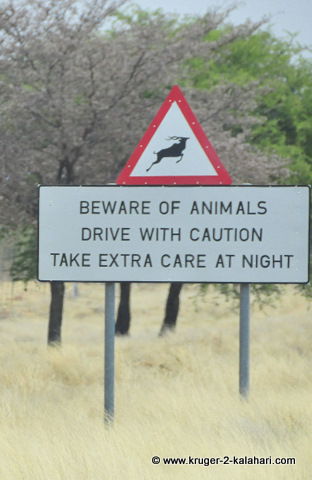 Book your Etosha Safari with 'Your Safari'
The 700km trip through Namibia to Etosha also had its share of dead animals but we had some other interesting sightings along the route...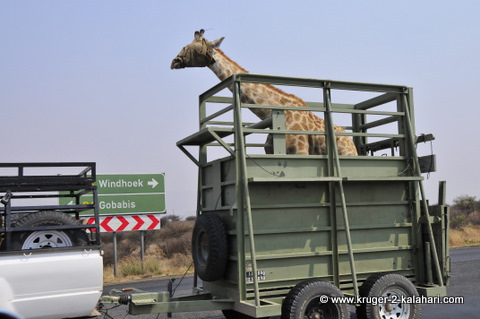 We spent the first night in Windhoek at the Casa Blanca Hotel. It is a small boutique hotel and used to be called Klein Namutoni.
It was originally built by a game ranger at Etosha as his home and he based the design on the Namutoni Fort in Etosha...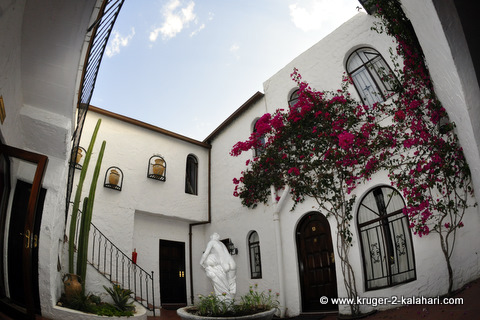 The hotel rooms were nicely furnished, were clean and there was safe parking but the service could have been better and there was a loud party on the go in a house behind the hotel!
We arrived at the Andersson Gate at about 06h30 and very quickly a queue of vehicles started to form behind us...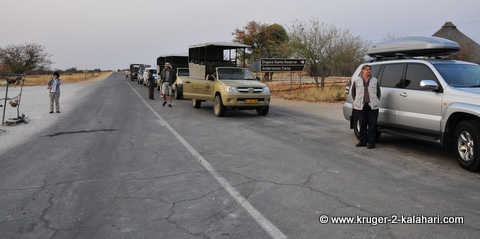 A busload of tourists arrived and were shopping for curios...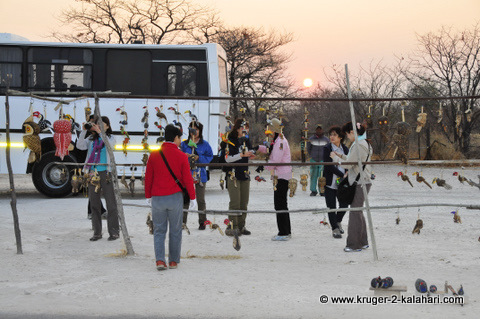 and taking photographs...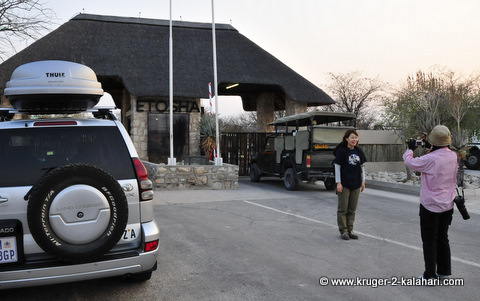 While we were watching the sun rise and waiting for the gate to open...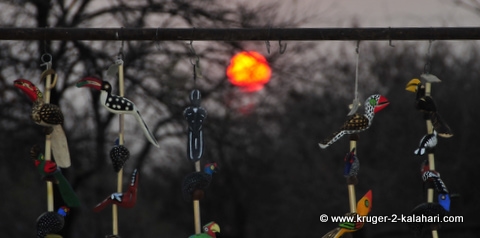 Okaukuejo Camp...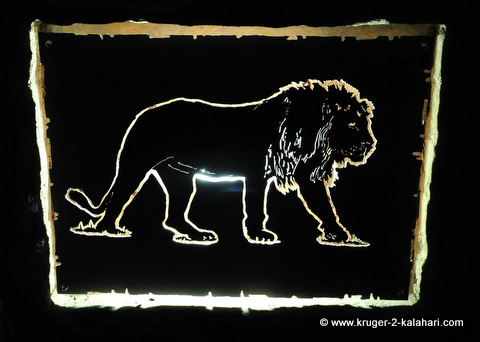 Our first three nights were spent in Okaukujo Camp.
While at the wall check out the unique wire animals that are situated at some of the chalets...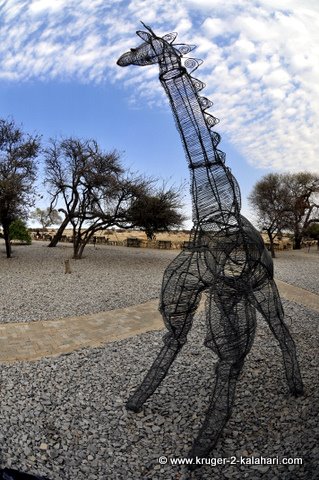 Upon checking in we had good service from NWR (Namibia Wildlife Resorts) staff but shocking service from the MET (Ministry of Environment & Tourism) person at Okaukuejo reception.
NWR unfortunately has no jurisdiction over the staff of the MET who deal with the park entrance permits at the gates and conservation fees at the front desks. Most visitors are unable to distinguish between NWR and MET staff.
The NWR staff have beige uniforms and they wear name badges (and are generally smiling and friendly) while the MET staff have green uniforms and do not wear name badges, which perhaps gives some of them a license to be rude, obnoxious and arrogant to customers?
All the chalets and rooms were recently renovated and look lovely. We stayed in what is called a 'B' room...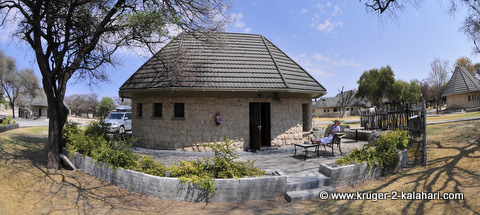 It has a braai, large bedroom, spacious lounge and a toilet / shower that is not cramped like some of the other rooms.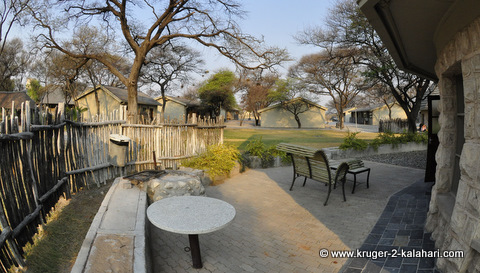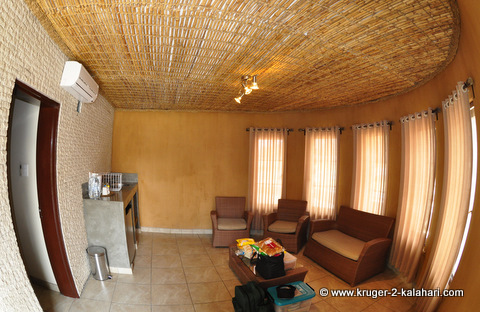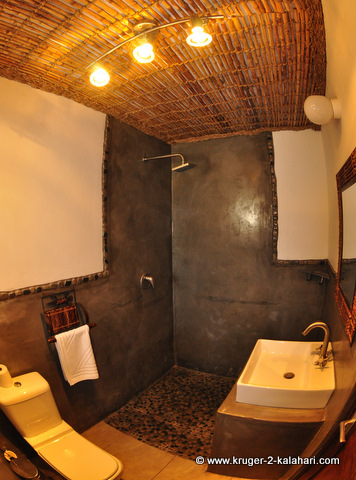 There are paths between the chalets leading to the waterhole...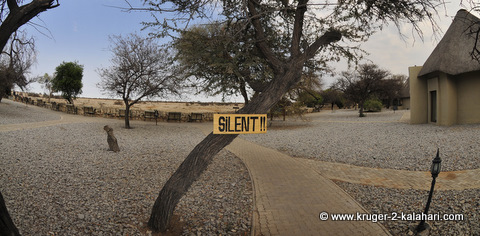 You'll notice the SILENT!! signs on the trees - not only do some people talk loud but others don't use the paths and they walk across the stones making even more noise.
The Okaukeujo waterhole is the busiest waterhole in Etosha in terms of number of animals visiting it.
It is truely a 'theatre in the wild' with a constant procession of wildlife by day...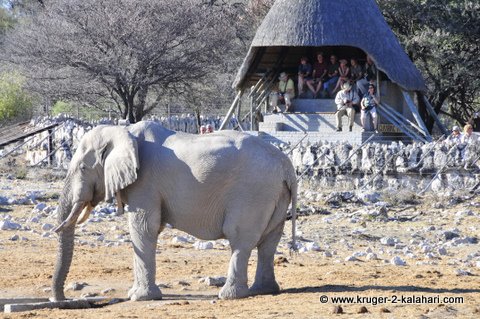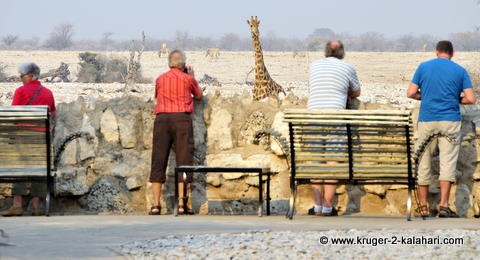 and a constant procession by night with some animals coming up to the wall to investigate the people...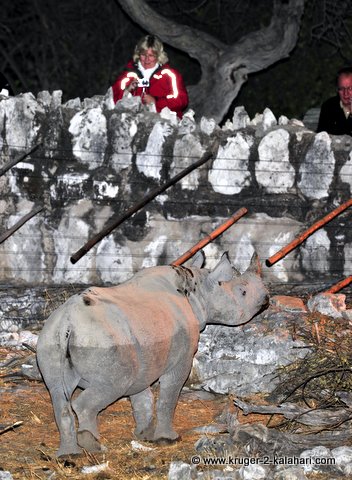 ---
For self drive or guided safaris to Namibia & South Africa contact Your Safari
---
The first night we photographed elephants, rhinos, gemsbok, jackals and a lioness drinking at the camp waterhole...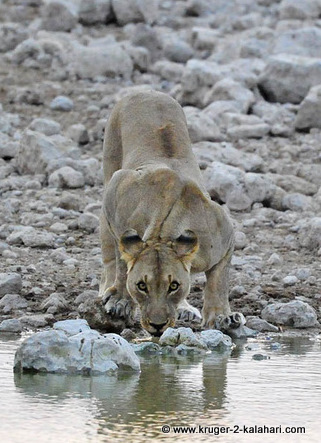 On day two we went to Okondeka waterhole and watched hundreds of animals out on the pan with the resident male lion resting up...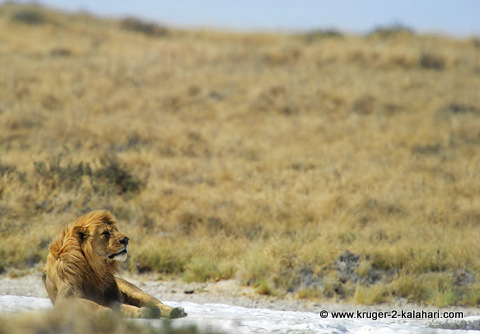 as well as a vehicle parked on the pan at the water seep...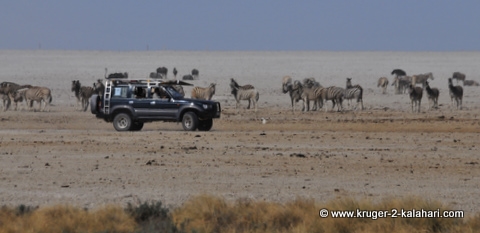 We don't know if he was there on official business or was a visitor breaking the rules (the vehicle had Cape Town number plates) but either way he was spoiling our photographs!
On day three we went to Olifantbad waterhole and as we arrived a lion was walking away from the waterhole - talk about bad timing!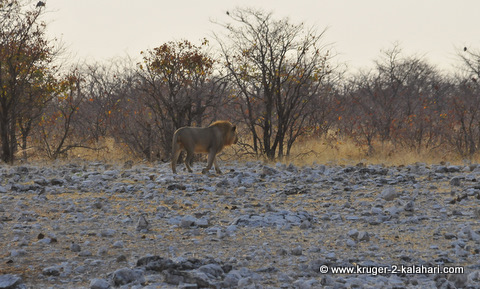 Since we started visiting Etosha in 2002, nearly every year we have seen, near Okaukuejo camp, what is termed 'zebra mutations' where some zebras are more black than other zebras...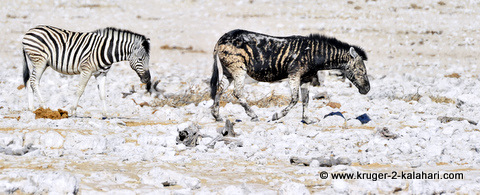 This is not 'Evolution in Action' they are still zebras!
Humans have skin mutations where a dark skinned person has lighter skin parts or a light-skinned person has dark skin blotches. They are not changing into another being, they are still human beings.
On nights two and three we heard the lions roaring all night but they didn't put in an appearance at the waterhole. We did get some nice giraffe silhouettes and giraffe sprays...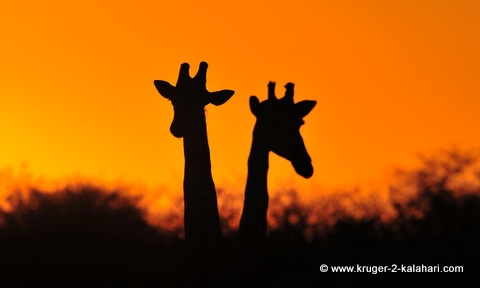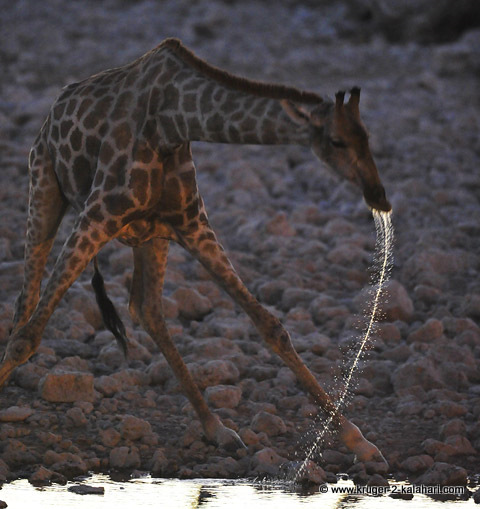 Click here for PART-2 of this Etosha Trip Report.
---
Return from Etosha Trip Report September 2010 to Trip Reports
---
---

To make a safari rental booking in South Africa, Botswana or Namibia click here
---