Kruger Trip Report - Boulders Bush Lodge
At the beginning of June 2010 we spent just four days at Boulders Bush Lodge which is situated about 15 kilometers south of Mopani camp.
June is not the ideal time to visit the Kruger Park as the grass is normally long and there is still a lot of water in the park after good summer rains, which we had this year!
Also, it was our first visit to Boulders Bush Lodge and we had no idea what to expect.
When we arrived at the park we found that soccer-fever has reached the Kruger Park because there are soccer balls on poles at all the entrance gates...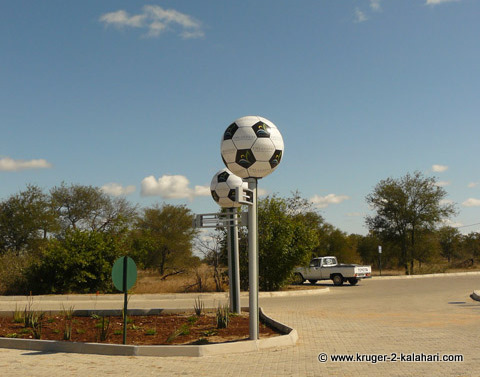 The trip from park gate to the camp started out well as we had three lion sightings on the way...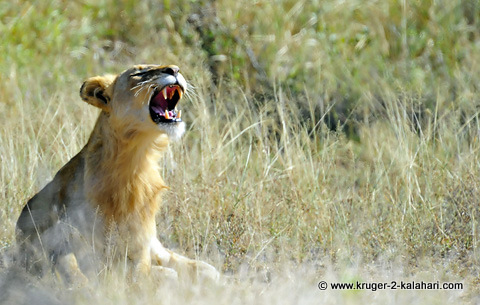 The autumn colors were starting to show with the leaves of the Tamboti trees turning bright red...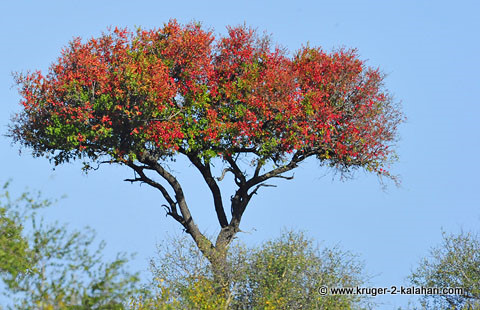 And the Baobab leaves turning yellow...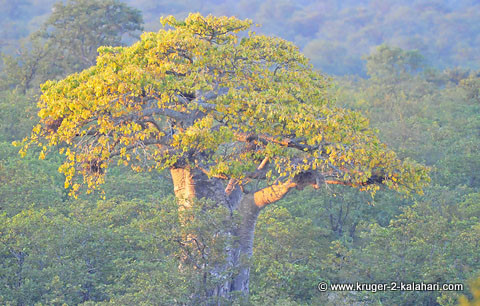 On the main road between Satara and Letaba we noticed that the grass and bush was being cut back on both sides of the road...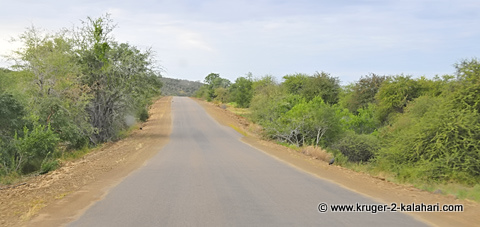 Great idea Kruger Park Management!
If the grass is high animals can, and do, simply step into the road and there is a chance of hitting them, but with the bush cut back you can see the animal in good time...
When we arrived at Boulders we were VERY impressed. Thomas was waiting to welcome us, he helped unpack the vehicle, carry our luggage and he had boiled the kettle for our tea – that's service!!
The camp is really nice – here we are having sundowners while waiting for action at the waterhole…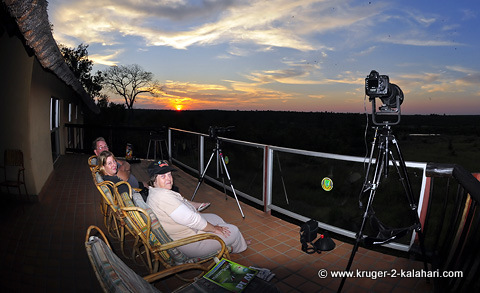 And here we are braaing our dinner at the BBQ area...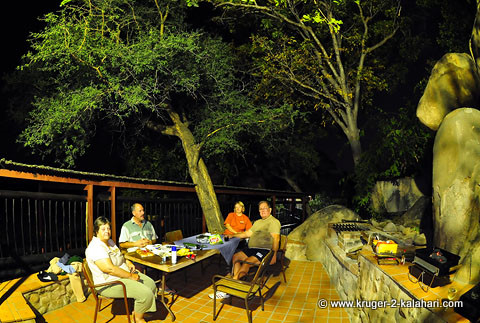 (We have more photographs of the camp on the boulders camp page)
The waterhole was very quiet. We had two giraffe, nine buffalo and some impala drinking in the four days. We did have other photo opportunities with the resident klipspringer…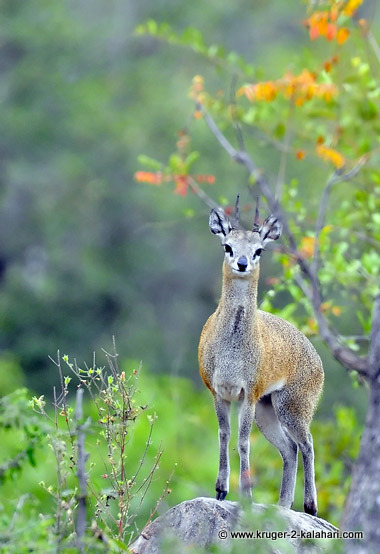 Two ground hornbills that sat in a tee in front of the camp calling to each other...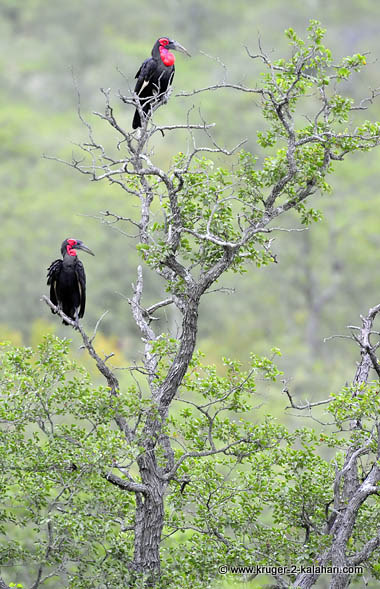 a photogenic jumping spider in the bungalow...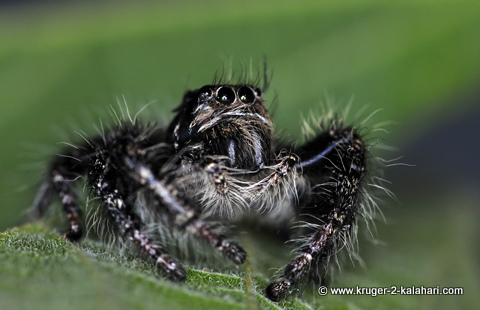 and some magnificent sunsets...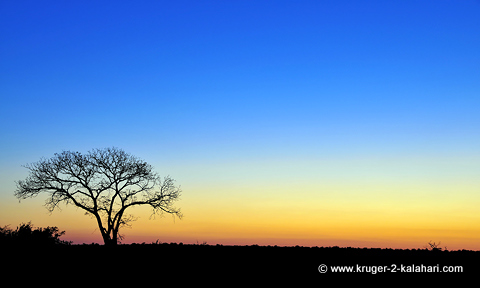 We went on a game drive (self-drive) each day and we saw different buffalo herds on each occasion. There were some real characters in these herds; here are some of the more memorable portraits...
Big Ears...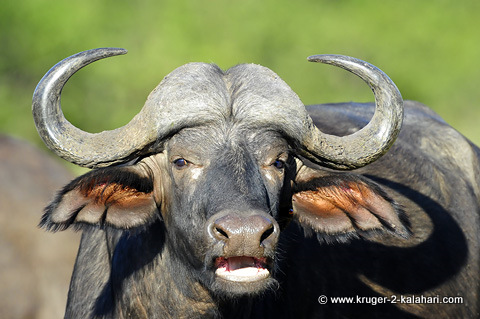 Big Horn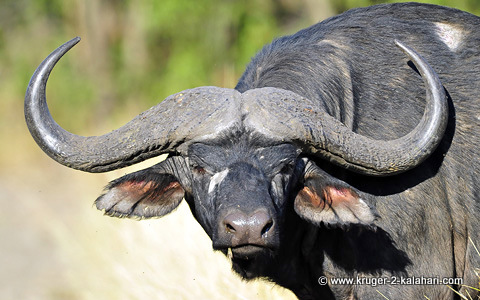 Broken Horn...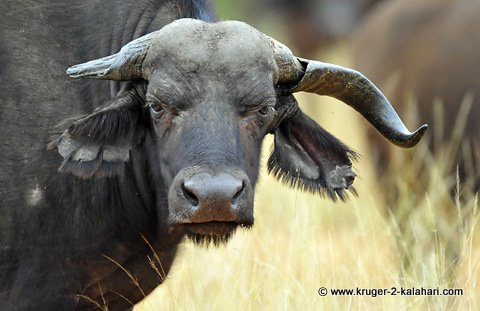 Gramps...
Lipstick...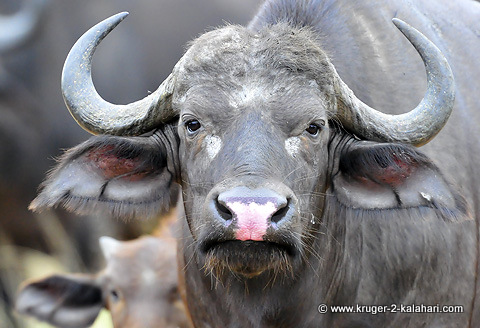 War Paint...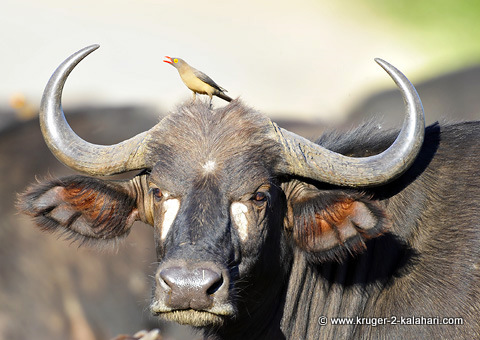 Our conclusion after the 4-day visit...?
...Boulders Rocks!
Our stay was superb and we will be back at Boulders Bush Lodge next year, God willing!
---
Return from June 2010 Trip Report to Trip Reports page
---
---

To make a safari rental booking in South Africa, Botswana or Namibia click here
---