Madikwe Trip report 09-2014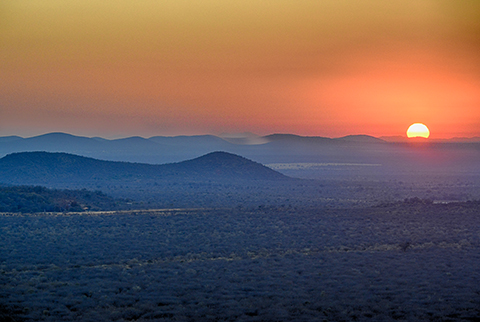 This was our second trip to Madikwe and we decided to try a new route on the R565, past Sun City and Pilanesberg, which was shorter and more enjoyable than the N4-Zeerust route, plus there are no tolls.
We stayed at 4 lodges over two weeks in this wonderful reserve, starting on the morning of 1st September 2014.
The temperatures varied between 7 degrees celsius in the early mornings, then heating up to between 28 and 32 degrees by midday. We took a lot of warm cloths and some summer things and we're glad we did because the weather changed, on some of the days we had nice warm days but extremely cold mornings and evenings!
We started our trip little later than usual, leaving home at 5.45 am instead of 03h00, and had a few photographic stops along the way; one of them being Molatedi dam where we took a walk up quite a few steps to the dam wall.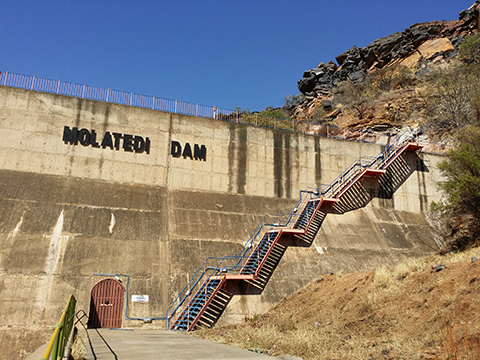 Our trip was about 250 km from our home to the Molatedi gate in Madikwe. We arrived at the Molatedi main gate around 10am and headed for our first stop - Jamala Madikwe, Royal Safari Lodge.
Madikwe Trip report 09-2014: Jamala Madikwe
After arriving we were warmly welcome by Rodney, Nico and staff, who were waiting for us with hot face cloths and a welcome drink. 
Rodney then they showed us around the lodge before taking us to our villa. This would be our home for the next 3 days and we were delighted at what we saw. The lodge waterhole is a magnet, attracting a constant procession of animals and is the ideal spot for a 'Sofa Safari'!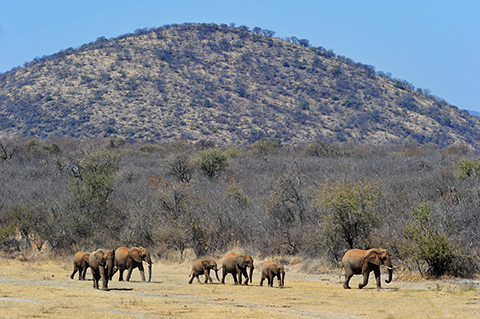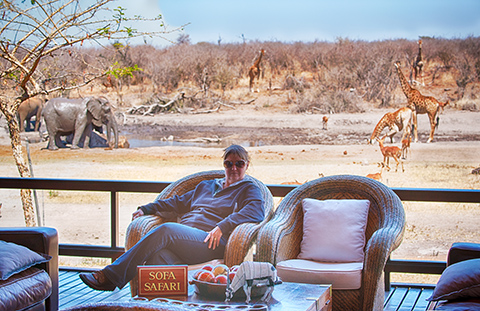 Jamala Madikwe Royal Safari Lodge is grand but not over the top. It has elegant touches but still giving you the feeling of being in the bush.
Our drives were enjoyable and we had Duyane (Zulu) as our guide and two other very nice guests; Craig and Maggie who really made us laugh. We had such a great time with them and we got to see the super Seven (Big 5 plus wild dogs and cheetah)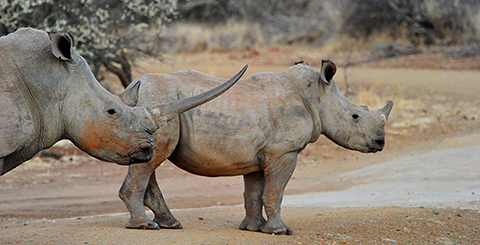 And we stopped at some great spots for sun downers where we were able to capture some super landscape images and we spotted some owls on the drive back to the lodge.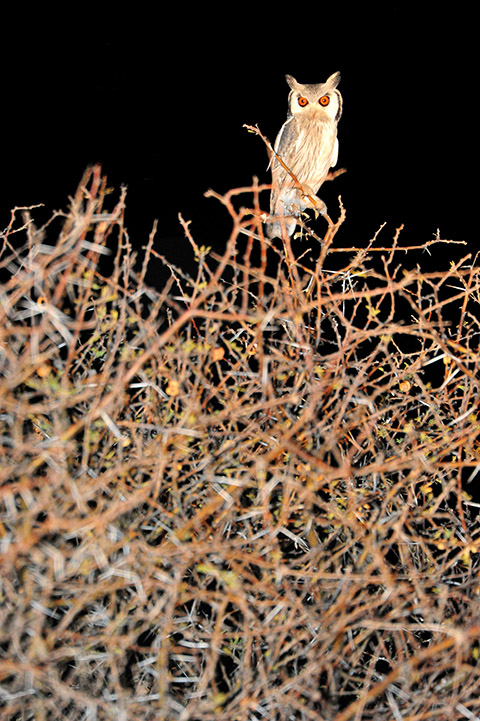 We discovered a small waterhole and sat there for some time, just waiting and listening to the African bush. Our patience paid off and we were rewarded with Rhino, elephants and buffalo in perfect lighting.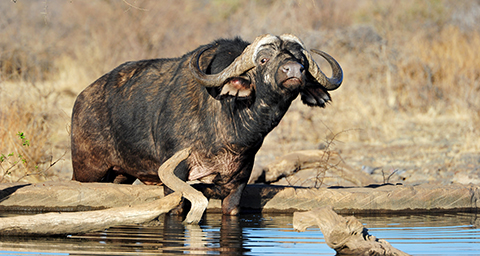 We found the 4 Cheetah brothers, a pack of Wild Dogs and a male lion.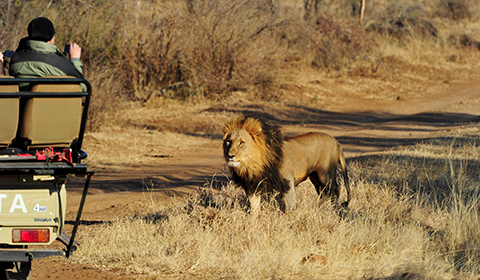 The highlight for me was our drive to see the plains and to find springbok, but on the way I spotted something on the rocks and asked Duyane to stop, after a quick check through the binoculars my suspicions were confirmed; a large leopard was lying on the rocks facing us…it was quite a distance so Duyane went a little closer and we managed to get a few photographs of this elusive cat.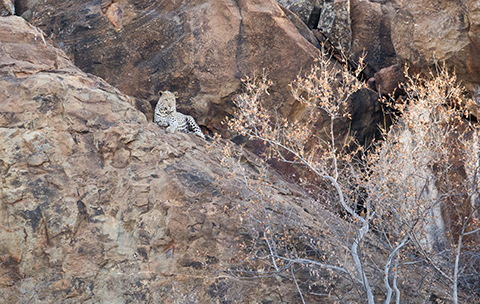 The camp waterhole was also very rewarding with lions, buffalo, spotted hyena, buffalo and brown hyenas being seen at night.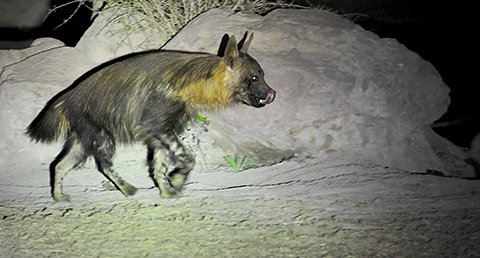 We had such a good time but it was now time to leave for our next stop; we said our farewells at about 11am with a promise to be back soon.
We then headed north to Madikwe River Lodge, which is on the banks of the Groot Marico River. It only took us just under an hour to get there from Jamala.
Madikwe Trip report 09-2014: Madikwe River Lodge
We had a nice welcome by the staff then our bags were taken to our chalet number 10. We were just in time for lunch, so after a quick lunch we went to explore the grounds. Then it was time for the 1st of our 5 game drives. 
There were ten guests on the vehicle which made it very difficult to photograph, so one morning we decided to stay in camp and guess what…? The game drive found a leopard in a tree!
On our last morning at Tau Game Lodge (we spent a weekend there in August 2014) we also decided to stay in camp (as 2 black rhinos had been to drink at the camp waterhole the day before while we were on the game drive) and we were rewarded with a wild dog kill in front of the lodge – that's just the way it goes - you win some and lose some!  
We had some really great sightings of Lions - our first glimpse of them was three young males just lazing around like lions do, then we had a male on a kill and on another sighting a male, two females with small cubs on another kill.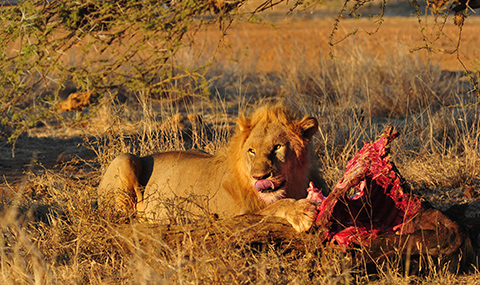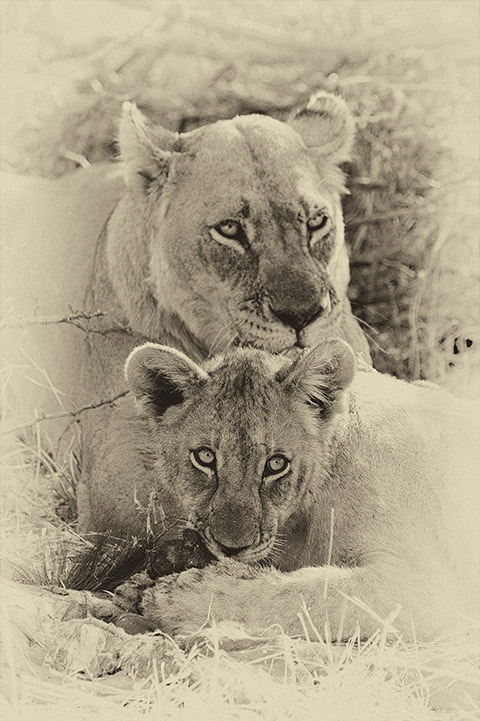 The one morning it was a little misty and that's when we found the wild dogs….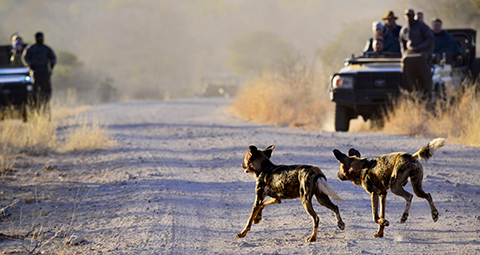 and a spotted hyena following a leopard. (The vehicle in front of us saw the leopard, which disappeared into the bush just before we arrived).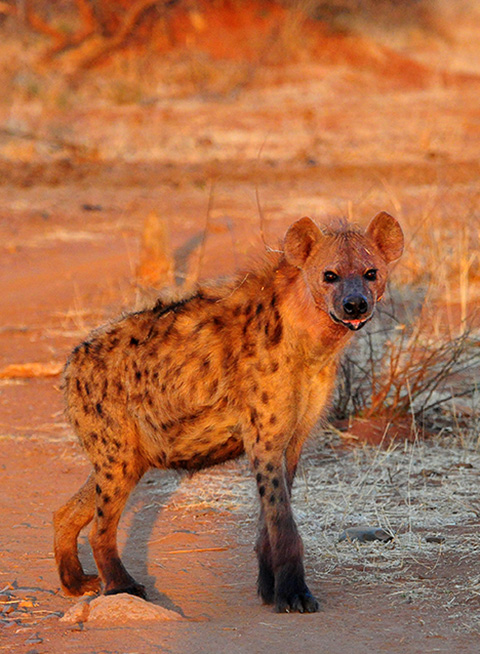 We spent some time with a herd of elephants and the babies were so cute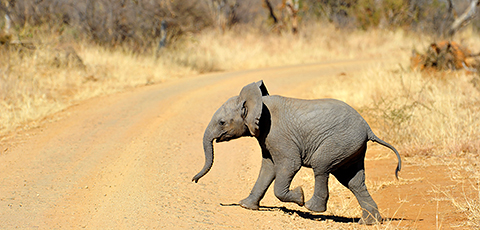 But the best for me was the night Jar that Jerry our guide found for us. He caught it and showed us how big its mouth gets...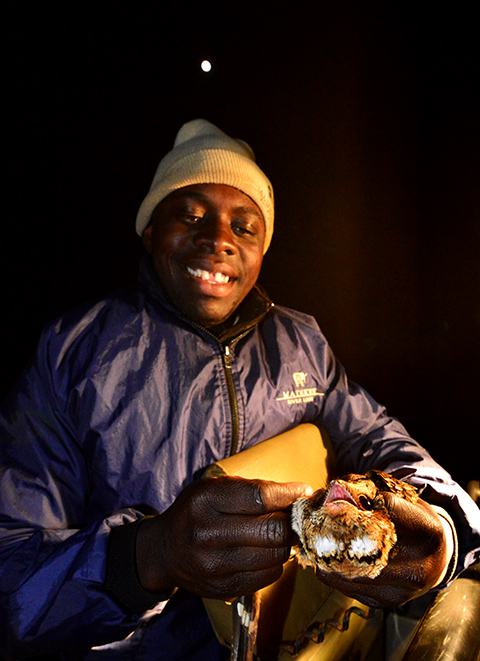 After an enjoyable stay at this lovely rustic lodge on the river, it was time to head west to our second to last lodge; Buffalo Ridge Safari Lodge.
Madikwe Trip report 09-2014: Buffalo Ridge Safari Lodge
We left at 11am just after breakfast and got to Abjaterskop gate at 12-46 pm; it is about 43 kilometres from Madikwe River Lodge to Abjaterskop gate and it took us about an hour and a half. We then exited out of this gate and went in at Wonderboom gate which is just 5 kms from Abjaterskop Gate. 
It only took us 20 minutes to get to the lodge from the gate; it's a nice hilly drive because Buffalo Ridge Lodge, as per its name, is perched high on a ridge overlooking the plains below.
We just love the view plus the lodge is unfenced which adds that touch of excitement.
Because this lodge is unfenced you are escorted to your chalets after dinner and for me this was the excitement. On one of the evenings we walked straight into a 'dagga boy' which is a big buffalo bull - he was standing near the 2nd boma. He did not stick around; as we lifted the camera to take a shot he was off like lighting!
This was followed by a spotted hyena that dashed out of the bushes past us early one morning on our way to the car park for our morning game drive.
We also saw leopard spoor on the gravel pathway leading from the chalets to the main lodge….only to be told that he/she had been drinking from the swimming pool the night before!
So with all this excitement happening at the lodge it was time for game drives. We had some nice sightings; again seeing the super seven (unlike many other parks it's seems quite natural here at Madikwe to see the super-7 in each 3-day period!)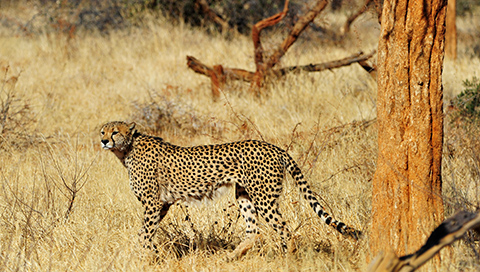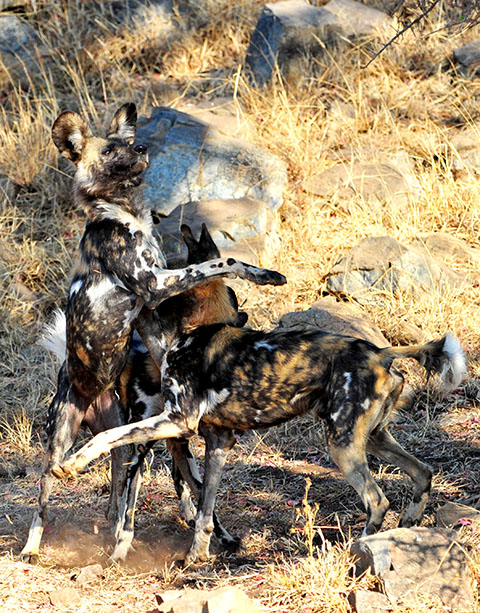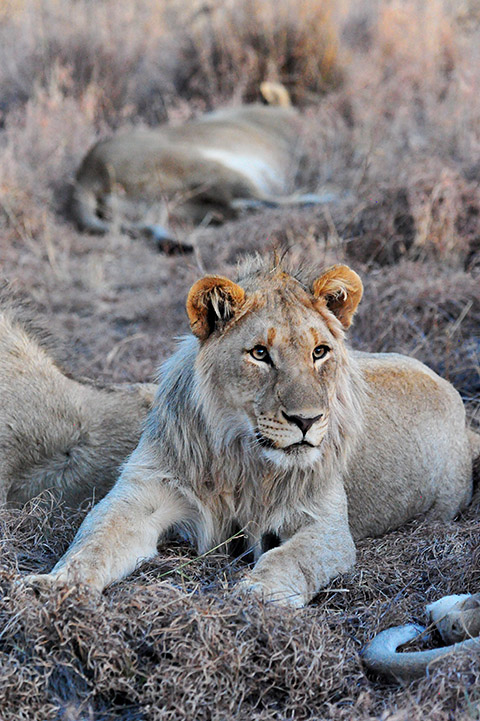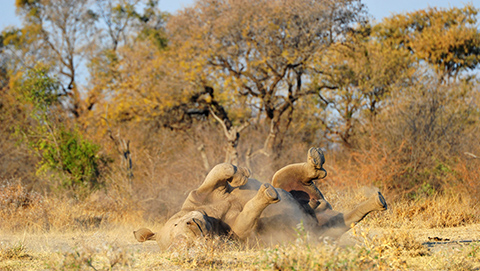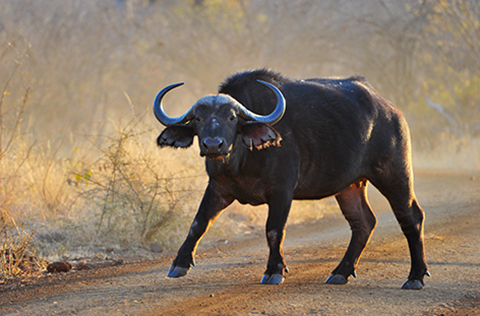 We found the 4 male cheetahs, a pack of wild dogs on a mission and two leopards but the leopards are the challenge in Madikwe! There are estimated to be approximately 40 adult leopards plus sub-adults and cubs so maybe 80 in total. Only a few are habituated to vehicles so capturing good photographs of them is not easy.  
The highlight for us, in addition to the delicious food of course, was not the game drives but the different animals in and around the lodge. For example, we would step out our chalet and be confronted by a herd of kudu – we all stare at each other until one decides to run and then there are kudus flying in all directions, crashing through the bush.
Then we had the klipspringer drinking from our overflow pipe each day or waiting for us on the path to our chalet…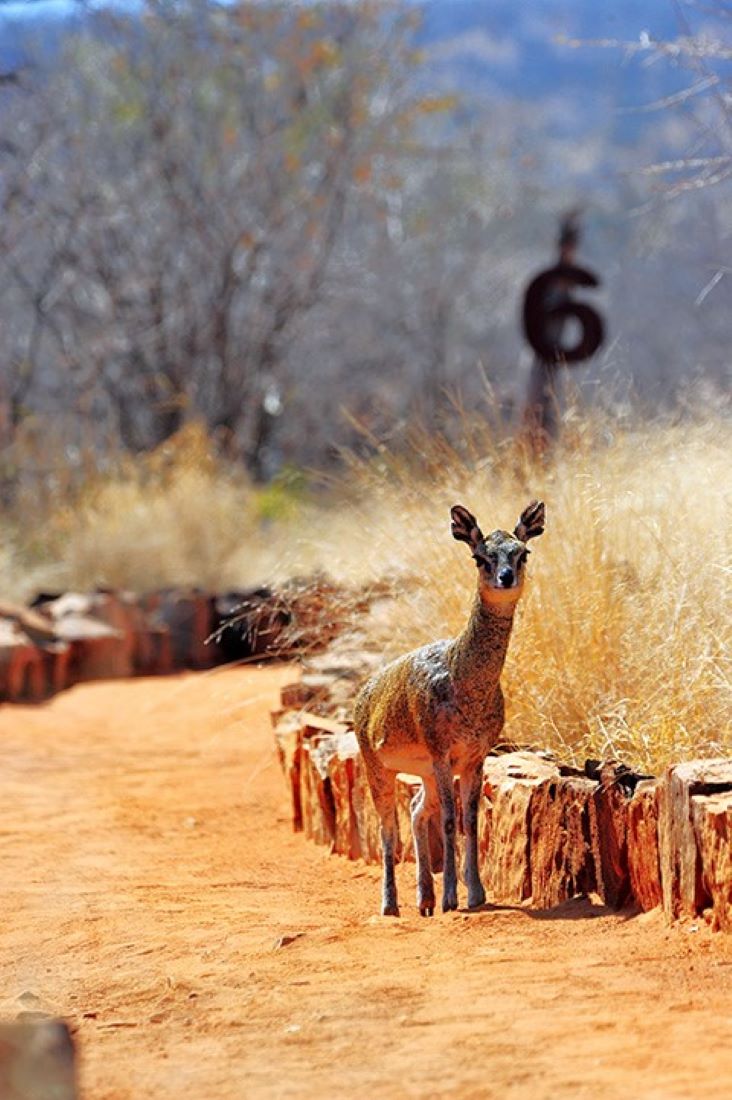 These unexpected sightings made the difference for us.
Again it was time to bid this great place farewell and head off just a few kilometres down the hill to our next lodge. We left after a lovely breakfast just past 11am and got to Motswiri Private Safari Lodge at 12 pm.
Madikwe Trip report 09-2014: Motswiri Private Safari Lodge
Geraldine and Coenie were there to welcome us and show us around. We loved the warm and cosy feel of the lodge with its warm colours. After being shown around the lodge we then followed our luggage to our villa while our car was taken and parked in a parking area away from the main lodge where it would be for the duration of our stay.
After lunch it was time for the first of our 6 game drives. Coenie was our guide and what made this so special is that Coenie is a photographer and we had the vehicle to ourselves. 
We saw the Big-5 plus cheetah but watching a bathing elephant and spending the morning with a pride of lions was super...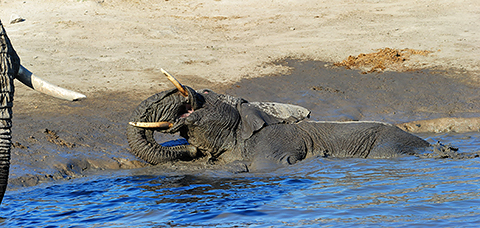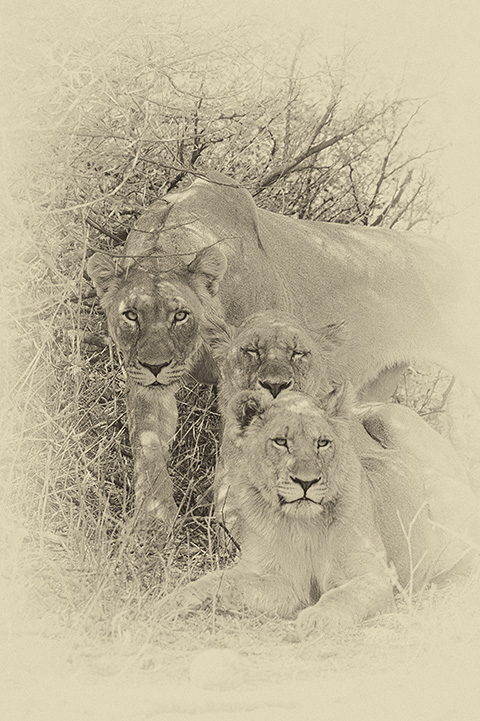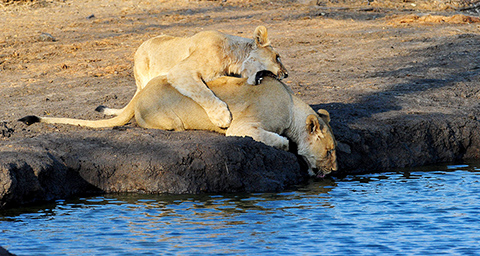 Coenie also took us to some lovely viewpoints where we were able to get some good landscape images. He also stopped for the small things like this chameleon…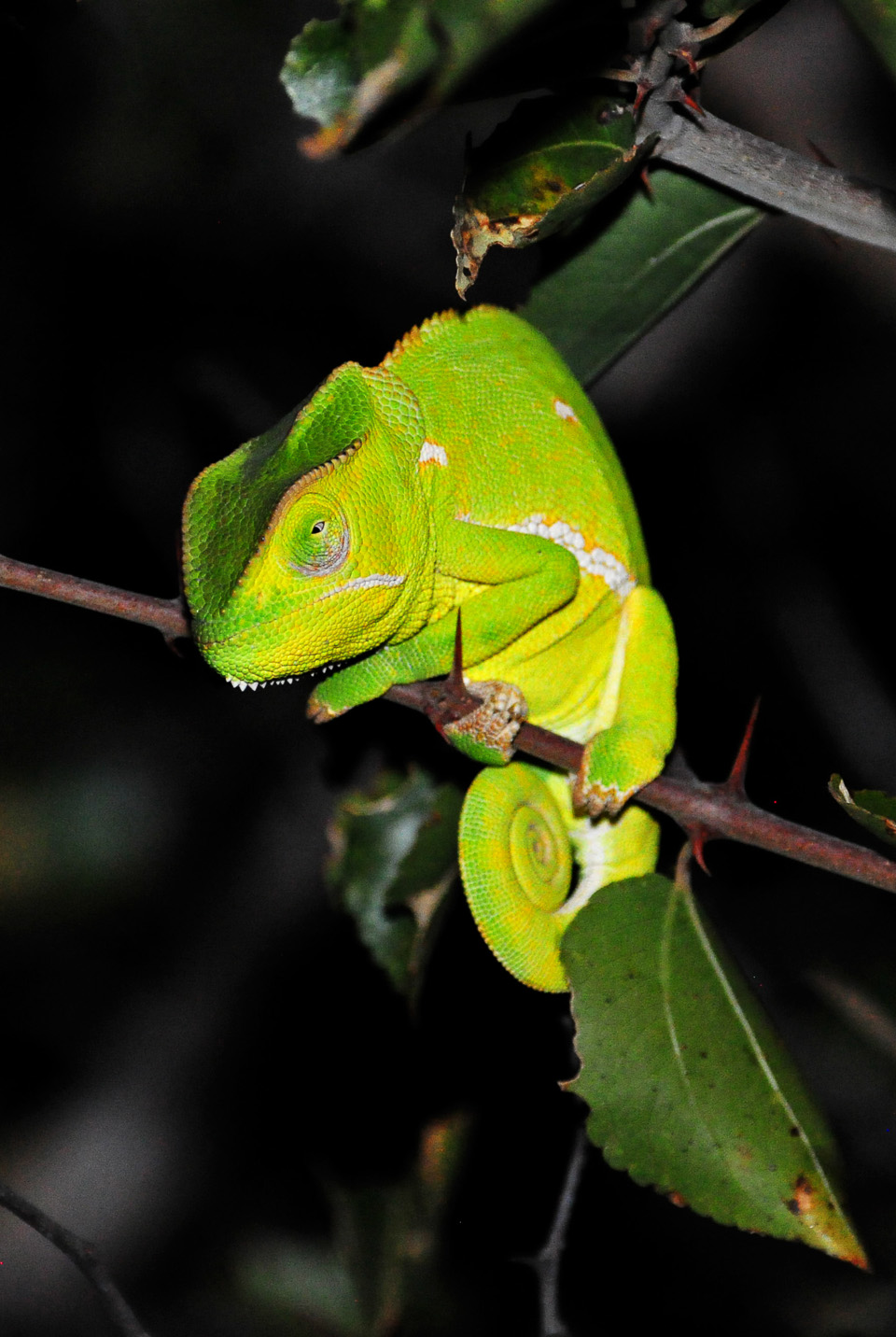 The highlight for us on our game drives was our black rhino sightings - first a male black rhino, but this guy did not want to be photographed and gave us the slip into thick bush.
But it was just the warm-up to what we saw just an hour later. As the sun was setting we spotted two black rhinos, a mother and her calf. We got a little closer to see if we could get a better angle to photograph them and that's when she charged us, stopping just inches away from the vehicle.
We got some lovely pics of her and the calf so then decided to let them be.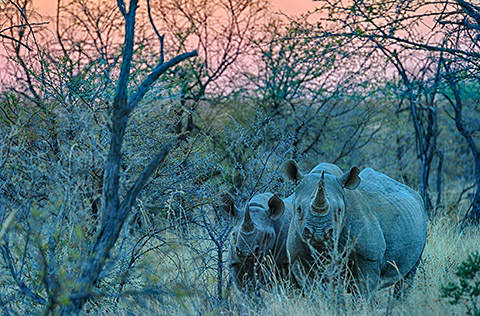 On our last evening game drive we sat at a deserted waterhole waiting for something exciting to happen and it did.
First a giraffe came to drink,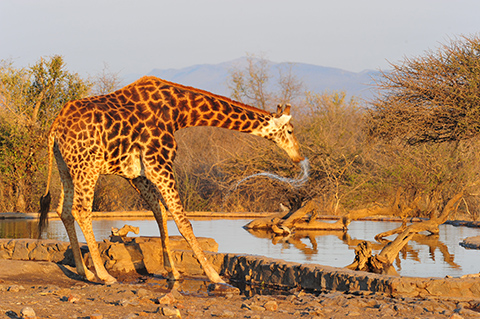 followed by some spotted hyenas and then white rhinos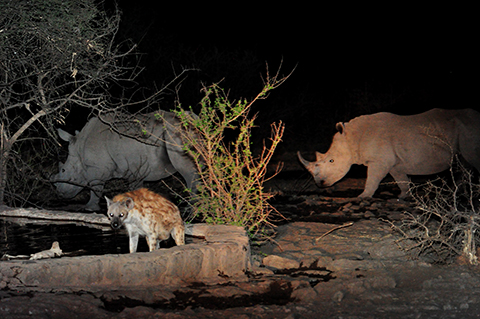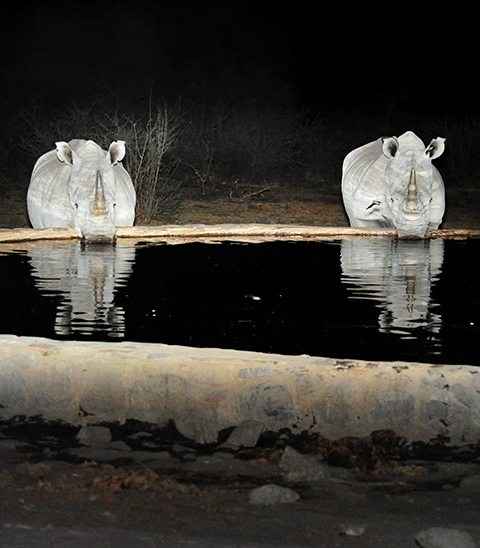 The two spotted hyenas looked like they were up to no good, and they were.
Coenie saw a young female leopard sneak in for a drink in the overflow behind the waterhole but the two hyenas had also seen her and they proceeded to chase her away.
But not for long as she came back and Coenie tried to get us into a better position to photograph her but her head was down most of the time and then she turned away from us and was gone.
On the way back to the lodge we saw another leopard; this time a large male stalking some impala. He was low-down in the grass and we did not want to disturb the hunt so we let him be. 
We had come to the end of our two weeks and it was time to say farewell to another great lodge and head home.
We had seen so much during our stay - lions, lion cubs, giraffe, zebras, elephants, white rhino, black rhino, buffalo, antelopes (kudus, impala), hornbills, weaver birds, eagles, owls, chameleons, cheetah and even a few elusive leopards!
We will be coming back to visit these lodges in summer so please keep an eye out for our next Madikwe trip report! 
---
Return from Madikwe Trip Report 09-2014 to Trip Reports Page
---
---

To make a safari rental booking in South Africa, Botswana or Namibia click here
---