Pilanesberg Trip Report - June 2012
This trip was part Self-Drive Safari and part Guided Safari
We spent 4 and a half wonderful days in the Pilanesberg with temperatures ranging from about 4 degrees Celsius on some mornings to about 23 degrees Celsius during the day.
Day 1, we arrived at Bakubung Gate from JHB at 6.30, we wanted to drive straight to Mankwe Dam but found to our dismay that the main road, Kubu Drive was partly closed due to road works, so we had to go the long way round, up Ntshwe then down past Tlou and Makorwane dams. The road will be closed for a while, not sure when it will reopen.
The morning drive was fairly quiet with not too many animals along the way but the birdlife was great at the dams...
The mountains are beautiful at this time of year because the leaves on the Tamboti trees turn into spectacular colors of red, orange and yellow falling to the ground later as winter approaches. The spray of colors go all the way up the side of the mountains, great for landscape photographs.
We saw Zebra herds, the resident hippo at Ratlhogo Hide, a giraffe carcass near Mankwe Dam that had been hit by lighting a few weeks back and plenty of warthogs...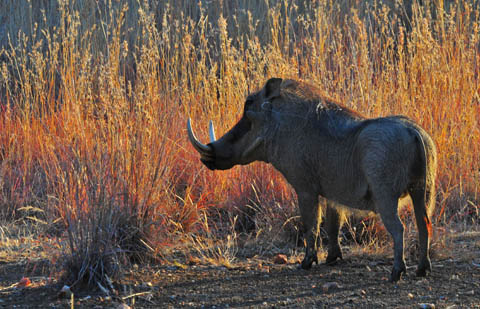 We drove past the Pilanesberg Center which is still closed but hopefully will be reopened in July. There is talk that the new restaurant will be a
Mugg and Bean owned by Ivory Tree Lodge.
Our first two nights were spent at Manyanye Camp. While braaing on these nights we had a lovely full moon rise just over our braai area, it was great sipping a glass of red wine while sitting by the fire and being bathed in the moonlight.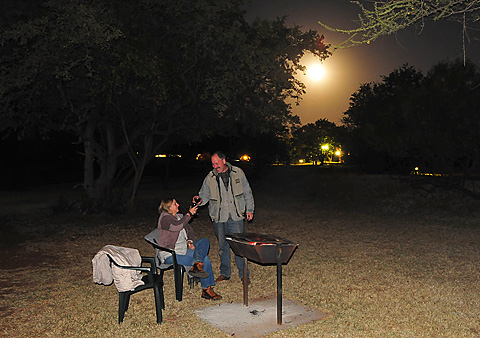 On our drive up Dithabaneng we saw a white Rhino with her calf and a few meters up the road a Black Rhino both were very close to the road.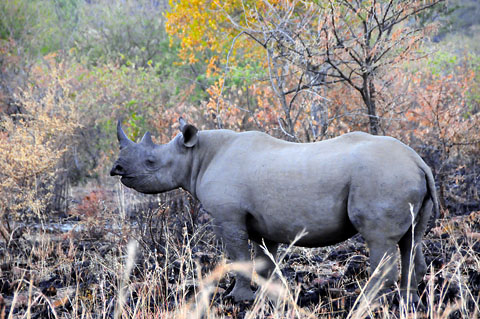 Day two was spent with Bart our passionate and knowledgeable field Guide from Gametrackers.
He picked us up at 7pm from Manyanye Camp and off we went into the park. We had a lovely morning seeing a great deal of plains game and stopping off for a snack at Mokorwane hide, then off to see what else we could see.
We spotted some Elephant near Mankwe Dam from the main road and Bart suggested we drive down to get a closer look. We drove slowly along the dirt road that circles Mankwe, we passed the hide and then, as we came round a corner, we saw a zebra just standing in the grass on our left and there were zebras on our right hand side all looking at us and the lone zebra - and then Bart called out "lion"!
It took a few seconds to register but the lone zebra on the left side of the road had a lioness hanging off her neck!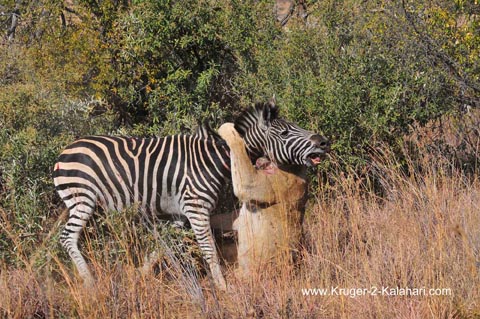 It was a life and death battle which the lioness won in the end.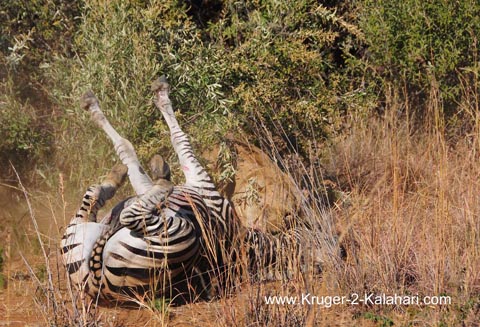 It took six minutes for the zebra to die so it was not a pleasant experience to watch but that is the circle of life.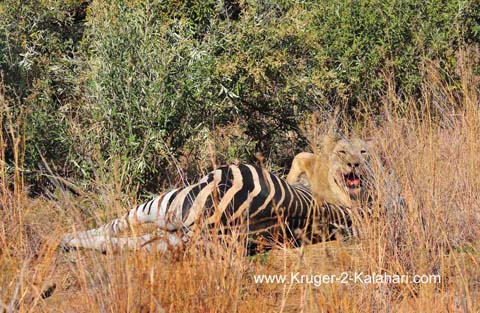 We waited to see what would happen next and the lioness walked off into the bushes and was gone for some time. Then a male cub came out followed by a female cub and they started to try and eat the zebra but did not know quite what to do! We watched them jumping over and playing with the carcass for some time.
Then of course a cowboy driver arrived and he drove off the road towards the kill and chased the cubs off! The cubs eventually came back but then the cowboy's wife got out the sunroof and the cubs again started to back away - but then Narina from Kwa Maritane politely told the women to please get back in her vehicle!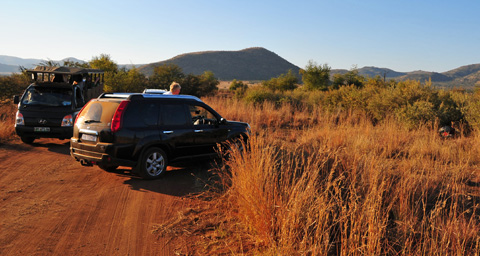 But by then the damage was done and the lioness returned and pulled the carcass further into the bushes away from the cowboy.
By then it was time to head back to camp and we saw a brown hyena on the prowl....wow what a day!
Day 3 we were off to Tshukudu Bush Lodge for two nights. We had no idea what to expect as we have never stayed there before. We were met by a very friendly lady, Joy, at Bakubung Lodge and after drinking our welcome drinks we packed our luggage into our Safari vehicle and off we went with our Guide, Jacques, to Tshukudu Lodge.
Wow! As we came round the corner there on the hill was Tshukudu Lodge with six thatched chalets built into the face of a rocky hill.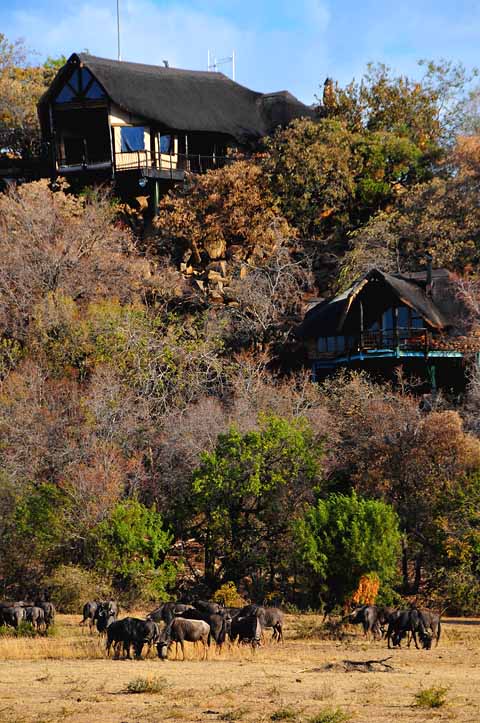 We were warmly welcomed by Simon with nice hot face cloths to remove the dust from our drive there, then Shawn, the Lodge's GM came to greet us - what a warm and friendly lady, we felt like we had come home.
Tshukudu was fantastic, it is truly an amazing place - excellent service, great food, a fully stocked bar fridge and a gorgeous view of the waterhole, surrounding hills and plains, either from the main 'nest' area situated in the middle of the six chalets or from the chalets themselves.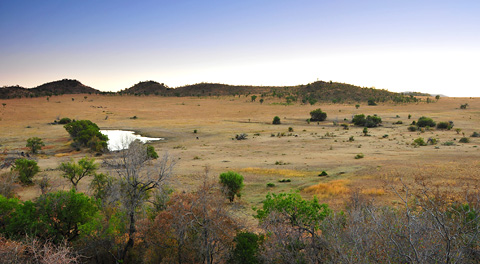 From this view point we saw Blue Wildebeest, Zebra, Giraffe, Jackal, Baboons, plenty of Rock Dassies, Kudu, Impala, Warthog and that was just in one day.
The Rock Dassies live in the rocks next to the chalets – what characters - they will keep you entertained all day long. On our first night we had lovely sightings of the plains game coming to and from the waterhole.
The following day, at about 11h00, we heard impala snorting and looking at the hill with binos and saw a leopard walking past them heading down the valley. No photographs because we were looking straight into the sun and the leopard quickly disappeared. Jacques went to look and confirmed it was Leopard from the spoor he found.
On night two we had a wonderful 5-course dinner in our chalet –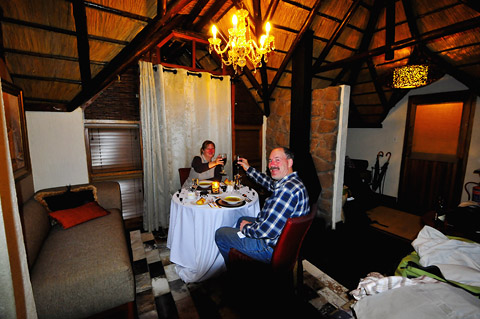 as we started our chocolate mousse desert we got up to look out the waterhole and there was a Brown Hyena walking past - got off some photos then back to eating desert.
At 5.45 am the next morning we had a another great sighting - lionesses walking across the plains in front of wildebeest towards the service road.
Our Pilanesberg Trip Report Summary
What made this a great trip to the Pilanesberg, was that Bart, Jacques and Shawn are all photographers so they understood how and where to park the vehicles so that we could get the best lighting for our photographs, and while we were photographing they were too, which was great.
There is also a good sense of Camaraderie between the various field guides at the different lodges. Here Bart is showing Shawn his lion kill pictures and Shawn was showing us her wild dog photos...
We see so many bored-looking safari guides, just sitting and looking into the distance while their clients are snapping away, so having other people who were as excited as us on the vehicle or in the camp added to our wonderful stay.
---
Return from Pilanesberg Trip Report June 2012 to Trip Reports

Return from Pilanesberg Trip Report June 2012 to K2K Home page
---
---

To make a safari rental booking in South Africa, Botswana or Namibia click here
---