Etosha Trip Report: October 2011, Part-1 - Halali, Onkoshi, Namutoni & Okaukuejo
We had been to Etosha in August 2011 but went again in order to experience the new Dolomite Camp and western Etosha.
October is a very good time to visit Etosha as the visitor numbers are minimal and the weather is warm. In addition there was hardly any roadkill unlike the busier months of July to September when you have many vehicles speeding around the park.
We spent 3 nights at Halali camp, 2 at Onkoshi, 3 at Namutoni, 1 night at Okaukuejo camp and 5 nights at Dolomite Camp.
Here are our Etosha trip report statistics:
• We travelled 5816 kilometers (Johannesburg to Etosha and back via the Trans Kalahari highway)
• Shot 13 583 photographs
• Took 88 video clips
• Temperatures varied from about 5 degrees Celsius on some mornings and nights to 34 degrees Celsius in the afternoons
And we had some amazing animals sightings:
• Lions - 9 sightings (1 at Dolomite camp)
• Elephant - plenty
• Black Rhino - plenty (1 at Dolomite)
• White Rhino - 2
• Cheetah - 3 (2 at Dolomite)
• Damara Dik-Dik - 1
• Hartmann's Mountain Zebra - plenty (at Dolomite)
• African Wild Cat - 1 (near Dolomite)
• Leopard kill in tree but no leopard! (near Dolomite)




We left JHB on the Friday afternoon the 15th Oct 2011 and stayed over at a place called Avanti in Zeerust. We do NOT recommend this place! We arrived and there was no one at reception - then when we eventually got to our self catering room.... there was no toilet paper, no soap/shampoo, no hot plate for self catering and no braai area, plus the kettle did not work. Then when we thought what else could go wrong they had a matric farewell in the hall right next door to our room!
The noise from the kids and the music were just too much, so we did not get a good night's rest for our 10 hour trip to Windhoek the next day. They do have a kitchen area but that was locked so we could not get hot water for our coffee the next morning so we stop off at a garage and asked them for hot water. What a start to the trip!
We arrived at the Hotel Thule in Windhoek for one night and much needed rest . Thule is wow in every factor, their dinners are always good and their breakfast packs are great. We left around 5.30am for our next leg of the trip to Etosha.
We arrived at Etosha at 9h15, then drove to Halali were we stayed for 3 nights. On our drive there we saw the damaged caused by a fire that had ravaged the park a few day prior to us arriving.
There were many carcasses of dead animals like this rhino and elephant...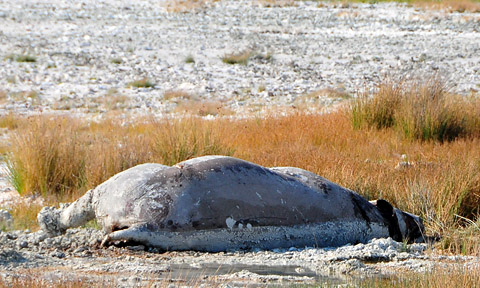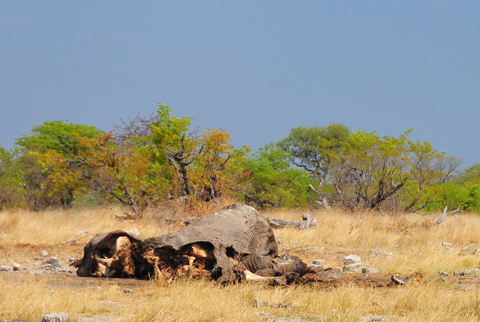 We had some great sightings: 5 lions around Salvadora,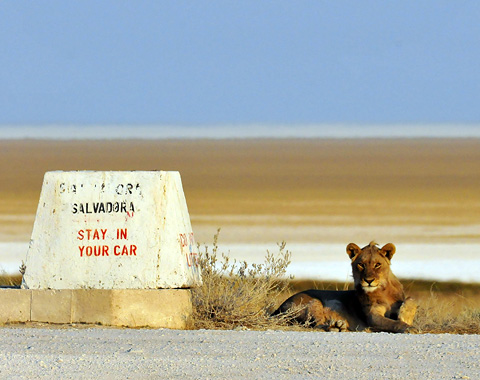 then that night we had elephant, rhino, cape fox, an owl and a honey badger at the waterhole...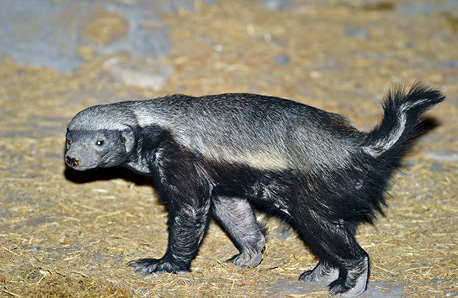 Day 2 we went back to Salvadora and found 11 lions with cubs trying to ambush springbok...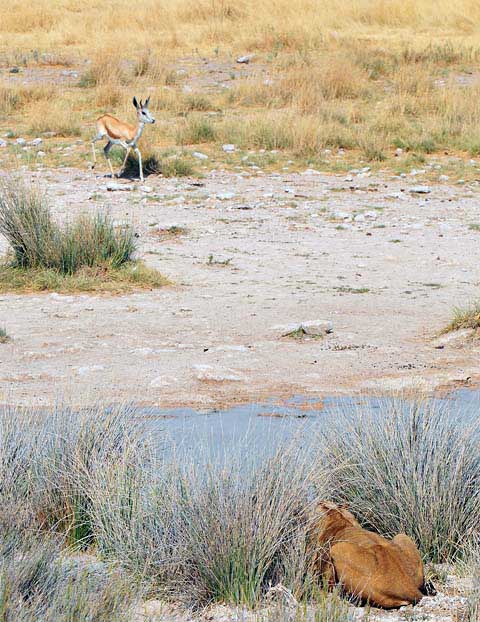 That night at the waterhole we had an owl that had caught a lizard. elephant, a cape fox and black rhino...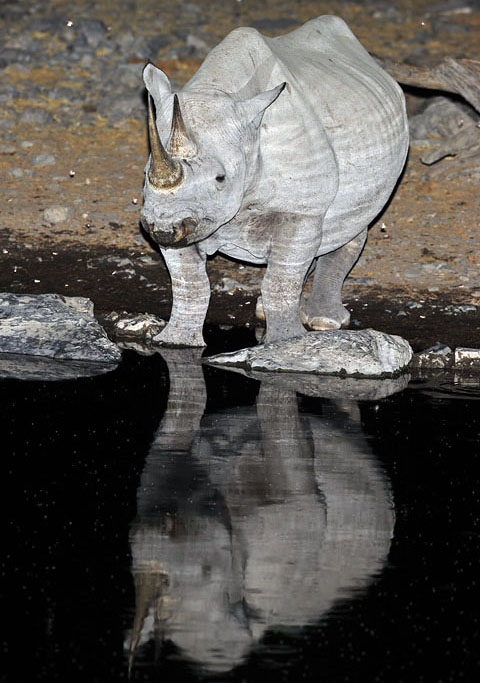 Day 3 we went back down to Salvadoa, Sueda and Charistaub and found the 3 lionesses with their 4 cubs walking in the road and the lighting was great, so loads of pics were taken.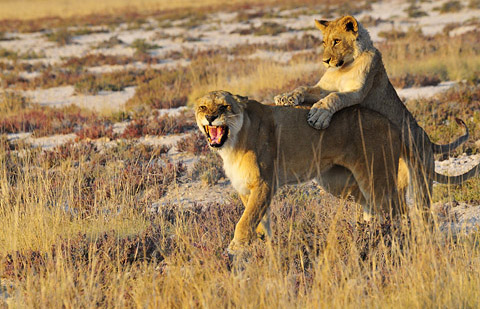 Went back to Halali camp for an afternoon nap only to be woken up by lots of smoke and people shouting. A fire had started at the camp site that was now in full blaze!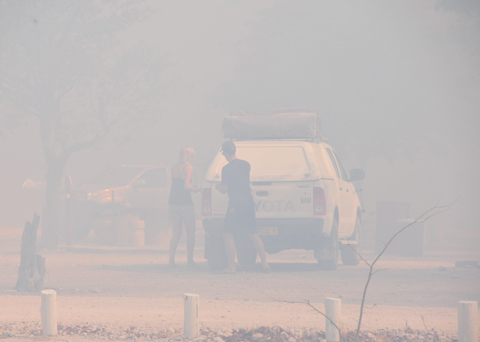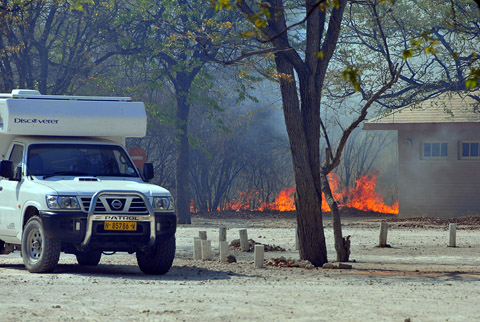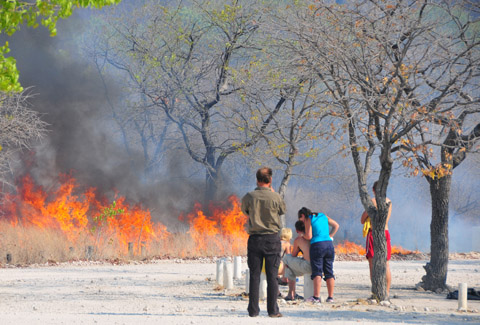 When things were under control we left for an afternoon game drive with some new friends we had met at the lion sighting at Salvadora waterhole the previous day. They had seen a mother Cheetah with her cubs that morning and we were going to see if we could find her again.
Mark and Kathryn drove the loop road and did not find the cheetah then she suggested we do the road again and bingo - we had found the cheetah!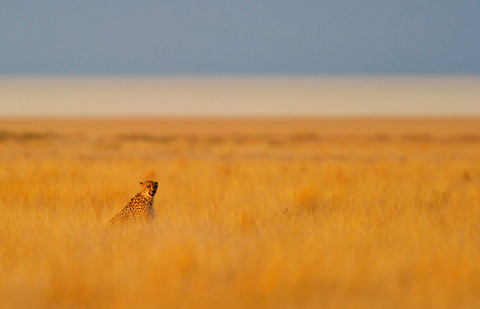 As a result of the fire that day, the floodlights at the waterhole had burnt down so Moringa waterhole was closed that night, so we went off to dinner at the restaurant with our friends Kathryn and Mark.


---
For self drive or guided safaris to Namibia & South Africa contact Your Safari
---
Days 5 and 6 were spent at Onkoshi. We had some great sunsets with Flamingos on the pan. Arrived at Onkoshi around 2pm and the pan still had water in it so there were lots of Flamingos and other water birds providing good photographs...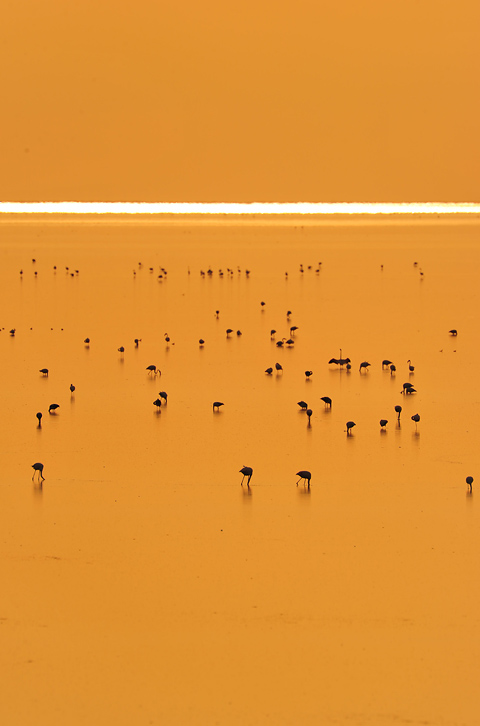 Not much in game only saw two Kudu bulls and a giraffe come down to drink at the pan. The food and service were great, but far too expensive for what you get when it comes to the rooms. No air con and no kettle so you have to ask them to bring you hot water for your coffee in the mornings. The staff have loads of stories to tell and were great fun. Very nice camp but very much overpriced.



Days 7, 8 and 9 - Namutoni. The rooms are far away from the car park so you have to get a porter who pushes a trolley with your luggage over a wooden walk-way that makes a big noise. Not our favorite camp but we enjoy the evenings in the fort with the burning bins...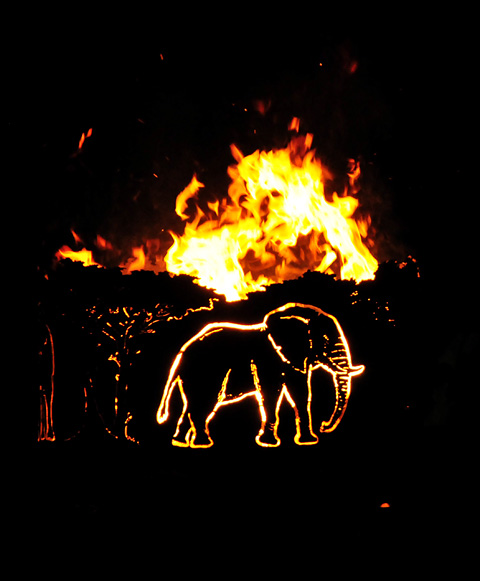 Took a drive to Klein Namutoni water hole and saw a pair of Damara dik dik...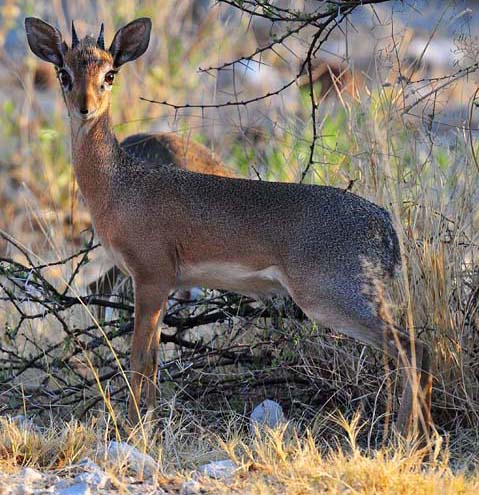 The waterhole was full of sea gulls and Giraffe, now that's a different sighting.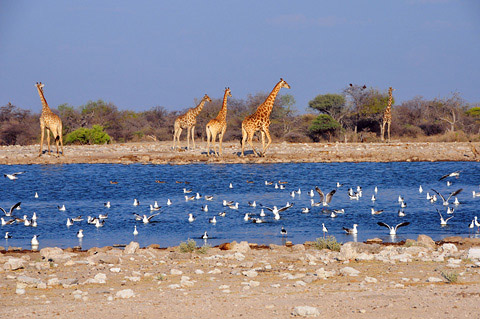 We also went looking for the lions at Chudop, that Mark and Kathryn had told us about and we found them on the side of the road going up to the water hole. They had been there for about 3 to 4 days with the male lion going into the waterhole to lie in the reeds in the middle of the water whole.
Had a wonderful braai with Kathryn and Mark that night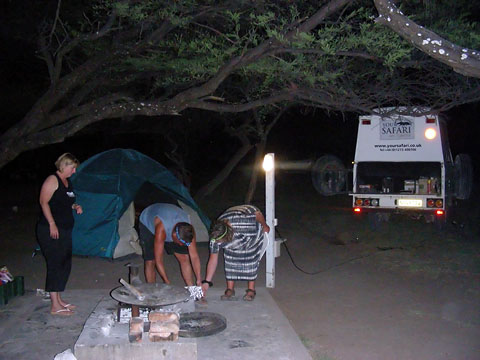 The next day we went on a guided safari with Kathryn and we saw:
a large herd of elephants, 3 adult black rhino with a very small calf...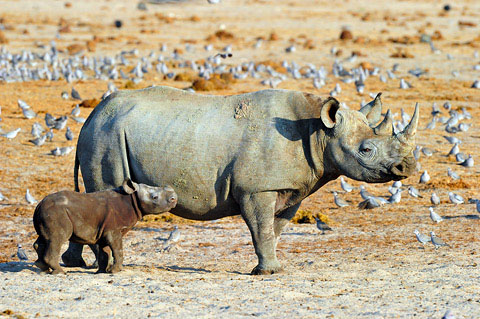 Lions on an elephant kill...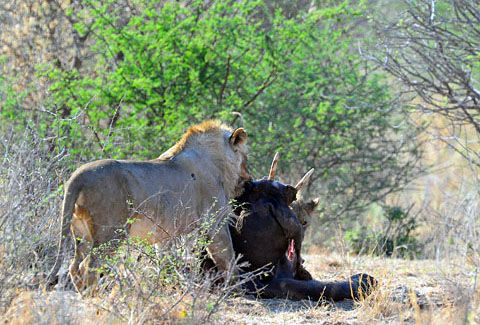 A white rhino...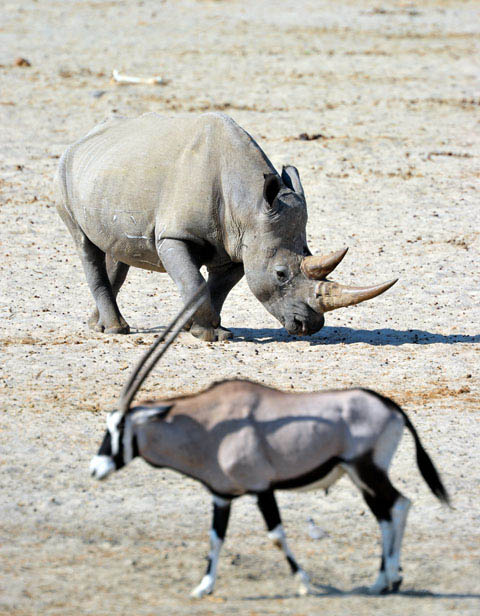 Fighting zebras...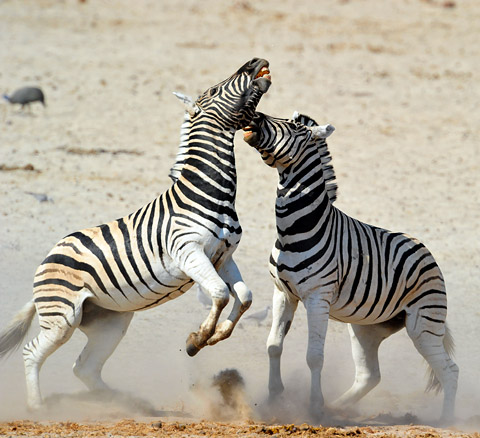 Eland...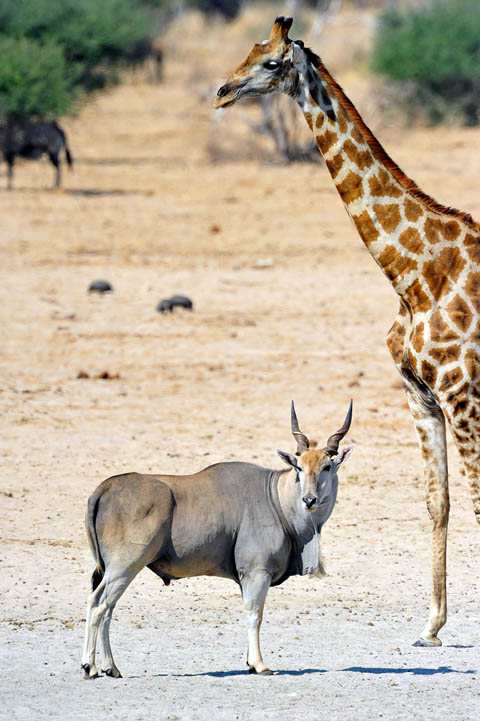 All of that in just one morning - Kathryn knows her stuff!
We don't normally recommend guided safaris but we thoroughly enjoyed the safari with her and we took hundreds of photographs of exciting animals in good light - what more could a person ask for!?
That night we had dinner at the Namutoni restaurant to celebrate our successful day's photo safari...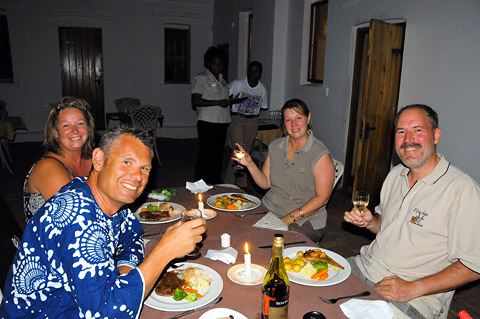 If you would like to enquire about Kathryn's services you can contact her via her website, YourSafari.co.uk

She offers either self drive or escorted safaris to Southern Africa.

Day 10 saw us leaving for Okaukuejo for 1 night. we saw two lots of lion and plenty more game at Okondeka, with lions hiding in the grass to ambush them...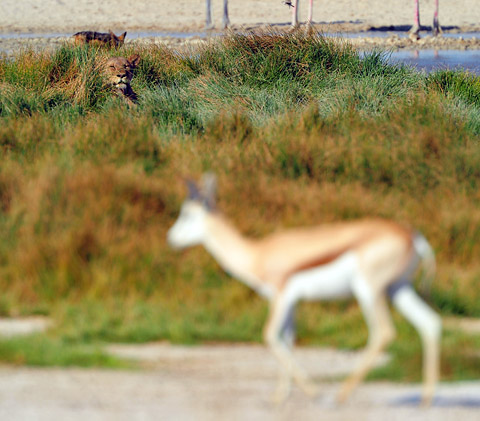 We had dinner at the wall and saw a few elephants and black rhino but early the next morning we saw lions at the camp waterhole...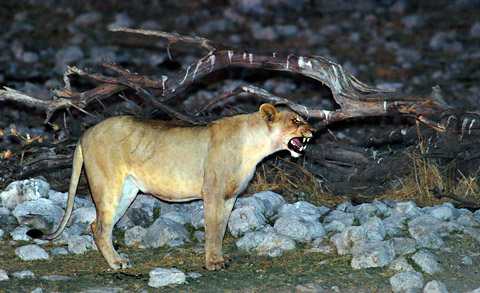 The next day we left for Dolomite camp in the previously unexplored western Etosha...
Please click here for part 2 of our Etosha trip report.
---
Return from Etosha Trip Report to Trip Reports page

Return from Etosha Trip Report to Kruger-2-Kalahari home page
---
---

To make a safari rental booking in South Africa, Botswana or Namibia click here
---