Guided Safaris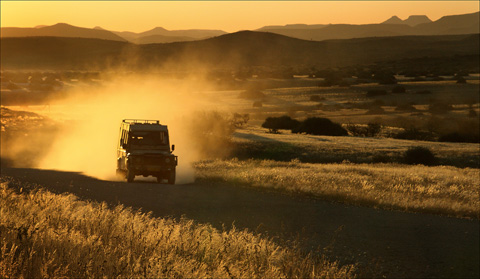 As you would have picked up from this website we are generally not fans of guided safaris, especially if your primary goal is wildlife photography.
This is because the safari field guide is the person who can make or break your photo safari!
There are, however, a few exceptions where we had very productive and enjoyable guided game drives but these are not the norm. We realize, however, that there are people who would prefer one of these safaris (where everything is taken care of for them) or who want to do self drive but would like the bookings (hire car, accommodation, flights etc.) done for them.
If you are one of these people and you intend visiting the Kruger National Park we can highly recommend Armand Grobler of Rhulani Safaris. He provides Big Cat Photographic Safaris to places like the Sabi Sands, Timbavati, Manyeleti and many other southern African reserves.  
Manyeleti Big Cat Photographic Safaris!
---
And you intend visiting Namibia, then we can highly recommend YourSafari.co.uk.

Why do we recommend YourSafari.co.uk for Guided Safaris in Namibia?
We have been on well over 150 guided game drives and most of them were not enjoyable. In some cases the safari field guide had knowledge but little experience or they had knowledge and experience (about nature) but they were clueless about photography, or if they had photographic knowledge they were lacking in people skills and so on.
Your safari guide is a crucial element of the success of your general safari experience and a great guide can make all difference.
We met Kathryn, who owns YourSafari.co.uk by accident. We were in Etosha in Namibia and had arrived at Salvadora waterhole to photograph lions. A whole lot of safari vehicles were parked in the road, close to where lions were walking, where their guests were photographing directly into the sun.
We noticed that Kathryn was parked away from the other safari vehicles and she was at the waterhole. She had anticipated that the lions were on their way to drink and she was ready to shoot them with side-lighting or front lighting.
We spent an exciting morning watching the lions set up ambushes in prime spots while the other safari vehicles had to make do with positions behind bushes and further away from the action.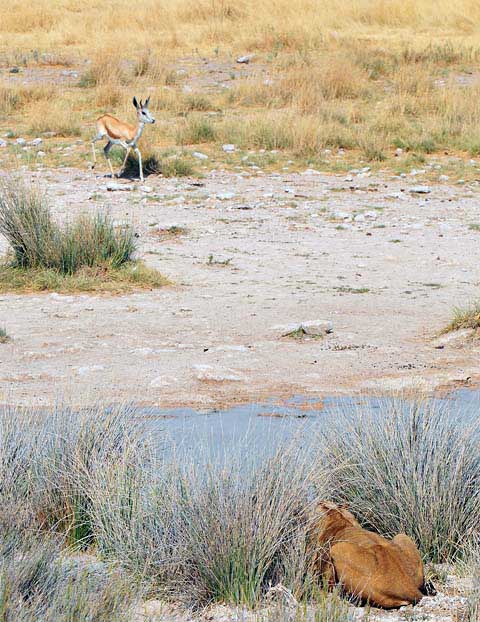 The next day we left Halali camp to go and find these lions. We passed Kathryn's vehicle and arrived at Salvadora where we found the lions and photographed them in great early-morning lighting. We kept watching out for Kathryn but did not see her.
Later that afternoon we met up with them in Halali camp where a fire had broken out that was entertaining the guests! We saw them watching the flames and asked what happened to them that morning and the answer was, "Oh we found a cheetah mother with two cubs that we photographed for nearly 2 hours!"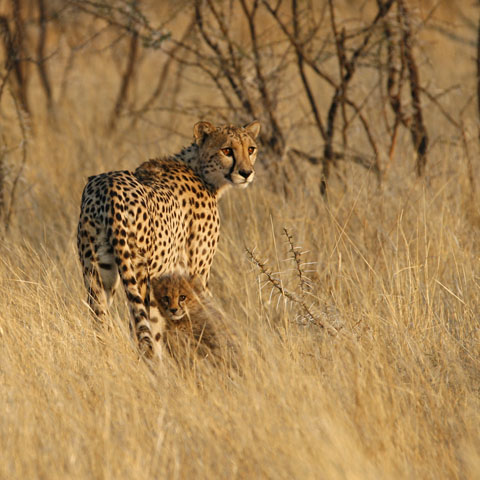 If you have been to Etosha you will know that finding a cheetah is not easy - this is a very rare sighting!
That afternoon we followed them back to the spot where they had seen the cheetah but she was not there. At the end of the road Kathryn suggested we go back to camp by travelling the same road a second time, which is a sure sign that she knows her stuff. We turned around and after a few minutes she had spotted the cheetah mother with her two cubs and a kill!
A few days later we met up with Kathryn at Namutoni camp where she took us on a guided game drive and we got to see 3 black rhinos with a calf, a white rhino, herd of Eland (both rare sightings in Etosha), a lion pride with an elephant kill, fighting zebras and a huge herd of elephants - all in a morning!
You can check out these photos on our trip report page.and you can also read Wayne Duke's trip report when he went on a guided safari to Etosha with Kathryn.
He called this experience "one of the highlights of my life"!
You can read more Here


What makes YourSafari.co.uk different?
• Kathryn is an independent Tour Operator based in the UK and she specializes in small group self drive and guided safaris to Southern Africa. She offers self drive and escorted tours from budget to luxury and everything in between, including photographic and birding safaris.
• She is a fully qualified safari guide who will help you maximise viewing and photographic opportunities. There is no 'guide-swapping' as you move from camp to camp - Kathryn is with you from start to finish.
• Kathryn is passionate about Africa and she knows the parks and countries she travels in, especially Namibia.
• Flexible Itineraries – we believe that YOUR safari should be exactly that...YOURS! If you don't want to be stuck on a bus with people you don't know on someone else's itinerary – then don't – it's Your holiday after all
• There are only 3 photographers per tour – this guarantees window seats on both sides of the vehicle.
• She uses a 9-seater land cruiser with full sliding windows and pop up roof or 10-seater minibus for a maximum of 3 photographers.
• Many of her clients choose to self drive so she will do all the travel bookings for them but some prefer to take Kathryn along for their own peace of mind, her local knowledge and guiding skills – not to mention that she prepares the food and does the driving, leaving them free to photograph lions and rhinos or just relax!
• Kathryn is a wildlife photographer so she understands what to do when an animal is sighted so that you get the best vantage point for your photographs!


Who else uses YourSafari for Guided or Self-drive Safaris...
Kathryn has safari clients from the USA, Europe, Africa and Australia but one of her more well-known clients is Stanley Johnson, who is a British politician, author of ten books and a noted expert on environmental and population issues.
He has traveled the world and when he goes on a guided safari in Southern Africa he chooses YourSafari and Kathryn Haylett - shouldn't you?
So if you intend visiting Namibia Kathryn can ensure your self-drive or guided safari is superb!
To learn more about YourSafari.co.uk please visit Kathryn's website or read the article in BBC Wildlife Magazine that featured Kathryn and YourSafari.co.uk.
If you would like to contact Kathryn please send her an email
---
Return from Guided Safaris to Self Drive Safari page

Return from Guided Safaris to Kruger-2-Kalahari home page
---
---

To make a safari rental booking in South Africa, Botswana or Namibia click here
---