The Creative Process in Nature Photography
After reading a few photography blogs I have noticed comments like...
"I have several of the most recommended books, like Developing Vision & Style, which is great, but it focuses on film and photographic theory and technique and does not really get to the heart of how I can really develop vision and style."
Firstly, David duChemin, in his book The Vision-Driven Photographer, stresses that vision and style are not the same thing...
Vision is often mistaken for style. Vision is not style any more than a horse is a cart. A consistent, ever-evolving personal style is the outcome of becoming more aware of our vision, both personal and photographic, and of becoming better at our craft.
As our craft grows in its ability to express our vision, our style becomes more and more a reflection of who we are. Style comes as years of making photographs narrows down the subjects we want to pursue and the ways in which we want to photograph those subjects.
Style is not contrived, it's an intentional and natural result of the ongoing journey of discovering and expressing our vision.
Our style then, develops over time and is a natural progression that we should not be chasing. Instead we should be honing our vision.
Secondly, it's the creative process that links vision to the end photograph that hopefully expresses your vision. Your creative process is simply the unique way in which you put the Five-P's together to give you your vision.
Summary of the Five-P's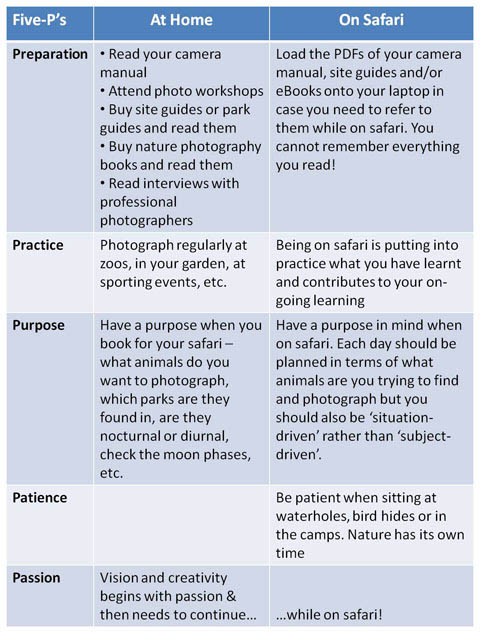 To recap, Preparation and Practice must be done at home before you go on safari or travel to expensive destinations.
Photographing on safari can also be considered 'Practice' but if your safari is a once-in-a-lifetime event, you will not be getting a second chance to correct your mistakes. Rather do the bulk of your practicing at home and then just make minor tweaks to your technique while on safari.
Then you must have a Purpose in mind before booking your destination - if you want to shoot as many mammals as possible, filling up your CF cards every day, then you should be going to Etosha in winter. If you want to photograph birds and wildflowers then you should be going to the Kruger Park in Summer and so forth.
Then each day while on safari you should have a purpose in mind.
For example, if you are a landscape photographer you should research the scene and weather patterns a day or two before and think about what you want to say with your photograph. This is when you decide on what lens, f-stop, filter, and shutter speed to use. In addition you will need to decide on what angle to shoot from, whether to shoot in portrait or landscape, will an intimate landscape be more effective than a wide vista etc.
Then you need to get to the site before the sun rises and set up. If you are shooting the setting sun don't pack-up when everyone else does - the best sky color tends to come after the sun has disappeared!
You should also try to be 'situation-driven' and not 'subject-driven' - if you want to photograph a leopard but you come across a fish eagle hunting and the light is good - please stop and enjoy the fish eagle and make your photographs.
If you rush by the fish eagle and other opportunities, you may end up going home with no photos or photos of leopards and lions in the harsh midday sun - no-one will want to even look at those photographs let alone buy them!
This is where Patience comes in - nature has its own time and you will get to see and photograph much more if you spend time at a bird-hide or waterhole instead of just looking for a few seconds and then moving on.
Lastly your Passion will keep you motivated and disciplined in terms of the other P's. If you are not excited about nature photography you will tend to sleep in, miss the good light and return home with no photographic trophies.
Developing your Creative Process and Vision
To summarise, the successful combination of your gear and vision is what will ensure you become a better photographer.
The various cameras, lenses and accessories needed for nature photography have been discussed on the gear pages.
We have also discussed Vision in terms of the Five-P's and then shown how the Five-P's converge to provide you with your creative process.
The next step for you will be to evaluate your vision and see if your creative process is working or not.
You should:
• Enter some photographs into photography contests. You get the big contests that most people know about but sites such as BirdPhotographer.net also have an 'image of the year' where you could win a place on one of Arthut Morris' workshops!
• Participate in photo challenges to stimulate your thinking and creative process. PhotographyBB Magazine has a monthly photo challenge that is worth looking into
• Upload some of your photos to photo critique sites such as BirdPhotographers.net where professionals such as Arthur Morris will critique your shots.
• You should also choose a narrow focus area - what excites you in nature photography? Is it wildlife, birds, macro or landscape photography? Your vision will progress much quicker if you specialise in one small area.
• Evaluate other phtographer's work - see what you like and dislike about their photos. Think about what their photograph is communicating to you and how it makes you feel, then translate this into your photos
• If you admire a photograph then try and emulate it. Some people have said 'No, you must find your own style!'. The way we found our style was to copy professionals and then progress from there. It is not easy to copy someone else - it is a challenge!
Once you are able to emulate another person's photograph you can then move from the cliché photographs by experimenting and so come up with your own unique style.
---
Entering nature photo competitions is a way to progress but it will not provide you with feedback - you will only know whether you won or not, while photo critique sites will provide tons of feedback but some people don't take kindly to criticism.
If you want honest feedback these critique sites are for you but if you are easily offended keep away from them.
You don't have to do all of the above - they are just suggestions. Choose the ones that most appeal to you.
---
"Remember, gear is good, but vision is better. The best photography tools at your disposal are patience, curiosity, and the growing ability to see the world in new ways."

- David duChemin
---
Return from Creative Process to Photographic Vision page

Return from Creative Process to Kruger-2-Kalahari home page
---
---

To make a safari rental booking in South Africa, Botswana or Namibia click here
---