Wildlife Photography Tuition (Preparation)
Picture This...
...We are sitting at the waterhole at Halali camp in Etosha - it's about 20H00 and a leopard has just strolled out of the bush and is drinking. Cameras are clicking away, flashes are going off, photographers are focused on the subject and there is much excitement...when all of a sudden a women walks up to me and thrusts her camera into my hand and says "please will you show me how to operate my camera"!
Here she is with an opportunity of a lifetime (we had been chasing this leopard for three years and now finally had just seconds to get our shots) and she doesn't know how to use her camera!
I think the leopard drank for about 20 seconds before going back into the bush and I managed to get just 8 shots of which one was sharp. The poor lady ended up with no photographs simply because of a lack of preparation or more basically, a lack of wildlife photography tuition!
'Preparation' forms part of the Five-P's of photographic vision that can, if taken seriously, take your photography to the next level.
Here then are our suggestions on how you can ensure you are not in the same position as this lady when you go on your African safari...
1. Read Your Camera Manual!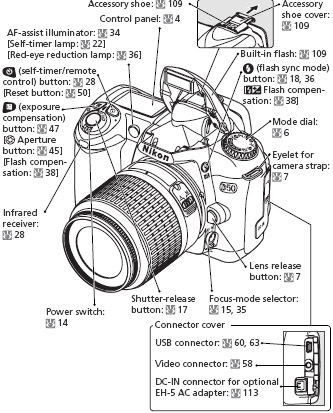 Wildlife photography tuition begins with reading your camera manual - we cannot stress this enough!
When you purchase your new camera you get a manual and Nikon South Africa offers free training vouchers with most of their entry-level and consumer bodies. This training is to familiarize the new owners with their camera bodies. They will learn basic camera functions and how to get the most out of their new camera.
My friend Howard bought a new Nikon D5000 and he attended the free Nikon course. He was very happy with the course content as he, being new to photography, now understands how his camera operates. The rest of his group, however, were not happy as they expected the course to teach them how to take better photos.
I think this is why so many wildlife photographers are disappointed with their photographs - they do not want to read their camera manual or learn how their camera works - they expect to simply pick up the camera, look through the viewfinder, click the shutter button and get WOW photos!
Wildlife photography tuition starts with reading your camera manual.
It's like a person wanting to drive a vehicle but they don't want to know how the vehicle works (the pedals, gear-stick, dash dials, steering wheel etc. that all work together to propel the vehicle) yet the driver needs to know this in order to get the vehicle effectively and efficiently from one point to another.
Even in sport, the best golfers and tennis players start with the basics - only when they start getting a big head do they forget the basics and then they tend to drop in rankings. This applies equally to photography - learn the basics and then build upon this foundation.
You don't read your camera manual from cover to cover as it's not a novel! The manual has a lot of information so what you need to do is break the information down into digestible chunks:
1. What you already know - obviously skip these sections.
2. What you need to know right now - read this now.
3. What you need to know a lot of the time - read these sections next.
4. What you need to know some of the time - read this at a later stage.
Then take your manuals with you - if you have a problem while on safari and you don't have your manual how will you resolve it?
Your camera manual is the foundation of your Wildlife Photography Tuition so please don't skip this important first step.
If you are like us you will have a large pile of manuals, for the different camera bodies, lenses, flashes and other accessories! This can take up a lot of space so rather download them as PDFs to your laptop and take your laptop with.
There are a few places you can download manuals from:
Nikon

Nikonians

Or simply go to Google and type in "manual download pdf" with your make and model, and you will get a whole host of sites for you to choose from.
Once you understand your camera then you should start looking at specific wildlife photography tuition such as books, photo workshops and site guides or park guides.
2. Photo Workshops
The next stage of Wildlife Photography Tuition are Photo workshops or photo tours, which are offered by many professional nature photographers such as Todd Gustafson, Daryl Balfour, Jim Zuckerman, Mike Moats, Arthur Morris, Moose Peterson and Alan Murphy to name a few.
These workshops can be expensive, from between US$4 000,00 to over US$12 000,00 per person, depending on the duration and the destination. These prices exclude flights, tips and drinks.
If you have this type of money go for it - you cannot beat hands-on wildlife photography tuition, especially with the above photographers who ensure that you have only 3 or 4 people in a safari vehicle and you get personal tuition from the world's best.
These photo tours are geared for different levels of photographers but not for beginners - students need to know the basics - how to handle their cameras, understand exposure etc.
3. Site Guides or Park Guides
The next best thing to attending a photo workshop for wildlife photography tuition, and at a fraction of the price, are Site Guides or Park Guides.

These guides are great for beginners through to professional photographers. They are eBooks that are dedicated to one 'site' or national park so they provide specific advice and not just general advice.
What tends to happen is that you arrive at a destination or site and then you waste several days getting to learn the hotspots and by then it's time to move on to the next camp. These guides will prepare you so that with a bit of study you will be able to photograph from when you arrive.
Included in the site guides are shooting strategies for different areas & camps, specific time of day, light direction where to go when, expected subjects, and knowing what equipment & techniques will be most effective.
We compiled our first site guide for Etosha National Park, the second for the Pilanesberg National Park and our third for the Kgalagadi Transfrontier Park.

Please click Here to see how our photography improved after many years of trial and error and how you can save yourself some pain by investing in a site guide / eBook that will dramatically improve your chances of getting great photographs.
You will also see how other people 'got the shot' by following the advice provided in the Photographer's Guide eBooks.


Site Guide (eBook) Resistance...
Arthur Morris is the world's premier bird photographer and he sells site guides (eBooks) for all his favorite bird spots. He has sold many site guides to smart photographers who understand their value in terms of effective and affordable wildlife photography tuition but he also gets what he calls 'site guide resistance'!
Here is an extract from his Birds As Art Bulletin #354, dated January 01 2011...
"I just love that folks with $10,000+ worth of camera gear will take time off of work and spend a week's salary on traveling to a great place to photograph but will refuse to purchase the BIRDS AS ART Site Guide ($50) for their chosen location.
Our Site Guides are designed to teach you everything that I know about a specific bird photography hotspot - hotspots that I have been visiting for ten to twenty years. In short, they are like being on a photo tour without having me there.
In any case, a few weeks back in a post on BPN, a member mentioned that he would be making his first trip to Bosque. Never being shy about marketing, I suggested that he get a copy of our "Bosque Site Guide." He responded, "No need. I have been doing lots of research on line with other photographers. I'll be fine."
I came back and said, "Good luck. You would be much better off with your guide than with your research. I have been visiting Bosque for 16 years and I hold nothing back." And that was the end of the conversation.
Two weeks later I see another photographer post a very nice "fire in the mist" image from Bosque.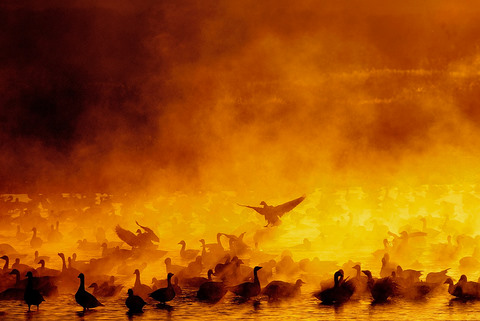 He says, "I did just what Artie said to do in his Site Guide. We started here at dawn and the moved quickly after the blast off. On the way past the small pond that Artie mentioned we noticed the ground fog just where he said it would be. So we parked and waited a few minutes for the sun to crack its way over the ridge. Bingo; it was as if someone tossed a lighted match on a pool of gasoline.
Without the BAA Site Guide we would have driven right by it without stopping. Five minutes later we were on our way to Artie's next recommended stop to enjoy some great Sandhill Crane flight photography".
Now the first guy comes back and posts that the second guy was "really lucky" to get fire in the mist. He writes that he was there for a whole week and never saw any fire in the mist. So I shot back, "He was not lucky; he was smart. He bought our Bosque Site Guide, studied it, did what it said, and found tons of great opportunities including the one that everyone thirsts for." Just as I planned it....
As I often say, "You gotta love it."
4. Wildlife Photography Books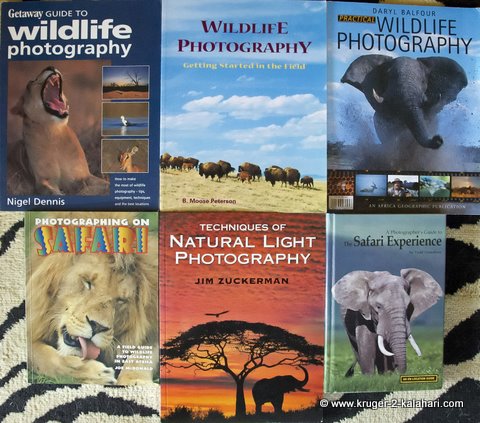 Wildlife photography tuition can be done in the comfort of you home with books. There are nature photography books for all levels of photographers from beginners to intermediates to professionals. Yes even professionals still learn! Take Tiger Woods - when he was the number-1 golfer in the world he still trained.
"He is the best student I ever had. He is like a sponge- he soaks up information, and he always wants to learn and get better". - Butch Harmon (Tiger Wood's ex-golf coach)
If the best player in the world realises that he still needs to learn, then how about you...?
You don't have to be fanatical about photography but you need to at least learn the basics and then build on that foundation.
5. Read Wildlife Photographer Interviews
The most cost-effective wildlife photography tuition has to be reading interviews of professional photographers online!
We have interviewd some of the best professional nature and wildlife photographers in the world. These are people who are passionate about their craft and are equally passioante about helping others improve.
The interview questions are very specific to those photographers and their answers provide 'diamonds' for those of you wanting to learn!
These photographers are the people Jenny and I learnt from - we bought some of their books when we first started out and they provided us with our foundation.
In case you were wondering they shoot with Canon and Nikon equipment, the two most popular photographic systems in the world.
You can read their informative interviews here.

There are many options open to you in terms of obtaining the most relevant wildlife photography tuition to suit your budget and circumstances.
Your preparation must start at home - you cannot expect to come on an African safari not knowing how to use your equipment and not understanding composition, exposure and different lighting situations.
The key is to start with these basics and then progress from there via the different wildlife photography tuition options that are most appropriate for you.
---
Return from Wildlife Photography Tuition to Photographic Vision page

Return from Wildlife Photography Tuition to Kruger-2-Kalahari Home page
---
---

To make a safari rental booking in South Africa, Botswana or Namibia click here
---