Sigma 150-600mm lens review
We received our Sigma 150-600mm F5-6.3 DG OS HSM Sport lens on Wednesday 29th October 2015, just a week before we left for our Madikwe safari, so thank you Tudortech (the Sigma agent in South Africa) for making this happen so that we could do this Sigma 150-600mm lens review!
Being wildlife photographers we don't believe in static testing but rather real-world action captures, so those are the images you'll see here...

Nikon D3S with Sigma 150-600mm lens @ 600mm. f6.3, ISO 12800, 1/1250 sec
Sigma 150-600mm Lens Review – about the lens
The lens weighs 2.9 kilograms and as a result comes in a box with a handle!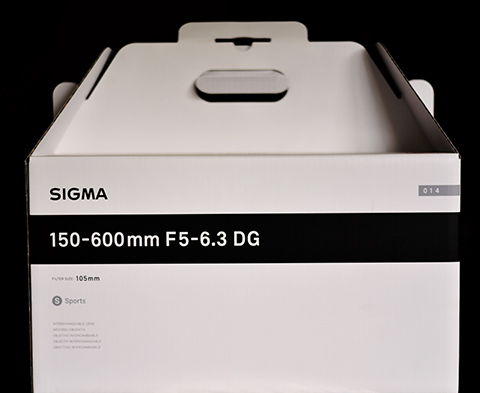 Even though it is heavier than most other zoom lenses, it is still manageable on game drive vehicles and on self-drive safaris, whether using a beanbag, monopod or hand-holding.  
It comes in a black zip-around semi-soft case with padded strap and you get another strap should you wish to sling the lens over your shoulder. The semi-soft case fits just the lens but we prefer to travel with the body attached to the lens so fortunately the lens and Nikon D3S body fit in my Lowepro Photo Trekker…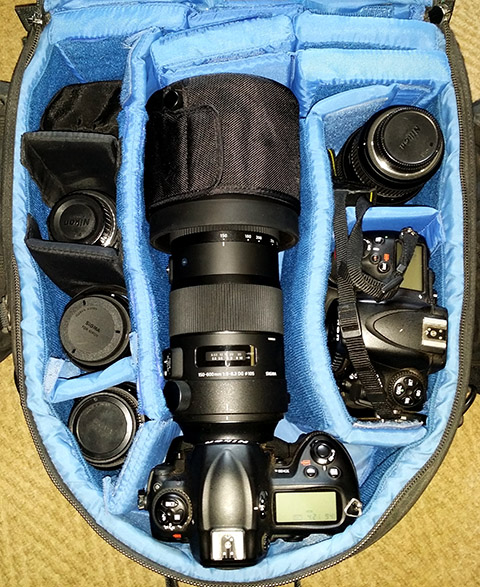 It comes with both a plastic snap-on lens cap and a cloth 'bucket style' lens cap, similar to the ones that are on the Nikon 300mm f2.8 and 600mm f4 lenses while the hood is made of what looks like rubberized sturdy aluminium – much better than a plastic hood.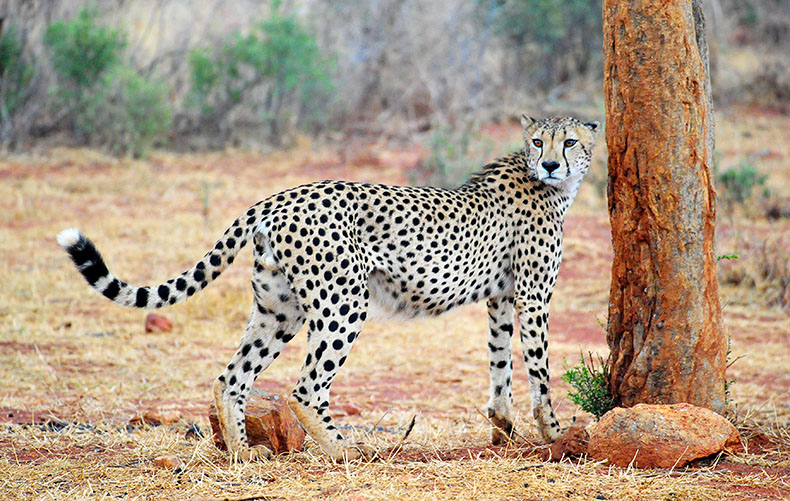 Nikon D3S with Sigma 150-600mm lens @ 220mm. f6.3, ISO 12800, 1/800 sec
The zoom locks 'hard' at 150 mm for transporting it as gravity does encourage zoom creep, whether holding the lens up or down.
The lens then locks 'soft' at 180, 200, 250, 300, 400, 500 and 600 - corresponding to the markings on the lens barrel. 'Soft' simply means that you can unlock the lens just by firmly pushing, pulling or twisting the barrel - you don't have to let go to find the unlock switch, which is a great feature.  
The Optical Stabilization (OS) works very well and makes no sound, unlike the grinding noise on our Nikon 80-400mm AFS VR lenses. There are two OS modes:
OS 1 is the equivalent of Nikon's "active" VR mode, meaning that the lens compensates for horizontal and vertical motion while OS 2 is to be used for panning horizontally as it corrects only vertical motion.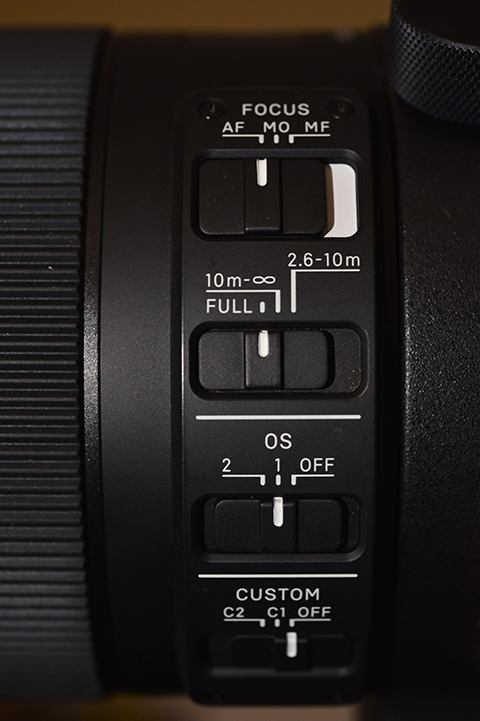 I used the lens on a tripod at Etali Safari Lodge and the tripod collar worked very well, producing sharp images at 600 mm with the OS off. (I did add my old Wimberley Arca plate that I used to use on my Nikon 600mm f4 lens to the foot but more on this later).  
AF is accurate, silent and fast – obviously not as fast as my prime lenses but much better then the Nikon 80-400mm AFS lens. The Nikon 80-400 used to hunt about 20% of the time but the Sigma had minimal hunting, even with the Sigma 1.4x TC.
If your subject is very close or far away you also have the option of using the focus limiter switch, which will assist with speed and accuracy.
Nikon D3S with Sigma 150-600mm lens @ 600mm. f8, ISO 6400, 1/400 sec
I found the lens to be sharp from 150mm through to 600mm, even wide open.
Yes, there is some minor vignetting in the corners but stopping down to f8 or f9 should alleviate this. Alternatively you could use Photoshop to remove the dark corners or simply crop your image - most wildlife and bird photos are cropped anyway.
I am using a full-frame Nikon D3S body but if you are using a crop-sensor body, such as the Nikon D7100, there should be little to no vignetting. 

Nikon D3S with Sigma 150-600mm lens @ 600mm. f8, ISO 2200, 1/640 sec
The bokeh is very good for a zoom lens, producing pleasant blurred backgrounds. 
Manyeleti Big Cat Photographic Safaris!
Sigma claims the lens is weather-proof so we tested it on a few rainy game drives and we picked up no problems.
(We also had an elephant spray the lens with sand and water while at The Bush House underground hide in Madikwe plus the lens fell off the seat of the Buffalo Ridge game viewing vehicle while it was being jacked up to repair a puncture - neither event had any adverse affect on the lens! The lens fell onto the lens hood, which is metal and not plastic).  
Because the lens lacks a wide aperture you will be shooting with higher ISOs so the camera body you choose is important and I found the D3S to be a perfect fit for the lens, especially for low-light situations. I shot this black-backed jackal with pup at ISO 12800, well after the sun had set.

Nikon D3S with Sigma 150-600mm lens @ 600mm. f6.3, ISO 12800, 1/125 sec
Some photographers have complained that Sigma put the zoom ring towards the end of the lens and the focus ring towards the camera body but I think this is better.
I don't intend to do much manual focusing with the lens as AF works like a charm, even with the 1.4x TC, so I will be doing much more zooming and the hand's natural resting position should be near the zoom ring. At 150mm your hand could rest comfortably on either the focus ring or zoom ring.
(The Tamron 150-600mm lens also has the zoom ring towards the front of the lens so I don't know why some photographers are complaining about the Sigma lens.)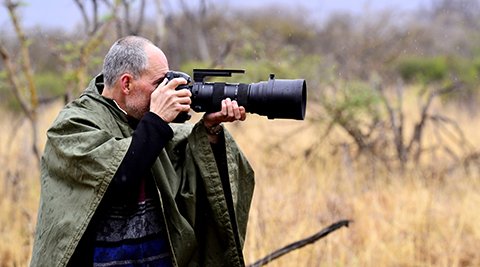 Here is a photo of Paul, our field guide while at Jaci's Tree Lodge in Madikwe, and you can see that his hand is resting halfway along the lens, providing good balance, and he is able to zoom quite easily. If the zoom ring was further back and the lens fully extended to 600mm the zoom function would then be very clumsy.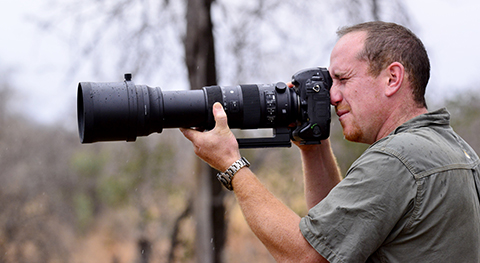 What can be confusing and takes getting used to, for Nikon shooters, is the zoom direction – on Nikon lenses the zoom-in direction is to your right and zooming out to your left but on Sigma lenses (and Canon zooms) it's the opposite. 
Should you wish to get the eBook, click on the above book cover, then click 'Add to Cart' where you'll see a button called 'Add Promo Code'. Click on it then add the word K2K and the 33% discount will be automatically applied. This code is valid until the end of the month, so don't delay!


"This is an indispensable guide to getting the best out of Kruger, camera in hand or not!"

- Caroline Webb, Associate Editor, Getaway Magazine, South Africa
Sigma 150-600mm Lens Review – accessories
I added my old Wimberley P-50 Arca-Swiss style lens plate, which I used to use on my Nikon 600mm f4 lens, to the foot. This extends the foot by an inch and a half and is important for two reasons:
1. When using a gimbal head you will need to reposition the lens as you zoom in or out and, being a heavy lens, you will need the extra space on the foot for sliding the lens to get to the optimum balance point.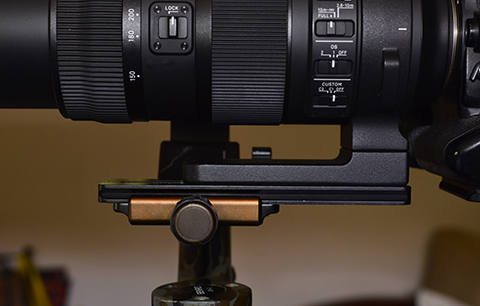 2. For nocturnal shooting we use a flash bracket that attaches to the lens foot so again the extra inch and a half is important for placement of the flash bracket.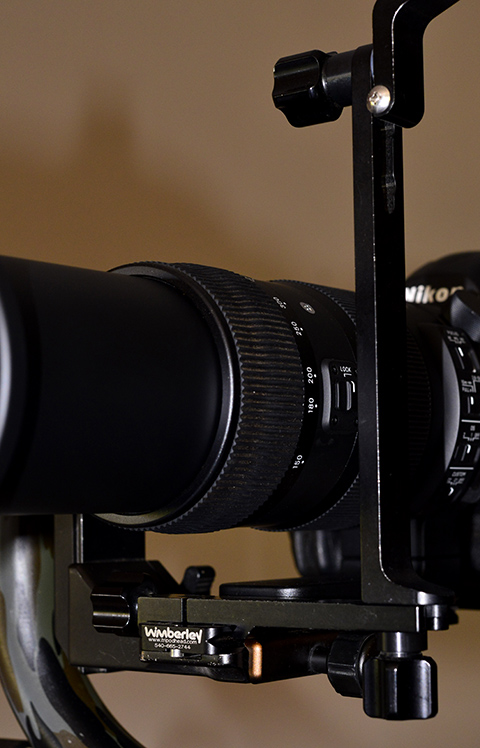 Nikon D3S with Sigma 150-600mm lens @ 450mm plus Nikon SB900 flash. f8, ISO 6400, 1/60 sec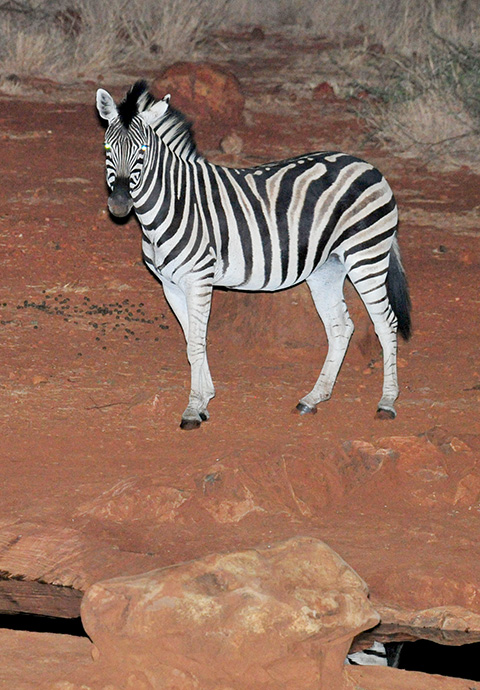 Nikon D3S with Sigma 150-600mm lens @ 350mm plus Nikon SB900 flash. f8, ISO 6400, 1/60 sec
I used the Sigma APO Tele Converter 1.4x EX DG on the Sigma 150-600mm lens and it worked well – no hunting and sharp images, considering the light was not great. 
This leopard was photographed at 09h00 and we were facing North West so we had to make the best of this situation!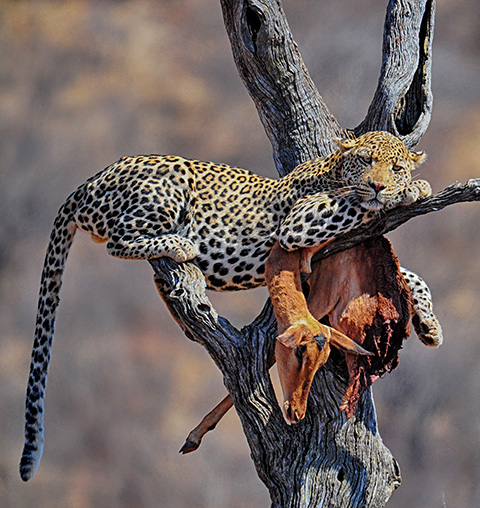 Nikon D3S with Sigma 150-600mm lens plus 1.4x TC @ 850mm. f9, ISO 1600, 1/1000 sec
There is a new Sigma Tele converter TC-1401, which we will be comparing to this old one when it is released.  
Sigma 150-600mm Lens Review - summary
We spent 6 hot, dusty and wet days on safari in Madikwe and I'm very happy with the Sigma 150-600mm lens - it's everything I wanted in a super-telephoto safari lens and more!
If I was rating the lens out of five stars I would give it the full 5-stars and I don't find the weight a problem - if it was lighter I would be worried that poor quality materials were used! 

The conditions in Madikwe seemed to cause our Nikon 80-400 AFS lenses to malfunction therefore this was the ideal testing ground for the new Sigma lens.
Do we miss our old 300 f2.8 and 600 f4 Nikon lenses? Not really – they served their purposes at the time but our style of photography has changed so that we now need the flexibility and maneuverability of a sharp zoom lens, the reach of 600mm but do not want a cumbersome and heavy 600mm prime lens and the Sigma 150-600mm sport lens solves all these issues beautifully.
We were back in Madikwe on safari in January where we subjected the lens to more tests for 15 days instead of just 6 days. The lens continued to perform well so it wouldn't surprise us if it becomes the classic safari lens!
You can see more images on our January Madikwe Trip Report page.
---
Here is another Sigma 150-600mm lens review that you may enjoy reading:
Hands-on preview of Sigma's latest 'Sigmonster' telephoto lens
If you would like to compare images between the Sigma 150-600mm lens and the Tamron 150-600mm lens please go here.
---
Sigma 150-600mm Sport VS Nikon 200-500mm - "Real World Review"
Since we reviewd the Sigma 150-600 Sport lens Nikon brought our the 200-500 to compete with the Sigma.
Jared's real world comparison proves that both lenses are good and the differences boil down to 'nit-picking' and it would come down to your preference as to weight, maximum aperture (third of a stop difference), more reach, wider, etc.
For concerts Jared would choose the Nikon for the lighter weight but gives the Sigma a slight edge in sharpness. 
For wildlife I need longer reach (600mm), wider (150mm) for closer subjects and the best sharpness I can get so I am very happy with my Sigma 150-600mm Sport lens.
And in most cases we cannot tell the difference between Jenny's images, shot with the Sigma Contemporary and my more expensive Sigma Sport!
We also complement each other as I shoot with a Nikon D3S body so I have the width of 150mm while Jenny shoots with a Nikon D7100, thereby providing her with a 225-900mm reach. If the subject is close I can usually get it all in and if it's far Jenny gets the better shot.
If, however, you're a pixel-peeper, here's a static comparison between the Sigma Sport, Sigma Contemporary and Nikon 200-500 lenses... 

Again, it boils down to preferences - put the same subject images shot with these three lenses next to each other and you'll have a very hard time trying to pick which lens shot which image.
---
---

To make a safari rental booking in South Africa, Botswana or Namibia click here
---
---
Return from Sigma 150-600mm Lens Review to Best Safari Lens page