Patience!
What does 'patience' mean in a game viewing context?
Well let's take two scenarios:
• What do you do when you find a subject?
• What do you do when you arrive at a spot such as a waterhole or hide?
You need to decide whether to stay with the subject / stay at the waterhole or to move on.
Scenario one - you have found an animal...
To illustrate the importance of patience we'll tell a story of a cheetah kill that we saw on a trip we made to the Kgalagadi Park one December…
We were spending 17 days there and on the last day we were deciding if we should venture out, as it was very hot. We decided to drive from Twee Rivieren up the Nossob riverbed and then back to camp for lunch.
At 12h00 we stopped to watch a herd of Springbok near KijKij waterhole. They were all grazing together except for one…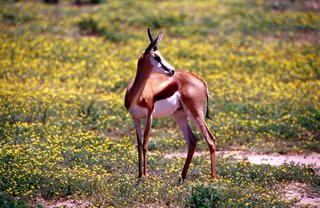 …who seemed to be keeping guard. He kept looking down the Nossob, towards Rooiputs waterhole, and we couldn't see what he was looking at, even with binoculars. (We could see cars stopping there but couldn't see sighting).
We then drove down the Nossob in the direction he was looking and over one kilometre away we found a cheetah, which was stalking the springbok from that distance. She would hurry from one Camel thorn tree to the next and would sit patiently in the shade until the time was right to race to the next tree.
This went on for nearly two hours until we had reached the area where the Springbok were grazing. My wife and I had our Nikon camera bodies on 'continuous' and we hoped that the Cheetah & springbok would run across our field of view and not away from us. The cheetah disappeared behind a small hill & then erupted from her hiding place…

She luckily ran across our field of view and then caught the 'lookout' springbok within a few seconds...

The Cheetah mother then suffocated it and then got up and walked all the way back to where we had first seen her. She started calling and out of the bushes comes her baby…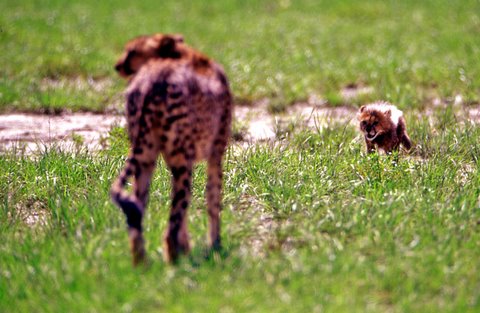 She walked back to the springbok kill with her cub and the two of them started to eat…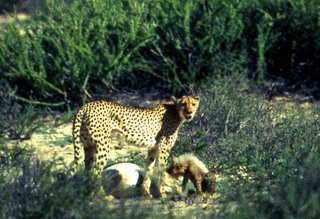 By then it was after 16h00 and we headed back to Twee Rivieren camp. This Cheetah kill was the most memorable wildlife event we had witnessed in the wild. The whole drama took four hours and we were the only witness, even though at least ten cars had driven past us they either did not even stop – who wants to watch boring old springbok hey!
Or they would stop for a few seconds to shoot the cheetah, if they saw him sitting under the tree, tick their checklist and then they were off. A Cheetah chase is not a common sighting so when an opportunity like this presents itself we should grab it!!!


Scenario two - you arrive at a waterhole...
Now let's look briefly at the second scenario – you drive up to a waterhole or you walk into a hide. You look around for a few seconds or even a minute or two, see nothing and decide to move on, right? This is what 99% of people do. We have been in hides where people walk in look around, ask us what we've seen then they leave. Ten minutes later a lion arrives to drink or a herd of buffalo arrive – if only they had stuck around - 'patience' would have provided the animal sightings they wanted!
Let's take the famous Battle at Kruger video that was shown on National Geographic. This event occurred at the Transport Dam in the Kruger National Park. It is a large waterhole situated between Skukuza and Pretoriuskop camps and has an area where about 20 vehicles can park.
The fortunate tourist that got this event on video was lucky in two regards, lucky that he didn't panic and he used his camera correctly and lucky he, and the other passengers, had Frank as their tour guide.
Frank used to be the Shimuwini bush camp manager so he knows the bush. He could have driven into Transport Dam, seen no action and then, like many of the other vehicles, moved on.
But he decided to stay and they ended up waiting for over thirty minutes - but they were rewarded with a superb event where lions chased and caught a young buffalo and then the lions had a 'tug-of-war' with a crocodile and then the buffalo herd returned to chase the lions off and rescue the buffalo calf. Amazing sighting indeed! But what's also amazing is that so many other vehicles drove in, saw 'nothing', and then drove out.
It can get boring when there's no action so we suggest you take a book with to read in the car or take a flask of coffee and some rusks and sit at the hide and have breakfast.
You will also see other animal activity such as birds, reptiles and insects – all of which should keep you occupied until mammals come down to drink.
So the lessons to be learnt from the above two scenarios are the following:
1. Be patient – nature has its own time. Don't rush around the parks looking for action – pick a nice spot and the action could come to you. Patience, however, is just one of the five "Ps" of successful photography!
2. To obtain these types of photographs be prepared – prepared in terms of your knowing your equipment (even the basics like having fully-charged batteries - yes family and friends that have come with us on game drives have brought along their camera and their batteries, but because they were not fully charged, the batteries gave out in the middle of shooting!) and then also be prepared to endure uncomfortable circumstances. You can imagine how hot it was, midday – December – Kgalagadi – no shade!
3. Have a purpose – if you come across a cheetah or lion and they have full stomachs, don't expect a chase! If it's a chase you are looking for take some photos of the sleeping lions with full bellies and then move on.
4. Practice makes perfect - this saying is so true. You cannot expect to come on an African safari and get great photographs if you have used your camera only once or twice during the previous year. There are many opportunities for you to keep in practice from shooting at home to going to zoos.
5. Be passionate – about photography and wildlife. This will give you the motivation to stick with an animal for 4 hours and to endure such heat. The ten cars that drove past us obviously had a passion - for air-conditioned bungalows and lunch – and not for a once-in-a-lifetime cheetah kill!
Just keep the old photojournalist's credo of f8 and be there in mind. If you're not there, you're not going to get the shot and it's patience that will keep you there!
---
Return from Patience to Game Viewing Tips

Return from Patience to Photographic Vision page
---
---

To make a safari rental booking in South Africa, Botswana or Namibia click here
---