Nature Photo Contest
When it comes to which nature photo contest to enter there are many choices. Some are country secific such as the BWPA (British Wildlife Photography Awards), or the prizes or prestige are not very appealing.
So we have come up with the big-five in nature photo competitions:
• Getaway Gallery Wildlife Photo Competition
• National Wildlife Photo Contest
• Nature's Best Photography
• POTY (Photographer Of The Year)
• Veolia Environnement Wildlife Photographer of the Year


In addition to the above 'Big-five' nature photo contests, SANParks has a Public Sighting of the Month contest that started in 2006, an annual wildlife photo contest for forum members and in 2010, the jewel in the SANParks photo contest crown - the Captured Experiences Competition.

We were fortunate to get third place in round two of the Reptiles and Insects category of the Captured Experiences competition...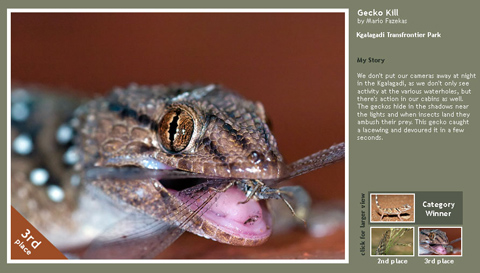 For years we reached the semi-final stage of the Veolia Environment Wildlife Photographer contest but then in 2012 we had a breakthrough and reached the final round with this scorpion image...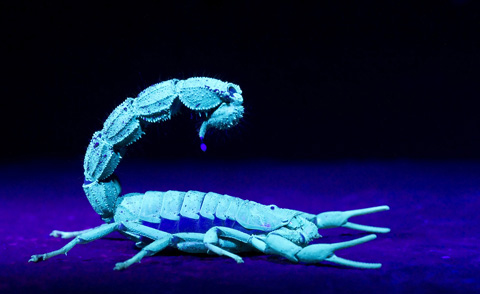 Each year, Photoshelter produces a Photographer's Guide to Photo Contests that lists most of the current contests with their recommendations. It's produced as a free PDF guide that is emailed to you.
---
Some people say to us that "We never win anything" and when we ask them what contests they have entered they say "none"!
There's a saying: You've got to be in it to win it!
It's worth the small effort to send some of your better photographs into these contests - you'll never know if your pictures are good enough if you don't at least send them in to be judged!
Some advice if you are entering these competitions for the first time:
1. Please read the rules and stick to them.
Your image will be disqualified if the rules are not obeyed.
For example, the Wildlife Photographer of the Year competition has a minimum pixel requirement of 10 megapixels so please ensure you have a camera with enough megapixels otherwise your photograph, no matter how good, will be disqualified.
When we first entered the Wildlife Photographer of the Year contest in 2008 the minimum pixel requirement was 6 megapixels. In the 2010 contest the minimum had increased to 10 megapixels while in the 2012-2016 contests there was no mention of megapixels!
Professional photographers have always said that you should get the best possible lens and the body is not as important, but if you want to enter photo contests it looks like you need to ensure that the camera has a minimum number of pixels when you are buying, especially if you will be cropping your images! In our opinion, the camera is just as important as the lens. 
2. Please don't over-sharpen your images.
When sharpening you must increase the size of the image to 100% so that you can see the effect of the sharpening.
If you cannot afford Photoshop there are a number of free photo editing programs that you should check out.
3. Try and choose unusual subjects
We have found that judges are looking for unusual behavior and/or unusual subjects. The last few images of our that won in competitions were not of the big-five animals but were seed pods and insects.
Also, what you think is a 'good' image may not be to the judges - sometimes the image that we thought would have no chance ends up winning, so send in what you think are your best shots but also include some that you may not like but they are unusual.
People are tired of seeing pictures of a leopard lying on a branch so try and get shots of things that make people look a second time.
4. How to take a winning photo for a nature photo contest
---
Return from Nature Photo Contest to Photographic Vision page
---
---

To make a safari rental booking in South Africa, Botswana or Namibia click here
---