Practice Makes Perfect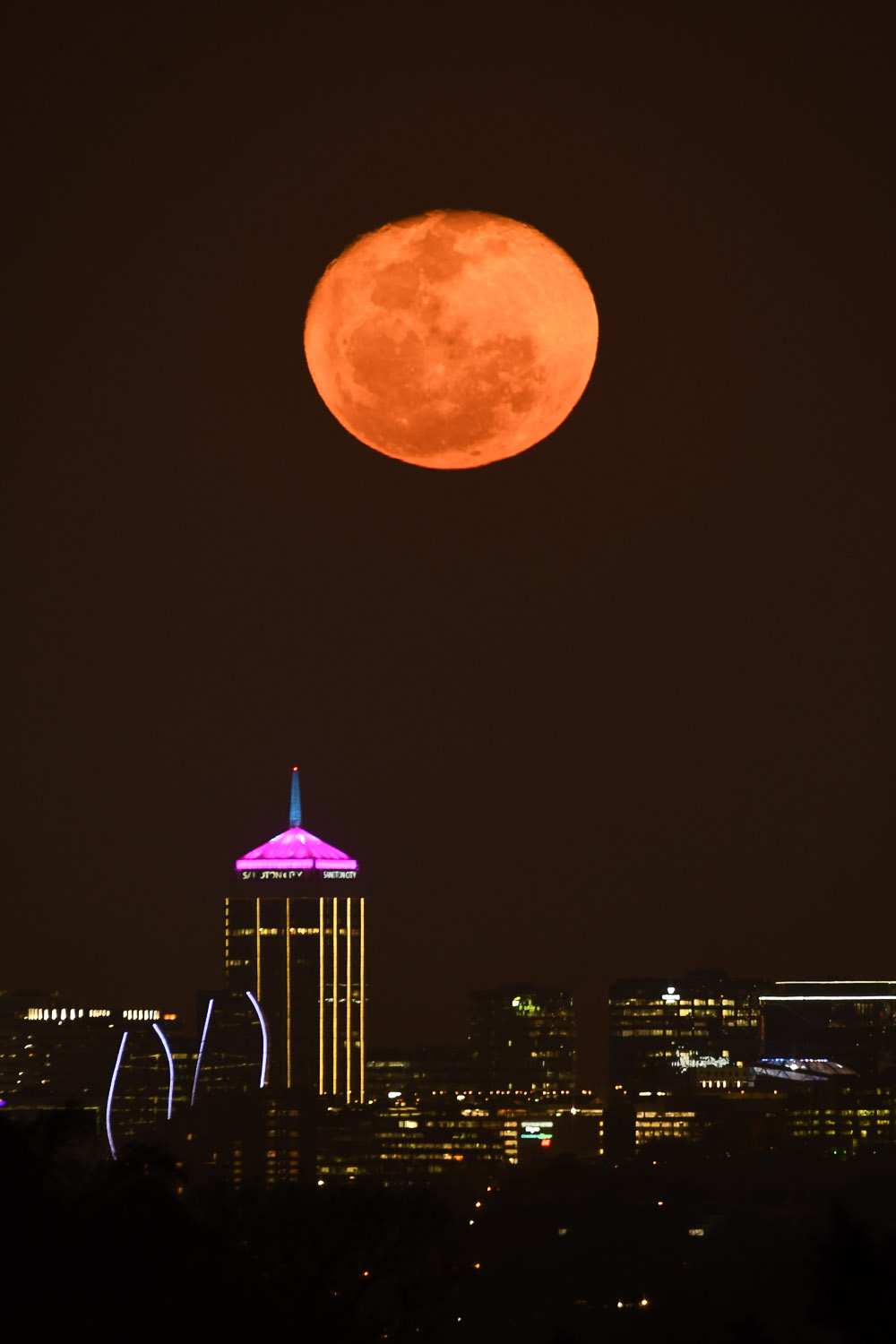 Most people go on an African safari on their annual holidays and this is when they tend to practice their photography! They know practice makes perfect but they choose to practice while on safari and they wonder why their photographs leave much to be desired!
Many people use their photo gear just once a year and by the time next year's summer break comes along they have forgotten how to handle their cameras and the important lessons they learnt the previous year!
---
"I once asked a student photographer in one of my workshops how many times a month she was able to get out to shoot, and her response was about once a month. That's only twelve times in a year. I'm sorry, but no one will develop if they only shoot twelve times a year!" -
Mike Moats,
professional macro nature photographer
---
We have found the solution to this problem is to try and photograph at least once every week - practice makes perfect!
We don't have the money to live in the wilderness and photograph the big-five every day - if only!


So what we used to do is photograph subjects at the zoo, the Krugersdorp game reserve, the lion park or the rhino and lion park.
For the zoo you will need a tripod but for the other three destinations you will drive around the reserves from enclosure to enclosure and shoot from your vehicle, emulating the conditions you will be facing when visiting the 'real' game reserves like Kruger, Kgalagadi, Madikwe, Pilanesberg and Etosha.
Crime has become a problem so we no longer visit the zoo - we now photograph subjects at home - our pets (practice panning with running dogs), garden birds (birds in flight) or flowers, insects (practice macro on spiders, beetles etc.) and landscapes (cityscapes).
We are fortunate to stay to the North West of Johannesburg on a ridge, so we have a nice view of Sandton to our east, Johannesburg to our south and Fourways to our north providing us with the following photographic opportunities for keeping in practice...
General Cityscapes...
Hundai advertising balloon in Sandton
Weather Conditions - Sun, Lightning and Moon...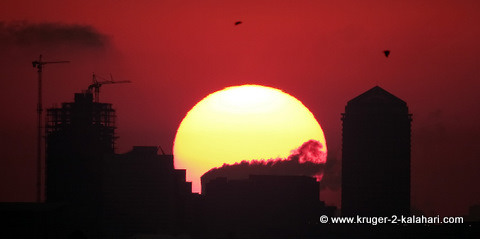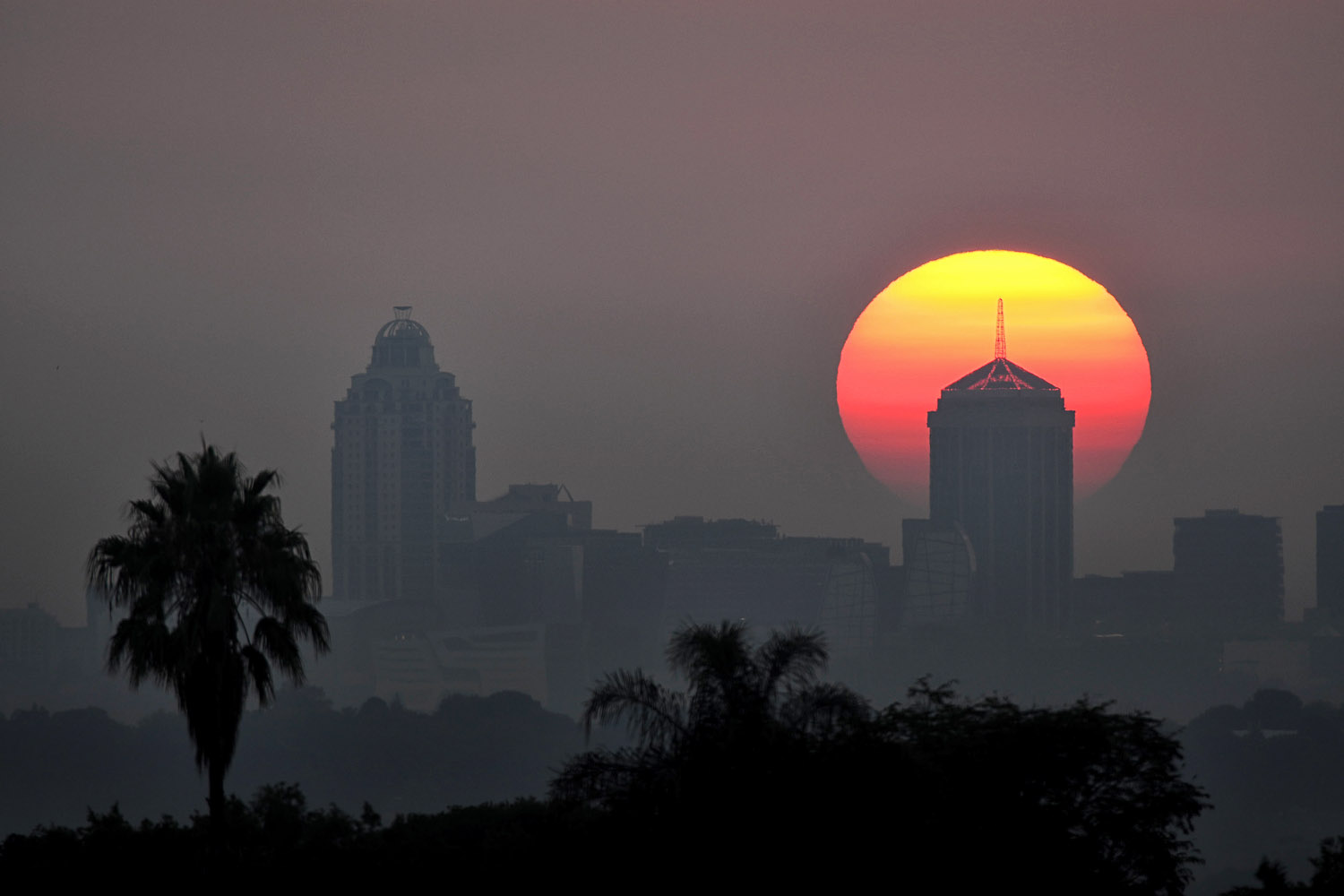 The sky is too bright to photograph star trails so we leave these for when we are in the wilderness areas with very little city lights.
Advertising - such as the 2010 Soccer World Cup...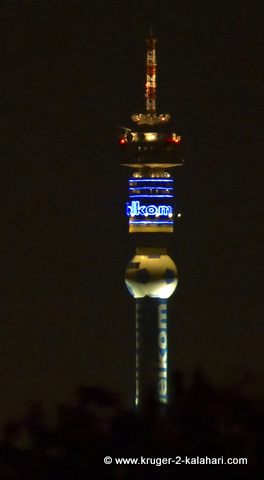 Soccer-ball balloon at Montecasino
Fireworks display at Wanderers
I keep my lens mounted on a tripod and ready to shoot as sometimes I look out the window and there is the moon or sun rising above Sandton City and I have just a few seconds to get the shot, or a helicopter is flying past...
- there is no time to scramble for equipment and set it up!
Keep in mind that the more you practice your photography the better you will become at it.
If your passion is wildlife and you cannot get to a zoo or the game park then shoot landscapes, ships in the harbor, planes flying overhead - it doesn't matter what you shoot. What does matter is that you keep in practice for the time when you can get to the national parks.

Many international visitors to South Africa combine a holiday in Cape Town or Durban with a big-five safari. If that's the case with you then you have even more opportunities to practice your photography skills before heading to the national parks! 
Practice when travelling on business
When I travel on business I make sure I stay in hotels and B&Bs that have views so that I can capture landscapes / cityscapes of new places.

And yes, you will make mistakes, and sometimes you will miss 'that shot' but that's how we learn. Practice makes perfect and if you're not making mistakes you are not practicing enough.
And that leads us to another saying - Perfect Practice Makes Perfect! It's no use practicing your old bad habits - you need to learn what mistakes you are making and then practice not doing them anymore.
And rather make the mistakes when practicing at home than when you are on your expensive photo safari!
---
Return from Practice Makes Perfect to Photographic Vision page
---
---

To make a safari rental booking in South Africa, Botswana or Namibia click here
---