Nikon D500 Review
Image courtesy of Nikon Europe
Nearly 7 years – that's how long we waited for this Nikon D500!
I think this is the longest we have ever waited in anticipation for a camera – guessing what the specs would be, what it would be called - 'D400' was the most obvious guess but we were wrong - and then trying to plan when it would come out.
Some photographers eventually purchased the D7100 and/or D7200 or changed brands - and then the Nikon D500 was announced – timing is so important!
We loved our D300 and D300s DX bodies – we had 4 of them but the dynamic range and low-light capabilities were not good. I then purchased a Nikon D3s FX body – the low-light performance was so much better, with even 12 800 ISO providing great images with minimal noise, but it was FX (full-frame) and for wildlife, DX (crop-frame) is so important as it increases your focal length by 50%.
The D800 had excellent dynamic range, native ISO up to 6400 but it shot only 4 frames per second and was also FX. I missed the crop sensor and, being a wildlife photographer, needed better low-light capabilities as much action takes place before sunrise and after sunset.
Each camera was good BUT there was something major missing in each one.
We looked at the Nikon D4 but it wasn't providing much more than the D3s. Jenny was shooting with the D7100 and she often captured better images than I was getting with my D3s, but the frame rate on the D7100 was too slow for me.
I waited 6 months after the D500 was launched and then traded my D3s in for it. I waited because of the problems we experienced with 2 x Nikon 80-400 AFS lenses and 3 x Nikon D600 bodies, so we wanted to make sure the Nikon D500 was a quality body.
I had nothing to fear – after using the D500 now for over a year it is the best camera I have owned. It lacks very little in terms of performance for capturing wildlife images.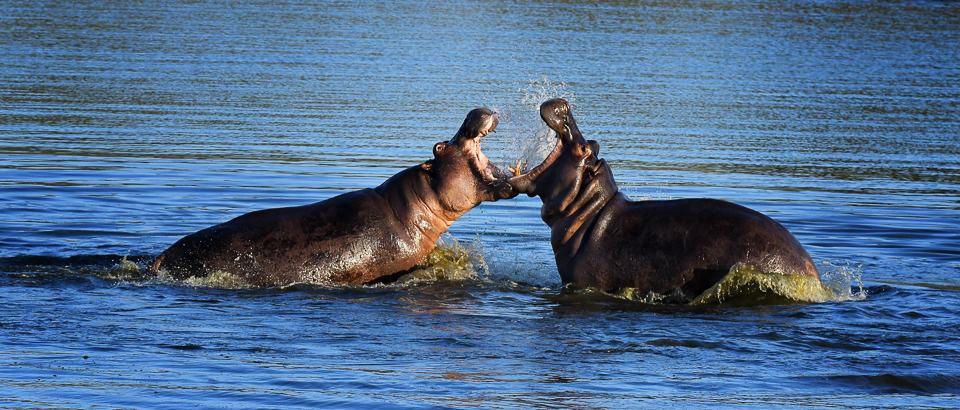 Nikon D500 Review Features
These are the features I'm most excited about:
Frame Rate
10 frames per second (fps) continuous shooting with a 200-frame RAW buffer! Compare this to 7-fps on our D300 with a 17-frame RAW buffer, 4-fps on our D800 with a 20-frame RAW buffer or 5-fps with an 18-frame RAW buffer on a D7100/D7200. 
We had a split second to capture this leopard cub leaping - I managed to get two clear images thanks to the 10 frames per second!
Autofocus System
The D500 has 153 autofocus points (99 cross-type points), which is the exact same system as the Nikon D5 but, unlike the D5, it covers almost the whole DX frame.
We found the focus tracking to be excellent! In the past, I would get 50-60% sharp images of birds in flight now I'm getting around 95% sharp images! And it's just point and shoot, effortless for me, as the camera does all the work.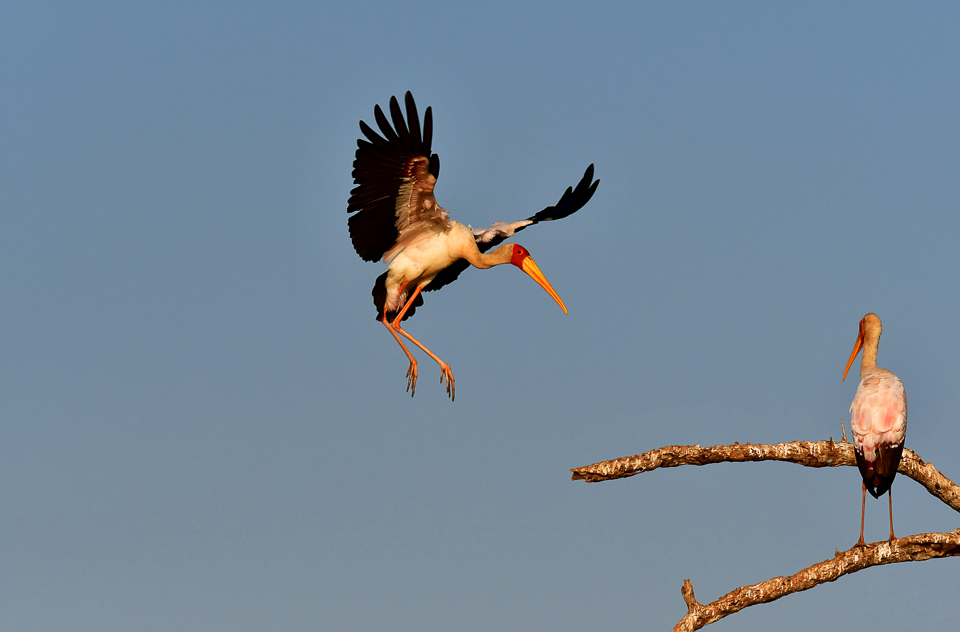 In the past, if the subject flew in front of trees or bushes, the focus would tend to jump from the subject to the trees and I would have to refocus. With the D500 that hardly ever happens as the focus stays locked 90% of the time. 

Metering Modes
The D500 has the standard 3 metering modes of Matrix, Centre-weighted and Spot but with a new 4th mode called highlight-weighted metering mode, which is brilliant!
Let me explain – in the past, for silhouettes, I would have spot-meter off the bright sky, lock the exposure in by holding the AE-L (AutoExposure-Lock) button down, recompose, focus on subject and then capture the image. Now I just set the metering mode to 'highlight-weighted' and shoot – the D500 knows it must expose for the brightest part of the scene providing us with 'easy-silhouettes'!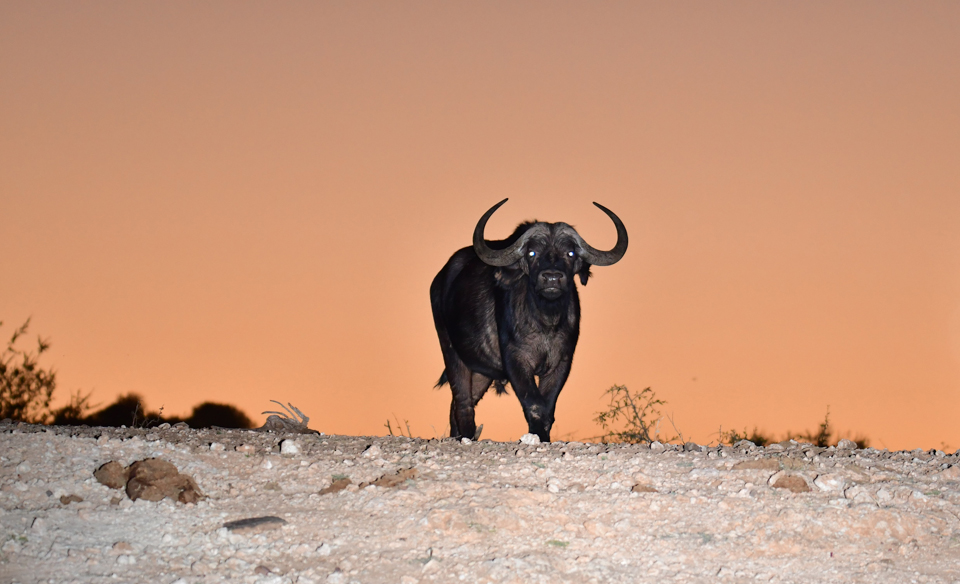 You can use this technique with or without flash to ensure that the sky color isn't washed out.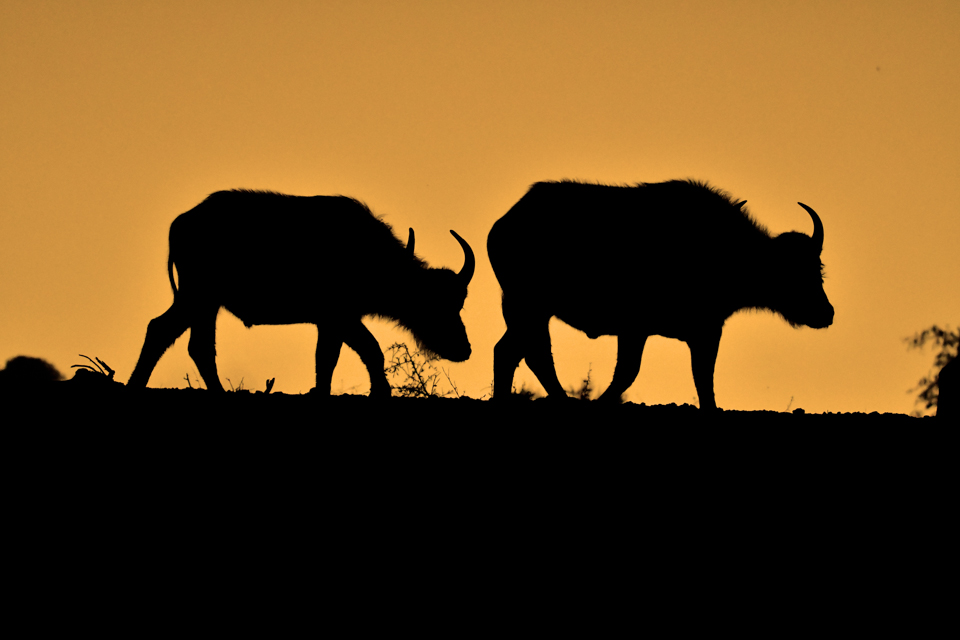 Previous Nikon bodies had a dedicated AF-Lock and AE-Lock button but the D500 doesn't, so should you want to lock the focus and/or exposure yourself, go to Custom Functions, F1-Custom control assignment. Scroll down until you get to 'Sub-selector center', it's at the bottom left of the first screen.
Select that and you'll come to a menu that has many options, one of which is AE-L option - select that and when you press the center of the joystick / sub-selector it'll lock the exposure.
ISO Performance
The native ISO range is between 100 to 51,200 (expandable to 50-1,640,000) and I found the noise levels to be low up to around ISO 16,000. I shot this elephant at ISO 51,200 – I didn't have flash, no spotlight and was hand-holding and in our opinion, it's preferable to have a grainy image than a blurred image.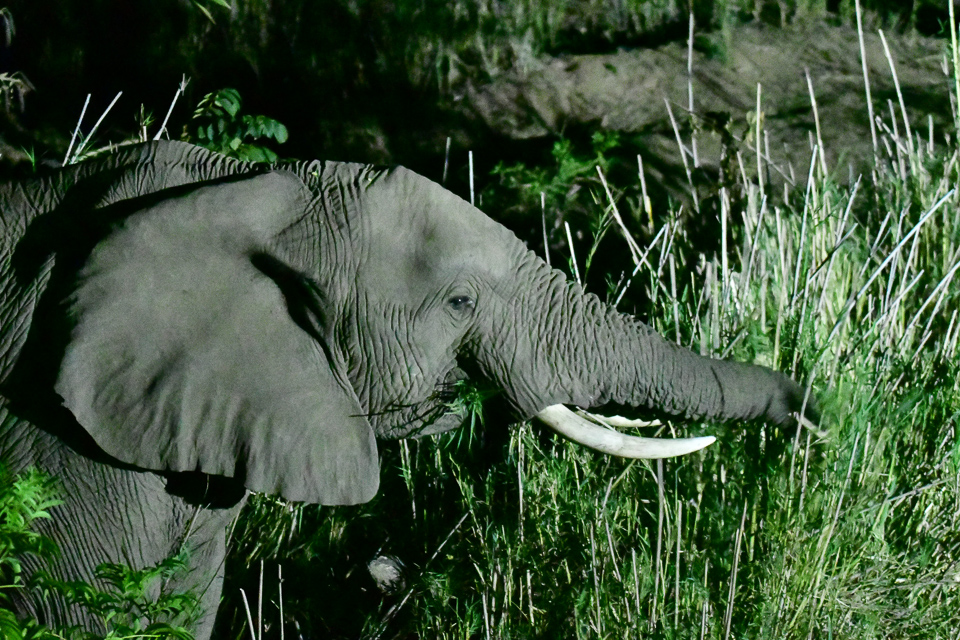 The elephant wasn't moving fast so I could have used a smaller ISO setting but I wanted to test the max native ISO of 51200.
Some photographers tell us they are unhappy with their images as they are soft and when I question them, they were told or read somewhere that "they should not go above ISO 800" so they struggle with blurry or soft images in low-light conditions.
It's like having a Ferrari and the 'experts' tell us not to drive over 100 kms per hour – ridiculous! Just make sure you don't exceed your native ISO - the 'expandable' ISO is to be used in only an emergency.

Crop Sensor
As a wildlife photographer, the crop sensor is a must. I loved my D3S but missed the extra 50% focal length that the DX bodies provided. So many subjects are just too far away and I was often wishing for extra reach. A tele-converter can help but we have never been happy with the quality of these accessories as they tend to be hit-and-miss.
My D3S had a 13-megapixel sensor so cropping was difficult and the D800 had a 36-megapixel senor but shot only 4 frames per second so the 20.9-megapixel D500 with 10 frames per second is a wish come true!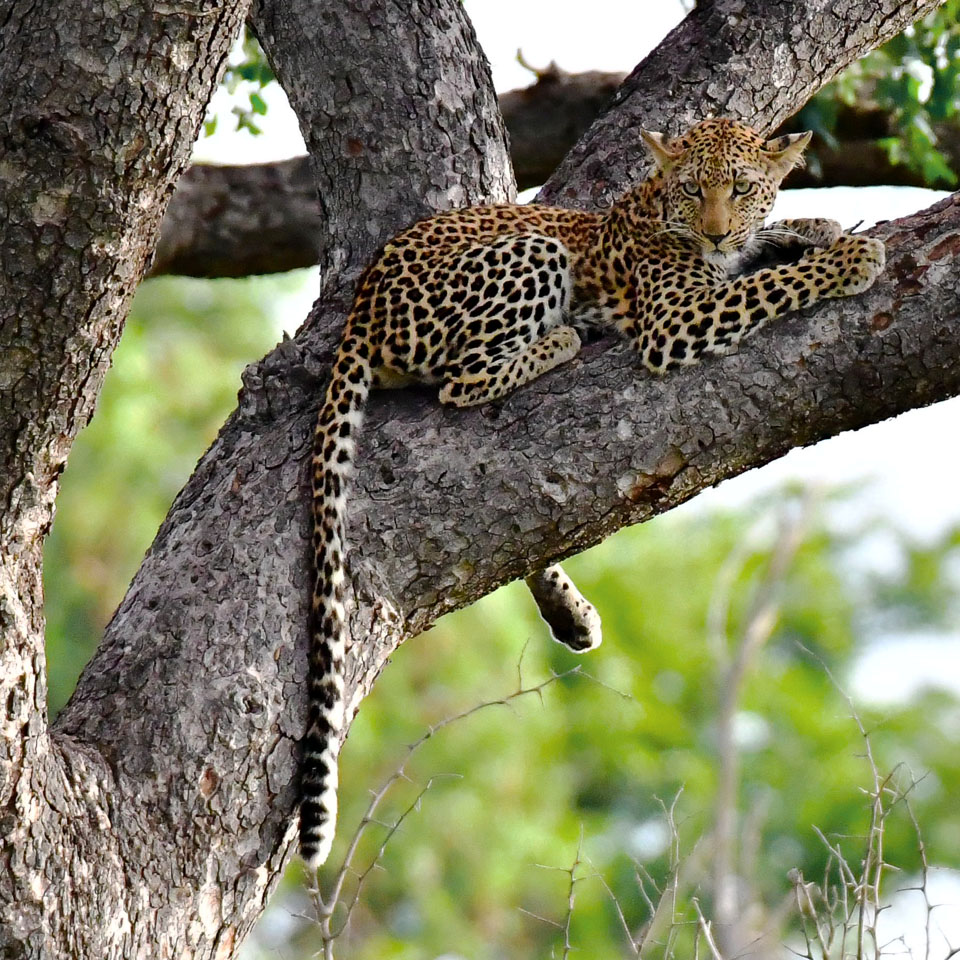 This is a 40% crop of the original image captured with the D500. The leopard was over 100 meters away - with a FX body I would have had to crop around 60%!
Swivel LCD Touchscreen
This screen is very useful when shooting from above your head or at ground level. We have a right-angle viewfinder, an expensive accessory, that allows ground-level shooting but not from above your head so the articulating screen is great.
Another great use is when subjects are above you - you're in a car below a tree photographing a bird or leopard, no more holding a heavy lens up in the air, just fold out the screen and leave the camera on your beanbag.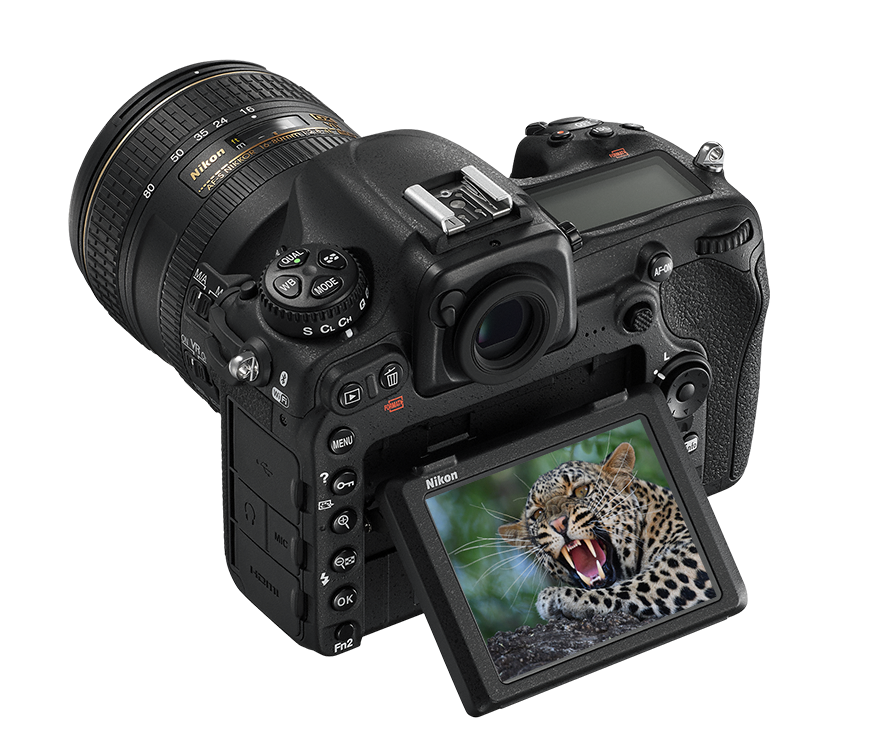 You can also change the focus points by simply touching the screen.

Batteries
The Nikon D500 battery utilises Nikon's EN-EL15 rechargeable Li-ion battery and is compatible with our Nikon D800 and D7100 bodies which means the same chargers! Nikon swapped our four old Li-ion01 batteries for the new Li-ion20 batteries at no cost – thank you Nikon! (Nikon had made some adjustments to the new batteries to limit their use in third-party accessories).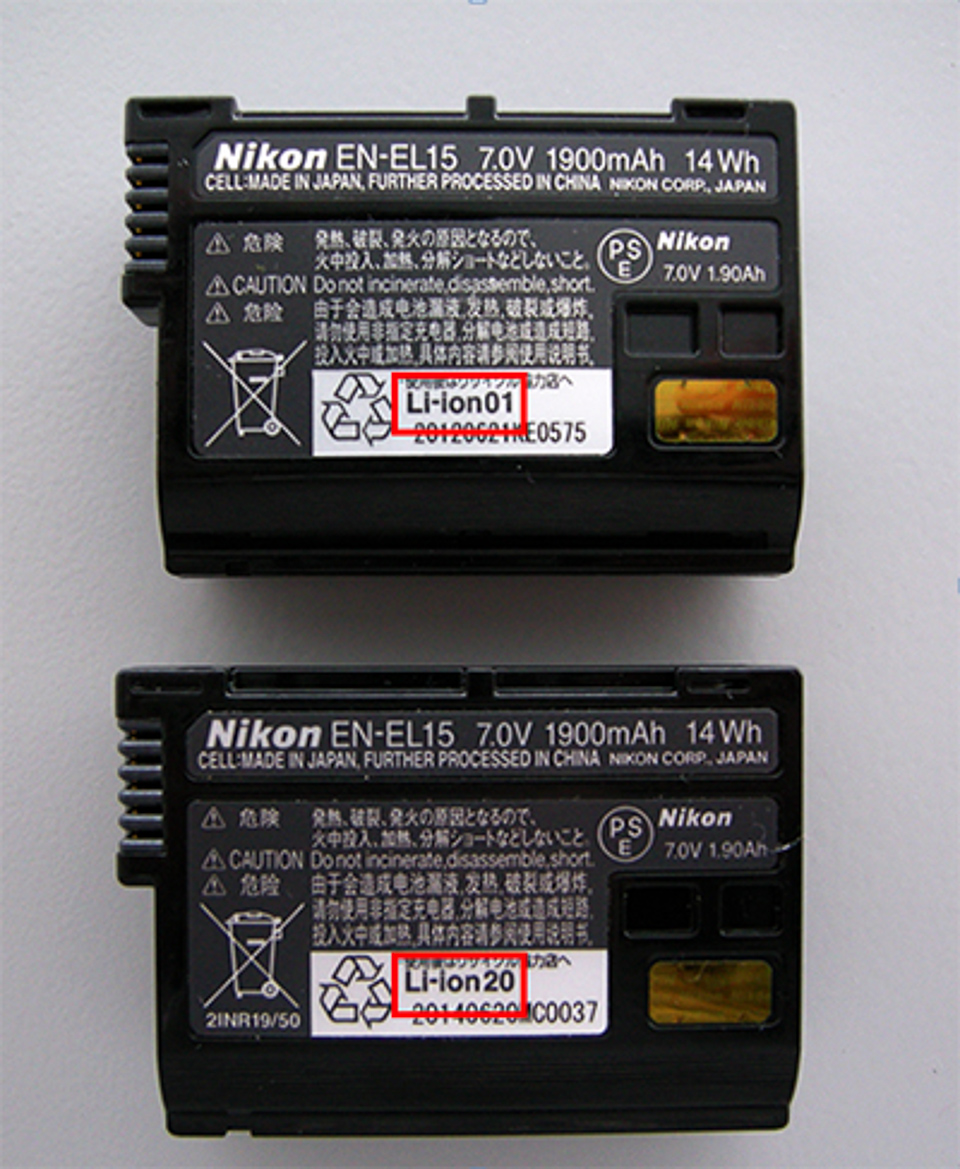 One battery generally lasts me a full day and I can shoot over 1000 images per charge but sometimes, when there is a lot of action, the battery dies and I need a second one so a battery grip is a must for me.
The Nikon battery grip for the D500, however, cost R15 000,00 (US$370.00) in 2016 - totally overpriced! (In June 2017 the local price had been reduced to R10 600,00 - still way too expensive). 
I went online and found a generic D500 battery grip on eBay for under R1000,00. $65.00 plus $11.00 courier charges = $76.00 (R988.00)!
It was delivered from Hong Kong within 4 days. The company has a five-star rating and gets 98% positive feedback...

Yes, you can feel the quality isn't as good as the original Nikon but it works perfectly and hasn't let me down in over a year. 

Automatic Calibration System
Auto AF fine-tune helps you to calibrate your lenses to your camera for back-focus / front-focus errors. It works by obtaining focus in live view and then allowing the camera to automatically acquire the AF tuning value.
No Anti-aliasing Filter
The D500 does not have an anti-aliasing filter in front of its sensor so images tend to be sharper and more detailed. 
Nikon D500 Review Conclusion
Is there nothing that could be improved on the Nikon D500 I hear you asking? Unfortunately, Nikon have removed the 'Easy ISO' option which assigned either one of the two command dials to change the ISO without simultaneously pressing the ISO button.
I shoot in aperture-priority and so change the aperture and ISO for my exposures, hence I need quick access to these two functions and using one dial is much better than pressing a button AND turning a dial. 

Other than this one gripe, for wildlife photography, the Nikon D500 has to be the best camera currently available. 

Here a few other Nikon D500 Reviews relating to wildlife photography:

Richard Peters Nikon D500 Review
Richard Costin Nikon D500 Review
Moose Peterson Nikon D500 Review:
---
Return from Nikon D500 Review to Nature Photo Gear
Return from Nikon D500 Review to K2K Home page

---
---

To make a safari rental booking in South Africa, Botswana or Namibia click here
---