Which is the Best Safari Lens to take with on an African Safari?
"which is the best safari lens, should I take a zoom or fixed focal length, telephoto or wide angle lens, is a small aperture lens suitable or do I need a large aperture lens?" - these are the types of questions we have been asked by photographers intending to go on an African safari.
(To read more on the difference between professional and consumer lenses, read our article Pro vs Consumer Lenses for Wildlife Photography.)
Our visits to African national parks spans nearly twenty years, during which time we have been on over 100 safaris, owned lenses from four different manufacturers and have used lenses from a super-wide 10mm fisheye to a 800mm super telephoto.
Our recommendations on the best safari lens are based on this experience.
If you are wanting to take photographs for publication or you want to enter your photographs into competitions or even sell your images, then you need to look at a minimum criteria, which we have based on two groups of photographers:
Best Safari Lens for the Beginner / Budget-Conscious Photographer
Here our suggestion is either the Nikon 80-400 f/4.5-5.6 AF VR zoom lens (not the new AFS version) or the 300mm AFS f4 lens. Both these lenses are very sharp! With the 300mm lens you have an option of adding 1.4X tele-converter.
The 80-400 lens doesn't accept tele-converters and does not have a built-in motor so focusing is sometimes slow, especially in low light, but it has a 5X zoom and you don't need to take the lens off each time you want to add or remove a tele-converter - like you would have to do with the 300mm f4 - very convenient on a dusty safari! (Do not get the new 80-400 AFS lens - we had two and the quality was shocking)!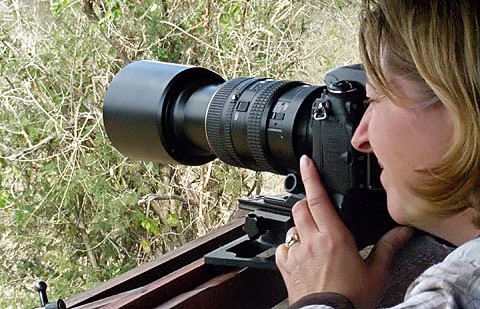 Some people have criticised this lens because it does not have a motor and they say it's no good for bird photography. Yes, if it had a motor it would be a 5-star lens but currently it is a 4-star lens that you are getting at a 2-star price.
When I bought my used Nikon 600mm f4 I gave my 200-400 f4 VR lens to Jenny - she used it for one week then gave it back to me - she wanted her old, light-weight 80-400mm lens back!
It suits her photographic style as she likes to hand-hold the lens and shoot birds in flight, which she does very well, contrary to other people saying you cannot photograph birds in flight with it!
March 2013 UPDATE: Nikon announced the updated 80-400mm lens with five major enhancements:
- It now has a motor
- The lens can accept the 1.4x and 1.7x tele-converters
- The lens has VR II, allowing up to four stops of image stabilization and the VR has Auto tripod detection
- It has an improved MFD (minimum focus distance) from 2.3m to 1.5m.
- It is sharper.
It costs US$1000 more than the old 80-400mm lens BUT it is still half the price of the 200-400 f4 zoom lens and is smaller and lighter so seemed to be the ideal lens for safari vehicles but our initial happiness with the lens turned to sorrow after using two of them for a year.
You can read our hands-on review of the new Nikon 80–400mm f/4.5-5.6G ED AF-S VR N HERE.

Then, if you don't mind generic third-party lenses you could also consider the Sigma or Tamron 150-600mm lenses. They are sharp and cost far less than the Nikon or Canon equivalents. One word of warning with these third party lenses - there is no guarantee that the lens will be compatible with future Nikon or Canon cameras.
We experienced this first-hand when we owned the Sigma 300-800mm zoom lens. It worked fine when used with the Nikon D2H but when we upgraded to the new Nikon D2X in 2006 the autofocus was slow and the photographs were soft.
When we told the Sigma agents in Cape Town they didn't seem very concerned so we traded in the Sigma and bought the Nikon 200-400 f/4 that I used the 1.4X Teleconverter with. (The 1.7X TC was not sharp on this lens).
Only afterwards we found out that the Sigma lens has a microchip that needed to be updated to be compatible with new camera bodies! So, the above three lenses (80-400 VR, 300mm f4 or the 150-600) would provide quality pictures and adequate reach for far subjects, without breaking the bank!
Some people have asked us about using the 80-200 / 70-200 AFS f2.8 lens with 2X converter. Our advice - please Don't! The 80-200 f2.8 AF-S with 2X tele-converter does NOT produce sharp photographs like the 80-400 VR does!

For Canon users the Canon 100 - 400 L f4.5 - 5.6 IS Zoom lens would be a good choice and you can use the Canon 1.4X tele-extender with it. Irvine Eidelman uses this as his backup lens and with 1.6 crop sensor it becomes 160 to 540mm lens. Irvine doesn't use extenders as he feels they degrade the image quality too much.
Best Safari Lens for the Intermediate / Budget-Isn't-an-Issue / Pro Photographer
Here our recommendation is the Nikon 200-400 AFS f4 zoom lens or the 500mm AFS f4 VR lens.
Both lenses are very sharp and can take teleconverters. Either the 1.4X or 1.7X tele-converter work well on the 500 f4 but we suggest using only the 1.4x TC on the 200-400. For close subjects the 200-400 was always sharp but for subjects that were at a distance, many images were soft so we sold our 200-400 f4 lens. Many other photographers had the same problem yet many other didn't. 
For Canon users the Canon 500mm f4 L IS lens / 300mm f2.8 L IS lens plus teleconverter would be a great choice.
If you love photographing birds and you have a 400mm f2.8 (this lens works superbly with the 2X tele-converter to provide an 800mm f5.6 lens) or a 600mm f4 lens...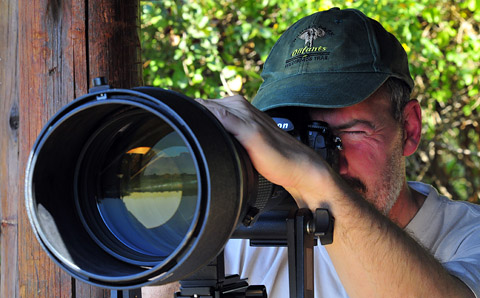 then these are the lenses you should bring!
Canon and Nikon users have another option of using their longest production lenses, the Canon EF 800mm f/5.6L IS USM and Nikon's AFS 800mm f/5.6 VR lens.
Keep in mind, however, that these lenses are very expensive, heavy and bulky so you need to take into account how you will be travelling and your affordability!
Best Safari Lens on Self Drive Safari vs Guided Tour - Size Does Matter!
If you are doing a self drive safari then you will have your own vehicle and size and weight are not critical factors.
But if you are part of a guided tour group you may be squashed into a game viewing vehicle with limited space so here you would be better off with the smaller lighter lenses such as the Nikon 80-400mm / Canon 100-400mm / Tamron 150-600mm / Sigma 150-600mm - unless you are going on a professional photo safari like the ones done by Todd Gustafson and Daryl Balfour where they limit the number of photographers to a maximum of four per vehicle.
In this case you have space to store lots of photo gear as each person has their own bench and a left and right-side window plus the sunroof to shoot out of!
Please keep in mind that for sharp photographs the lens tends to be more important than the Camera body so you should try and get the best longest-reaching lens you can afford. If you bring a 300mm lens you will wish you had brought a 400mm and so forth - a nature photographer tends to never have enough reach!
Don't fret because you can always crop the image later - just ensure that your lens is SHARP and that you use good technique when shooting!
Best Safari Lens - Backup Camera and Lens
When you are on a game drive the animals could walk right next to your vehicle or they could be up to 500 meters away. If you bring just one body and a telephoto lens you may not be able to photograph the very close subjects so if you can afford a second camera and/or lens we would suggest you bring them with.
You may be tempted to bring just one body and two lenses - this would mean you would waste time changing the lenses and you may let dust into the camera. The ideal would be two bodies each with their own dedicated lens. But one body and two lenses would be better than no wide angle lens - just ensure you have a Safari Vest to carry the extra lens and any other accessories!
Our recommendation is the Nikon 18-200mm VR I lens...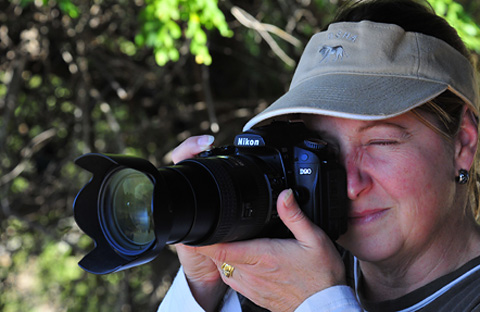 The 18-200 VR I was made in Japan and is sharper then the newer 18-200 VR II that is made in Taiwan. We damaged our old 18-200 VR I so bought the new VR II - we sold it quickly as it was not sharp!
Alternatively the Nikon 70-300mm f/4-5.6 AFS VR lens is very sharp and is small and light. Don't expect much from the VR function on this lens - with our first two lenses we captured more blurred images with the VR function on than when off! The VR on the third lens seems to work fine - that's the beauty of dealing with Kameraz - if there's a problem they sort it out and exchange the items! 
If you're a Canon user the Canon 24-105 F4 IS L lens is recommended.
(Nikon's 'VR' stands for Vibration Reduction, Sigma's 'OS' stands for Optical Stabilization and Canon's equivalent is 'IS', which stands for Image Stabilization. These features reduce vibrations when the lens is hand-held to ensure sharper pictures).
Both these lenses double as wide angle lenses and everyday lenses to use when walking around camps. In addition they both have a short minimum focus distance providing you with macro capabilities.
If you are into macro photography you could make use of an extension tube and/or a close-up lens that screws onto the filter threads in order to gain even more macro magnification. The safari vest pockets will get used!
Another reason to have a second body and lens is in case something happens to your primary body and lens. Can you imagine coming on a once-in-a-lifetime African Safari and your equipment malfunctions! African national parks such as the Kruger Park, Etosha, Madikwe, Pilanesberg, Kgalagadi, Serengeti, Masai Mara and Okavango have extreme climates so the conditions can be very harsh with heat, sand and vibrations taking their toll on photographic gear and a backup may save your day!
We have had three lenses freeze/seize on us due to dust, heat or other factors - one Minolta, one Sigma and one Nikon and, in addition, I have dropped my one body and lens!
A backup is very handy. Todd Gustafson had a problem with his gear but, thanks to divine providence, he was with a 'good Samaritan' who loaned him a 600mm Canon lens and camera body! (Read about this incident in question 6 on the Todd Gustafson interview page).
The Best Safari Lens - What do we Use?
We currently use the following lenses on safari:
Nikon 600mm f4 AFS lens with a 1.7x tele-converter
Nikon 200-400mm f4 AFS VRwhich is my backup lens that I sometimes use with my 1.4x teleconverter. (I found the 1.7x TC on the 200-400 lens does not produce very sharp images)
The 200-400 lens is also a great lens to handhold as I'm doing here at the Okaukuejo waterhole in Etosha...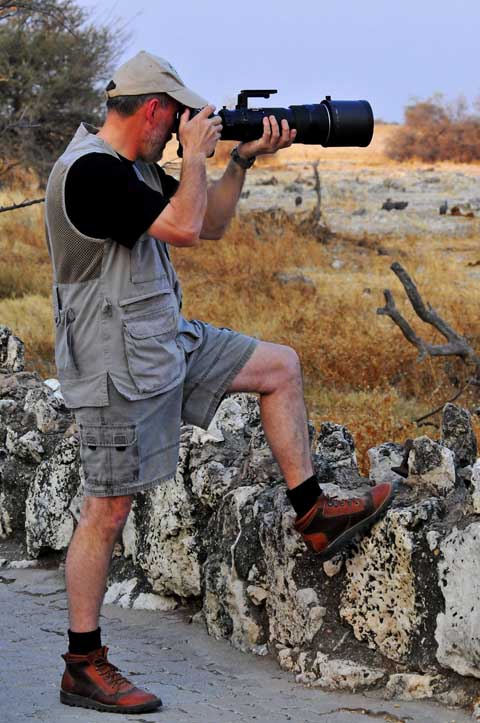 Nikon 80-400mm AFS VR zoom lens
Nikon 18-200mm AFS VR zoom lens (at the end of 2012 we traded the 18-200 lens in for the Nikon 16-35mm f4 as the 18-200 VR II was not as sharp as the VR I - read more at the end of our Nikon D600 Camera Review page here)

Nikon 80-200mm f2.8 AFS zoom lens
Between Jenny and I we get different perspectives on the same scene by using our different lenses.
So, the best safari lens has been narrowed down to the above recommendations depending on your budget and how you will be doing your game drives.
Animal action can happen suddenly so be alert in order to get that shot!
September 2013 Update
When the new Nikon 80-400mm AFS VR lens was launched Jenny traded in her old one and I so enjoyed using this new lens that I traded in my Nikon 600mm f4 lens to also get an 80-400mm lens!
This is now our current gear for photo safaris:
1 x Nikon D3s
2 x Nikon D800
1 x Nikon 16-35mm lens
1 x Nikon 200mm f4 Macro lens
1 x Nikon 60mm f2,8 Macro lens
1 x Sigma 15mm f2.8 fisheye lens

2 x Nikon 80-400mm AFS VR lenses
November 2014 Update
We were very happy with our Nikon 80-400 AFS VR lenses - for the first year. We used them in the Kgalagadi (twice), Etosha and in southern Namibia (Kolmanskop, Sossusvlei, Deadvlei and Namib Rand) but in October 2014 we sold both Nikon 80-400mm AFS lenses due to a few serious quality issues. We didn't expect this from Nikon! You can read about the quality issues at the bottom of the Nikon-80-400mm-review page.

This is now our current gear for photo safaris:
1 x Nikon D3s
1 x Nikon D800
1 x Nikon D7100
1 x Tamron 150-600mm f5-6.3 zoom lens*

1 x Sigma 150-600mm f5-6.3 sport zoom lens

1 x Nikon 70-300mm VR f4.5-5.6 AFS zoom lens (backup lens - the VR function is hopeless on this lens - erratic to not working at all but the lens is sharp)
1 x Nikon 16-35mm f4 AFS lens
1 x Nikon 200mm f4 AF Macro lens
1 x Nikon 60mm f2.8 AFS Macro lens*
1 x Nikon 50mm f1.8 AFS lens
1 x Sigma 15mm f2.8 fisheye lens

1 x Rokinon 24mm f1.4 lens (for star points)
Jenny uses the Nikon D7100 DX with Tamron 150-600 lens (smaller & lighter gear) while I use the rest of the heavier FX gear.
October 2015 Update
*We made two changes this year:
1. The Nikon 60mm f2.8 AFS Macro lens was NOT a good lens - the focus kept freezing for no reason. We should have kept the old faithful 60mm lens that had no motor but it always focused! 
2. Jenny traded in her Tamron 150-600mm lens for the Sigma 150-600 Contemporary lens. There was nothing wrong with the Tamron, we have the Sigma docking station that enables us to set things like back or front focus while in the field so that was the main reason.
Final words for the best safari lens
The best safari lens is the one you have with you, that you know how to use and that is working properly!
We know of people who witnessed some amazing animal behavior but they didn't bring their camera and lens with or they did not have the camera switched on, the lens cap off and ready to photograph!
Animal action can happen in the blink of an eye so be alert when on safari or walking around camps and make sure you have your best safari lens and camera in your hand!
---
Return from Best Safari Lens to Nature Photo Gear page
---
---

To make a safari rental booking in South Africa, Botswana or Namibia click here
---