Tamron 150-600mm lens review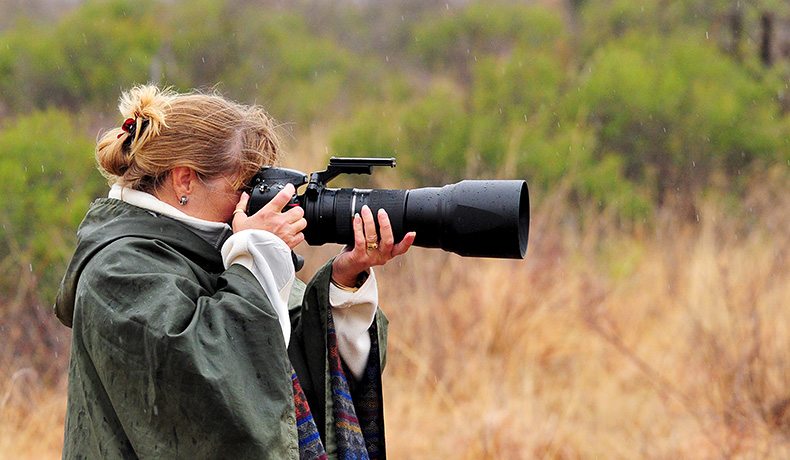 Tamron 150-600 zoomed in to 150mm
We noticed that many of the Tamron 150-600mm lens review pages that we read had been done on overcast days so the images were not that great.
We spent 6 days in Madikwe Game Reserve of which half the days were sunny and half overcast so hopefully this review will provide a more accurate picture of what the lens is capable of producing.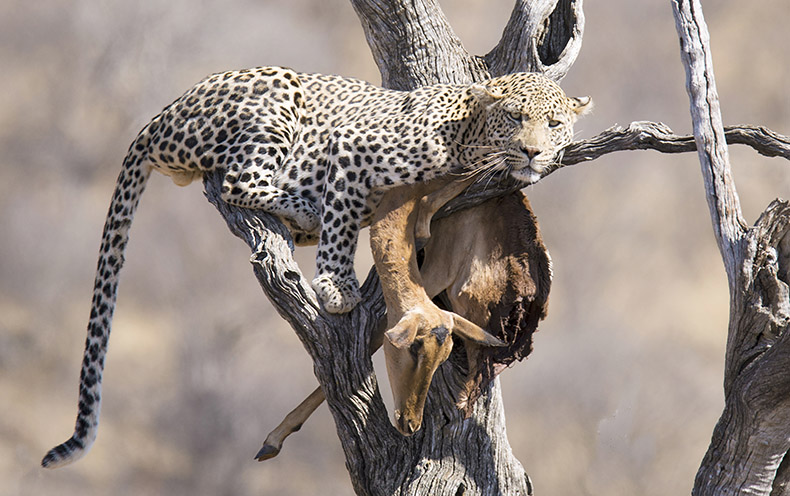 Nikon D800 with Tamron 150-600mm lens @ 450mm. f8, ISO 320, 1/500 sec
First off, the lens is light to carry making it a good walk-around lens. When strolling around the park lodges you get opportunities to photograph small subjects such as this woodpecker…
Nikon D800 with Tamron 150-600mm lens @ 450mm. f8, ISO 500, 1/320 sec
It's easy to manoeuvre – whether in a game viewing vehicle or in your own vehicle, the Tamron 150-600mm lens enables quick and easy movements to focus on mobile subjects.
The VC (Vibration Compensation) works like a charm and is silent.
The hood, however, is the only gripe we have - it is a bit finicky to put on as it doesn't click in place immediately, you need to keep turning it until you hear the 'click'. 
The lens is easy to balance on beanbag – when zooming in or out the weight distribution tends to be negligible as the lens is made of a light material. The zoom ring is towards the front of the lens with the focus ring being towards the camera body, which is much better for a long zoom lens.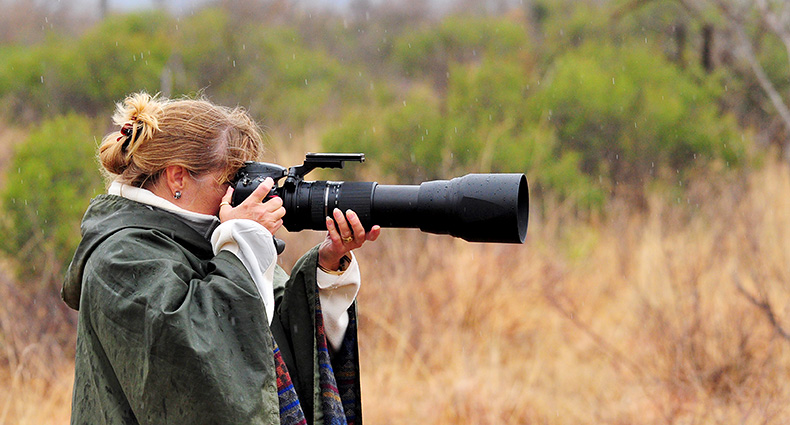 Tamron 150-600 zoomed out to 600mm
The Sigma 150-600 sports lens, however, is one kilogram heavier and when zooming out there is a lot of weight transferred that will make a difference when the lens is balanced on a gimbal head or resting on a beanbag.
(If you would like to compare images of the Tamron 150-600 to the Sigma Sport 150-600 lens please go here)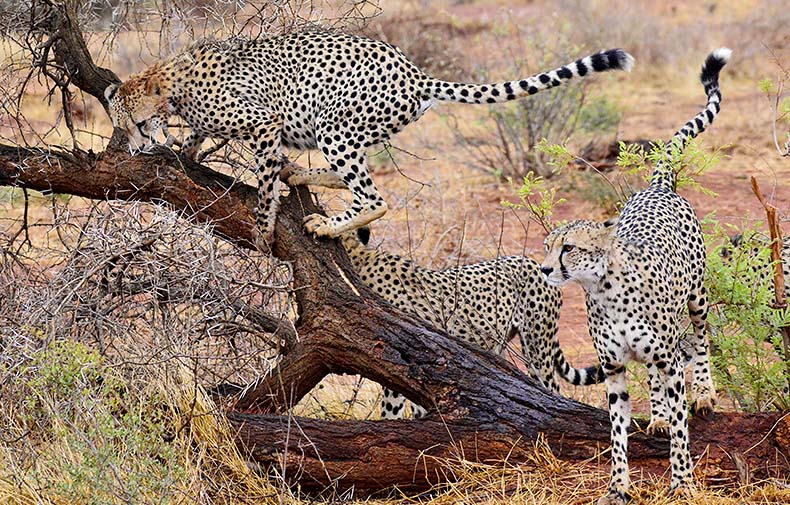 Nikon D800 with Tamron 150-600mm lens @ 150mm. f6.3, ISO 6400, 1/800 sec
The ultrasonic autofocus motor USD (Ultrasonic Silent Drive) is fast and silent; faster at the 150mm end than at the 600mm end but still fast enough for our needs. You can also engage the focus limiter switch, narrowing the range to a distance from 15 meters to infinity, should you need faster autofocus at the 600mm range.
Nikon D800 with Tamron 150-600mm lens @ 150mm. f8, ISO 5000, 1/250 sec
We were pleased to notice that there were no front or back focus problems, unlike with our Nikon 80-400mm AFS lenses.  
We did read reports about vignetting but did not experience much with our photos.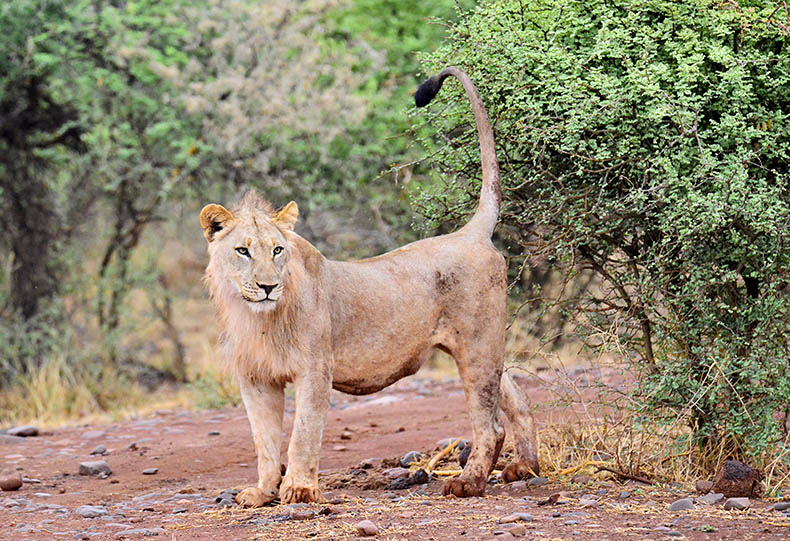 Nikon D800 with Tamron 150-600mm lens @ 360mm. f6, ISO 6400, 1/500 sec
Like most of our lenses, the sweet-spot in terms of sharpness and resolution seems to be around f8. The lens is also sharper at 500mm than at 600mm, which was to be expected as most zoom lenses are less sharp at the extremes. The Nikon 80-400mm AFS lens, for example, was sharpest at 105mm @ f4.8 according to the DxOMark scores, yet photographers are buying it for the 400mm reach.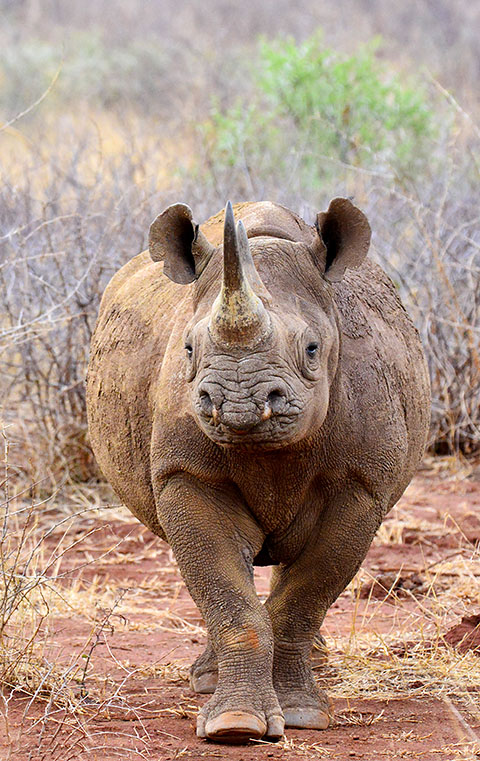 Nikon D800 with Tamron 150-600mm lens @ 260mm. f8, ISO 5000, 1/320 sec
The further away the subject is the less sharp the image tends to be as you are shooting through haze and other atmospheric conditions so it's important to try and get closer to the subject without scaring them off. 
An effective wildlife photography strategy is to stop the vehicle when you are still outside the subject's comfort zone, take some shots, then move a bit closer, take a few more shots, and so on but keep in mind that you can also get too close and end up shooting down on the subject, which is also not good. 
Nikon D800 with Tamron 150-600mm lens @ 360mm. f6.3, ISO 2000, 1/320 sec
Tamron 150-600mm lens review - Summary
Jenny is very happy with the lens. It is light enough to handhold and to use as a walk-around lens in the lodges and camps.
Jenny, however, got less keepers than I did with my Sigma 150-600mm Sport lens and we have put it down to the Nikon D800 body. It's a very unforgiving camera due to the 36 megapixels and is better suited to landscape photography or wildlife situations with good light, plus photographers need to ensure that they constantly employ impeccable technique while shooting with the D800, especially under low-light conditions.  
We are mainly shooting under adverse conditions with moving subjects so Jenny decided to trade in the D800 and get a Nikon D7100 that has 24 megapixels. She misses her old D300 so the D7100 will provide her with a higher frame rate plus more reach with the crop sensor.
---
You may also want to read some of these Tamron 150-600mm lens reviews:
Field Testing Tamron's 150-600mm 
Tamron 150-600mm f/5-6.3 Review
Tamron 150-600mm Lens: A Nature Photographer's Delight
2016 Update
Jenny eventually traded in her Tamron lens for the Sigma 150-600mm Contemporary lens. The primary reasons were so that she can use the Sigma docking station and teleconverters. 
Then in September 2016 Tamron announced their second generation "G2" version of the 150-600mm F5-6.3 Di VC USD lens.
This new lens has several features such as improved speed and accuracy of AF and VC (Vibration Compensation), a flex zoom lock mechanism has been added, it has a metal lens barrel and can take optional teleconverters. This seems to put it on a par with the Sigma Contemporary lens. 
---
Return from Tamron 150-600mm lens review to Best Safari Lens page
---
---

To make a safari rental booking in South Africa, Botswana or Namibia click here
---