Safari Vests
Safari vests are great anytime of the year as they are not too hot in summer and in winter we wear them over long sleeve shirts for added warmth.
Safari Vests - what to look for:
What should you look for when buying one of these items? Well we have found the following criteria to be important...
1. The vest should be cotton so it can 'breathe' and you don't end up perspiring. We suggest you choose a neutral color like beige, olive or khaki.
2. The light-weight vests take up less packing space than the heavier ones.
3. It should have enough pockets for what you need to carry.
As nature photographers, Jenny and I have small lenses, teleconverters, filters, memory cards, flashes and many other items that we don't want to leave on the wall at Halali or Okaukuejo or in the hides at the Pilanesberg, Kgalagadi, Madikwe or the Kruger Park - our vests enable us to carry many things without being conspicuous.
Jenny has a vest that we bought from the shop at Okaukuejo camp. It has nine pockets on the outside - eight in the front and one on the reverse...
Here is a photo of Jenny wearing her vest in Etosha. She is standing at the top of the lookout tower in Okaukuejo camp.
If you want to have access to all the pockets in your safari vest and you don't want to wear a jacket over it you could wear the vest over a jersey as Jenny has done here...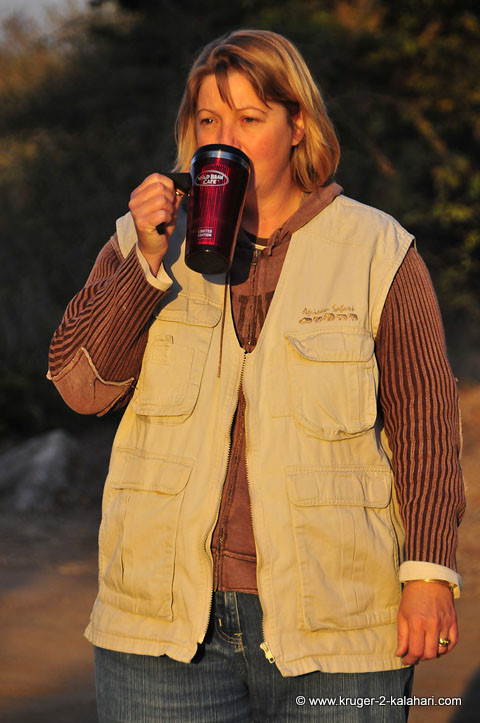 I have a Domke photo vest with eleven outside pockets (nine on the front and two on the rear) and three pockets on the inside...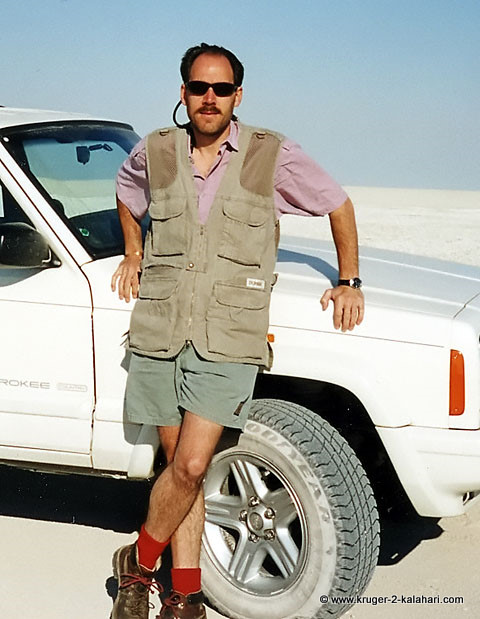 This photograph was taken on Etosha Pan.
Some vests have twenty or more pockets but we have found these to be overkill as you end up not knowing what is in which pocket! We have seen people with these mega-pocket items looking for a ringing cell phone, which they cannot locate!
These clothing items are sold in some of the larger Kruger Park shops, the shop at Okaukuejo camp in Etosha, at retailers in South Africa such as Kameraz in Rosebank, Outdoor Warehouse and Cape Union Mart and at Cabela's in the USA and Canada.
Their stocks do obviously vary from year to year.
Another option would be to go to a shop that sells fishing gear as a fishing-vest is very similar to a photography-vest.
---
Return from Safari Vests to Safari Gear
---
---

To make a safari rental booking in South Africa, Botswana or Namibia click here
---