Nikon D600 Camera Review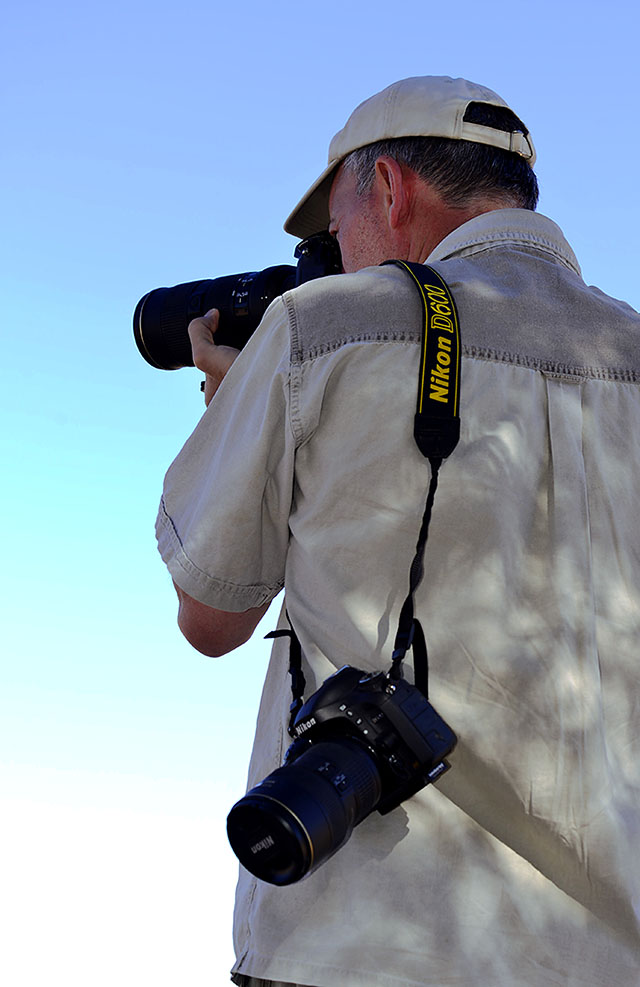 This is a hands-on Nikon D600 camera review, not a review based on what other people have said or what the Nikon brochures say. 
During 2012 we read a lot of hype about the 'game-changing' Nikon D800 camera body – what great images it captured BUT, it had a very slow frame rate (4 per second), huge files (36 megapixels) and was 'expensive'.
So when the Nikon D600 camera was announced I was very excited – here was a body that took images nearly as good as the D800 but had a higher continuous frame rate (5.5 frames per second), smaller files (24 megapixels) and was about R10 000,00 (US$1200,00) cheaper. This looked like it could be the next camera for us!
Then I heard about the oil on the D600 sensors and poor body seals letting in dust. I was concerned but then saw that the majority of people experiencing these problems had serial numbers starting with '3' and the one I was looking at started with '880'.
I bought one, tried it out and could see no oil on the sensor and the seals seemed fine – and the images were fantastic with superb low-light capability! Check this comparison - same scene shot with the D300 and the D600 (no Photoshop - both images are straight from the cameras):
Nikon D300...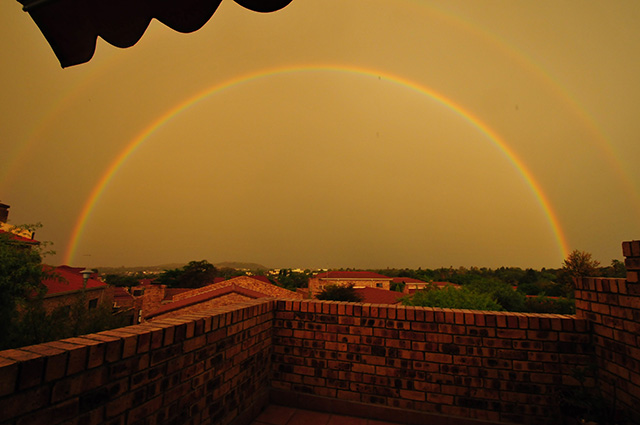 Nikon D600...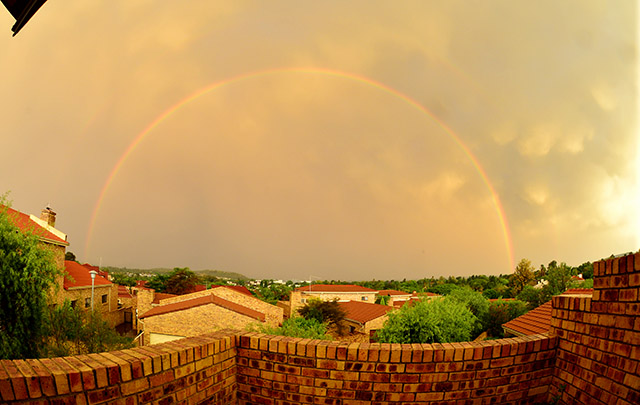 I ended up trading in our 4 old Nikon D300 bodies and got 3 new Nikon D600 camera bodies.
Nikon D600 Camera Review – three weeks in the Kgalagadi Transfrontier Park
Then we were off to the Kgalagadi Transfrontier Park for a 3-week safari. By the end of the first week we were cleaning our camera sensors every day to get the oil spots off – and I don't mean the standard clean where you use a blower bulb or even a Lenspen, as neither of these helped - the Lenspen actually smeared the oil and the oil in turn contaminated the Lenspen!
We were using Eclipse solution with spatulas and pads, as dry methods did nothing to remove the oil. We would have to use two pads – one to loosen the oil, which then smeared across the sensor, and a second pad to remove the oil smears!
With our previous Nikon digital bodies (D1, D2x, D2H, D300, D300s, D3s) if we had to use wet sensor-clean methods once a year it was a lot.
Anyway we got home 22 days later, with a lot of spotty images, and I took all the bodies to Nikon South Africa and the sensors were cleaned.
I collected the 3 bodies went home, checked the sensors to ensure they were spotless, and took one image with each of the three bodies, then about 30 more images right after on the same day and then, a week later another 20-30 shots  – here are the results:
D600 body-1: first & twenty second frames after cleaning the sensor, showing oil spots...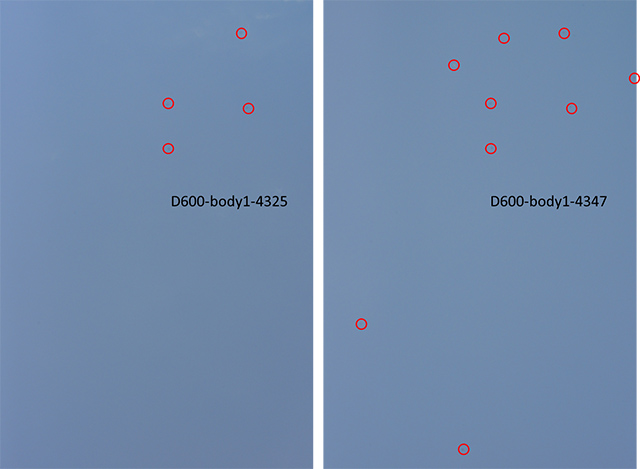 D600 body-1: one week and another 28 frames later...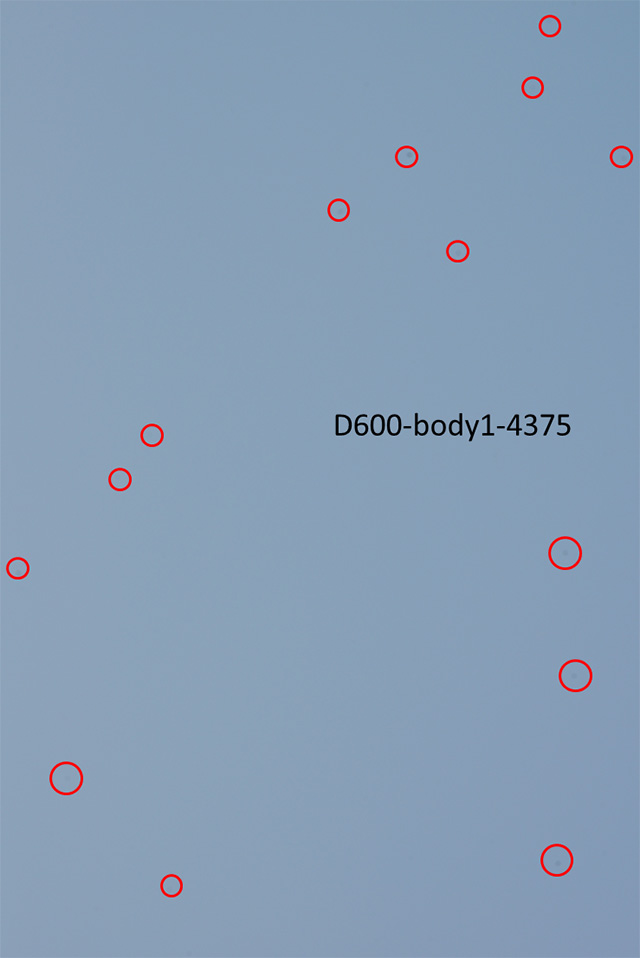 Nikon D600 Camera Review - Summary of Oil Spots...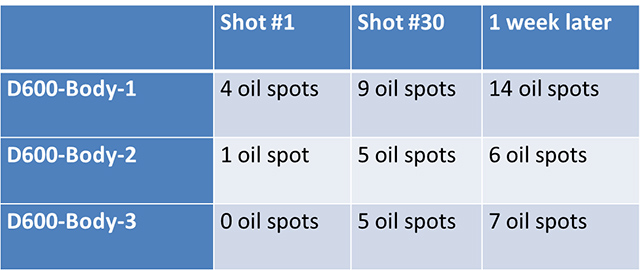 Nikon D600 Camera Review - other issues
As you'll see from the above, the oil spots started to increase from the first photo to the last one on each body. I did not clean the sensors so some of the spots at '1 week later' were old spots but most were new ones as some of the old spots seemed to have evaporated.
The Nikon Rumours website had an article that said the D600 gets no more oil spots after 3000 actuations. My last actuation with bodies 2 and 3 were 1799 and 2108, respectively but for D600-body-1 my last image number was 4375, as you will see from the image above. I had shot over 4000 images yet the oil spots were as numerous as ever!  
·       In addition, D600 body-1 had what looked like a hair across the mirror. We used the blower brush but it was still there when looking through the viewfinder. When we took the lens off and examined inside the D600 body we saw this…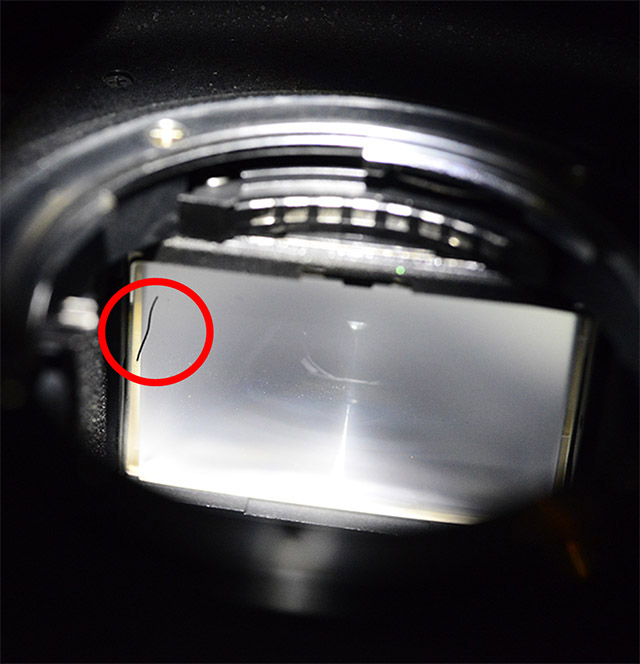 ...a piece of plastic/rubber that was hanging from the mirror box, which Nikon removed when we returned from the Kgalagadi.

·       In addition, D600 body-3 had a focus problem where my 80-200 f2.8 lens would either continuously hunt or it would take the shot even though it was set to  'focus-release'. The lens worked perfectly on the other bodies.
·       In addition, when shooting video, with all three D600 bodies, the resulting video clips had a terrible hissing noise no matter what setting we put the camera on – and we were using the new Nikon ME-1 external microphone. The mic worked perfectly with the D3S and with our new Nikon D800 bodies.
Kudos to Nikon South Africa
I went back to Nikon South Africa and with no hesitation they said they would give me a full refund for the three D600 bodies plus the battery grips and accessories.  
When we started out with wildlife photography we had Minolta cameras and lenses but we experienced terrible service from the agents so we ended up trading in all our Minolta gear and we were asked, "Do you want Canon or Nikon replacements?"
We chose Nikon and have never regretted it! Every organisation has problems - it's how they are resolved that ensures client loyalty and here Nikon South Africa is one of the stars! 
We ended up buying new Nikon D800 bodies and we are VERY HAPPY with them!
Nikon D600 Camera Review - root cause of problems...
I hear what you're thinking; how could the D600 be such a problem camera while the D800 and its predecessors (D300, D3S, D700) were so good? I think we got to the bottom of it – when I turned the D600 over this is what we saw: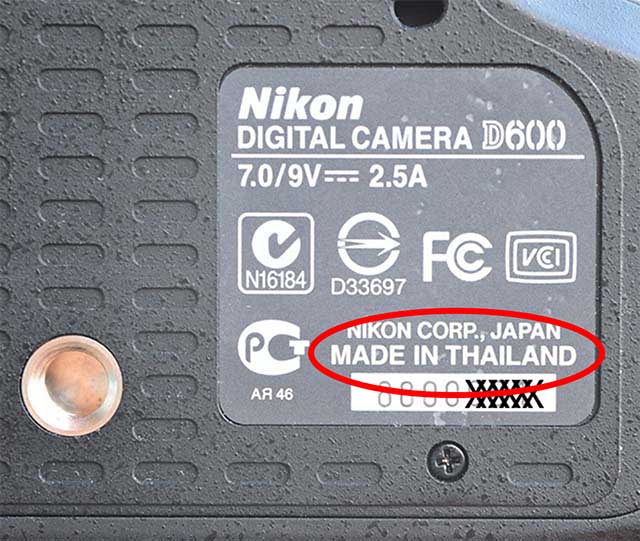 Yes, made in Thailand.
And the D800, our old D700 and D3s bodies are all made in Japan.
Was this just a coincidence?
Well, our first Nikon 18-200 lens (VRI) was a sharp lens and we got some great shots with it. And then I dropped it while in Skukuza camp in the Kruger Park and we got a new one that I was never happy with. If the lighting was good the images were sharp but if the day was overcast my images were hazy.
Why the difference? Well were back to made in Japan for the old 'sharp' lens versus made in Thailand for the new VRII lens…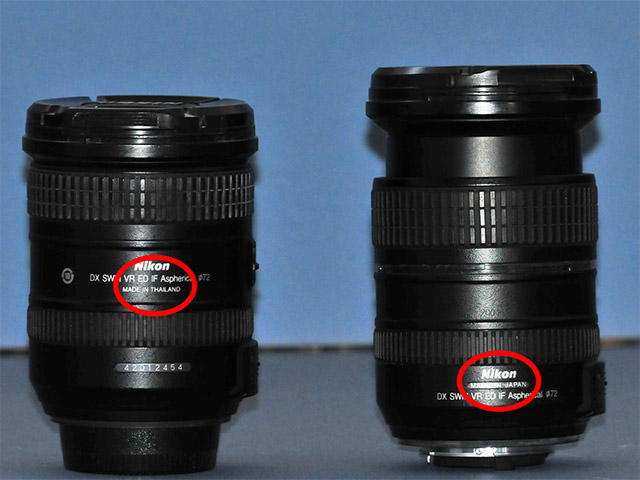 I ended up trading the 18-200 and bought the Nikon 16-35 mm wide angle lens – what a difference in sharpness! I miss the extra reach but I have my 80-200 f2.8 lens should I need this range plus Jenny shoots with the 80-400mm lens. 
I cannot say that all the items coming from Thailand are poor quality as I'm sure Nikon must have quality control at the Thai factories and our D300 bodies were made in Thailand. It just seems that the quality coming from Thailand is not consistent.
From our experience with the Nikon D600 body and 18-200mm lens, going forward we will not be purchasing any more 'made in Thailand' Nikon gear!  
We trust you enjoyed this Nikon D600 Camera review and that it provided some answers for you.
In hindsight we should have placed more reliance on the many, many Nikon customers who were complaining about their D600 problems on the various forums and social media platforms.
Nikon Finally Acknowledges the D600 Issues...
In February 2013 Nikon finally acknowledged the D600 issues. They do state that dust accumulation is a normal fact when using a camera. I agree with them - in the past I had to clean my D1x, D2h, D200, D300 and D3S bodies 2-3 times per year to get rid of dust but with the D600 I was cleaning dust and oil 2-3 timer per DAY on three D600 bodies!
Anyway, their solution is for you to clean your sensor and if that doesn't work you are to take/send your D600 to a Nikon service centre. Is that 'problem-solved'?
We will keep updating this Nikon D600 Camera Review page as we find out what progress is being made to help customers who are stuck with this problem.
---
Return from Nikon D600 Camera Review to Nature Photo Gear page

Return from Nikon D600 Camera Review to K2K Home page
---
---

To make a safari rental booking in South Africa, Botswana or Namibia click here
---