Which is the Best Safari Camera to take on an African Safari?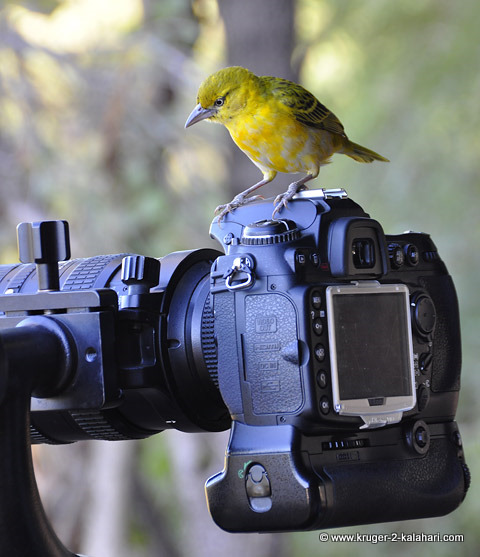 Even though I have used the word 'best' in this page title, I don't think there is a best safari camera!
The best safari camera is the one you have with you when you see the cheetah kill! It's the one that you feel comfortable using and that gives you pleasing photographs.
We realise that there are various levels of photographers that want to go on an African safari - some are just starting out, some want to upgrade, some have budget constraints while for others money is not an issue.
If you are wanting to enter your photos into competitions, publish them, sell them or make prints you will need to go for a minimum standard. Here we provide our advice for these different levels of photographers.
When we started out with photography we had a simple Kodak point and shoot camera and very quickly realised this was not sufficient for good wildlife photographs! We then bought a Minolta SLR camera and progressed to our current Nikon photographic system.




DSLR Cameras
Compact cameras simply cannot provide the picture quality and variety of settings that a DSLR (Digital Single Lens Reflex) camera does so we will therefore be discussing only DSLR camera options.
Yes, compact cameras have improved immensely over the past few years but with their improvements you also get DSLR improvements as well so the gap between the two is not really getting any smaller.
The start-up time and focusing speed of point and shoot cameras is just too slow for capturing most wildlife action. Also, the price of DSLR Cameras used to be very high but you can now get a DSLR for less than $1000.
The two therefore cannot really compete and that is why some photo competitions have separate categories for Compact users and DSLR users. (Having said that, a few of the compact photographs we have seen are very good but they are in the minority).
Best Safari Camera for the Beginner or Budget-Conscious Photographer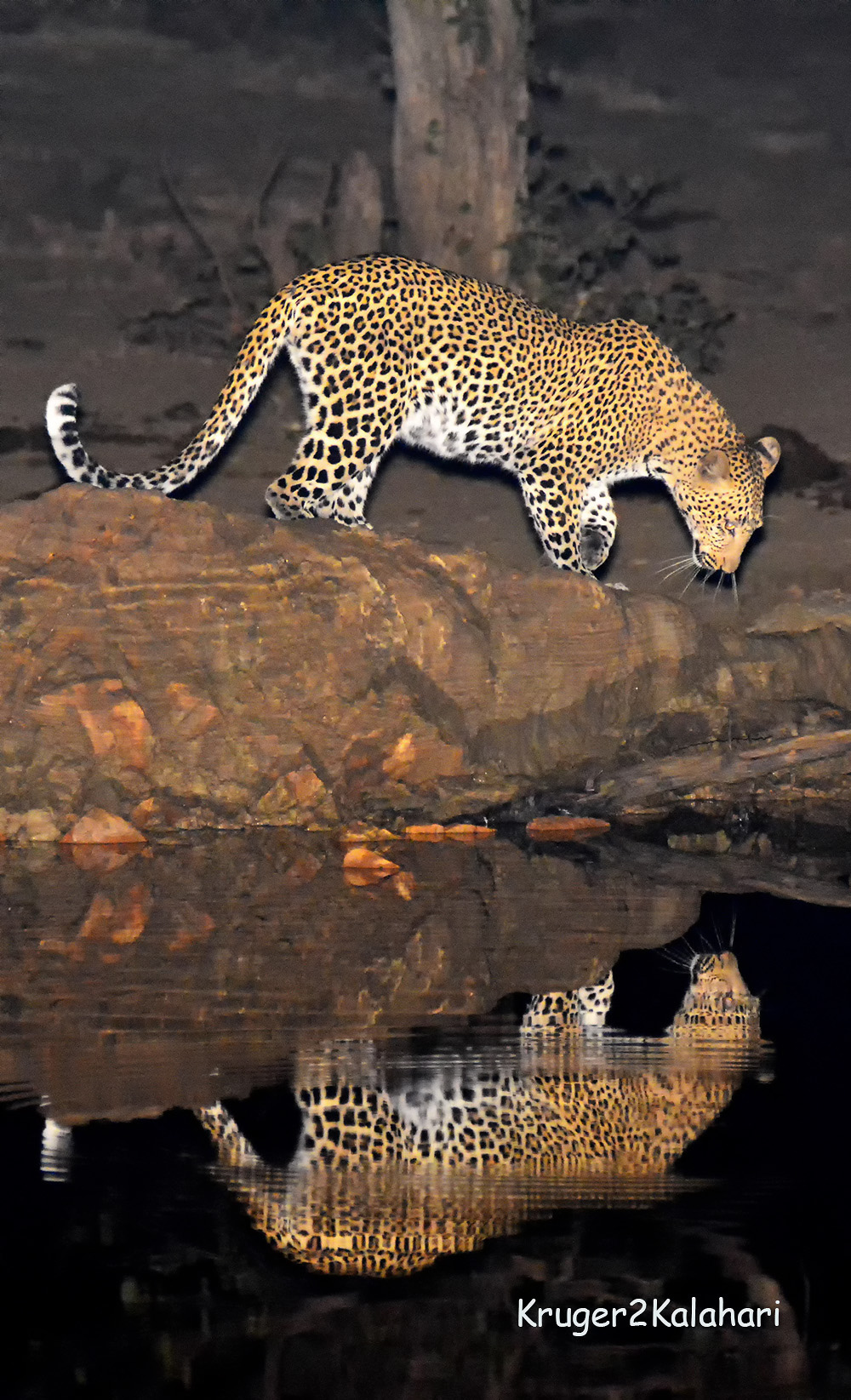 This leopard image was captured using the Nikon D7100 and a Sigma 150-600mm Contemporary lens
Both the Nikon D5000, Nikon D90 (12.3 Megapixels) can work for wildlife photography but we recommend the Nikon D7200 (24 Megapixels) / D7500 (21 megapixels) / D500 (21 megapixels). The D90 and D7200/D7500 all have a built-in motor while the D5000 doesn't. Please keep in mind that the metal body D7200/D7500 are not replacements for the D90 - they sit between the D90 (plastic body) and the D500 (metal body) in the Nikon model lineup.
Most modern lenses come with a motor (Nikon calls theirs a SWM - Silent Wave Motor while Canon calls theirs a USM - Ultra-Sonic Motor) but some lenses like the 200mm Micro, 60mm micro and the 10.5mm fisheye do not have motors so we would be very limited in our use of the D5000 as we shoot on autofocus most of the time.
These camera bodies are 'DX' meaning they have a smaller sensor with a 1.5x crop factor - this means that the image will be 50% larger than the size of traditional 35mm film. The result is that your 200mm lens now has the magnification of a 300mm lens or your 300mm has the equivalent magnification of a 450mm lens!
We photographed these wildebeest at the Okaukuejo waterhole in Etosha using a Nikon D3s at 400mm. If we were using a Nikon D300s the 1.5x crop factor would greatly magnify the wildebeest and they would be a much more prominent subject in the frame...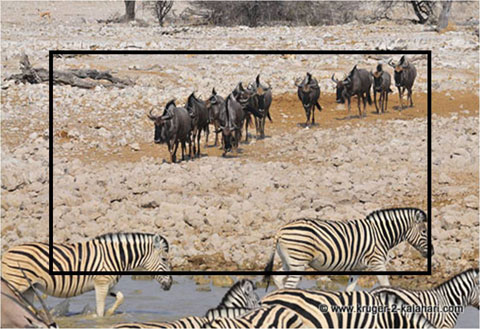 The D5000 camera has a flip-out screen so you can shoot low-angle pictures without having to buy a right-angle viewfinder - both these features (1.5x crop and flip-out screen) are great for the budget conscious.
We have used all these bodies and the photographs are very good. Some people have asked us about the Nikon D3000 but we were not happy with the photograph quality.
I used the D90 as my back-up body for over a year and found only one small problem with it - the program dial cannot lock so I would sometimes inadvertently bump or rub against the camera and the dial would turn from A (Aperture) mode to S (shutter), P (program) or M (manual) or some other setting and I would end up with some strange-looking photos!
Unfortunately, the D7000 has a similar program dial that does not lock and we still end up bumping it and therefore changing the settings!
My best camera body backups were the D300 then the Nikon D600 and, most recently the Nikon D800, as the program dials lock and most dials and buttons are in the same place as my primary camera body, the D3S.
The Nikon D800 is a full-frame or FX body, and because it has a large sensor, like the Nikon D3S, it has excellent low-light capabilities. The look and feel is very similar to the D700.
The Nikon D500 is the long-awaited successor to the D300 and it is a superb camera! 
If you use Canon equipment my good friend and Canon wildlife photographer, Irvine Eidelman, recommends either the Canon 50D (15.1 Megapixel) or Canon EOS 7D (18 Megapixel) as the best safari camera. Keep in mind that Irvine says that the 7D is a bit more complicated to use than the 50D.


Best Safari Camera for the Intermediate / Budget-Isn't-an-Issue or Pro Photographer
If budget is not important then the Nikon Nikon D3S (12.1 megapixels) was our choice. The D3S has excellent low-light capability and the ISO can be pushed to 12800 with minimal noise!
The D7100 is not good quality for regular use - after just a few months we had a filthy focusing screen and the release mode dial lock button was jammed due to bumping the body on a vehicle. Neither of these things ever happened on our D3S, D300 or D800 bodies even after years of use. (Having said that, the D7100 still captures good images).  
We don't want to have a camera manufacturer shootout here and in our opinion Nikon and Canon are both superb makes, but currently, for low noise, Nikon has the best image quality at high ISO settings.
With the various noise reduction software programs available low noise may not be important to you but we try to have minimum post processing of our images and there can be side-effects to noise reduction.
We use the D3s camera body in Etosha, the Kruger Park and Kgalagadi to get amazing photographs of nocturnal animals. The D300s has 1.5x crop factor while the D3s is an 'FX' or full-frame camera body.
The pixels on the FX sensors are larger than on the DX sensors so the image quality tends to be a bit better because of the higher light sensitivity and dynamic range. I stress 'a bit' - I'm using both these bodies and I struggle to see a difference between daytime photographs taken with each camera.
For night photography, however, the difference was immense between DX  and FX, until the Nikon D500 was launched - the D500 has superb dynamic range.
For Canon users the Canon 1D mark4 ( 16.1 megapixel with 1.3x crop) or the Canon 1Ds mark3 (21 megapixel full-frame sensor) would be the ultimate camera body to take on safari.
Please keep in mind that sometimes less is more. Just because a camera has gazillions of pixels does not make it the 'best' body.
As an example, I enjoy nocturnal photography so a camera that can produce low noise under low light would be my number-1 choice, hence I had the Nikon D3s and now have the Nikon D500.
Having said that our suggestion for megapixels would be a minimum of twelve megapixels. This will provide sufficient quality and allow for some cropping of the images.
If you want to enter your photographs into Wildlife Photography Competitions then you need to ensure you have a camera with enough megapixels. When we entered the Veolia Environnement Wildlife Photographer of the Year in 2008 the minimum pixel requirement was 6 megapixels. In the 2010 contest the minimum had increased to 10 megapixels!
Another criteria for your best safari camera may be weight and the Nikon D5000, D90, D7000 and D600 as well as the Canon 50D are smaller and lighter bodies so if you will be doing bush walks or walking around camps taking photographs these may be more appropriate options to the heavier pro bodies.
If you want to use these bodies for videos the D90 isn't great - we recommend the D7000 and D800 as they have a better HD video function with continuous autofocus. The video function on the D3s also has autofocus but it is not full HD while the Nikon D500 has full HD (1080P) video. 
We use Nikon photographic equipment hence our recommendations are for the Nikon models, of which there are eight different models.
So many models can be confusing! I had the Nikon F5 camera from 1997 to 2002 when it was the top of the range camera. (Even though the Nikon D1 was launched in 1999 most photographers stuck with their film cameras until digital technology became more widely accepted).
In recent years we have seen at least two new cameras being launched every year by Nikon and Canon! The following graphic shows the Nikon model lineup in terms of performance and price as at 2010...
compared to the model lineup as at November 2012...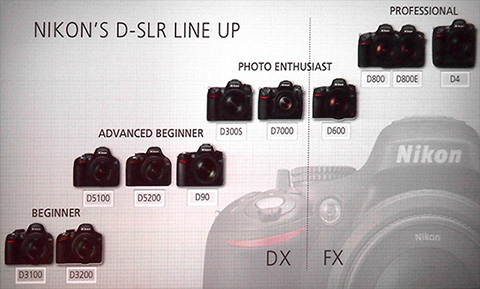 You'll notice that the D3X, D3S and D700 are no longer in production but the DX bodies have not changed much. The main focus seems to be on the full-frame FX bodies.
What do we use as our best safari camera?
If people provide you with advice it's always good to check out what they use. If a person provides advice that they themself are not following, how valuable can that advice be!
We have the following bodies as our 'best safari camera'...
1 X Nikon D500
1 X Nikon D800 (we traded in our D90 and the D7000 for the Nikon D600 because of it's superior low-light capabilites and the locking program dial, BUT because of quality issues we returned the D600 bodies and got D800 bodies). You can read our Nikon D600 camera review Here

1 X Nikon D7100
If you are buying your first DSLR camera then it doesn't matter where the buttons are as you will get used to their positions, but when you have been using a body for years you are used to having the buttons and functions in a certain place and a new body with different dial positions will confuse you and this may be the difference of you getting or missing an important photograph.
If you already have a body that you enjoy using then your backup camera should ideally be the same as that of your primary camera body.
The best safari camera then depends on whether you will be doing self drive or tour group, your budget, what you intend to photograph, whether you will be walking around, whether you will be shooting at night and if you want a video function.
We have narrowed the best safari camera choices down to the above bodies so your selection should now be much easier to make!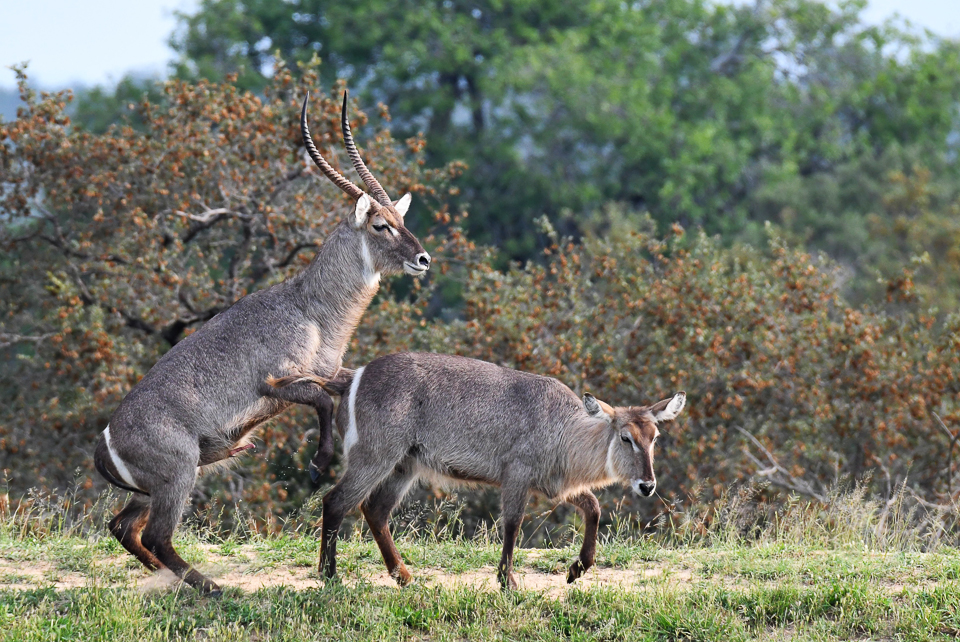 Image captured with a Nikon D500 and Sigma 150-600mm Sport lens
For a more comprehensive guide to choosing a camera, check out Jen Reviews.
One final word of advice for the Best Safari Camera:
It has been said that your choice of Lens is more important than the camera body as the glass is what provides the image quality.
That may have been true before the game-changing D800 and D500 bodies were launched! Now the camera body is as important as the lens, especially if you will be shooting under low-light conditions such as dawn, dusk and after sunset as these are the times when most action happens.
For low-light shooting we have found the D7200/D7500 and D500 bodies to be superb. If you are going to be photographing before sunrise and after sunset any of these bodies would be ideal choices for our best safari camera!

---
Return from Best Safari Camera to Nature Photo Gear page

Return from Best Safari Camera to Kruger-2-Kalahari home page
---
---

To make a safari rental booking in South Africa, Botswana or Namibia click here
---