Pro vs Consumer Lenses for Wildlife Photography
| | |
| --- | --- |
| Nikon 600mm f4 lens on tripod | The Sigma 150-600mm Sport lens zoomed out to 600mm. |
It used to be taken for granted that expensive pro lenses will provide much better images than the cheaper mid-range consumer lenses. Let us see if that is still true.
Obviously, capturing good images is a combination of the gear plus the expertise and creativity of the photographer and not just the gear, but here we are looking at only the one side, namely the lenses.
We'll look at two award-winning professional wildlife photographers who both capture stunning images but use very different gear.
Tin Man Lee
Tin Man Lee published three articles on his recommended three best lenses for an African safari in Kenya.
1. In the first article he recommends the Nikon 400mm f/2.8 FL VR. This lens costs R200 000,00 and weighs 3800g. You can read Tin Man's review here.
2. In Tin Man's second article he recommends the Nikon 70-200 f2.8. This lens costs R45 000,00 and weighs 1430g. You can read Tin Man's review here.
3. In Tin Man's third article he brought the Nikon 24-70 2.8E, which costs R40 000,00 and weighs 1070 g. You can read Tin Man's review here.
He did state that "In this trip, I felt that the 24-70 is almost too heavy for such use. I will likely bring a D850 without battery pack to save weight, and a Nikon 24mm 1.8G in the future."
No wonder why - look at the difference in weight (and cost): the Nikon 24mm 1.8G costs R13 000 and weighs just 355g. But the rest of his gear still weighs over 5kgs excluding accessories and costs a lot of money. 
You can read more about Tin Man on his website Tin Man Lee.
---
---
Kevin Dooley
Now we'll look at the second wildlife photographer, Kevin Dooley.
Kevin uses two primary lenses on his wildlife safaris:
1. The Sigma 60-600mm f/4.5-6.3 S that costs R30 000,00 and weighs 2,7 kg.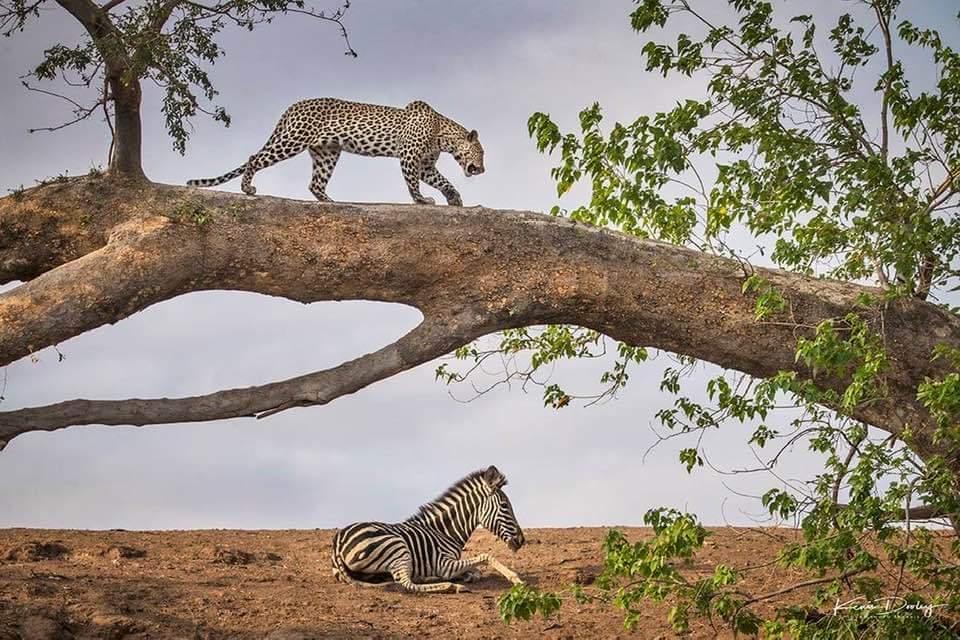 Image captured by Kevin Dooley in Mana Pools with his Sigma 60-600mm S lens
Kevin used to use the Sigma 150-600mm f/5-6.3 S, which costs R25 000,00 and weighs 2,86 kg but he prefers the extra width of 60mm and thinks the lens is a bit sharper than the 150-600mm. 
You can see his review video here:
2. For wide angles he uses the Canon EF 24-105mm f4L IS II USM Lens, which costs R14 000,00 and weighs 795g.
Image captured by Kevin Dooley in Chobe with his Canon EF 24-105mm f4L IS II USM Lens
These two lenses cover a similar field of view as Tin Man's three lenses but look at the difference in cost and weight. And look at the quality of Kevin's images – he has certainly not sacrificed quality for weight and price.
You can read more about Kevin Dooley at his website, Idube Photo Safaris.
From the above comparison, you can see that the gap between pro and consumer lenses has closed somewhat in terms of lens quality, but not with cost.

I have used lenses like Tin Man Lee; the 300mm f4, 400mm f2.8 and 600mm f4 lenses – they produced excellent quality images and could take tele-convertors, but the weight and bulk were annoying.
Whether I was in my vehicle doing a self-drive safari or on a guided game drive, these lenses sometimes frustrated me as I would bump them on the vehicles due to their length or not get the shot I wanted as I could not zoom out.
I traded them in over the years and ended up with the Sigma 150-600mm f/5-6.3 Sport lens and have not looked back. Yes, I can use a tele-converter on the lens but choose not to as the image quality is not as good as with a prime lens but the benefit of the reduced weight and bulk more than make up for this.
Mounted on my Nikon D500 I get the equivalent of a 225-900mm zoom - perfect for safaris!
Hand-holding the Sigma 150-600mm S lens and bracing against my knee.
For wide angles I use a Nikon 16-35mm f4 wide angle lens and to cover the gap between 35mm and 225mm I use a Nikon 70-300mm consumer lens. Both would fit on my Nikon D800 full-frame body. 
The bottom line is that you need to choose what best suits you and your photographic style. If you can afford the more expensive pro lenses and don't mind the weight and bulk then that's what's best for you.
But if you cannot afford these pro lenses and/or don't want to carry so much weight and bulk, then don't feel inferior if you have the latest consumer lenses like the Sigma 150-600mm or 60-600mm – they can produce images just as good as the pro lenses. 
Some people say they want these fast lenses for low-light shooting as they can open up the aperture more on the expensive pro lenses, yet the choice of camera body is even more critical. My Nikon D500 has excellent low-light capability, high dynamic rage with low-noise at high ISO so we don't fear the low-light situations!  
I do admit that sometimes it would be nice to have a 400mm f2.8 but the cost and weight, for us, outweighs the benefits of shallow depth of field and better AF under low light. 
Pro vs Consumer Lenses for Wildlife Photography
Here's a comparison of the two photographer's gear:
You will need to make your choice based on a number of criteria such as cost, weight, use of tele-extenders, type of camera body and your particular style.

---
Return from Pro vs Consumer Lenses for Wildlife Photography to Nature Photo Gear page
Return from Pro vs Consumer Lenses for Wildlife Photography to Best Safari Lens

---
---

To make a safari rental booking in South Africa, Botswana or Namibia click here
---