The Wilderness Experience
What is Wilderness?
Wilderness offers people solitude, inspiration, and a natural, quiet place to get away.
Most people, however, who want quiet also appreciate the natural landscapes and 'natural soundscapes' of the wilderness.
Wilderness also protects biodiversity - the web of life.
Wilderness is a place where the imprint of humans is substantially unnoticed. It is where the natural processes are the primary influences and human activities are limited to primitive recreation and with minimum tools. This allows us to experience wild places without intention to disturb or destroy. Change will occur primarily through natural disturbances and minimum human influence.
Source: The Role and Function of Wilderness Trails in the Kruger National Park, by Barry Hopgood and Jaco Badenhorst
Wilderness Values
Sir Laurens van der Post is quoted from Ian Player's book 'South African Passage, diaries of the wilderness leadership school' as follows:
"Those of us who have spent time in wilderness are aware of the fact that there is something more to wilderness than we ourselves can express. This is rooted perhaps in the effect that wilderness has on human beings who have become estranged from nature, who live in industrialized environments and are estranged in a sense from their natural selves. Wilderness has a profound impact on them, as well as on those of us more familiar with it.
Wilderness is an instrument for enabling us to recover our lost capacity for religious experience. The religious area is far more than just the church. If you look at the history of Europe since Christ, you will see that the church has tended to be caught up, as it is today, in the social problems of its time, and be less than the religion it serves. The churches and cathedrals are really, in the time scale of human history, just tents on the journey somewhere else.
What wilderness does is present us with a blueprint of what creation was like in the beginning, when all the plants and trees and animals were magnetic, fresh from the hands of whatever created them (God). This blueprint is still there, and those of us who see it find an incredible nostalgia rising in us, an impulse to return and discover it again."
This 'wilderness experience' of tranquility, solitude, spiritual refreshing and natural beauty is hard to come by in today's cities hence people tend to visit Africa to try to get this experience.
This wilderness experience can also be likened to a spiritual safari but instead of the big five being the end goal, the seeking is for a relationship with God Almighty.
And if you are a photographer then your quest could be for more Spiritual Photography that will enhance your creativity.
We will discuss our wilderness experiences in the Southern African national parks of the Kruger and Kgalagadi...
The Kruger Park is getting more and more visitors each year so the wilderness experience is getting more difficult to experience.
The large main camps, such as Skukuza, Satara and Lower Sabie have a lot of hustle and bustle created by delivery vehicles, staff and visitors. The bushveld camps are much quieter but even here it depends on who your neighbors are...
The one year we were staying at Shimuwini bushveld camp and three groups of people were staying a few cottages down from us and they had about six children between them. These kids had bright spotlights and they ran up and down in front of all the cottages yelling and shining their lights everywhere. This went on for hours - there goes your 'wilderness experience'!
The Kruger does, however, have wilderness trails and 4X4 trails where you can get away from the mob. These trails are well worth going on.
In the Kgalagadi the new wilderness camps are by far the best for having a true wilderness experience! You have six unfenced wilderness camps to choose from: Gharagab and Grootkolk in the north, Bitterpan, Kalahari Tented Camp and Urikaruus in the centre and Kielie Krankie in the south.
Our favorites are Kielie Krankie and Gharagab as they both have just four cabins and both have panoramic views of the surrounding areas thereby providing magnificent sunsets and sunrises, superb star-gazing as well as solitude and tranquility. Each cabin in these Kgalagadi wilderness camps has a book, kindly donated by Michele Nel, where visitors can record their daily experiences and thoughts...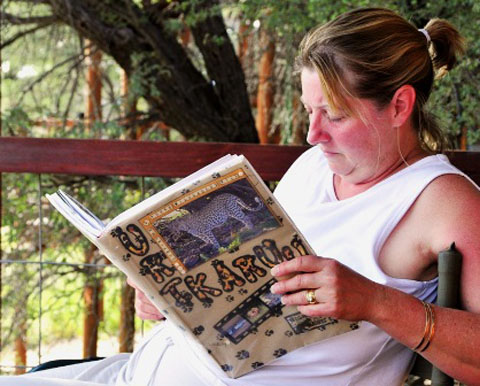 Many people record their animal sightings and in addition their thoughts and feelings.
We found that the majority of visitors would praise God for His wonderful creation.
Just one or two mentioned seeing 'evolution in action' and how amazingly dinosaurs had evolved into lions and leopards.
Here are some of the experiences that we have extracted from books at Urikaruus, Gharagab and Kielie Krankie camps: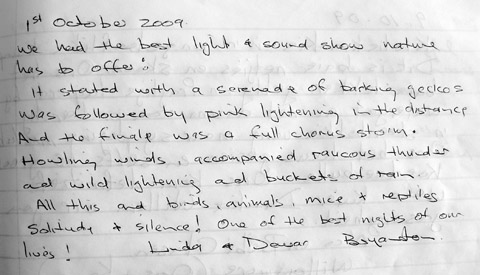 The wilderness experience will affect most people and they should start thinking about life - appreciating what we have, thanking God for His many blessings and also pondering on questions like:
• where do we come from?
• what is the purpose of our life?
• what happens to us after we die?
• what on earth is happening? (Corona virus and all the other fearful things happeining on earth at the moment)
Surviving in the wilderness has been achieved by many people, it will, however, take the ultimate in survival skills to survive our spiritual deaths!
---
Return from Wilderness Experience to Why African Safaris Page
---
---

To make a safari rental booking in South Africa, Botswana or Namibia click here
---