Grootkolk
Grootkolk is an unfenced wilderness camp in the far north of the Kgalagadi Transfrontier Park.
There is a communal kitchen with two desert cabins on either side of it. Each of the four cabins has a barbecue area so you do not need to make use of the communal kitchen.
The cabins are made from sand bags and canvas and tend to be a bit smaller and cramped compared to the other wilderness camps.
The desert cabins were recently extended as you will see from the next photograph...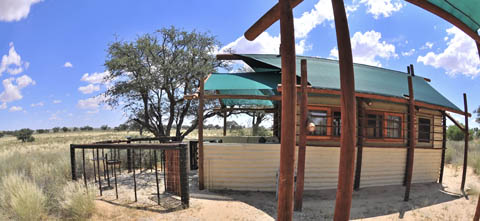 ... providing extra space outside when cooking but the interiors are still small.
The nearest shop is at Nossob, about 100 kilometers away so please make sure you take enough food, water and firewood or charcoal with you!
The waterhole is spoilt by having a tree in front of it. In addition, the waterhole can also be obscured by grass in the wet season as the cabins are not raised and you cannot see the animals drinking unlike Urikaruus, Gharagab, Kiielie Krankie and Kalahari Tented Camp, where you can see the water and therefore you get to see the animals as they are lapping the water, making for much better photographs.
There is a resident leopard and resident pride of lions that often put in appearances at the camp. For photography the best months are the winter and spring months (August to November) as the grass will be short allowing for better views of the waterhole and surrounding area.

This page has been created to allow visitors to post their special stories and pictures for others to see.
The photographs should be taken at the camp waterhole or close to the camp area.
Visitors to this page can then comment on, discuss and rate each picture and story.
Have A Great Story with Pictures about Your Stay at Grootkolk Camp?
Do you have a great story to tell and photographs to show about your stay at Grootkolk Camp? Please Share them!

What Other Visitors Have Said
Click below to see contributions from other visitors to this page...

---
Return from Grootkolk to Why the Kalahari page