Urikaruus
Urikaruus Camp is an unfenced wilderness camp situated in the dry Auob riverbed in the Kgalagadi Transfrontier Park.
Each of the four riverside cabins are built on stilts and are connected by elevated wooden walkways for comfort and safety.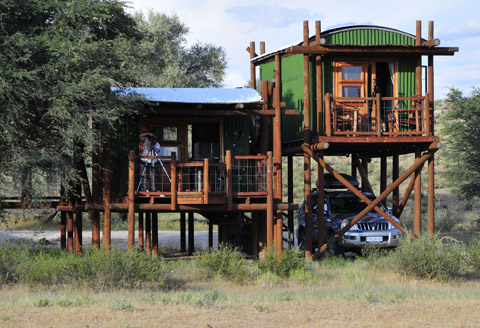 There is petrol and food items at Mata Mata camp (about 550km North) or at Twee Rivieren camp (about 70km to the South). You should take your own water, food and charcoal / firewood when you stay here.
Each cabin has a view of the waterhole that is situated just fifty meters from the cabins. The waterhole is not floodlit so please bring your spotlight with!
We have had great sightings of lions, cheetah, African wild cat, spotted hyena, brown hyena, caracal and leopard here, by day and night.
This page has been created to allow visitors to post their special stories and pictures for others to see.
The photographs should be taken at the camp waterhole or close to the camp area.
Visitors to this page can then comment on, discuss and rate each picture and story.
Have A Great Story About Your stay at Urikaruus?
Do you have a great story to tell and photographs to show about your stay at Urikaruus Wilderness Camp? Please Share them!

What Other Urikaruus Visitors Have Said
Click below to see contributions from other visitors to this page...

Urikaruus waterhole - a very active waterhole

The Urikaruus waterhole has a constant procession of animals during the day. In this photograph you can see a herd of wildebeest interacting with a smaller …
Cheetahs drinking at Urikaruus waterhole

We normally wake up just before the sun rises but this particular day we slept in. At 07H00 I got up looked out the cabin window and saw this cheetah mother …
Two male lions drinking at Urikaruus waterhole

When we arrived at Urikaruus the camp manager, Marius, told us there were two lions in the area. Normally when we arrive at camps we are told these kind …
---
Return from Urikaruus to Why the Kalahari? Page
---