Kieliekrankie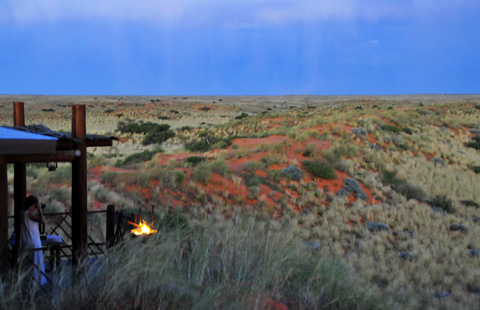 Kieliekrankie Camp is an unfenced camp high on top of a huge red sand dune.
The nearest shop is at Twee Rivieren, about 30 kilometers away.
Each of the four dune cabins has an unspoilt view over the Kielie krankie watering hole and its panorama of daily activity.
We have seen leopard, caracal, porcupine, lions, cheetah, African wild cat, spotted and brown hyena drinking at the waterhole from the comfort of our cabin deck!
Each cabin can see the sun rise and the sun set – this must be the most panoramic view in the whole Kgalagadi Park...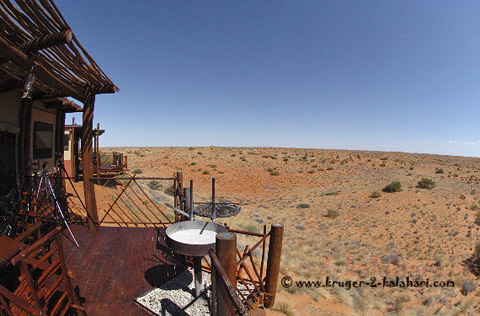 The cabins were renovated in 2009 and the canvas fronts have been replaced with wood and glass - much better!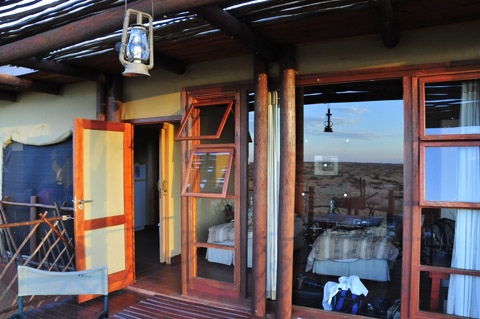 This page has been created to allow visitors to post their special Kielie krankie stories and pictures for others to see.
The photographs should be taken at the Kielie Krankie waterhole or close to the camp area (along the lower dune road).
Visitors to this page can then comment on, discuss and rate each picture and story.
Have a Great Story with Pictures about Your Stay at Kieliekrankie Camp?
Do you have a great story to tell and photographs to show about your stay at Kieliekrankie Camp? Please Share them!

What Other Kieliekrankie Visitors Have Said
Click below to see contributions from other visitors to this page...

Leopard in camelthorn tree

This leopard was resting in a camelthorn tree at the end of the lower dune road, about 20 kilometers from KK camp. A car had stopped near the tree and …
Lioness under tree Not rated yet
This lioness was resting under a tee in the lower dune road near Kieliekrankie camp. We nearly didn't see her even though the tree was right next to the …
Blackbacked jackal Not rated yet
This blackbacked jackal was a regular, drinking everyday at the Kieliekrankie waterhole.
---
Return from Kieliekrankie to Why the Kalahari page
---