Buffalo Ridge Safari Lodge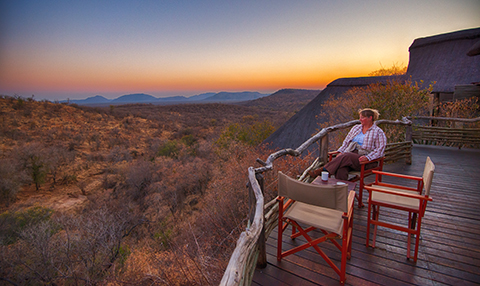 Location:
Buffalo Ridge Safari Lodge is situated in the western section of Madikwe Game Reserve, just 3 and a half hour's drive from Johannesburg on the N4 and only 20km from Gaberone. The lodge is accessible from the Wonderboom Gate.
About the Lodge:
This four star unfenced lodge is perched on the Tweedepoort Ridge with stunning views overlooking the plains and Inselbergs below.
The rustic feel and atmosphere of the lodge is great and we found it to be very relaxing and comfortable. The lodge walls are adorned with old photos from the local community...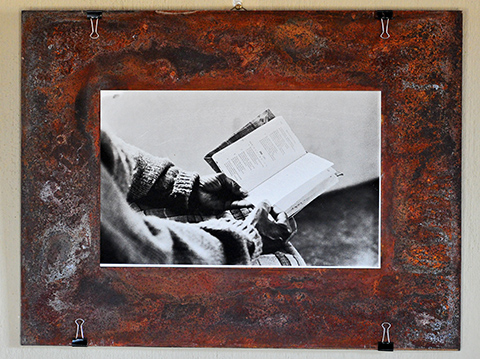 We were warmly welcomed by Godfrey and Tshepo and after our welcome drinks they showed us round the lodge.
A wooden bridge gives you access over a small ravine to the main lodge, which is spectacularly located on two tiers of the ridge.
Just off from reception is a small seating area with a library and a larger lounge down stairs where the canvas sides are rolled up to give you a feeling of openness and being at one with the bush. 
The second level leads to the main dining area and wooden viewing deck….what a view from this point, you can also see the waterhole but sadly it was dry when we were there in September, so no animals came down to drink. 
Up a few more steps and you will find one of the two bomas, this is the smaller one that caters for smaller groups and then up a few more steps where you will find the swimming pool with a fantastic view over the veld. The second boma is behind the lodge and close to chalet #2.
Food & Drink:
The food at Buffalo Ridge is 5-star!! Most of our meals were either in the dining area or in the smaller boma. Every meal was delicious, well presented and served with a smile! 
Josephine did a superb job; we had tomato and olive phyllo pastry tart, rack of lamb with couscous and vegetables then a delicious desert of cream caramel.
Each night the dinner is served at a different venue but the boma tends to be the most popular with guests.
Breakfast was just as good and I must say we loved their home made muesli – one of the best we have tasted! A hot breakfast of eggs, mushrooms, bacon, sausage, tomato, toast, tea and coffee can be also ordered.
Accommodation at Buffalo Ridge Safari Lodge: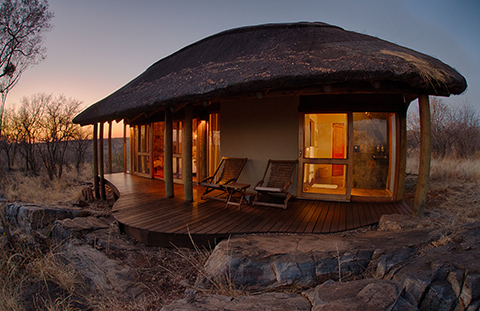 A gravel pathway leads away from the main lodge building to 8 uniquely designed and decorated thatch chalets; each with sliding doors that lead from both the bedroom and showers onto large viewing decks, offering a very private and luxurious experience with some great views.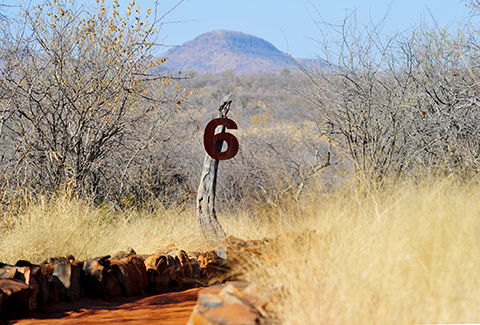 Each bedroom has either twin or king-size beds, en suite bathrooms with shower - all with a view - air-conditioning, ceiling fan, tea and coffee station and dressing table.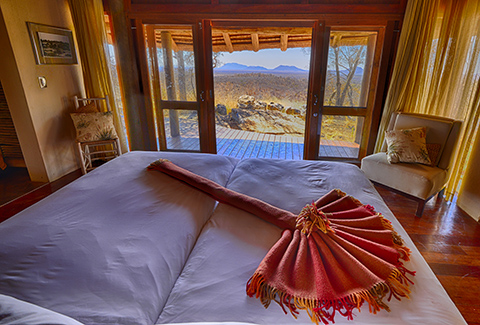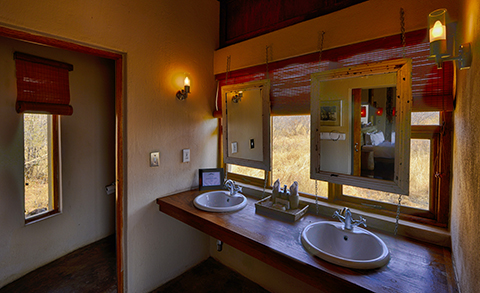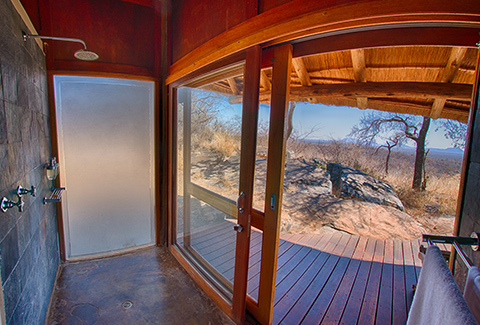 The chalets are widely spread for total privacy…. number 8 is a fair walk from the main building but has a super view.
Activities:
There are two game drives per day, a morning and afternoon/evening drive in open game-viewing vehicles with a coffee break in the morning and sun downers in the bush for the afternoon drive.
You can also relax round the swimming pool or on your chalet deck.
Sightings:
We had some nice sightings of the Big-5, but sadly no great photographs of the 2 leopards as these guys seem to be camera shy. When we arrived we were welcomed by a family of klipspringer who even drank from our water overflow outside our chalet.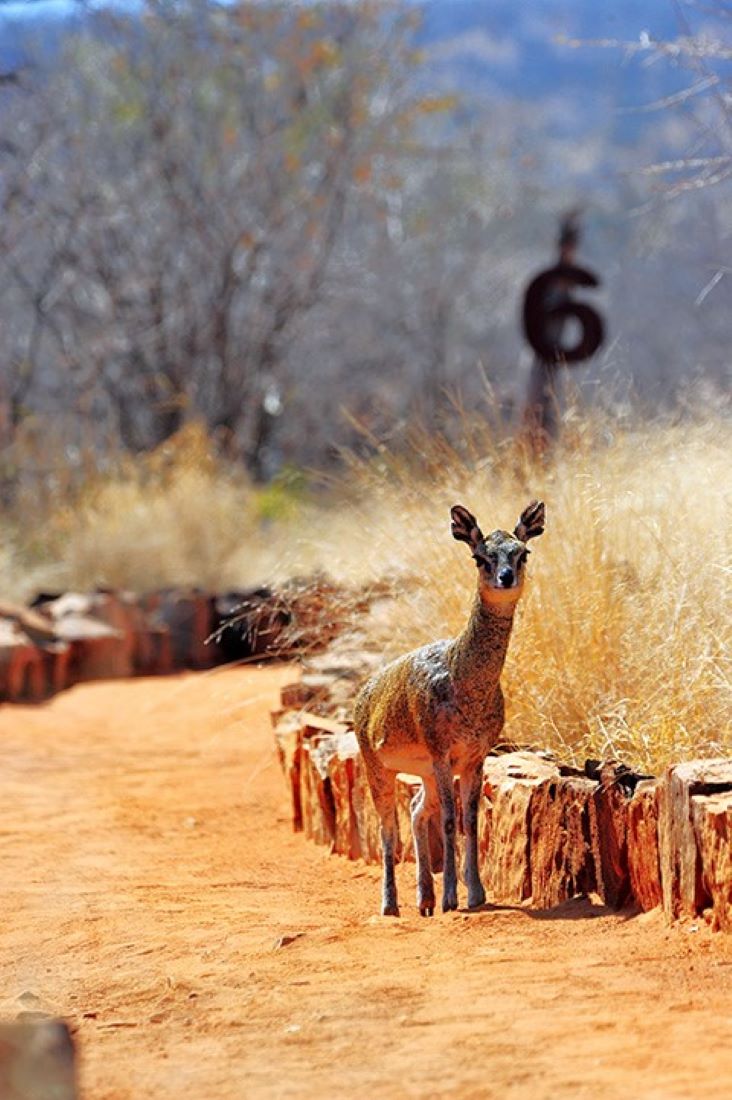 The lodge is unfenced so we had Leopard spoor all the way down our path to our chalet, bumped into a buffalo bull on our way back from dinner and had a spotted hyena dash across our path the one morning! 
You can see more images on our trip report page.
Thank you to the Buffalo Ridge Safari Lodge team for 5-star food and great service!
---
For more information or to make your reservation at Buffalo Ridge Safari Lodge please visit their website
---
Return from Buffalo Ridge Safari Lodge to Madikwe Page
---
---

To make a safari rental booking in South Africa, Botswana or Namibia click here
---