Jacis Tree Lodge
Jacis Tree Lodge:

Location
Jacis Tree Lodge is situated on the eastern border of Madikwe Game Reserve so the quickest and also the recommended route from Johannesburg is to drive via Sun City, entering at the Molatedi Gate, which is about a 3 ½ hours' drive from JHB.
About Jacis Tree Lodge
This unique tree lodge, positioned on the banks of the Groot Marico River, is a fabulously comfortable, authentic bush lodge with staff passionate about their jobs and looking after their guests. The lodge is owner run and not part of a large hotel chain, thereby providing that extra-special personal experience.
The lodge is right next to their sister lodge, Jacis Safari Lodge. Safari Lodge is for families and children while Tree Lodge is more for couples.
When you enter the thatched tree lodge at ground level you are soon transported into the main area and surrounded by a canopy of the lush riverine forest; you feel like you have entered a dwelling from a story book!
A large fireplace separates the lounge/bar area from the dining room and quaint curio shop.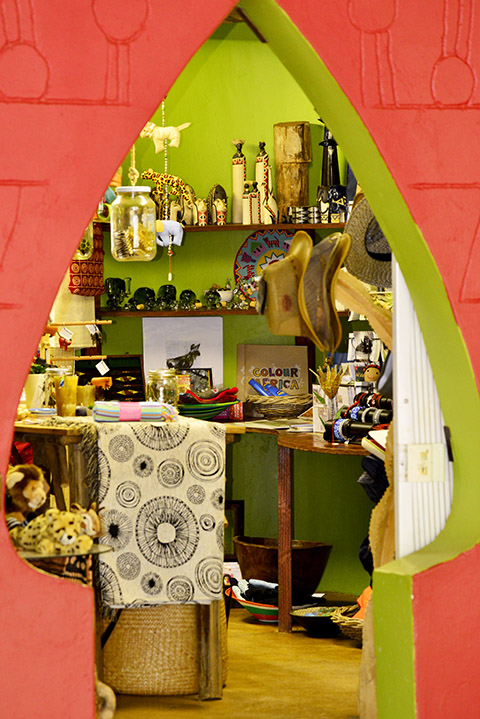 I loved the vibrant colors and architecture of Jaci's Tree lodge.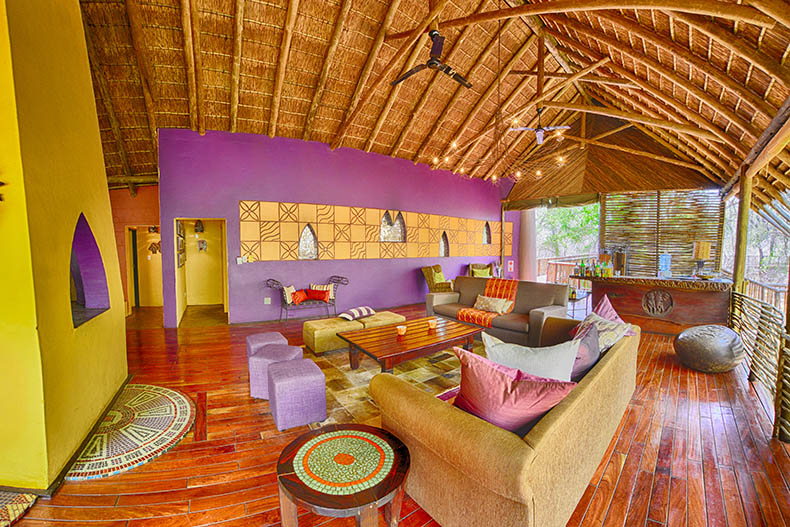 Just down a set of steps is the boma overlooking the Marico river; or you could curl up with a good book in the lounge by the fireplace or alternatively in the outdoor breakaway lounge and library.
Jaci's differs from most of the other lodges in Madikwe in that it offers its staff members a share in the lodge, in line with a very clear government mandate to provide upliftment in the area. This incentive makes 25.1% of the business available to the staff through Jaci's Staff Trust.
In addition there is a development programme where staff members develop their skills and grow in the business while reaping the financial rewards of their hard work and excellent customer service.

Jacis Tree Lodge: Food & Drink
The open bar area is next to the lounge where you can enjoy beers, wines, cool drinks or water throughout the day.
The spacious dining area is the main attraction and where most of the meals are served - we had our breakfast of fruit with cheese and biscuits, followed by yogurt and muesli, then a hot breakfast can be ordered of eggs, bacon, mushroom and grilled tomato with sausage and toast.
Each night guests are treated to a pre-dinner snack of Jaci's chilli and garlic dip, served with freshly baked phaphata bread. Each guest gets to make their own...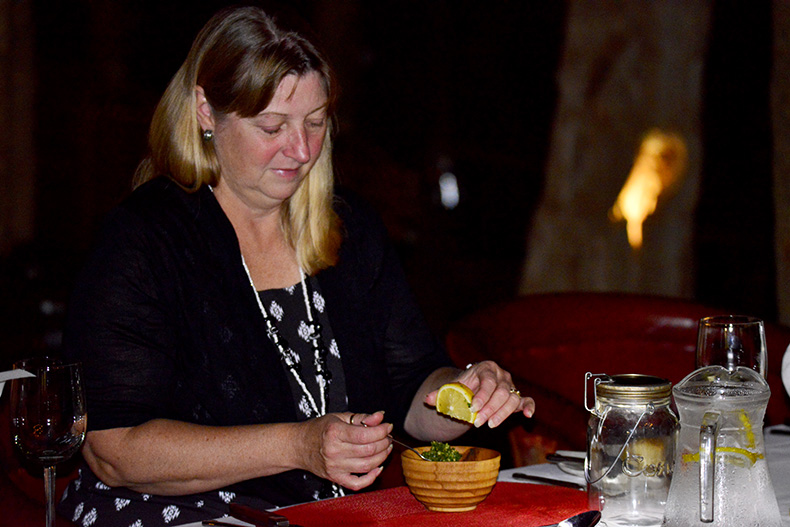 Dinners are setup in different areas depending on the weather. There are two bomas where you eat under the African sky while sitting round the fire, or for those rainy days in the large dining area. In addition they also setup dinner at the lodge entrance, which is also under the stars.
We had most enjoyable meals like our stuffed mushroom starter with Grilled kingklip and veg and for desert we had chocolate mousse.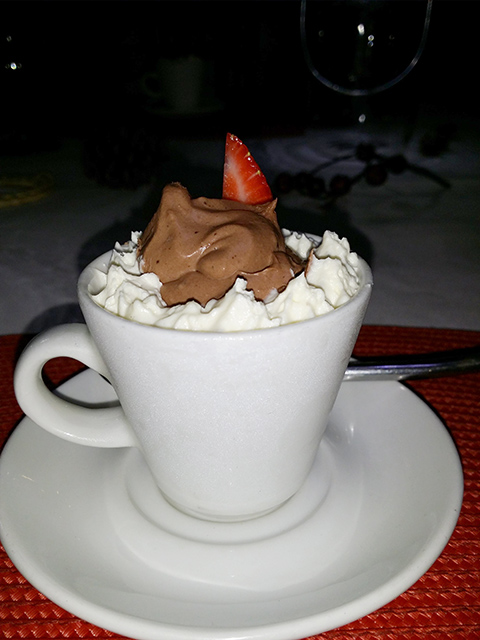 High tea is served in the dining area before your afternoon game drives, and there is always something interesting to taste.
Jacis Tree Lodge: Accommodation
Connected to the main lodge by wooden walk ways, Jaci's Tree Lodge offers eight luxurious tree houses perched high above the ground on wooden stilts, giving you a magnificent tree-top safari experience.
Each "tree house" is made from African rosewood and thatch which blend seamlessly into the surrounding canopy and all are decorated in vibrant colours.
Large wooden decks which are ideal to watch resident mongoose families, the bush buck that graze under the canopy of trees or fantastic bird watching in a relaxing, natural environment.
The rooms each have a king-sized bed, stone bath and outdoor shower, air conditioning, fans and heaters, to ensure your comfort throughout the year, plus tea and coffee station, hairdryer and safe.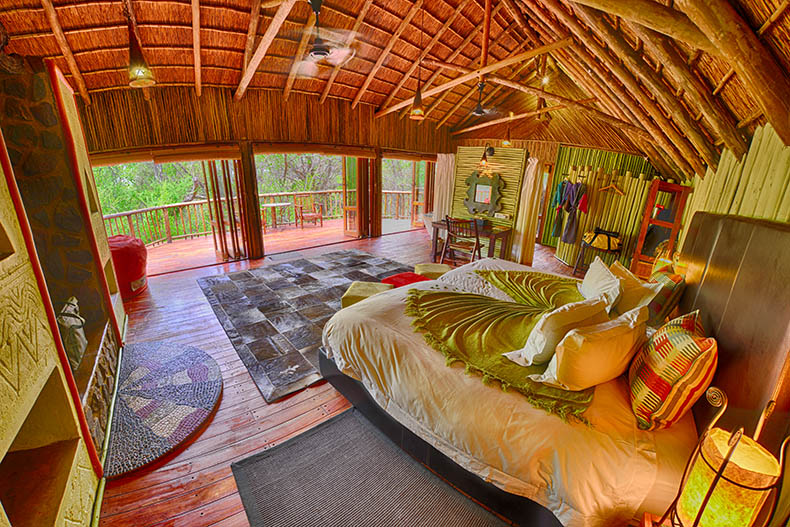 Jacis Tree Lodge: Activities
If relaxing round the pool is not your thing, then try the hide which is great because it overlooks a large wetland and animals come down to drink all day long- enjoy sun-downers at the hide if you don't go on a game drive or have a night under the stars, because the top level of the hide has a bed!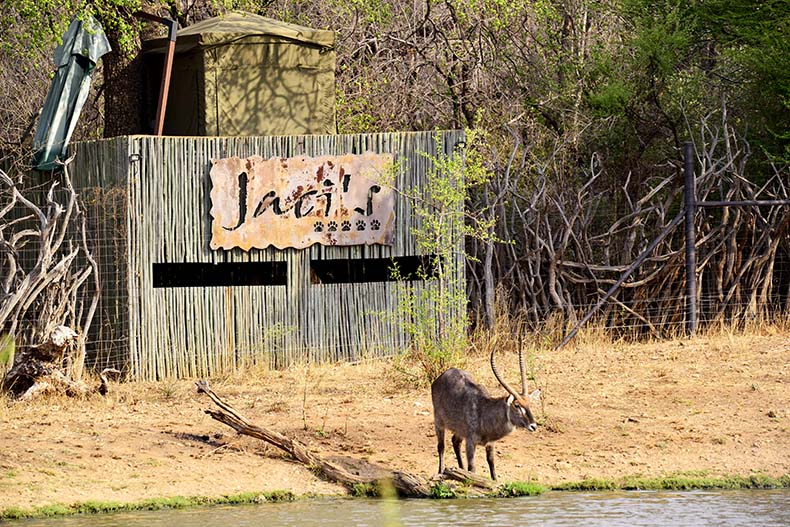 There are two game drives per day - an early morning and a late afternoon, both drives will stop for either a coffee or sun-downer break in the bush.  
Our Sightings while at Jaci's Tree Lodge
During our 3 days stay we had some excellent game drives; we saw the Big 5 plus cheetah and wild dogs. The cheetah sighting of the 4 brothers was great and they were very photogenic for a change!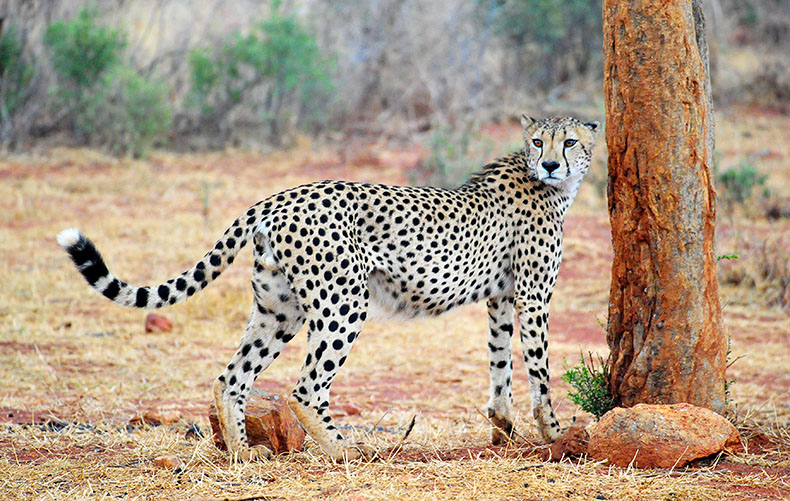 We also had a fantastic sighting of a family of white rhinos just lazing in the road plus two black rhinos that came really close to our vehicle.
We saw a pride of lions twice, brown hyena, a pack of wild dogs, elephant, spotted hyena and most plains game.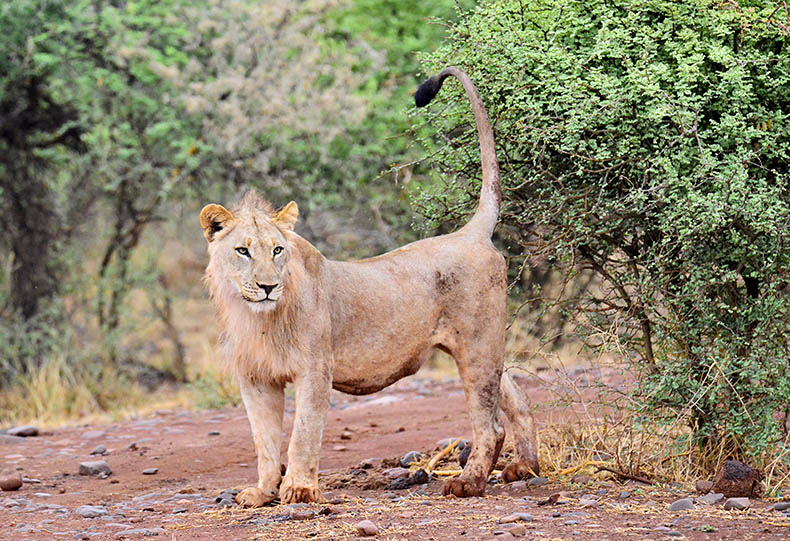 Thank you to Jaci and her wonderful team for such a memorable stay, we are looking forward to coming back next year!
---
For more information or to make your booking, please click here

---
Return from Jacis Tree Lodge to Madikwe Game Reserve
---
---

To make a safari rental booking in South Africa, Botswana or Namibia click here
---