Safari Equipment
In the Kruger, Kgalagadi, Pilanesberg and Etosha you need only a 2wd car, which is sufficient for the tar and gravel roads but if you plan to book a 4X4 trail in the Kruger or Botswana or just want to stay at dune camps in the Kalahari like Bitterpan and Gharagab, you will need a 4X4 and some safari equipment.
Because we drive a 4X4 we take a 4x4 recovery kit in our vehicle. This kit normally contains a tow strap, snatch strap, gloves, shackles, and 'Q20' or other spray lubricant...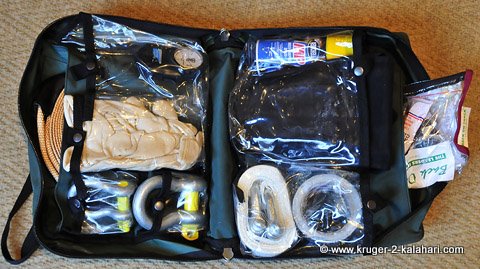 We have added an axe, folding shovel, and blanket...
as well as a tire repair kit and duct tape.




In addition you should also have the following safari equipment:
• Spare tire (if you are going off road you may want to consider taking two spare tires)
• 2 in 1 Jump Start / Air Compressor. With jump start cables you need another car in order to charge your battery but with the Jump Start (the small yellow box in the corner of our vehicle) you can jump start your battery by yourself. This has helped us a few times!...


• Jack
• Basic first aid kit
• Satellite phone - if you are venturing into Botswana or Mozambique, otherwise a normal mobile phone is fine for the Kruger, Kgalagadi, Etosha and Pilanesberg
• Long range fuel tanks - we have two tanks totaling 170 liters. If you are sticking to the tourist roads in Kruger and Kgalagadi then a single tank is fine but if you are venturing further away from civilization then dual tanks are recommended
• Wheel brace - wheel wrench to get your tire off if you have a puncture
• Garmin GPS - We have the Nuvi 700 as it contains maps for the national parks we visit...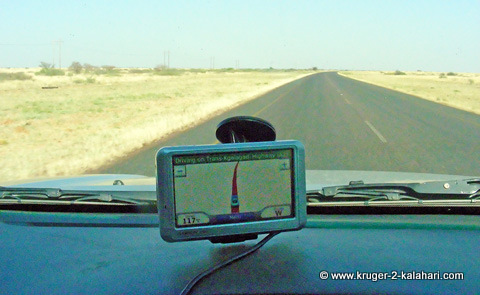 • Two batteries / split charge system - if you will be charging many items. We used to have two batteries but now have found one to be sufficient. Most 4X4s will have a heavy duty battery that can handle charging of small items while driving such as laptops, camera batteries, spotlight batteries and a fridge. If you are camping and have other items to charge then rather get a second battery
• Fire extinguisher
• Engel fridge / freezer - we have a 30-litre fridge / freezer that holds enough frozen meat, bread and butter for 14 - 17 days in the parks...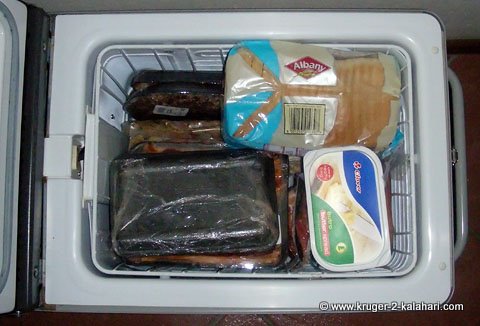 • Tire pressure gauge - you will need this for the Kgalagadi where you need to reduce your tire pressure in order to have a more comfortable ride. There is a pressure gauge at the gas station but it is not working most times!
• Vehicle handbook - you may need to check some small item and without the vehicle manual you won't know what to do
• Tire pump
• Warning triangle
• Radiator Grille Grass-Net...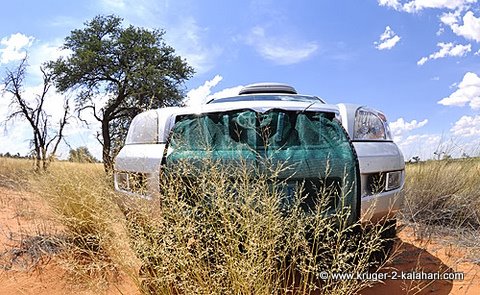 You will need this grass net if you intend going to Bitterpan or Gharagab in the Kgalagadi or on the Kruger 4X4 routes. The grass could be high or low and you won't know until you are there, so rather take the grass net with and not need it!
If you do go off-road please remember to stop every hour or so to check for grass that may be stuck under your vehicle. The exhaust gets very hot and the grass could ignite and then your vehicle will be on fire.
A few vehicles (Land Rovers and Toyotas) have caught fire in the Kgalagadi so please remember to do this – and ensure you have a pair of gloves in your recovery kit so you don't get burnt when removing the grass from the hot exhaust!
If you are sticking to the tourist roads in the Kgalagadi and Kruger you will not need some of this safari equipment such as the gloves, recovery kit, long-range fuel tanks, two batteries and radiator grille cover. We like to have these items just in case!
---
Return from Safari Equipment to Self Drive Page
---
---

To make a safari rental booking in South Africa, Botswana or Namibia click here
---