Safari Vehicles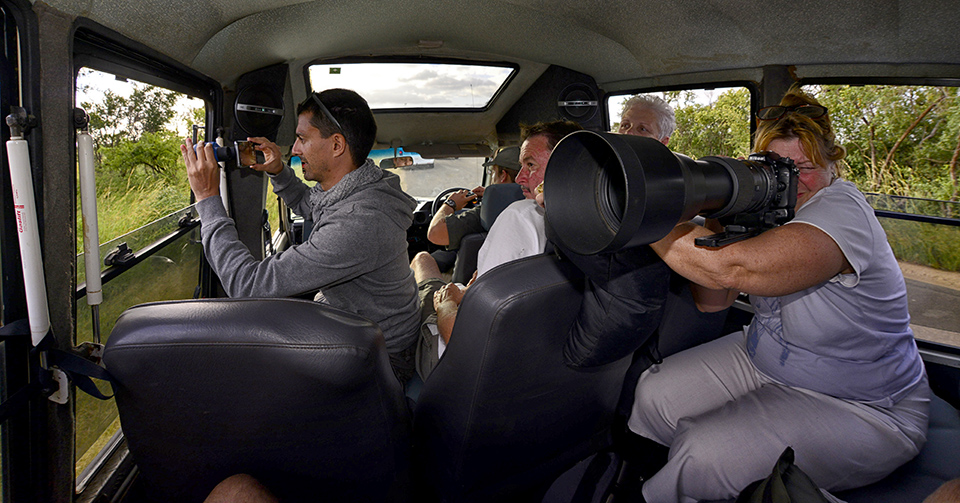 Since 1995 we have been on over 100 African Safaris and we have used various safari vehicles on our self drive safaris.
We started out with a Toyota Camry...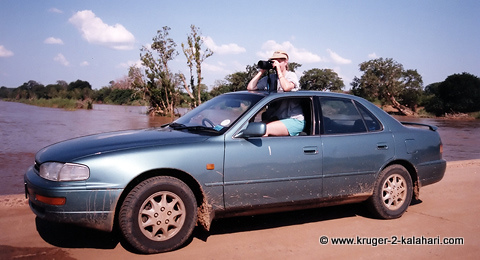 This car had a huge boot and a sun-roof. We loved this vehicle - until we got stuck in mud along the Salitjie Road in the Kruger Park and we had a herd of elephants bearing down on us!
We then bought a Land Rover Freelander...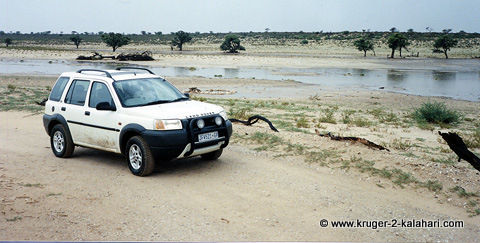 ...that turned out to be the worst vehicle we have ever owned. It was a new vehicle and it had eight serious faults in eight months - it spent more time in the workshop than I drove it!
Our next vehicle was a Jeep Cherokee...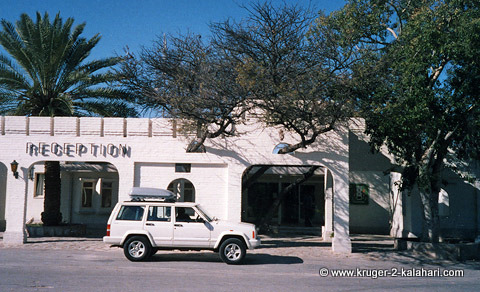 ...after which we bought a Jeep Grand Cherokee...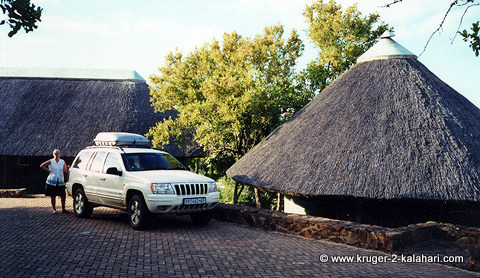 The Jeeps were very nice vehicles and gave us no problems. The only downside was that they used a lot of fuel and the fuel tanks were very small. If we traveled from Johannesburg to Etosha we would have to fill up every 450 kms.
We then traded in the Jeep for a Toyota Landcruiser Prado...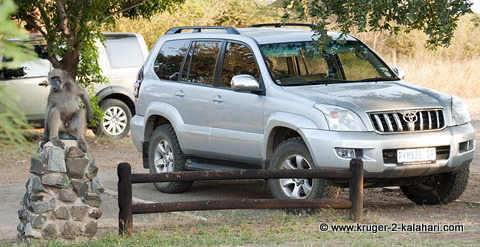 Do you like our car guard!
The Prado has dual fuel tanks so we can travel over 1000 kms before having to fill up - very convenient!
When choosing a safari vehicle height is very important as the following pictures will show.
The grass in African game reserves and national parks such as the Kruger Park, and Pilanesberg can grow very high and if you have a low vehicle you will struggle to see the animals...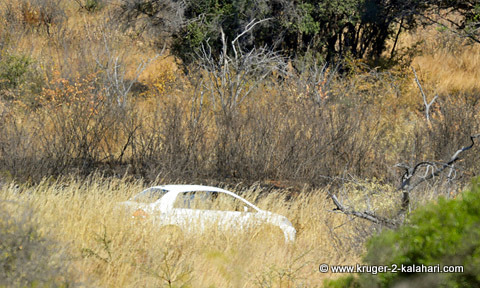 A 4X4 or Microbus height...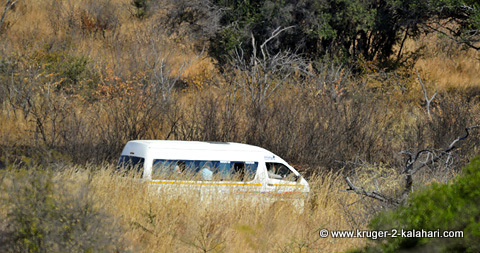 or a small game viewing vehicle allows you to look over the grass...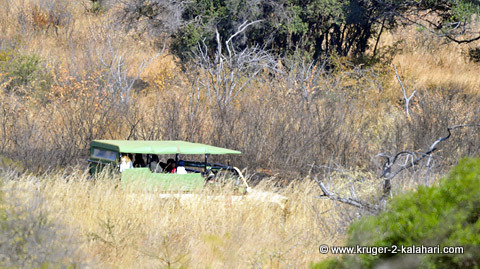 And the large safari trucks are the highest...
Highest, however, is not always better. If you are a photographer you want the backgrounds of your subjects to be nicely blurred. If you are photographing from a low vehicle the background will normally be far away so you will get nice blurs.
But if you are photographing down from a high vehicle then the background tends to be closer to the animal so you end up with a background that is in focus - not good!
The best compromise then is a 4X4 or Microbus.
It is not critical to have a 4X4 because many of the roads in the Kruger and Pilanesberg are tarred. The Kruger tar roads in particular are in better condition than most of the national roads outside of the park!
In the summer months the rains start and then the dirt roads can get muddy and this is where you will most appreciate the 4X4.
The grass in the Kgalagadi and Etosha does not grow as high as it does in the Kruger and Pilanesberg so the extra height of a 4X4 or Microbus is not as important.
We like our 4X4 in the Kgalagadi because the roads can get very corrugated so a stronger vehicle like a 4X4 will take the punishment better than a sedan
2014 Update
We had our Toyota Prado for 10 years and never had problems. By 2013, however, it wasn't starting properly and the radiator needed replacing so we decided to trade it in for a Toyota Fortuner 4X4.
For 10 years we had taken our Prado to Honeydew Toyota (taken over by Halfway Motors so are now called Halfway Toyota Honeydew) in Gauteng and had excellent service but unfortunately they did not have a used petrol Fortuner for sale so we ended up buying ours from Monument Toyota Constantia in Gauteng. They are owned by Unitrans and after owning Jeeps, Land Rovers, Alfa Romeo, Mazda and two Toyotas, I can say that my experience with Monument Toyota Constantia was the very worst I have experienced.
The salesman lied to us a few times (about the mileage and the year), then he said he would throw in an extended warranty and service plan but didn't, then he asked us to forgive him for lying to us and proceeded to ask us to not tell the marketing company, that would be phoning us to find out what type of service we received, about these incidents! (After lying to us he asks us to lie for him!)
Then the Fortuner was not starting properly so I take it back to Monument and their mechanic checks the vehicle and tells me there is no fault - two days later I break down!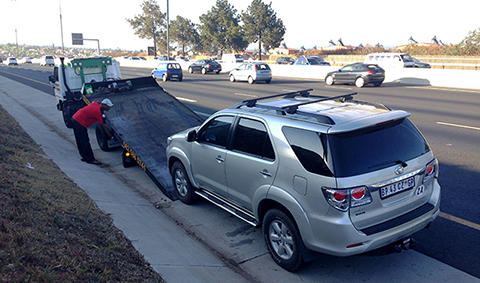 I have the vehicle towed to Halfway Toyota and they replace the top fuel pipe. After three days in the Kgalagadi we notice petrol dripping from under the vehicle - fortunately there is a mechanic at Polentswa Lodge and he finds that the fuel pipes are loose - there are 2 missing clamps.
The sound system also stops working while on our way to the Kgalagadi so we end up on a 3-week vacation with no music. When we tell the dealer the comment is "Yes, we know about that model radio, it stops working when it gets hot". Why then was it not replaced before being sold!!??
This vehicle was supposed to have gone through a "thorough inspection" by Monument Toyota Constantia before being sold to me but from my experience I wonder whether there was ANY inspection done!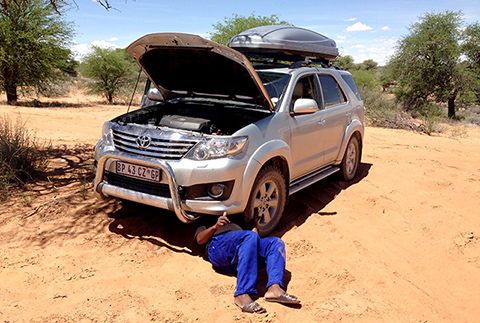 And this is the Toyota dealer that won dealership of the year!!
I then sent an email to the Unitrans group MD telling him about this terrible service - he doesn't contact me, neither does the dealer principal at Monument Toyota - the new car sales manager at Monument Toyota phones me to apologize and I think try to sell me a new car.
In addition he tells me that the salesman denies the accusation (all he has to do, if he's serious about getting to the bottom of this, is to give the salesman a polygraph test or contact Outsurance and Netstar as they both phoned the salesman to get the vehicle info from him and they were informed it was a 2012 model) and then he tells me a few time that his dealership was rated 'dealer of the year'. I don't care if they were dealer of the century - I have a problem that needs sorting out!!
What great damage control guys - can I blame the salesman and mechanic if this is the problem-solving abilities of senior management!
My advice - stay away from Monument Toyota Constantia! On top of that Toyota Japan has been fined $1.2 Billion for fraud - Yes, Corporate Fraud can Kill!

And then in April 2014 Toyota announced it would be recalling 6.4 million vehicles in addition to the 9 million recalled in 2010-2011 for the sticking accelerator as the vehicles, including the Prado and Fortuner, have FIVE DEFECTS

And it doesn't end there - in May 2014 Toyota announces a further recall of 430 000 vehicles!

Is this the type of company we should be supporting...??!!


2017 - 2022 Update
I had been taking my vehicle to Halfway Toyota Honeydew for 15 years. The service was great - until they were taken over by Halfway.
With each service, the service has deteriorated until today's last straw.
They forgot to pick me up - I waited over an hour (they allege the driver got lost)
I was quoted R6200 for my service when I get there the bill is R7400 - the service consultant says she never told me R6200 on the phone
Then they cannot find my car key. I eventually find it lying on a table in the reception area - great security!
Another client is also complaining that he was picked up an hour late (driver got lost again??) and now he's going to miss his plane - the service consultant has zero sympathy with him. 
Only after I posted the review above on their Facebook page, the Dealer Principal contacted me and promised to look into the shoddy service and the extra R1200,00 charge - all calls are allegedly taped so it would be easy to verify the truth. That was May 2017 - it's now November 2017 and I have not heard back from the DP - talk is cheap!
As a friend of mine said: "The name says it all...'Halfway' Toyota"!
They won the battle but lost the war as the saying goes. I will not take my vehicle back to Toyota. I have found a great place to have my car serviced:
Bay Park Motors,on the west Rand (near the Dome) - Tel: 011 794 3008.
These people are honest and hard-working with Christian values. My major service cost R2700,00 - my previous service at Halfway Toyota cost R7400,00 and I had terrible service. It's a no-brainer for me - 3 services for the price of one with honesty thrown in!
My Toyota drives better than it ever has and I can smell that the pollen filter has actually been replaced - unlike with my previous service at Toyota.
Safari Vehicles - Guided Safaris
If you do decide to go for the guided safari instead of self drive or if you want to go on a night drive or dawn drive then you should firstly try and choose the smaller vehicle and you will need to decide on where in the vehicle to sit in order to have the opportunity of getting good photographs.
There are different types of game viewing safari vehicles.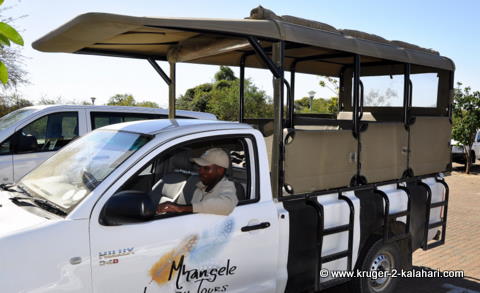 You get the ones with benches so you could have up to four people squashed onto each bench...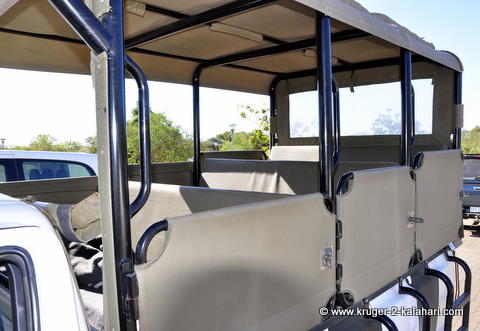 And you get the safari vehicles with bucket seats where there are three people per row...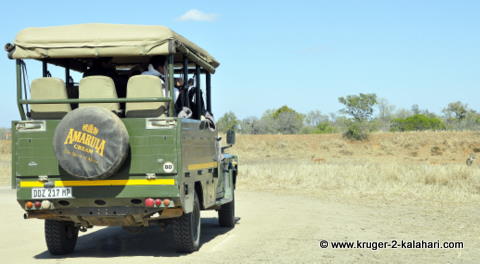 We have seen a whole lot of advice being offered on sites from 'you should sit in the first row, second, row, last row or next to the driver'.
Well, in our opinion the best spots in the safari vehicles will be the seats that are closest to the animal!
Some drivers will park with the left of the vehicle facing the animals or the right side or even park head-on. So it depends where you are sitting whether you can see the animal never mind get a photograph.
Our suggestion is to sit either next to the driver or directly behind him so you can talk to him and tell him where to stop and how to park in order for you to get a decent photograph.
In this photograph the lions are to the left of the picture and the vehicle is parked with the right side facing the lions...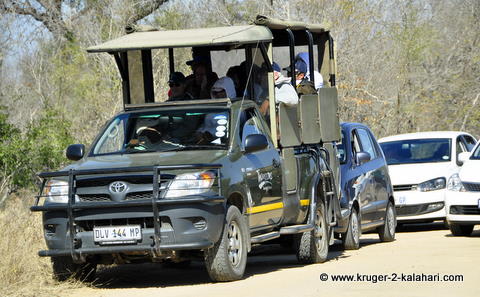 ...the people in the middle have some view past the heads of the people on the right and the people on the left have hardly any view - it won't be easy to take good photographs in these cramped positions will it!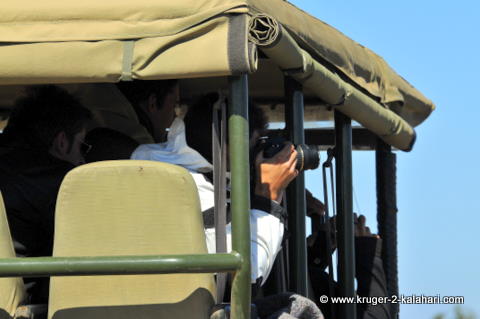 ...people on the opposite side end up having to climb over people in the middle to get a photograph!
With self drive YOU decide where and how to park in order to get the best possible view and photographs...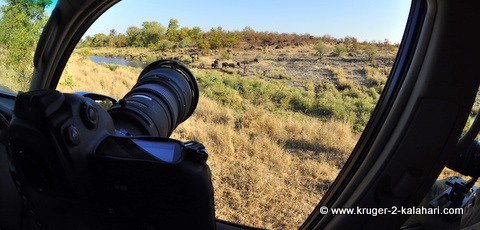 Some people are fortunate to be the only ones going on a game drive and they end up having the vehicle to themselves...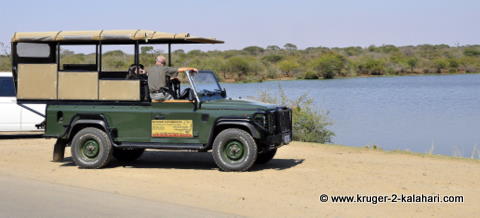 but this does not happen very often!
You will have noticed that some of these safari vehicles have staggered rows meaning that the last row is higher than the middle row which in turn is higher than the first row. This is to ensure that people can see over the heads of the people in front of them.
Some safari vehicles, however, are not as 'stepped' so you end up looking at the head of the person in front of you...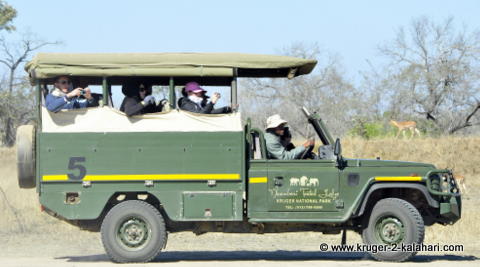 For tour operators in the Kruger Park large buses seem to be the choice for tour groups but in Etosha the safari tours are normally done in specialized safari vehicles...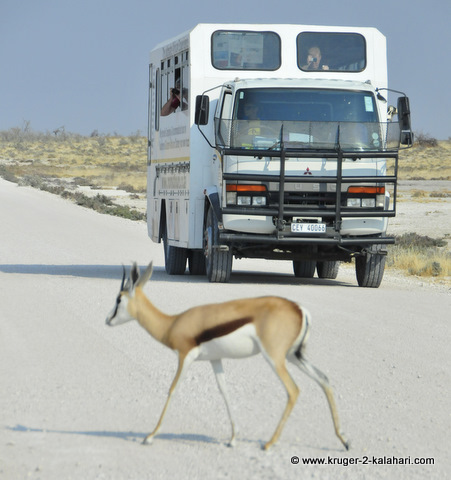 Some of these safari vehicles have very small windows while others have huge windows allowing people to see more and photograph more easily...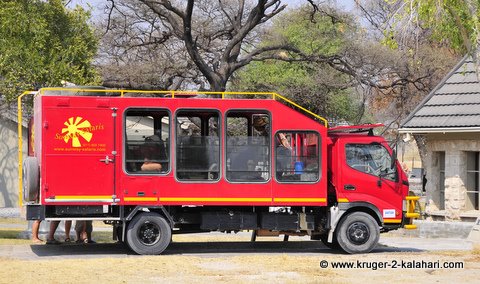 All these vehicles are self contained and they either have the tents on the roof of the vehicle and the luggage and food underneath or everything is stored in compartments under the vehicle...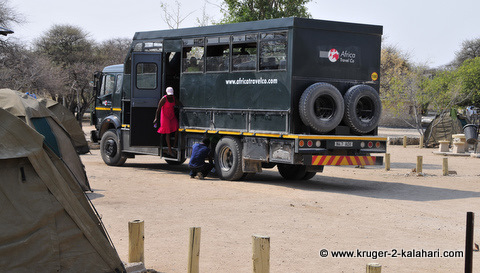 ---
Return from Safari Vehicles to Self Drive Safari
---
---

To make a safari rental booking in South Africa, Botswana or Namibia click here
---