Roofbox or Trailer
When we first started visiting African game reserves in 1995 we did not have much luggage. We had two cases with clothes and two or three camera bags.
We also ate in the restaurants so we had no cooking equipment but since the restaurants at the Kruger were outsourced we now braai every night.
In addition our photography hobby has grown and our volume of equipment has also grown...
As a result we started to run out of space in our vehicles and we had a dilemma - do we get a roofbox or trailer?
There are pros and cons for each. The trailer can hold more than the roof box but it will cost more (the cost of the trailer, the tow-hitch and maintenance on the trailer) and you will use more fuel. We therefore went with the roof box.
Our first box was a small 400-litre box that we used with the Freelander...
and the two Jeeps...
We then bought a bigger 450-liter Karrite roof box that we used with the Prado...
We had this box for six years - until I drove into a car-port and the box got squashed!




If you do buy or hire a roof box please be aware that you have the extra height and that you need to check before driving under car ports.
If you go to camps like Boulders in the Kruger you will be driving under the building so you should either take the box off or park next to the steps instead.
If you go to Kielie Krankie camp in the Kgalagadi you will be parking under a car port - the ground is fine dune sand that gets pushed down from the heavy vehicles so you just need to check which parking bay allows more height.
In summer you will be mostly parking under trees in the camps so just be aware of low branches! And while driving around the parks you should also be aware of low-hanging branches!
Instead of just throwing all the smaller items into the rear of the Prado we started to use large 70-litre containers that better utilised the space but we still needed a roof box...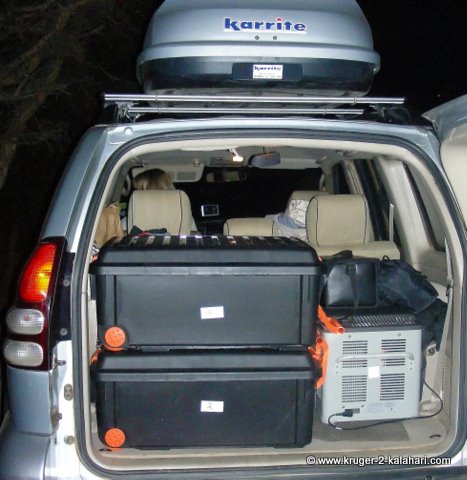 After the unfortunate incident in 2010 of driving under the carport we bought a 650-liter Thule Atlantis 900 roof box that can hold lots and lots of luggage...!
The Thule Atlantis 900 is a superb cargo box.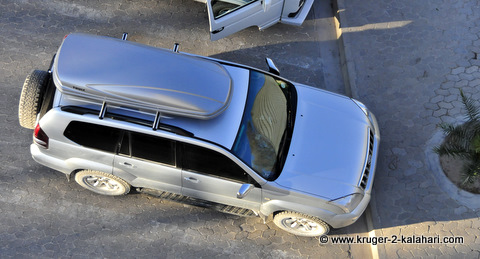 It can hold up to 75kg of luggage compared to our old boxes that could hold 40 to 50kg, it can be opened from both sides and not just one side - a big advantage when you are parked next to a wall as we were in Halali camp in Etosha...
it has a power grip instead of the U-bolts that took ages to bolt onto the roof racks and it holds 30 percent more luggage!
The first two boxes were great for just two people but we were uncomfortable with four people's luggage - there wasn't enough space and we were cramped.
The new Thule box has more than enough space for four people's luggage, and braai equipment, folding safari chairs and even some photographic equipment!
So, back to the question of a Roofbox or Trailer - this will depend on your needs and tastes.
We have provided you with our logic of going with the Thule roofbox and we are on our third roofbox so it works for us!
---
Return from Roofbox or Trailer to Self Drive Safari
---
---

To make a safari rental booking in South Africa, Botswana or Namibia click here
---