Nikon D800 Camera Review
After the D800 camera was launched in March 2012 we read many Nikon D800 camera reviews where the following words were used to describe it:
'Ground-breaking'
'Game-changing'
'Class-leading'

It was given a Gold Award by Digital Photography Review, 'Digital Darryl' Young raved about the camera on the Nikonian's podcast, the D800 was voted as the European Camera of the Year for 2012-2013, and the D800 achieved the highest score of all DSLR cameras in the DxO Labs, DxOMark tests where it achieved a score of 95, higher even than the top of the range Nikon D4 but at half the price.
The DxOMark tests evaluate camera sensors in terms of Colour Depth, Dynamic Range and Low-light ISO – all three criteria being important to nature / wildlife photographers. 
Michael Reichmann, the founder of the website Luminous-Landscape.com, stated the following in his review of the Nikon D800, "In fact, I believe that this camera is so exceptional, in so many ways, that it will force the rest of the camera industry to up its game—big time".
 "When used with meticulous technique and the very best glass it [the Nikon D800] is simply awesome, and I have never used that word in print before in relation to any camera or [medium format camera] back. The D800/E really is that good."  
We did not take much notice of these reviews until we were in the final stages of compiling our Photographer's Guide to the Pilanesberg eBook and we teamed up with Edward Peach. Edward was a game ranger at Ivory Tree Game Lodge and he was shooting with a Nikon D800.
He was our field guide while we stayed at the lodge and he took us on four guided game drives and we noticed the difference in his photographs compared to ours even though we were using quality Nikon gear.
Here is a photo of a leopard that he shot…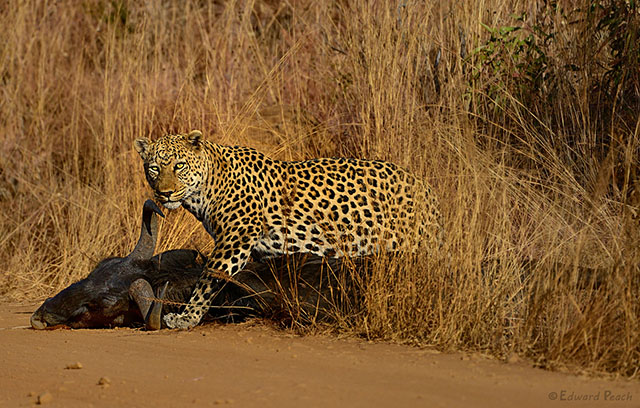 The leopard was photographed just after sunrise so the lighting was perfect. 
'What about when the lighting is not so great?' I hear you asking. Well how about these lions…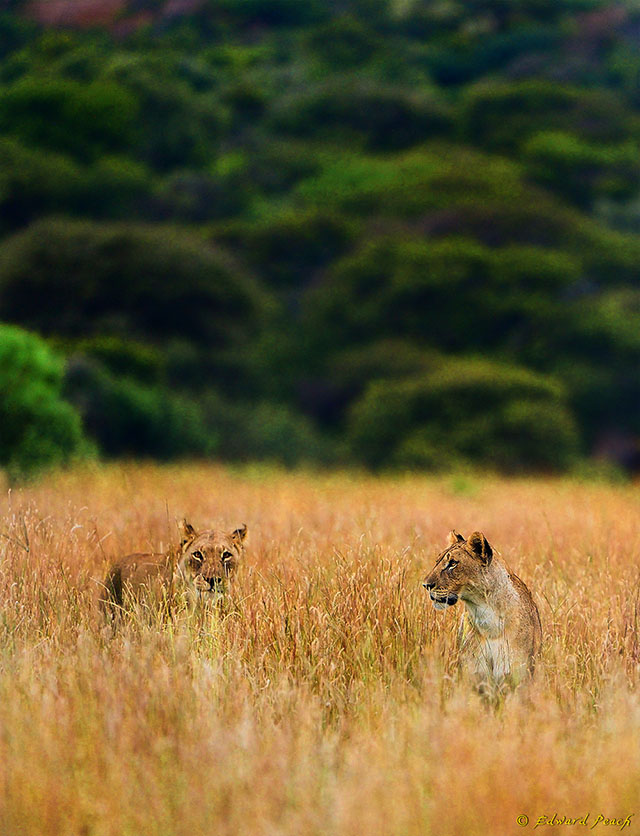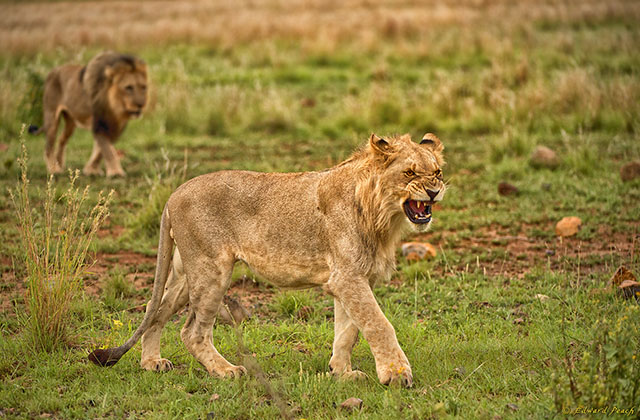 and this leopard that Jenny photographed while at Idube Lodge in the Sabie Sands Game Reserve...

All three images were taken after sunset on cloudy days so there was minimal light!
Nikon D800 Camera Review – the negative stuff
We found that some photographers did not like the D800 for the following reasons:
1.      The files are too big – they stated that you will have to invest in new 32 or 64 gig memory cards and but a new laptop to process the large images on
2.      Photographers don't need 36 megapixels
3.      It's too expensive
4.      It's too slow – at only 4 frames per second it's no good for action and wildlife photography.
These negative photographers influenced us as we did not buy the D800 in 2012. Instead we bought D600 bodies and used the cameras on a 3-week safari in the Kgalagadi and were so disappointed with them that we returned them in January 2013 and got D800 bodies as replacements. You can read our Nikon D600 camera review here. 
We should have taken more notice of the positive reviews of the D800!
Nikon D800 Camera Review - here are our answers to the four negative points listed above
1.      We already had 32 gig SD cards so just had to purchase 32 gig CF cards, no big deal. We could also have simply used our old 8 and 16 gig CF cards, which we have now kept as back-ups. My old laptop gave up the ghost mid-2012 so I bought a new one (a US$1000,00 Acer) so the processing power is adequate for me. The hard drive is only 500 gigs so all I need to do is purchase a 1 terabyte external hard drive to take with on safari. 
2.      Now that we are shooting FX (full-frame) we no longer have the extra 50% magnification of DX, so the 36 megapixels are great for cropping should we need to enlarge the image. According to Elliott Neep, "Having that many pixels means I can now concentrate 100% on capturing the action and crop to perfect the composition later".
3.      Yes, the D800 costs more than the consumer bodies but it is a semi-pro body that shoots images as good as the D4 that sells for double the price. We don't like changing lenses when on safari due to dust so we had 5 bodies, my D3s and 4 x D300 cameras – we traded in the 4 x D300 cameras for 2 x D800 bodies. We would rather change lenses but have the superb images that the D800 provides so we sacrificed 2 bodies! 
4.      Even though my primary body used to be the Nikon D3s, which shoots 9 frames per second in FX and 11 frames per second with DX lenses on continuous high, I found that I was getting sharper images when shooting at 'continuous low' at 4-5 frames per second. If a subject is moving fast, say a running cheetah or swooping falcon, and you are shooting at 9 frames per second, the camera cannot focus accurately and uses what is called 'predictive autofocus' and you end up with maybe 2 or 3 sharp images. At 4 frames per second the camera can focus more accurately and we end up with more sharp images.
2017 UPDATE: The Nikon D500 has a superb AF system with focus tracking that is so accurate. I realise now that I missed 9-11 frames per second for action but was frustrated by the many out-of-focus images on the D3S - not any more with the Nikon D500! It provides me with 90% sharp images at 10 frames per second, of birds in flight and mammal action. I still have my D800 but use it mainly for landscapes and as a backup body.  
Nikon D800 Camera Review by Michael Clark
Michael Clark is an adventure photographer and he has a super article in his spring 2012 newsletter on the Nikon D800. Here is an extract from his newsletter:
"Before it was announced, I was sure the D800 would be a 24 MP version of the Nikon D700. But it wasn't, and thank God the engineers at Nikon were smart enough to design and produce this camera. Previous to the D800 announcement, I had shot with the 39 MP Hasselblad H4D, so I had an idea of what that kind of resolution looks like. The D800 is every bit as good as the H4D-40, at least in terms of resolution, and it is also a lot easier to use. Once you see the phenomenal, detailed image quality of the D800 it is very hard to shoot with anything else.
Michael goes on to say "Of note, once I got these new cameras, I sold my old Nikons immediately. The image quality from the new cameras is far superior to my old gear, and hence, I didn't feel the need to hold onto the D700 and D300 I have been using for years now. I cannot say enough good things about these new cameras. I am completely blown away to be blunt. As a pro, I know it isn't the camera that matters, but when you are striving for the best image quality possible the camera matters in this digital age."

Nikon D800 Camera Review – some pointers
Because the pixels are so big any shake is magnified – just increase your ISO to make sure the shutter speed is fast enough to ensure a sharp image. The norm is to make sure your shutter speed at least matches your lens focal length. So if you're shooting with a 400mm lens your shutter speed should be at least 1/400 sec to ensure no blurring. With the D800 you should double that and have your shutter speed at least 1/800 sec with a 400mm lens. 

Try and use good quality lenses. A good quality lens would be a professional lens with a maximum aperture of f2.8 or f4. Having said that, Jenny gets good results with her 80-400mm f5.6 lens on the D800 - primarily due to good technique (using a tripod or beanbag, using VR, ensuring her ISO is high enough to get a fast shutter speed etc.).
We trust you gained some value from this Nikon D800 camera review. We will be visiting the Kgalagadi Transfrontier park and the Kruger National Park during the course of 2013 so wll be posting more images and tips.

---
Return from Nikon D800 Camera Review page to Nature Photo Gear


Return from Nikon D800 Camera Review to K2K Home page
---
---

To make a safari rental booking in South Africa, Botswana or Namibia click here
---