Photographic Equipment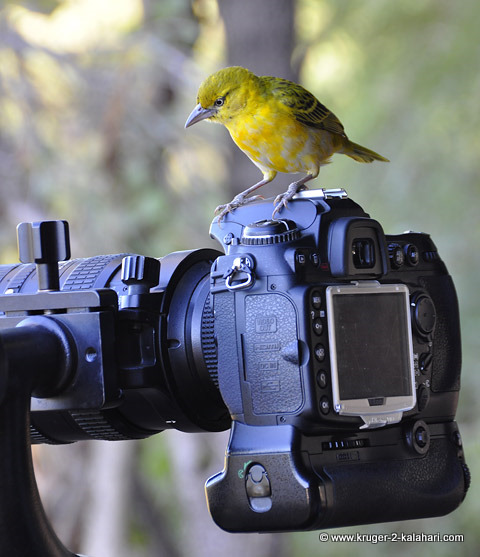 Jenny and I use Nikon photographic equipment and never had the problem of deciding between Canon or Nikon - we bought what we thought best suited us at that stage and have no regrets. Canon would have worked equally well for us - we just wanted to get rid of our Minolta gear because of the bad service!
We are generalist nature photographers, meaning we shoot anything. We love photographing birds and mammals but we also photograph reptiles, flowers, trees, insects, landscapes, city-scapes…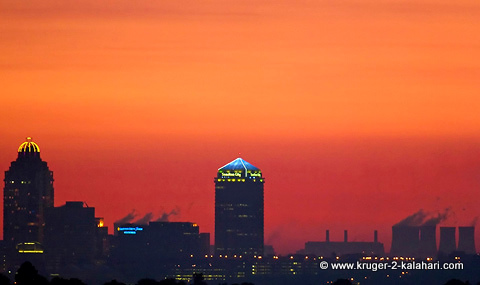 …and people…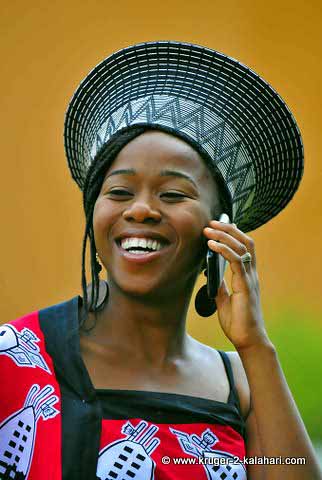 Before we start discussing our Photographic Equipment we want to stress that our choice of equipment is our personal preference and in order for you to get similar photographs you could use other brands or types of equipment.
Nikon and Canon are currently the top choices for photographers because, as a photographic equipment system, they offer so much variety.
When we first started shooting we progressed from a Kodak point and shoot to Minolta photographic equipment but the service of the local Minolta distributor here in South Africa was not good so we traded in all our equipment.
At that stage we had the luxury of choosing either Canon or Nikon photographic equipment – we decided on Nikon and have been very happy since then with our choice.
We have been a NPS (Nikon Professional Service) member since 2008 and the service department at Nikon-SA (Foto Distributors) is top class – fast, professional service with a smile!
This photograph is of all our photographic equipment, including accessories but excluding our three tripods and five bean bags...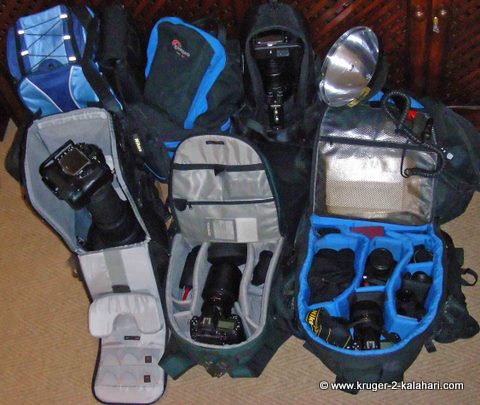 Out photo bags contain the following Nikon photographic equipment, which we use to photograph wildlife, birds, landscapes and macro subjects: (please scroll down to the bottom of the page for the 2018 updates on our gear)
600mm f4 AFS lens. I bought it 'pre-owned' at the end of 2008 and am mentioning this because many people may think this is the lens that enabled us to take so many of our pictures. Well the majority of our photographs were taken with our old faithful 300mm f2.8 AFS lens that we traded in for the 200-400mm zoom in 2006. The 600mm f4 is now my primary lens and I use it mainly with a 1.7X teleconverter for birds and animals at a distance.
Those of you who visit the Kruger Park and Kgalagadi will know that magnification is important. We don't have the luxury that photographers in the Masai Mara or Serengeti have where they can drive up to the tree that has a leopard sitting in it.
Some professional photographers have sold their Nikon 600mm f4 lenses and bought the Nikon 200-400 AFS f4 lens as they shoot only in East Africa but for the Kruger, Kgalagadi, Etosha and Pilanesberg we cannot drive off the roads so need the reach of a 500mm or 600mm lens.
200-400mm f4 VR AFS zoom lens. This is my back-up lens and is for use when a subject is too close for the 600mm. Very sharp lens indeed! This lens stays on the passenger seat...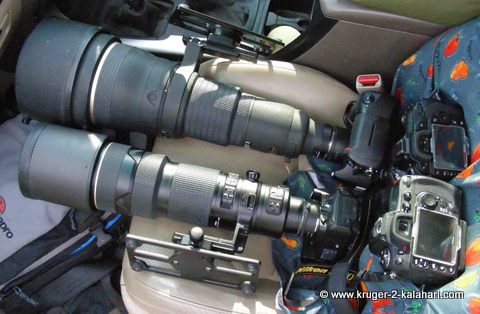 and is available if Jenny needs more magnification or if I need to zoom out.
The 1.4X tele-extender works well on this lens, the 1.7X teleconverter tends to degrade the image too much.
18-200 VR AFS zoom lens. This is a great little lens for the closer subjects such as when a hyena, lion or rhino walk right up to our vehicle! It also has a macro capability so is the lens I use when walking around camps – I can then shoot insects, birds, reptiles or mammals. It is small and light and I mount it onto the D300 body that does not have a battery pack – you don't want to lug a heavy camera and lens around and some people have therefore left their cameras at the bungalow and then seen some amazing sight and have no camera. I also use this lens for star-trails.
200mm f4 AF Micro lens. This is one of Nikon's best lenses but if it had a motor it would be even better. Many photographers do not use autofocus for macros but I do, so a motor would definitely help.
60mm f2.8D AF Micro lens. Very sharp lens and is nice for star trails. It is still a better lens in terms of optical quality than the new AF-S Nikkor 60mm f2.8G ED micro lens.
10-24mm f3.5-4 AF-S Ultrawide lens. This lens is great for landscapes and for wideangle macros.
10.5 mm f/2.8 DX AF-G Fisheye lens. Sharp lens that provides a 180 degree angle of view and can focus as close as 14 cms from the subject. Nice lens for star trails and for wideangle macros.
1.4X teleconverter – provides 40% more magnification. I use this on either the 600mm f4 (to give me 840mm) but mostly on the 200-400mm zoom to provide a 280-560mm f5.6 zoom lens.
1.7X teleconverter – provides 70% more magnification. I use this only on the AFS 600mm f4 – being a prime lens it retains more picture quality as opposed to zoom lenses. This combination provides me with a 1020mm f6.7 AF lens!
Jenny has just one lens, namely an 80-400mm f/4.5-5.6 AF VR lens. This lens is super-sharp, has a 5X zoom range and is affordable. I offered my 200-400mm VR lens to Jenny when I got my 600mm f4 – she tried it out on one of our Kruger Park trips and then said 'thanks but no thanks', she preferred the lighter and smaller 80-400mm. The only thing wanting on this lens is a motor to enable faster focusing otherwise it is a superb lens!
Many critics of this lens have stated that it is no good for birds in flight yet Jenny has gotten some great pictures of Spoonbills, kingfishers, fish eagles and ground hornbills in flight...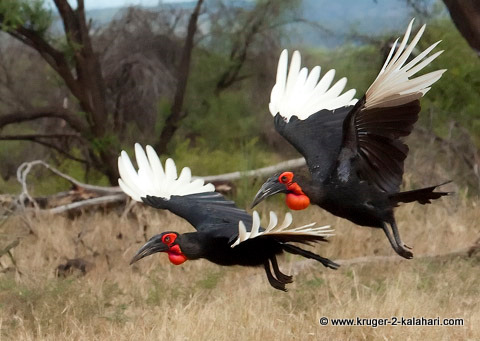 – either hand held or from a beanbag in the car.
So if you take the time to get to know this lens it is a very nice performer.
We have built up a lot of photographic equipment over the years - between us we have five camera bodies – one Nikon D3s body, three Nikon D300 bodies – two with battery grips and one Nikon D90 body.
We loved our old Nikon F5 bodies and when digital photography hit we eventually sold them and bought the Nikon D1. The exposure was terrible with the D1 bodies and we regretted selling our F5 cameras but then the Nikon D2H and D2x came out and the white balance was much better!
We then used Nikon D200 bodies, which we replaced with D300 bodies. The Nikon D300 is a superb camera so we do not desire the D3x or the D700. The D700 is a nice body but we did not like the crop feature – it is simply a thin line (like the D2x) and does not grey-out the cropped area like the D3 does.
We have lost a few pictures because we had the crop feature on but when looking through the viewfinder you cannot see the thin line very clearly and you see the whole subject and think what you see is what you are going to get, but when you download you find the bird's wing is cropped as an example. The Nikon D3, D3x and D3s have the cropped areas greyed-out so they allow you to see exactly what you are photographing.
There are also other brands such as Sigma, Tamron and Tokina but we have not been satisfied with the results we got. We even had the Sigma 300-800mm f5.6 monster lens but the results were not as sharp as using a Nikon lens on the Nikon body. Our recommendation would be to try and use the same brand lens as body. This is especially true for the teleconverters.


2009 Update
At the end of 2009 we decided to get back-up bodies for our other lenses and so we got a D3000 and a D5000 to test. The photos from the D3000 were NOT sharp.

The D5000 is a nice camera and the pictures were sharp but the lack of a motor drove us mad with our lenses that do not have a SWM (silent wave motor), such as the 80-400mm VR lens, 200mm Micro, 60mm Micro and the fisheye lens. If you are used to autofocus it is very difficult to adapt to manually focusing – especially with poor eyesight.
In addition the D5000 did not have good high-ISO quality. For macro photography it was a good camera but not for wildlife where long lenses would be used.
We then tried out the Nikon D90 – this is another exceptional camera! It is a scaled-down D300 with a smaller body and a few buttons in different places. (The D300s has copied the placement of the OK button in the middle of the Direction pad from the D90). We replaced our D90 with the newer D7000 as we wanted the higher ISO capability.
So if you don't mind manually focusing or your lenses have motors and you will be using short focal lenses at low ISO settings then the Nikon D5000 is a good buy - and we love the flip-out screen! If some of your lenses do not have motors and you want auto-focus then we would suggest going with the Nikon D90 or D7000.
In 2015 we got a Nikon D7100 - it is a good camera but it doesn't stand up to being well used. A small bump of the body and one of the buttons was jammed and there is a lot of dirt inside the body so we are constamtly having to take it in to be cleaned.
As a matter of interest, we have noticed a debate on photo forums about whether DX or FX format is better. As wildlife photographers we have no regrets about shooting with DX – the 50% sensor crop is an asset when photographing subjects that are more than 50 meters away and if we shoot with high ISO then we have Noise Ninja for noise reduction.
We buy most of our photographic equipment from Kameraz in Rosebank, South Africa. We have dealt with Keith and Johan for about ten years and they provide excellent service.

For specialist photographic equipment we buy from Birds as Art, which is owned by Arthur Morris, an award-winning Canon photographer in the USA.
We use photographic equipment made by Wimberley, Really Right Stuff, Kirk, and Visual Echoes.
The beauty of dealing with Birds as Art is that Arthur Morris will source the items that he does not carry and then send me one parcel - that is what I call service!
2016-2018 Update
Our gear has changed considerably.
In 2016 we traded in the D3S body for a Nikon D500, which I use for wildlife and the D800 for landscapes. Jenny is happy with her D7100. We are down to three bodies.

We now both use Sigma lenses for wildlife photography. The 600mm f4 was too big, heavy and bulky for use on safari vehicles and for self drive. The lack of zoom was also frustrating so I traded the lens in for the Sigma 150-600mm Sport lens and Jenny was not happy with the updated Nikon 80-400mm AF lens with motor so she now uses the Sigma Contemporary 150-600mm lens.  
I also sold the Nikon 200-400mm lens as it was not sharp for subjects at a distance. I now use the Nikon 70-300mm lens as my backup. I was happy with the first 18-200 VR AFS zoom lens but I then dropped it and the 18-200 VR II was NOT sharp.  
200mm f4 AF Micro lens. This is still one of Nikon's best lenses and I still get great results from it. I bought the 105mm micro lens but was not happy with the quality and then sold my 60mm f2.8D AF Micro lens for the updated model with a motor - bad move! I should have kept the old 60mm lens. I sold the new lens and now have just the 200mm micro as my macro lens.
For ultrawide I now use the Nikon 16-35mm f4 lens. This lens is great for landscapes and for wide-angle macros. It has a 77mm element so can take most filters.

I sold the Nikon10.5 mm f/2.8 DX AF-G Fisheye lens and now use the Sigma 15mm f2.8 fisheye lens. 
Sigma 1.4X teleconverter – I use this only when absolutely necessary as teleconverters do not provide great results when used on zoom lenses, they are better suited for use on prime lenses with large apertures of f2.8 and f4.  
---
Return from Photographic Equipment to Nature Photo Gear page
---
---

To make a safari rental booking in South Africa, Botswana or Namibia click here
---