Remote Cords
Remote cords or cable-release / remote-releases as they are also known, are photographic accessories that connect to your camera allowing you to trip the shutter while not touching the camera body.
There are a few good reasons for you to invest in a cable-release:
• The cord reduces camera shake - ideal for macro and even wildlife photography if you are using long lenses, especially when you are shooting under low light or with small apertures and you want to ensure sharp photographs. Nigel Dennis, a professional wildlife photographer who has published over 17 books, used a cable release to take many of his photographs, even when he was in a vehicle using a window mount.
• You can operate the camera from a distance so as not to frighten animals away. Animals are wary of humans so will not approach you but if you set up your camera on a tripod with a wireless release that can be activated from 80 meters away, the animals will be more comfortable to approach your camera allowing you to trip the shutter when they are in range.
• It is a must for long exposures when you have your camera mounted on tripod and you are shooting landscapes, star-points or star-trails.


We have three types of cable-release:
1. Nikon Remote Cord MC-30
This is a standard 10-pin release that connects via an 80 centimetre cable to the camera.
It has one button that you use to focus and take photographs just like you would by using the shutter release button on your camera. It also has a trigger lock button on the back of it for long or Bulb exposures.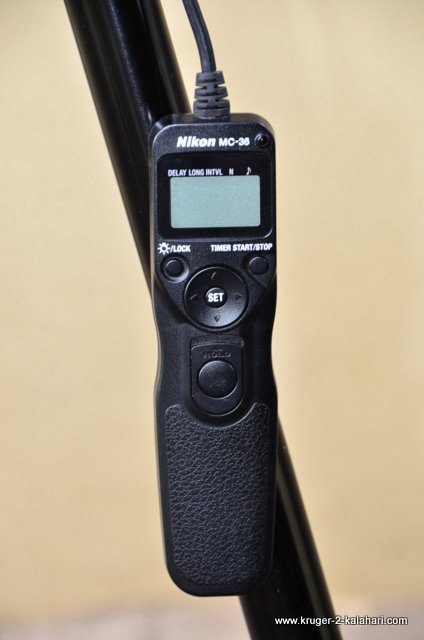 2. Nikon Remote Cord MC-36
This release connects to the camera through an 85 centimetre cable that plugs into the camera's 10-pin socket. The MC-36 permits you to set Delay, Duration and Interval, which are the three important settings for digital star trails.
3. Hahnel Pro Remote Control HW 433 N80
This is wireless release and works up to a distance of 80 meters! You get a receiver that you connect to the camera
and a transmitter that you use to take the photograph.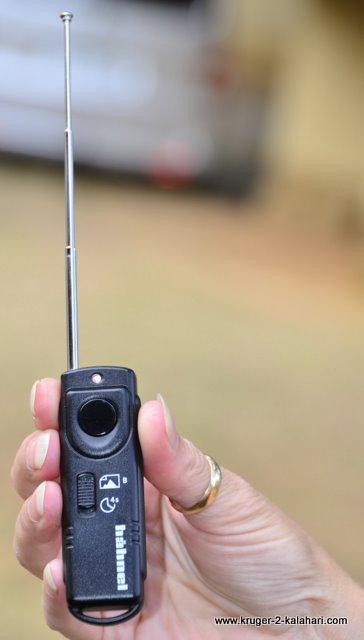 I used to own the Nikon ML-3 Modulite Remote Control but it was not an effective product and it cost more than double what the hahnel costs!.
When we first started our nature photography we did not use these cable-release cords nor tripods as they are not 'sexy' accessories and seemed to be a burden to carry around.
As a result we had many photographs that were not sharp. Knowing what we know now - if we could turn the clock back we would have bought a decent tripod and cable release with our first camera and lens!
Here's a quote from Nigel Dennis on the importance of a cable release:
This simple inexpensive piece of equipment is probably the best investment you can make to ensure sharp bird pictures. I regularly use my 600mm lens at shutter speeds as low as 1/30th second.
By using a cable release the results are often sharp enough for publication even in big, prestige calendars. Without the cable release I'm sure most of these pictures would have been assigned to the waste-paper bin on the first edit.

---
Return from Remote Cords to Nature Photo Gear page
---
---

To make a safari rental booking in South Africa, Botswana or Namibia click here
---