Tripods
Stable support of your camera and lens on decent tripods and tripod heads is crucial if you want to get sharp images. Here we look at the different camera supports that we use.
• We have three Camera Supports – two Manfrotto 055 plus one 3 Legged Thing tripod.
When we started out with photography we said "we don't need a camera support" but we soon realized that if we wanted sharp pictures that we could enter into competitions or blow up and frame we would have to ensure sharpness by using a camera support which soon became three and a monopod!
The Gitzo make is very good but are also very expensive hence we have chosen Manfrotto that have never let us down.
I used to use a Velbon Mark-7G (with a maximum load capacity of 7kg) as my primary camera support but it was not 100% stable with the 600mm f4 lens so I changed to the Manfrotto 475 that has a maximum load capacity of 12kg.
The Manfrotto Triman 028 is also very stable but I prefer the flexibility of the 475, in that with one touch I can position the legs by locking the braces so that all of the legs will spread to the same angle and open instantly.

Just a word of warning here – when using big, heavy telephoto lenses from 300mm f2.8 upwards be careful of wind or people that may bump your camera support. I have had the wind blow my tripod over (it had a Nikon F5 and 300mm f2.8 mounted on it) – fortunately I was right there and I could catch it before it hit the ground.
Another time we were sitting at the Okaukuejo waterhole in Etosha and with August being part of the busy season, people were two or three deep around the wall. We don't mind crowds – if they are considerate – but there is always that small element that couldn't care about other people.
To cut a long story short, the people standing next to us were smoking so we had smoke blowing into our faces and across our lenses and they walked into our tripods twice while were shooting – luckily we were holding the tripods.
All they managed to do was knock our flask of water off the wall. The bottom line is do not leave your camera support unattended if it has a lens mounted on it.
Where to you keep your Photographic Accessories?
We often use the Manfrotto apron support that hangs below the centre column and is supported by three straps that sit on each leg above the leg locks.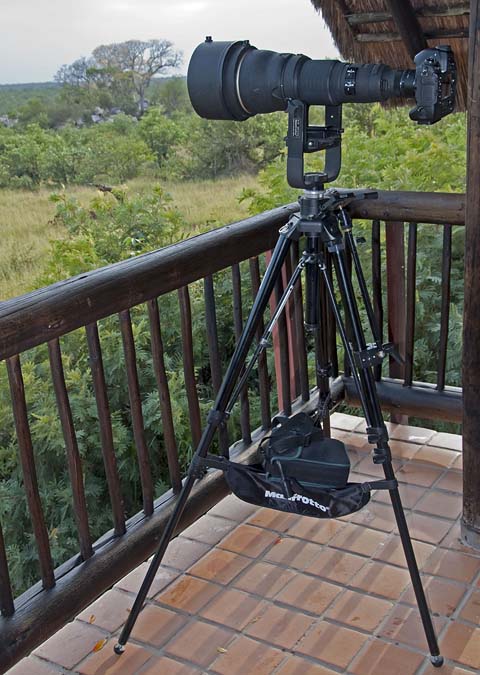 If it is windy we put a beanbag, spotlight battery or other heavy item onto the apron and this weighs it down...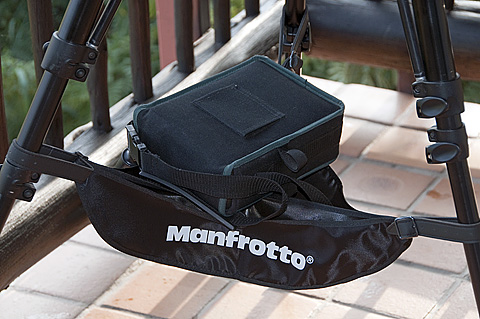 It also has three compartments that you can put accessories like teleconvertors, a cable release, etc. into...
---
The pockets of the apron support are not very deep so another great accessory is the Apex Tripodbelt.

This belt clips around your tripod and has four deep pockets that can hold an extra camera body, small lenses or converter, beverage, cell phone, Flash, Better Beamer, and much more without putting the weight on you.
You could also use your camera vest for your accessories but in summer this will be far too hot and uncomfortable!
We find this belt is great for places like the Etosha camp waterholes and for shooting from the Kruger Park and Kgalagadi camp bungalows.
The last thing you want to do is put your tele-convertor or lens on a table or ledge where it may roll off or get knocked off or have food or drink spilt onto it!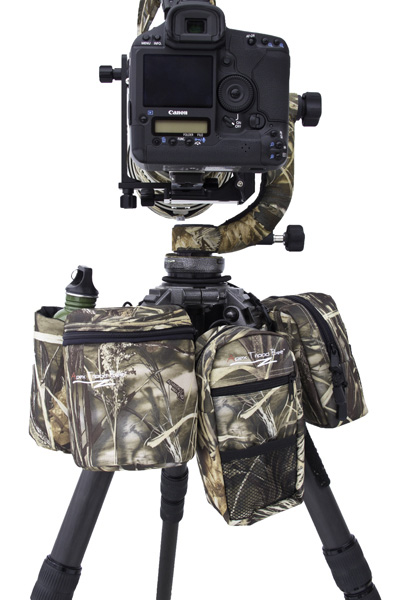 You could also wear the belt around your waist depending on your circumstances.


Manfrotto Long Lens Camera Support - item #359 or Bogen 3252 in the USA
Once you start shooting with 500mm, 600mm and 800mm lenses vibration comes into play. Image Stabilization and Vibration Reduction have been put forward as the solution here but keep in mind that these lenses switch the IS and VR functions off when they detect they are on tripods!
Check this picture taken of a crocodile gliding in the water at night at Sirheni camp. I was using my 600mm lens mounted on my gimbal head and tripod yet you can see the vibrations quite clearly in the crocodile's eyes...

The solution is the Manfrotto long lens camera support (LLCS). This consists of a telescoping arm with a small ball-head at one end and a Bogen Super-clamp at the other end. With the lens attached to the gimbal head on the tripod, you then attach the small ballhead at one end of the arm directly to the camera while the super-clamp attaches to one of the legs...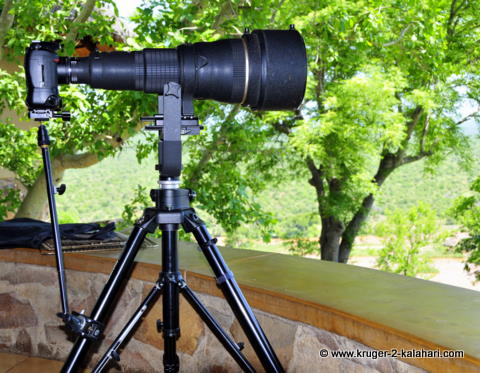 The telescoping aspect of the arm along with the ball-head's swiveling ability enables you to swing the lens though a wide arc both horizontally and vertically with the arm attached.
When your picture is framed just tighten the three knobs on the arm and the system has full rigidity. You can also use the 'L' bracket on the camera body to mount the LLCS in either portrait or landscape.
African summers can get very hot and there can be a lot of rain. This doesn't mean you should head indoors. Instead you should get the Arthur Morris Umbrella clamp set-up to either shade you from the sun or to protect you from the rain.
It is simply a combination of the Bogen Super clamp and the Avenger Add-a-Head, which allows different diameter rods (umbrella handles) to be inserted and then to be swiveled around depending on the angle you want. The Avenger Add-a-Head fits into the Bogen clamp, which clamps onto one of the three legs or the head, depending on the height of you umbrella.
---
Return from Tripods back to the Nature Photo Gear page
---