Kruger Big Tuskers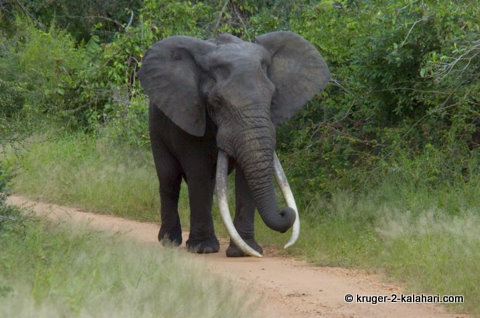 Masbambela - we captured this photo on the Mahonie Loop near Punda Maria in October 2006, just a few days/weeks before his carcass was located on the 7 November 2006. He was not one of the Magnificent Seven but still had very impressive tusks. It's estimated that Masbambela's tusks were probably only second in size to Duke's.
The Kruger Big Tuskers, such as the Magnificent Seven Elephants, are world famous.
These seven impressive elephant bulls, all with tusks weighing more than 50 kg each, were promoted in 1980 as the Magnificent Seven, based on the 1960 Hollywood film.
When each of these great elephants died their skulls and tusks were retrieved and are now on display in the Elephant Hall at Letaba Rest Camp.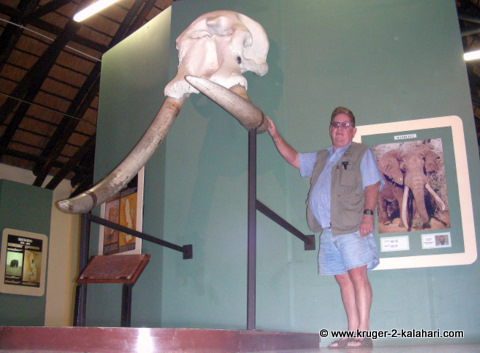 The elephant hall holds the tusks of Dzombo, Kambaku, Mafunyane, Ndlulamithi, Shawu and Shingwedzi.
Joao broke both his tusks in 1984 and the tusks were never found, hence João is the only member of the Magnificent Seven who is not represented in the Letaba Elephant Hall.
Since the magnificent seven there have been other big tuskers in the Kruger, know as the 'Emerging Tuskers'.  
These seven elephants have all since died but you can still purchase paintings of them done by celebrated wildlife artist Paul Bosman and a book written by the park's Senior Research Officer, Dr Anthony Hall-Martin.
Only a handfull of people ever saw him and we took this photograph in April 2006 near Punda Maria just before he died in November 2006 near Shingwedzi.
Duke was another recent big tusker, who he broke both his tusks while roaming the area between Crocodile Bridge and Lower Sabie.
Duke died in 2011 - a ranger found his carcass on 01 October about 5 kilometers from Crocodile Bridge camp.


If you would like to read more about the big tuskers of the Kruger Park, please download the PDF document here

Elephants may seem like 'gentle giants' but they can be provoked into angry attacks as this article in the Letaba museum shows...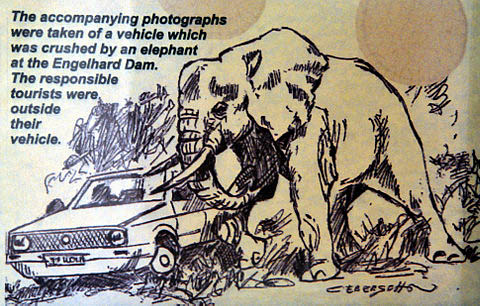 These tourists got out their vehicle and were attacked by the elephant. Fortunately the two men were unharmed (physically that is, I don't know about mentally!) but their vehicle was a mess...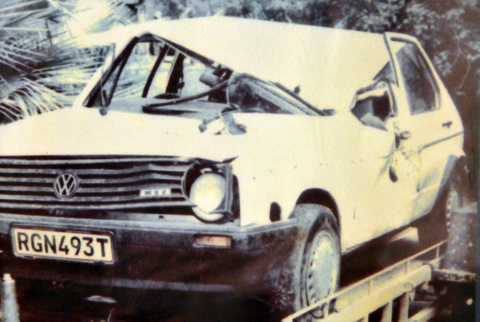 Elephants are part of The Big Five because they can be deadly if angered!
And please keep in mind that elephants are not the only animals you should be wary of - they are just one of the ten most dangerous safari animals in Africa!
The Kruger big tuskers were known to be placid and tolerant but any animal can become aggressive if annoyed or if it feels threatened.
Read question two of our interview with Daryl Balfour, a professional wildlife photographer, where he discusses his close call with Tshokwane, one of the Kruger's big tuskers here.


---
Please obey the park rules - they are there for YOUR protection!
SANParks has included the following general rules for safe viewing of Kruger big tuskers and other elephants on the flyer.
You would be most wise to take note of them...
1. Be especially careful when approaching elephant breeding herds with small calves. The matriarch – or other cows with calves – can become aggressive especially when small calves become separated from adults. Keep a safe distance.
2. Watch out for musth bulls. They are identified by the constant passing of small amounts of smelly urine on the ground and hind legs. When walking on the road they leave a characteristic trail of urine. Their temporal glands also exude dark liquid. Musth bulls can be aggressive and it is advisable to keep a safe distance.
3. Do not follow the elephants
4. Do not drive off the road
5. Respect elephants at all times.
6. Always allow the elephants the right of way.
7. Drive off slowly if they get too near.
8. Never cut off their path.
9. Do not rev your vehicle's engine near elephants.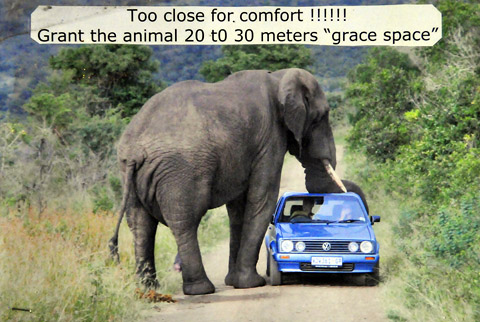 ---
Return from Kruger Big Tuskers to Dangerous Safari Animals page
---
---

To make a safari rental booking in South Africa, Botswana or Namibia click here
---