Dangerous Safari Animals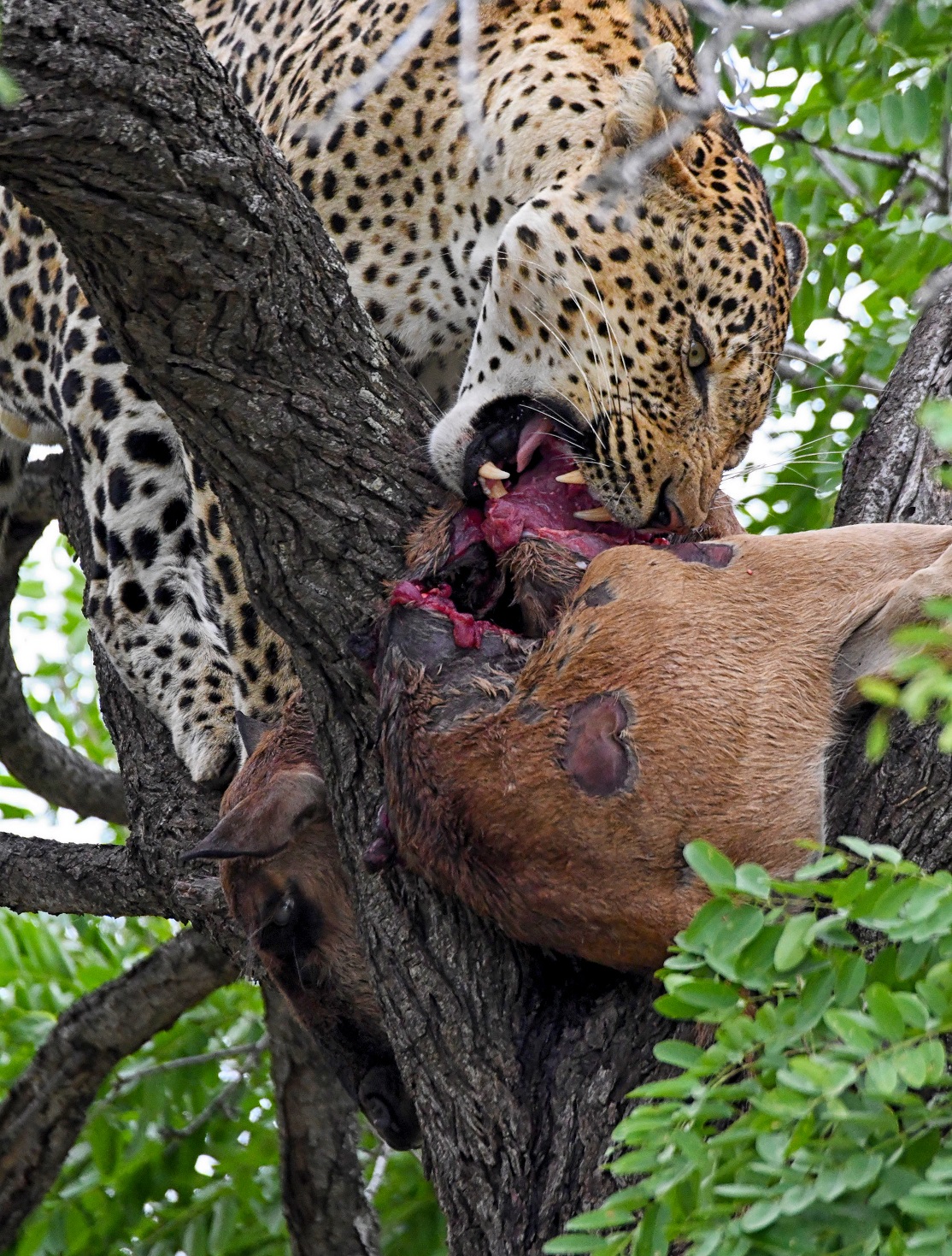 We have read a few articles on the 'world's most dangerous animals' and the animals are rated in a top-10 list of which the majority are found in Africa.
In addition, these are some of the local headlines we have seen:
- Elephant Overturns Tourist Vehicle in the Kruger National Park
- Lions eat thief on the run
- Leopard mauls staff members in Mopani camp
- Enraged Hippo kills Holidaymaker
- Crocodile kills golfer in South Africa's Lake Panic

- Buffalo kills suspected poacher in Kruger Park
Of course the big-five can be dangerous but they are not the only animals to be wary of.
And when you hear or read about the Kruger park being a zoo or a circus this is a myth! So here is our list of most dangerous safari animals in no particular order.
These are the animals that, if provoked, can be deadly and have caused most fatalities in places like the Kruger Park.
We start with the big-five animals as these are well known as dangerous safari animals...
African Elephant
African Elephants have damaged many vehicles in the Kruger Park!
In most cases people were disobeying the park rules by getting out their cars or were antagonizing the elephant by following it or revving their vehicle engines.
In other cases the elephant was ill and took out its frustration on whatever was in front of it.
If you visit the Elephant Hall Museum in Letaba camp you will see why you should respect all animals but especially elephants like the Kruger's Big Tuskers

This elephant came charging out the bush and chased a herd of buffalo away from Boyela waterhole in the Kruger. It then turned and chased us away too...!
Lions
Lions do kill people in the parks but they tend to be mostly illegal immigrants crossing over the Mozambique border into the Kruger. Lions are opportunists and will kill an easy meal - you cannot outrun a lion so please stay in your car!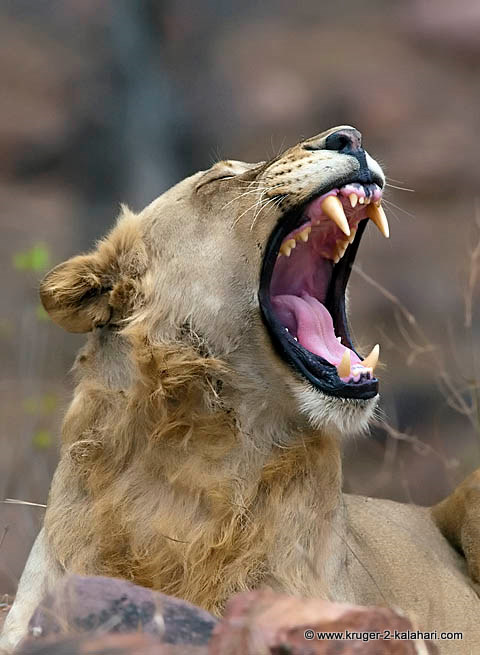 Check what one bite by a male lion did to our tyre...!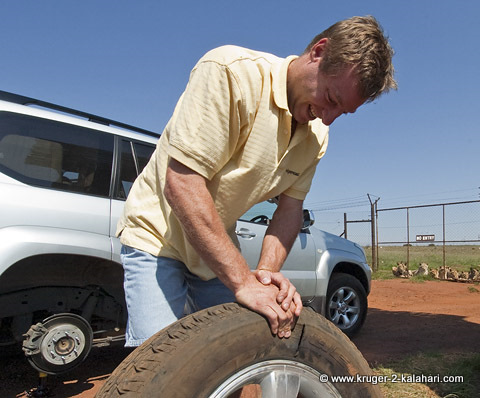 Leopards
Leopards tend to get into camps and then, because they are cornered, attack people. We know of leopards that got into Mopani, Skukuza, Lower Sabie, Shingwedzi and Letaba camps.
Most of them were shot and most of them were found to be injured and were forced to find an easy meal.
In our opinion, the leopard is the most dangerous safari animal as it is extremely strong, secretive and stealthy.
Rhinocerous
There are two rhinos in Africa - the black and white rhino. The white rhino is about twice the size of the black rhino but the black rhino tends to be more agressive.
Rhinos are not famous for being dangerous safari animals and we were charged only once by a black rhino mother that was protecting her baby. Other than that all the rhinos we have seen have been placid.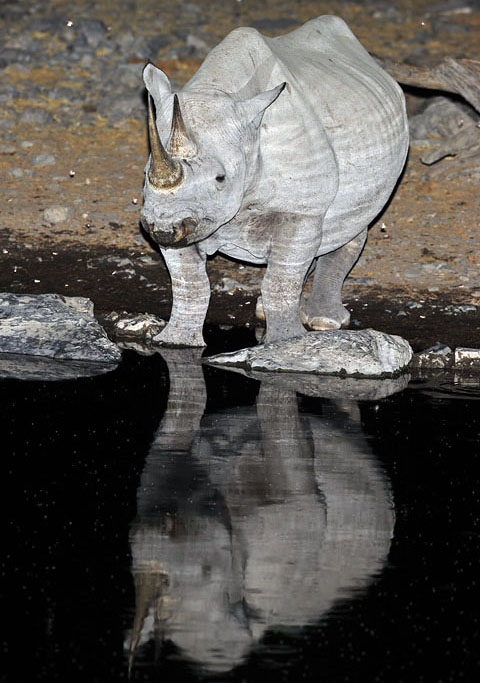 In most cases animal attacks have been caused by people getting out their vehicles or taunting the animals but in some cases the animals attacks with no apparant reason. Maybe they get a fright when the vehicle approaches and they attack out of instinct.
This photograph (from http://www.news24.com/SouthAfrica/News/Rhino-flattens-paparazzi-car-20071119) of a tourist's vehicle that was attacked by a rhino shows just how much damage can be done in a few seconds...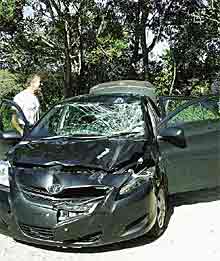 Buffalo
The buffalo is the most placid of the dangerous safari animals but don't antagonize them as they have been known to kill people and damage cars.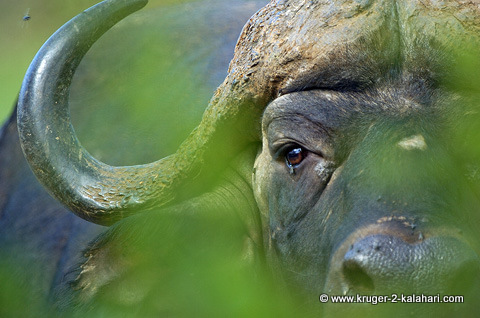 Nile Crocodile
The crocodile is also a fearsome predator and is responsible for many deaths in Africa. If a crocodile kills a person he eats the victim so there is no evidence.
Crocodiles are very dangerous safari animals, especially in water so don't swim in the Kruger Park rivers!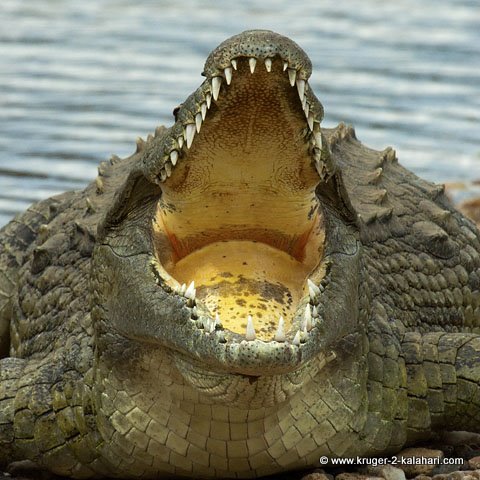 Snakes
We have seen many snakes in the wilderness areas. In the Kruger we had a run-in with a black mamba in front of our bungalow - it got a bigger fright than we did and took off! We have also seen a few of them in trees.
We also saw a mozambique spitting cobra crossing the road and then we saw this rock python in Shimuwini camp...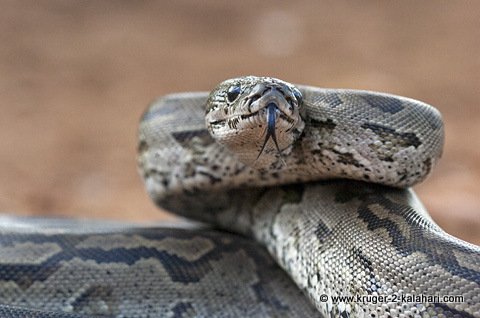 and this green bush snake at one of the Kruger hides...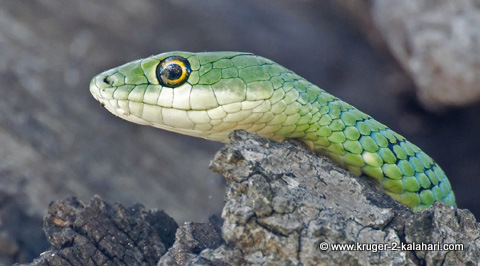 And in the Kgalagadi we see many cape cobras...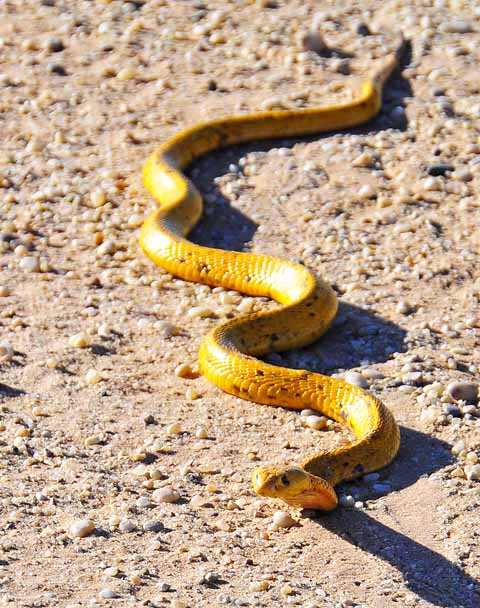 Spiders
Most of us want to live with Nature and even pay a premium for the priviledge of visiting wilderness areas.
When, however, nature gets too close we want to 'Kill it'!
Just remember that we humans built out homes (including bungalows in the national parks) on the spiders' homes. We destroyed their natural habitat and provided ideal attarctions of lights, water and plants. Is it any wonder then that these animals seek refuge near our homes!
There are 152 known species of spiders in the Kruger Park, from the small crab spiders...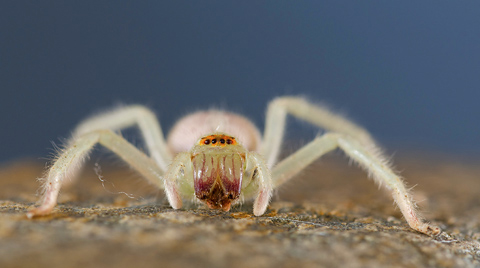 to the large baboon spiders...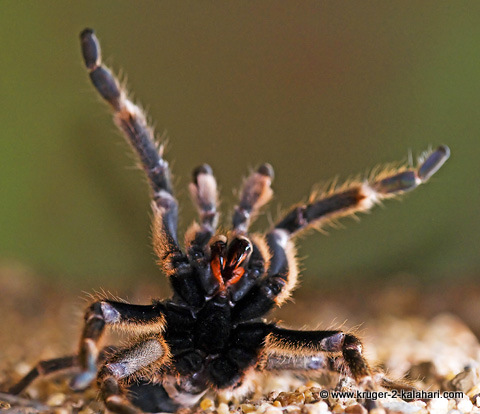 and the solifuge or red roman / sun spider...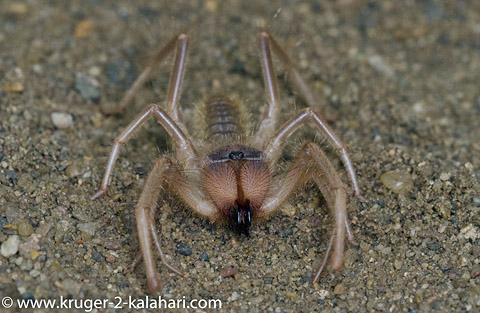 There are three potentially dangerous spiders in South Africa: the button spider, sac spider and violin spider. They do not look dangerous but they can be.
We have button spiders in our garage at home. If we knock their web or bump them by accident they roll up into a ball - they do not want to fight or bite!
If we find a spider in our bungalow we simply scoop the spider into a glass with a spoon and take it outside.
Please keep in mind that mosquitoes kill many, many more people than spiders do and spiders eat mosquitoes!!
Scorpions
Scorpions are active mainly during the first few hours of the evening and an ultra Violet (UV) light can be used to easily locate scorpions at night...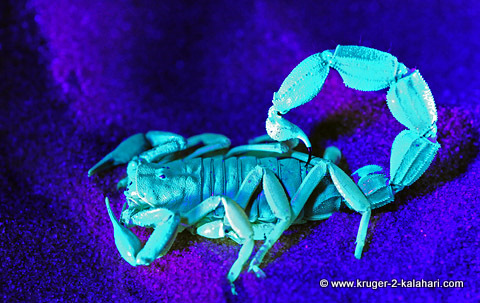 Please wear shoes and take a torch with you when walking around the camps at night!
You should also read up on these animals so that you don't fear them just because they are unknown to you.
The scorpion with thick tail and small pincers is the highly venomous one...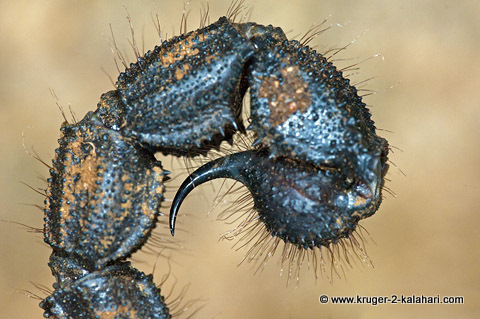 the thin-tailed, large-pincer scorpion has a very mild venom...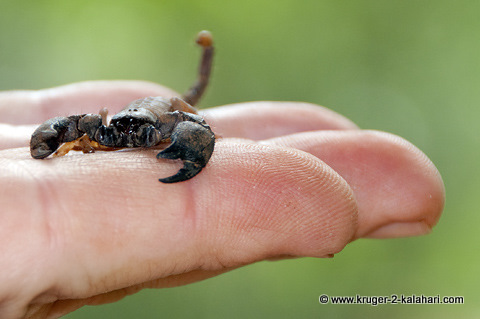 We have been stung by the small pincer scorpion and it was like a pin prick and burnt for a few seconds.
We have seen scorpions in the Kruger Park, Pilanesberg, and Etosha but mainly in the Kgalagadi where you can see the black and yellow thick-tailed Parabuthus scorpions (part of the Buthidae family). These are highly dangerous safari animals!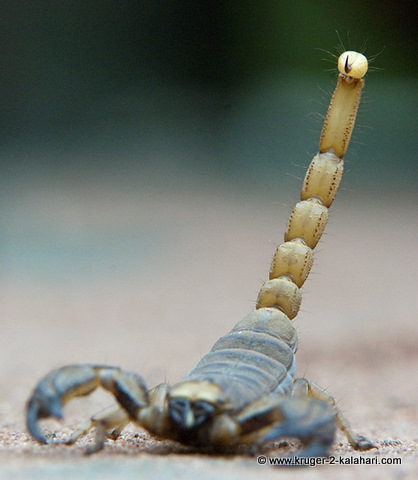 To download a free PDF guide to the Scorpions of the Central Lowveld, which includes the central Kruger Park, please click here

Hippopotamus
You are most probably saying to yourself "Yes we knew that the above animals are dangerous!" But I bet you didn't know that the hippo is credited with the most deaths in Africa each year!?
They do not eat meat but can be very aggressive when their path is blocked or they feel threatened.
Kruger Hippo attackes tourists - "Three South African tourists from Gauteng were attacked by a hippo in the Kruger National Park while having a morning walk on a trail in June 2009. The hippopotamus suddenly ran out of the Crocodile River and attacked them. One person was knocked over and two sustained more serious injuries and were airlifted to Nelspruit hospital"
They have been known to attack animals that had been chased into their area of water but conversely they have also been known to help animals that were drowning! The hippo is a very unpredictable animal and is dangerous in and out of water.
This hippo was one of the most dangerous safari animals we have encountered...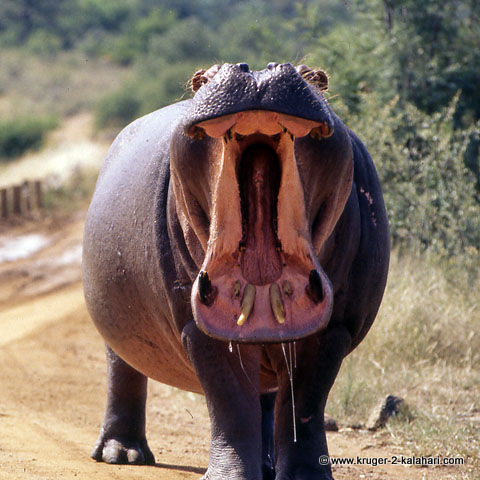 We had stopped on a bridge in the Pilanesberg to watch him. He seemed relaxed when suddenly he charged out the water up the bank and chased after our vehicle!
Mosquitos
Then lastly you get the mosquito that is estimated to kill over 1 million people each year.
We do not take anti-malaria tablets as they have horrible side effects. When we get back from our safari we go to our doctor and he tests our blood for malaria. The symptoms are similar to influenza - headcahe and fever.
You should, however, get advice from your doctor before coming on safari.
---
Most of the fatalities caused by the above dangerous safari animals could have been prevented if people had simply obeyed the park rules.
The rules are there for our benefit yet so many visitors don't read them or if they do read them they simply ignore them - with potentially fatal consequences!
The above dangerous safari animals will leave you alone if you respect them.
---
Return from dangerous safari animals to Kruger-2-Kalahari home page
---
---

To make a safari rental booking in South Africa, Botswana or Namibia click here
---