Game Viewing Etiquette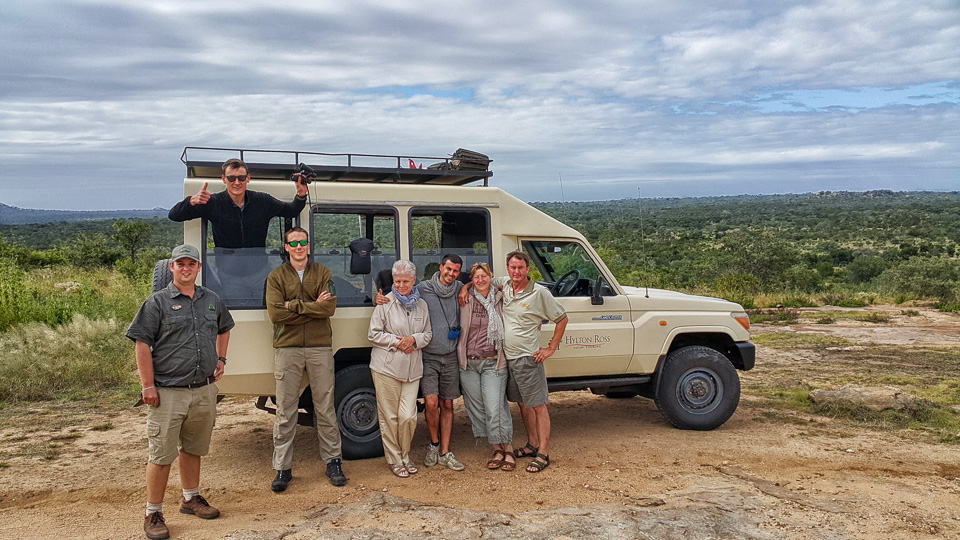 Game reserves are treasure troves, full of nature's wonders.
Visitor's game viewing etiquette (etiquette means 'manners') will mainly dictate how much you enjoy them, so attitudes toward wildlife and other visitors is important to the outcome of your wildlife viewing experience…
All national parks have a set of Park Rules that are enforced because there are dangerous animals in these parks and the rules are there to protect you as well as the animals and the environment.
Game viewing etiquette is not a set of rules - it is simply a set of guidelines that will enhance your wilderness experience.
By sticking to the following game viewing etiquette guidelines can make your visit less intrusive for the wildlife, will help preserve the rich natural heritage offered by the various parks and can make a much better experience for both you and other park visitors.
• When you see wildlife you want to watch, pull your car over to the side of the road closest to the animal. Other people will appreciate this so that thru traffic can continue on their way.
Don't stop in the middle of the road to take your photos – not only is it inconsiderate you will have people overtaking you and passing by between your lens and the subject and you won't like that will you? (By parking on the side the road that the game is located will also bring you closer to the subject and provide you with a better picture).




• Drive slow – the speed limit in the Kruger Park on tar roads is 50km and 40km per hour on gravel, while in Etosha the limit is 60km per hour.
In the Pilanesberg the speed limit is 40kkm per hour - this is because the roads are very narrow and not in good condition.
We would suggest 30km per hour on both roads as this will allow you to see much more (I drive while Jennifer scans the veld and you'll be amazed what she sees). If you, however, are traveling slower than those behind you please move over and let them pass – some people try to block the road by driving in the middle and the national parks do not need road rage incidents!
Keep in mind that 'speed kills' – we have seen numerous chameleons, bat-eared foxes, Impala, rhinos, birds etc. all killed by speeding vehicles.
There have also been numerous accidents, especially in the Kruger, where a delivery truck smashed into a stationary game-viewing vehicle injuring all people and another vehicle plummeted off a bridge into the Letaba river near Shimuwini bush-camp killing all passengers bar one – it would be best if you can return home from your vacation in one piece!
• When you see an animal don't get too close and don't drive off the road in order to get closer. Use binoculars to view and a telephoto lens to photograph. And if you have patience and are quiet the animal will most probably come closer and you can then get your photograph.
We saw a black rhino that was about 40 meters away from us in the Pilanesberg. We switched off our engine and just sat watching him. He was curious about us and strolled right up to our vehicle…
• Switch off your engine when viewing game! Diesel engines, especially, make a terrible noise and interfere with everyone's ability to hear and enjoy jackal howls, lion roars, birdcalls, impala grunts, and other natural soundscapes – not to mention the exhaust fumes!
You should also switch off your air-conditioner, cell phones and radios – one of the reasons people visit national parks is for peace and quiet. The animals also like peace and quiet so please be considerate and switch off all noisy items when at a sighting. Noise will also chase the animal away and then you ruin everyone's viewing experience
• Talking in loud voices can also scare the animals away so please keep your voice down when you talk to other people in your vehicle (whisper!). We know you are excited but if you observe in silence, you will notice far more, and will not be seen as a threat to the animal. You can then discuss the sighting later on, maybe around the fire at dinner, while sipping a chilled glass of wine!
• If you go to a bird hide or to a waterhole please don't talk loud and please, please, please - switch your mobile phone off or leave it in your vehicle! Yes, we have experienced people bringing and answering their mobile phones while they are sitting next to us in a bird hide in the Kruger Park or while sitting at the wall at Okaukuejo camp in Etosha.
When most people answer their phone they tend to talk LOUDER so it really annoys other people and the animals!
Every hide in the Pilanesberg and Kruger now has a sign saying 'please be quiet' and at the waterholes in Etosha they have dropped the 'please' and the signs at Okaukuejo now say 'SILENT!!'...

• If you pull up behind someone and cannot pass please don't blow your hooter and hang out your window shouting at them - yes, we witnessed this on the low level bridge at Shingwedzi camp in the Kruger Park! This is game viewing etiquette at its worst...
Cars were crossing the narrow bridge from both sides. A few cars would proceed from the north, stop take some pictures of the crocodiles then move on....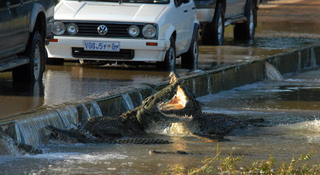 ...then the cars from the south would proceed and so on - until this poor lady stopped to photograph the crocodiles and a taxi pulled up right behind her and the driver proceeded to honk his horn and yell at her to move on...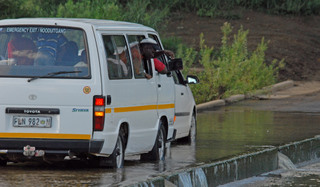 ...while one of the passengers threw a beer bottle out the window into the river...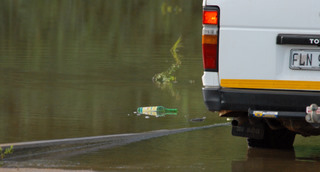 ... what a great wilderness experience and what superb game viewing etiquette!!
• Leading on from the last point – please don't litter. Litter spoils the national parks and it can be dangerous for the animals...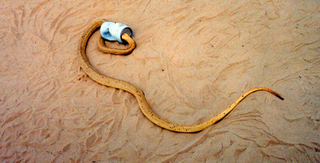 • Don't throw things at the animal or hoot to get their attention - some game viewing etiquette is common sense but we have to say it anyway as common sense tends to not be that 'common'
• The first person to arrive at a sighting has the right to stay there - all day if they wish! Some people want to take one picture and move on others want to watch animal behavior and take a lot of photographs so we need to respect this.
Just North of Olifants camp there is a causeway and in summer a small waterhole forms on the side of the road and terrapins and crocodiles interact providing a nice show and providing some good photo opportunities. We parked our car close to the water and allowed plenty room for cars to pass but no – a vehicle pulls up behind us and they sit with the engine running for about 10 minutes.
They then start to rev the engine – we ignore people like this – so they eventually pull up beside us and demand how much longer we are going to be as they want to watch the terrapins – my polite answer to them "go and find yourself another sighting".
If they had asked politely we would gladly have moved on but arrogance does not bring out kindness in people!
• When stopping at a sighting please try and avoid rude behavior. Stopping next to other cars, lowering your window and yelling, "What are you looking at?" has happened to us a few times. Obviously whatever we were looking at took off when it heard the yell! You should switch off your engine, and quietly ask them what they are viewing, or simply scan the area where they are looking to discover for yourself what is being viewed
• Don't pursue or chase animals – this includes blocking their path...
If elephants, for example, have their young with them they may see you as a threat and could charge your vehicle. We have seen the results of elephants, buffalo, rhino and hippos attacking vehicles and you would prefer to not have this experience!
On one night drive from Talamati bush-camp in the Kruger Park, we came across some white rhinos that were startled by us and they started to run. The game ranger started speeding down the road after them and one rhino stumbled and fell into a donga – very clever SANParks game ranger - just another reason why we don't like going on these night drives.
• Please don't hang out the vehicle – we have seen people not just hanging out windows but sitting on the car's bonnet or standing on the car's roof in order to see the lions! Keep in mind that animals see the vehicle as one large entity – until a person breaks the shape by moving away from the vehicle or dangling a body part out the window.
Lions can move very quickly and we have seen some close calls with lions charging vehicles that had people hanging out windows. Good game viewing etiquette is not only for other people's benefit!
• If you lift up a log or rock to look underneath, while in camp or on a walk, please make sure you place it back where you found it as these items are homes to many creatures, including scorpions, centipedes and snakes - so also be careful!
• Please don't get out your vehicle unless at picnic sites, in camps or if you are on the Olifants, Letaba and Luvuvhu bridges and other designated viewing spots...
• Do not feed the animals - unnatural foods can hurt wildlife's digestive systems and cause them to lose their natural fear of humans
• In camp please close doors quietly and switch off car alarms. Good game viewing etiquette doesn't start only when you leave the camp gates each day - it should be practiced throughout the game reserve. Many people are trying to rest when others are arriving or departing and slamming doors and high-pitched alarms are not good.
The Kruger, Kgalagadi, Pilanesberg, Madikwe and Etosha are not the concrete jungle - we have never had anything stolen from us in over twenty years. If you have any valuables put them in the bungalow – most bungalows now have locks on the doors and some, like Satara, have safes. Alternatively lock your valuables in your vehicle.
• Be conscious of where you walk, stand and park your vehicle. Try not to block others' view. Also be careful not to bump tripods legs – this is a real threat especially at the Okaukeujo, Halali and Namutoni waterholes in Etosha. Sometimes the crowd at Okaukeujo is two or three deep and people get excited, don't look where they are going and your tripod with expensive camera and lens gets knocked over. We have had some close calls here! Good game viewing etiquette means looking out for other people.
• Ask before looking through someone else's camera. We had some people that just strolled up to our equipment and would start looking through our camera while fiddling with some of the buttons! Please be considerate, and if you want to look through our long lenses just ask.
At the end of the day, good game viewing etiquette boils all the above guidelines down to just two main things:
1. Have respect for the animals
2. Have respect and consideration for other visitors...
...that's game viewing etiquette 101!


---
Return from Game Viewing Etiquette to Game Viewing Tips

Return from Game Viewing Etiquette to Kruger-2-Kalahari Home Page
---
---

To make a safari rental booking in South Africa, Botswana or Namibia click here
---