Game Viewing Methods
Here are some hints and tips for game viewing methods that visitors to the national parks and game reserves will have to choose from.
First lets look at some of the more traditional methods...
• Driving around the parks in your own vehicle or a hire car - this is our preferred game viewing method as you have flexibility, independence, more choices and it costs less. Self-drive doesn't mean sleeping bags, tinned food and cold showers!
We have been doing self-drive for over seventeen years in South Africa and Namibia, as the infrastructure and roads in these two countries are very good. We have stayed in cottages, bungalows and tents, all with fully-equipped bathrooms and kitchens for about US$100 for both adults per night - where can a tourist get better value than this - especially for big-five safari vacations!?


• Being driven around by a tour guide - we don't enjoy this as the guide has to try and keep all passengers happy. If the guide stops for a sighting he is under pressure to move onto the next sighting as some people may not enjoy the current sighting or may think one photo is enough and so on.
We have been on a few game drives in Sabi Sands, Ngorongoro Crater and Lake Manyara and we did not enjoy all of them. On one drive we saw a Lilac-breasted roller and wanted to take some photos - one of the other guests started whining about "it's just a bird, let's move on" and so the tour guide stopped for just a few seconds and then moved on.
Another reason why we don't like going on game drives is that we love the buildup of anticipation as to what we will see - and then the ensuing excitement if we do stumble across something. At Inyati Game Lodge (Sabi Sand wildtuin) we went on a sundowner drive and were told 'we're going to see a cheetah...'


'and now we're going to see a pride of lions...'


'We've kept the best for last so now we're going to see a leopard...'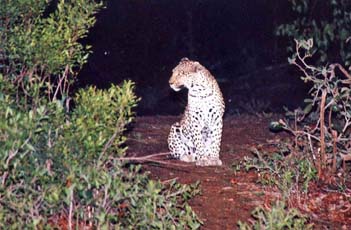 If you enjoy anticipation you can see why being driven around by a ranger is not one of the most exciting game viewing methods. We're not knocking these drives totally - if you are a celebrity or other very busy person and you have just one or two days spare and you want to see the big-five then this 'Ferrari-Safari' is for you!
But if you are a budget-conscious tourist who is spending a week or two in the park then you're better off doing self-drive but employing our tips and techniques on finding animals!
• Going on a 4X4 trail - the 4X4 trails in the Kruger and the one in the Kgalagadi parks are nice to do. Our favorite one is the Northern Plains trail in the north of the Kruger. We enjoy the fact that you are allowed to get out of your vehicle (provided you stay close to the vehicle) as this allows us to get good photos at ground-level
• Going on a night drive - We really enjoyed the night drives at Idube Safari Lodge in the Sabi Sands...
but we don't enjoy the ones from the Kruger camps. What tends to spoil them is that the vehicles are generally over-crowded and again it takes just one hooligan to spoil the outing for everyone else. We went on a night drive from Satara Camp and lions had made a kill under the power lines on a firebreak road. We were on a big heavy vehicle (holding about 30-40 people) and one individual keep harassing the drive to go down the road to the lions.
It had been raining and the track was mud so the driver refused. That didn't stop the individual from constantly asking and after each beer that he had downed he got louder and louder. If other guests asked him to quiet down he would get abusive. The guide was young and inexperienced so didn't know how to handle the inebriated person.
This is not an isolated case as we have been on night drives at most main camps and bush camps in the Kruger, Pilanesberg and Etosha Parks. We would recommend you do one and then make up your own mind as to whether they are for you or not. Maybe you'll be lucky enough to go on a night when there are only one or two other couples going.
Try and go in a small vehicle and ask the driver to not overload it (More bodies = more money for the camp or lodge). Try and sit behind the driver so you can speak to him and ask him to stop when you see something and you will also have the vehicle railing to lean on in order to steady the camera. And remember to take your flash!
• Going on a bush walk or 3-day wilderness trail - these are nice experiences. We would suggest going on a morning walk first and then decide if the 3-day trail is for you
• Going up in a hot-air balloon - this is one of the ultimate game viewing methods, which are available in the Pilanesberg national park. They are expensive but it's a very nice game viewing experience to see the park from above...
• Walking around the camps - we enjoy this game viewing method as you get to see so much - on both sides of the fence! Most camps have designated walks (Rhino train in Berg-en-Dal camp, Flycatcher trail in Punda Maria camp) but you are entitled to walk around all camps looking for insects, birds, reptiles and mammals
• Going on a boat, mountain bike trail or horseback - these are offered at some parks and can be a rewarding experience. Just keep in mind that taking photographs can be a challenge here. This is where high ISO and VR or IS lenses will be most appreciated!
• Sitting at a hide - this can be one of the most rewarding game viewing methods especially in winter when animals are forced to come down to waterholes or rivers to drink. The Nossob and Mata Mata hides in the Kgalagadi, Mankwe and Ratlhogo hides in the Pilanesberg and Lake Panic and Sweni hides in the Kruger Park are our favorites game viewing hides
• Game viewing from the comfort and privacy of your own room – now we're talking! This is one of our ultimate game viewing methods. You too can enjoy game viewing from your bungalow – if you choose the right camp and ask for the right bungalows/s when booking. This is the amazing view from family bungalow number 14 at Olifants camp...
---
Return from Game Viewing Methods to Game Viewing Tips
---
---

To make a safari rental booking in South Africa, Botswana or Namibia click here
---