Idube Safari Lodge -
Still one of the Best Lodges  
Location
Idube Safari Lodge is an exclusive 4 star lodge nestled on the north western side of the Sabi Sand Game Reserve, in the heart of South Africa's premier wildlife conservation area of the Greater Kruger Park and is surrounded by indigenous gardens and shaded by huge knob-thorn and jackal-berry trees. A small river runs through the lodge grounds providing great game viewing.
We last visited Idube safari lodge way back in 1995 –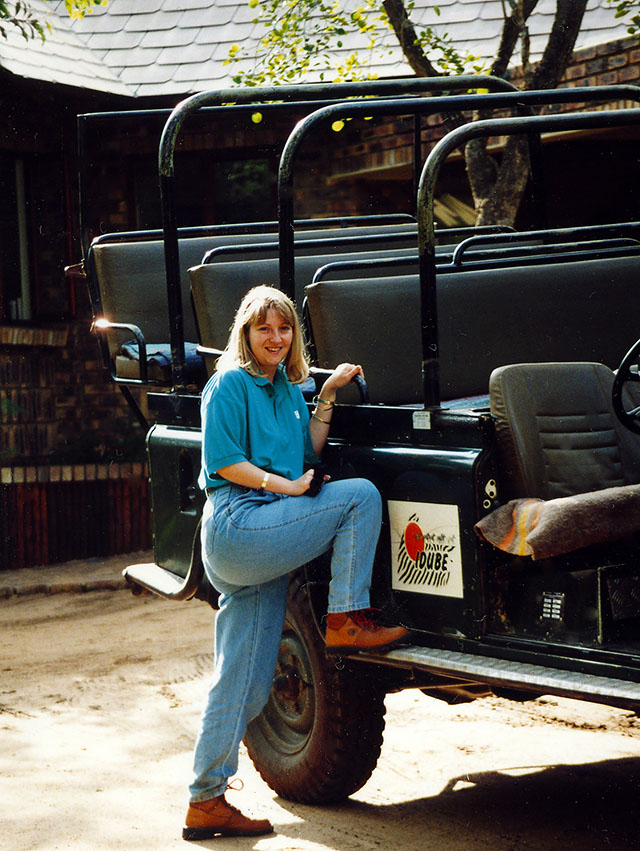 About Idube Safari Lodge
Idube is still how we remember it, very rustic, bushy and comfortable, with just a logo change and change of management.
The meals were five stars, truly excellent, and a big improvement compared to the food on our visit to the lodge 18 years ago.
There is a fully equipped gym and a well-stocked curio shop that carries a surprisingly large variety of interesting curios, clothing, books and gifts. You will be sure to find something to remember you stay at Idube.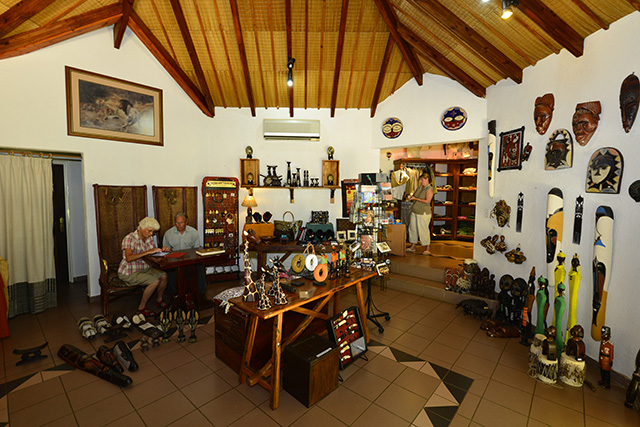 A swing bridge over the river leads from the lodge dining area to an underground hide that overlooks the south facing Shadulu Dam. The bridge is great and makes you feel like Indiana Jones on an adventure!
The hide can fit about 6 people and is great for photographers but management need to ensure that the grass in front of the hide is kept trimmed otherwise you won't be able to get clear shots of the subjects! (The General Manager is most accommodating, so if the grass is too high just ask them to get it trimmed). 
Idube does not have a spa but therapists can be called to provide treatments in the privacy of your room. Just ask at reception and they can arrange it.
There is a TV lounge just next to the bar area which provides DSTV for the sports or news lovers.
Idube has ten comfortable chalets each with, air-conditioning, overhead fan, en-suite bathroom with indoor and outdoor shower and a private deck on which to relax while watching the birds or animals pass by.
The two new Makubela suites are named after the resident female leopard Makubela. She was fatally mauled by the male leopard called Khashaan and she sought refuge at the lodge where she died in 2010. She was a firm favourite of both the guests and the staff, Makubela will now always be remembered at Idube.
The Makubela suites are beautifully designed with large sliding/ folding glass doors that lead out onto a large wooden deck, to give you an unobstructed view of the natural bush and passing animals.
There is private splash pool set at the end of the wooden deck, where elephant and leopard often stop off for a drink.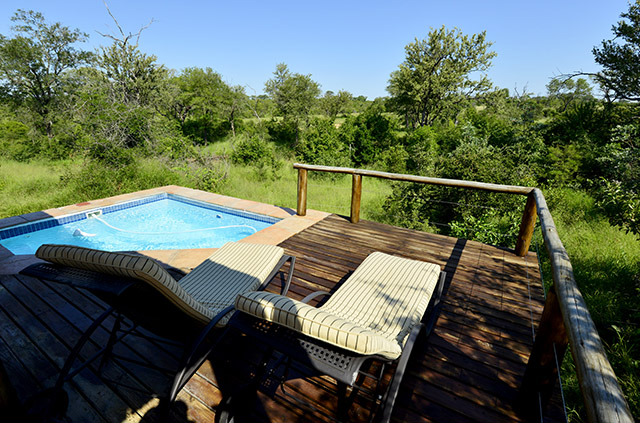 Each spacious suite has an entrance hall, bedroom, lounge, large bathroom, including bath and shower, and a separate outside shower that is accessible from both the bathroom and the outside deck. There is a minibar, tea and coffee station, safe, hairdryer, overhead fan, air-conditioner, mosquito net.
For a more private affair, your dinner can be served on your private deck surrounded by lanterns to add a romantic touch to your dinner.
Breakfasts and lunches are served on the thatched deck overlooking the river.
Should you wish to get the eBook, click on the above book cover, then click 'Add to Cart' where you'll see a button called 'Add Promo Code'. Click on it then add the word K2K and the 33% discount will be automatically applied. This code is valid until the end of the month, so don't delay!


"This is an indispensable guide to getting the best out of Kruger, camera in hand or not!"

- Caroline Webb, Associate Editor, Getaway Magazine, South Africa
Lunch is, however, also sometimes served in the lush indigenous garden, while Nyala and warthog walk by.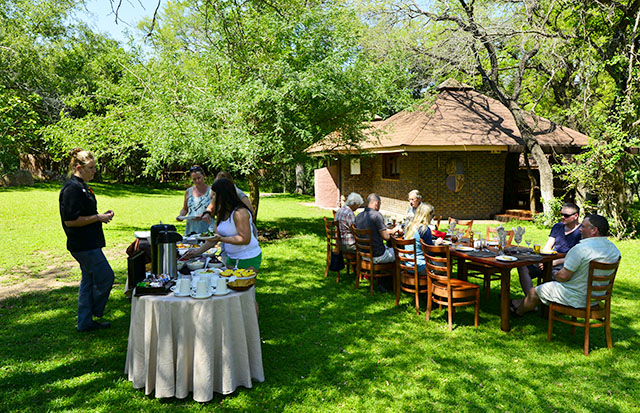 Dinner is served in true South African safari style in the boma.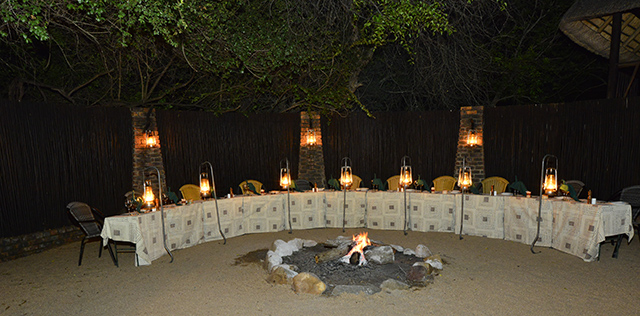 Lanterns provide light and give a warm ambiance to the boma dinners while dining under the stars. We enjoyed dishes like warthog medallions with char grilled vegetables and a berry and crushed meringue dessert.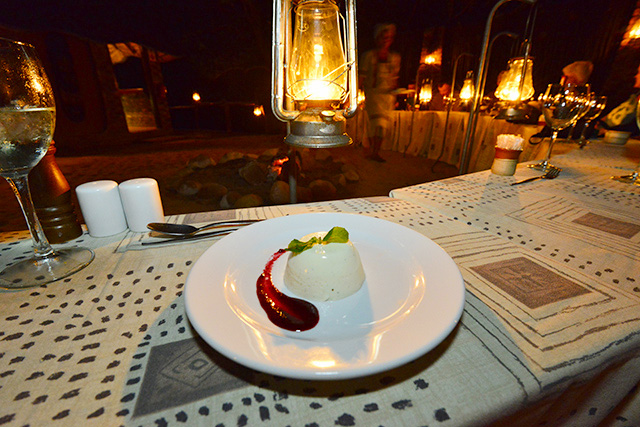 The bar area is a great place to gather before dinner and share your game viewing stories with other guests, or enjoy stories from the rangers. 
If you enjoy seeing game on foot, then a bush walk is for you, it leaves the lodge just after breakfast at about 10h30.  Each walk is tailored made to suit the guest's needs.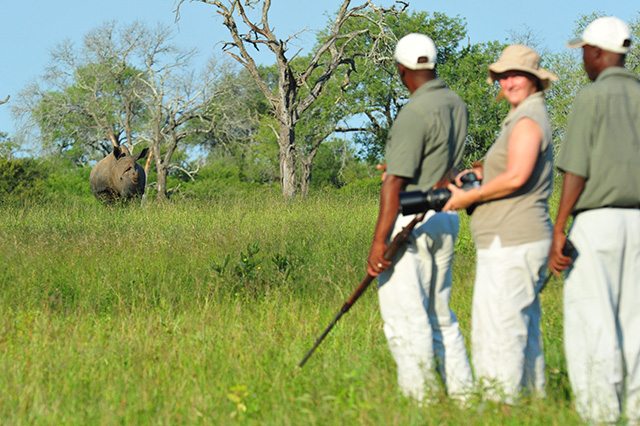 The morning and late afternoon games drive are great, our guide Andries and tracker Louis took us right up to the Wild Dogs and Leopards which was a change from seeing a tiny blob lying in a tree 100 meters from your vehicle!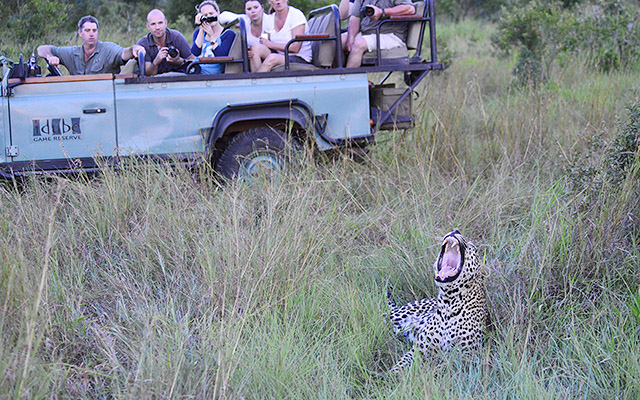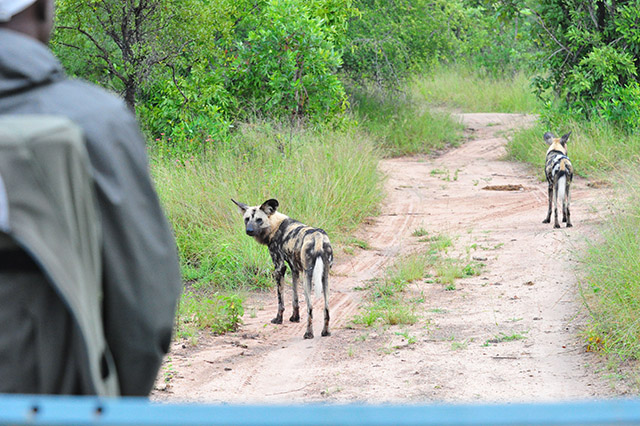 When you are not out on a game drive or walk, you can relax on the thatched open lounge deck with a good book or lounge round the swimming pool and enjoy the warthogs, monkeys and nyala that visit the camp daily.
---
For more information on Idube Safari Lodge or to make your booking please click here
---
The Sabi Sand Game Reserve
There are about 30 lodges within the Sabi Sand reserve – some new and some old (in terms of ownership and refurbishment). Idube Safari Lodge has basically remained unchanged since it was built in 1983 as they have a winning formula. Just check on TripAdvisor what guests say.
Idube Game Reserve, as at March 2013, has 59 'Excellent' ratings, 4 'Very Good' and 1 'Average' with 0 'Poor' and 0 'Terrible' – all these ratings were provided in a seven-year period, from 2006-2013. That says a lot to us!
Many other lodges have at least a few 'poor' and 'terrible' ratings, so obviously Idube is doing something right for their diverse guests.
We hope to return to Idube Safari Lodge again, but hopefully long before another 18 years is up!
---
Return from Idube Safari Lodge to Sabi Sand Reserve page

---
---

To make a safari rental booking in South Africa, Botswana or Namibia click here
---